For many people, thinking about Queensland conjures up idea of tropical beaches, colourful cocktails, and a whole lot of relaxing. Hey, it's Australia's holiday destination of choice! But of course, people relax in different ways, and whether you're just visiting or living in Brisbane full-time, not everybody has the time to unwind in such a passive fashion. Exercising is probably the next best way to shake off the stress, so how is it done in this subtropical capital?
Brisbane was founded by British settlers in the 1820s, and is unique among capital cities for being some way inland from the coast due to the depth of the Brisbane River. While much of the history of early Brisbane was diminished by developments of the 1980s, there are still enough remnants of old Brisbane to interest an amateur history fan. Before the Europeans arrived, there was a long history of the land being used by the local people, and this is also represented in a number of walking trails around Brisbane.
Have You Run the Brisbane River?
For a quick start to exercise options in Brisbane, look no further than the river itself. The Brisbane River Run is designed to allow graduated training from short to longer distances by following the colour coded course markers found throughout the route. The shortest run is only 3.35km, the next step is about 6.5km, and the final stage is 8km. The course is also intended to be used in a modular way, adding or subtracting stages to reach the particular length of run you prefer. It crosses the river over in several places, and takes in a number of parks along the banks. Of course, there's no reason you couldn't walk the same route, and let's face it, in a city where average temperatures in winter can be in the 20s, walking may be the better option for many.
Have You Ventured Out a Little Further?
Luckily, the potential options for interesting walks are huge, whether you are interested in history and heritage, natural beauty or artistic endeavour, Brisbane has a trail for you. Unlike many large cities, Brisbane has managed to retain a large amount of open space close to the city, allowing walkers access to parkland and even bushland within sight of the centre of town. Probably the nearest nature-orientated walks are around Mt. Coot-ha and the Brisbane Botanic Gardens, a few kilometres west of the city centre. The Summit Track, which leads to an incredible panoramic view of the greater Brisbane metropolitan area, passes by the equally impressive (if disturbingly named) JC Slaughter Falls, although the falls are more impressive in the wetter months of the year.
Have You Explored the Public Art Trail?
While some people would rather forget the 1980s and all they entail, especially if they have photographic evidence dating back that far, Brisbane celebrated the 25th anniversary of hosting Expo '88 by installing 13 pieces of art commissioned for that event as a public art trail. Most of this is accessible within easy walking distance of the CBD. You will certainly enjoy the walk, and enjoying the art is optional.
Have You Tried the Stair Climb at Kangaroo Point Cliffs?
Walking may seem like a low key exercise, and if you'd like to get a bit more cardio into your day, why not try a stair climb? Many runners use stairs to boost their power and endurance for other types of running, and there's a good place to start at the Kangaroo Point Cliffs on the Brisbane River with a flight of 107 stairs up the cliffs.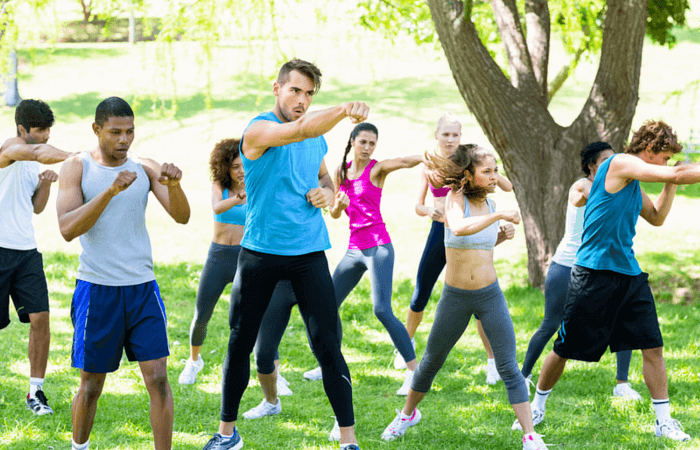 Have You Boxed in the Park?
The Brisbane City Council is serious about getting the people of Brisbane moving, and they offer a range of free programs in city parks to attract people. One of the more interesting is a series of boxing-based exercise programs which is free, though it does require booking. The focus is on the movement of the body and the cardiovascular exercise by undertaking the training, rather than on actual boxing matches. Of course, boxing is not for everyone, and there are a range of activities run by the council, from Pilates to Qi Gong meditation, so there's sure to be an activity that will suit your temperament.
Have You Played Like a Grown-up?
The council have also installed a range of exercise equipment in Brisbane parks that are like playgrounds for grown-ups. Designed to handle the weather and as much serious working out as you can throw at them, the council supplied gym equipment that is free to use for anyone who wants it – all you have to do is negotiate time with all the other park users. The only other trick is knowing where to find it, but they even have that covered with this handy map of facilities.
Have You Checked Out Your Local Park Run Group?
Other free activities include several local Parkrun groups. These groups are part of a global organisation that hold regular, timed running sessions over a 5km course in local parks. Anyone can join them, even kids, though all children must be supervised by an adult who needs to remain within arm's reach while running the course. There is a group meeting in New Farm just adjacent to the CBD, and around ten other groups throughout inner Brisbane.
Have You Swum in a Lagoon?
Nothing says tropical paradise like going for a swim in an actual lagoon, or at least so it's suggested by Gilligan's Island. While technically outside of Brisbane, Settlement Cove is a 35 minute drive from the centre of town, and the Lagoon is a perfect place to take a dip if the weather is not conducive to other exercise. There is room for swimming properly, but it can get a little crowded on weekends, and tends to fill up with little people.
Have You Taken a Dip at Cedar Creek Falls?
There are some amazing waterfall experiences a little further afield, and again it can depend on the weather because waterfalls have a habit of not being impressive unless there has been recent rainfall. An hour's drive south of Brisbane will take you Mt. Tamborine, where you can find Cedar Creek Falls, a natural swimming hole where you can go chasing waterfalls. Of course the swimming hole is there all the time, the falls may be reduced to a trickle.
Have You Taken a Splash at Streets Beach?
Even the JC Slaughter falls in Mt. Coot-ha are okay for swimming at the right time of year, and if you really can't get out of the city but need a swim, there's always the Streets Beach in the Southbank parklands on the shore of the Brisbane River, another artefact of the Expo '88 site which is essentially an artificial beach patrolled by lifeguards. The nearby Boat Pool is another option though again it's likely to be crowded if the weather is good.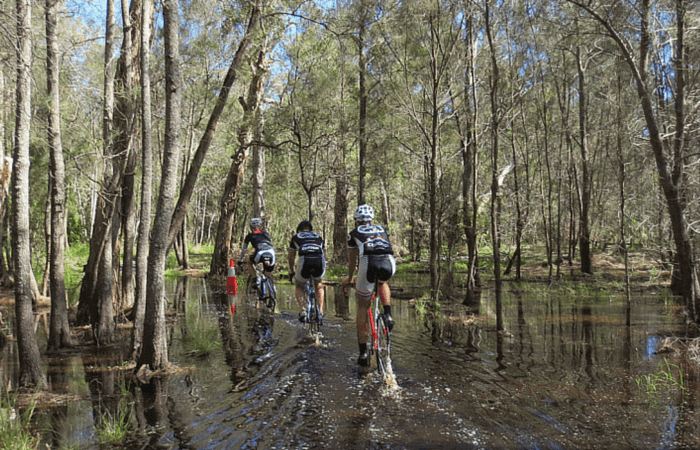 Have You Cycled The Wetlands?
Yes, they do have bikes in Brisbane; the city council is even working on a bike sharing program to get people cycling, but there are plenty of places to get rolling on two wheels around the city. One of the easiest ways to get started is to take on the Boondall wetlands near the airport; it skirts pretty close to the coast, which might mean it's a bit windy, but it's also pretty flat, so an easy introduction to riding in Brisbane! It's a pretty long ride though, about a 30km round trip, so it could take up to a couple of hours depending on your fitness level.
Have You Pedalled the Wynnum Manly Ride?
The Wynnum Manly ride is possibly the most popular recreational bike route in the whole city. It's also a big hit with walkers, as it follows the coast between the two suburbs for about 6km in one direction. There are plenty of other facilities along the way and plenty of parkland for rest stops if required.  There are also a number of consistently good places to eat along the way, so bringing your own supplies is not an absolute necessity as with some rides.
Check out the City of Brisbane's extensive cycleway map system to plot your own journeys. There is plenty of information available on where to go and what they can do for you while you are in town, including where you can park your bike.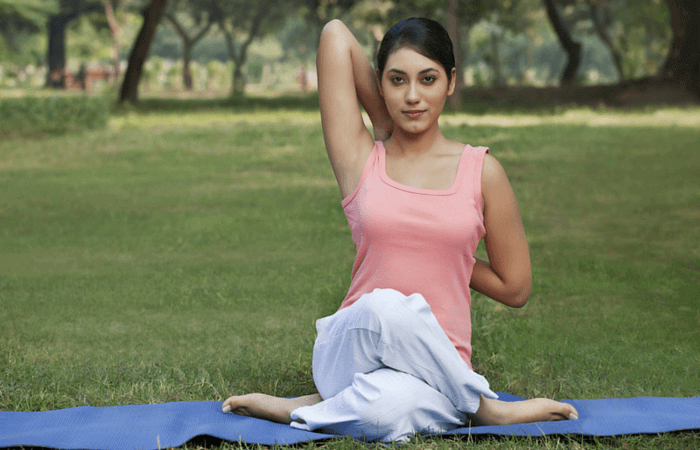 Have You Stretched to Giving Yoga a Go?
The benefits of stretching before and after strenuous exercise have long been known to anyone who has ever pulled a muscle or strained themselves by overdoing it. But increasingly, people are seeing the benefits of stretching as an end in itself, rather than just a precautionary practice. The art of Yoga has long been linked with Eastern spirituality and arcane meditation practices, but is more frequently finding its way into gymnasiums rather than temples as the benefits of muscle control and resistance training are clearly a benefit to athletes of all abilities and fitness levels. There are a number of opportunities to be shown the basics of yoga in a free lesson while you are staying in Brisbane. Why not go along and see what all the fuss is about? If there's one thing everyone needs to learn if they are spending any time in this part of the world, it's to get used to saluting the sun.
A Final Word…
If you have committed to treating your body with regular exercise, treat your mind to a health insurance policy that puts it at ease. Health insurance with the right extras policy can provide rebates for exercise injuries that need physiotherapy or perhaps therapeutic massage, and can also cover any private hospital stays that you might need, both in the near and distant future. Be sure you compare policies and read the fine print to get the best deal. In the meantime, Brisbane is calling you to the great outdoors!