17% of Aussies have emailed, texted or messaged someone their credit card details
44% have had their card details stolen or know someone who has
81% haven't compared their credit card options or switched providers in the last year
With owning a credit card comes great responsibility – from saving effectively, to paying off debt month-to-month, managing a card is a full time duty for many consumers. However, are we paying enough attention to the security aspects of our credit card and keeping our details safe both online and offline?
A survey of an independent, nationally representative panel of 1,200 Australian credit card holders we commissioned[1], asked respondents how they had shared their credit card details in the past and the reasons behind their risky plastic habits.
Almost a fifth of respondents (17%) admitted to emailing, texting or messaging someone their credit card details, including their credit card number, name, expiry date and security code. A further 15% have taken a photo, scanned or photocopied their card information to share with someone else, and 13% have relayed their credit card details over the phone in a public place.
Of those that shared their sensitive banking information, over half (56%) said it was to purchase a product or service where an online store, PayPal or secure payment portal wasn't available. Another 48% said they shared their details for a friend or family member to purchase something on their behalf.
Worryingly, a whopping 44% of Aussies have had their credit card details stolen or know someone who has – this is up 2%[2] since 2017. With more technological advances across the banking space coming into effect, resulting in easier ways to transfer money and make payments, consumers may be overlooking the security risks that come with sharing details online. Aussies need to realise that ease doesn't necessarily mean safe.
In 2018, the total value of card transactions came in at a staggering $789 million[3], which could mean a growing number of people aren't noticing any fraudulent activity taking place within their account. It's crucial for Aussies to become savvier and more aware of how to safely use their card. It can take weeks for stolen money to be refunded, so keeping vigilant from the get-go with sharing personal information is key.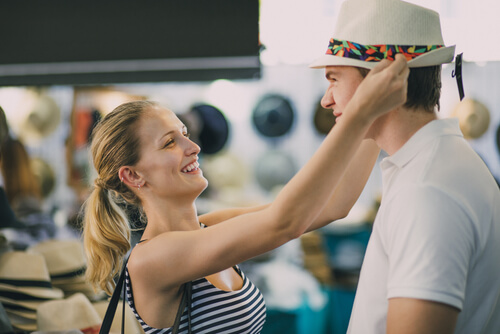 It wasn't all bad news though as many Aussies were trying to break their unsafe plastic behaviours by applying various security measures to protect their banking information. Incredibly, 80% of people have cut up and discarded their expired credit card as soon as they received a new one.
On top of this, two thirds (67%) only purchased products and services online from secure websites, with the same proportion of respondents covering details with their hand when they entered their pin into an ATM or Eftpos machine. A further 49% of consumers have security features included within their credit card such as fraud detection, Verified by Visa and so on.
Interestingly though, a huge 81% hadn't compared their credit card options or switched providers in the last year.
Just as credit cards offer different interest rates, fees and rewards, there is also a range of protection software in place to protect your bank details such as 24/7 account monitoring[4] or Fraudshield[5] (detection software of irregular transactions). It pays to compare, review other credit cards as you may find an option that could better suit your spending habits and back-pocket, with lower rates and interest-free periods too. Consider changing the way you use your credit card and find out if there's more on offer security-wise for your peace of mind.
Our five ways consumers can safely use their credit card details and avoid common traps
Only use secure websites: Most information that you send or input, such as your credit card details, through a secured website, is encrypted and protected. However, this doesn't mean you're completely safe from any hackers. To mitigate the risk, make sure your malware protection on your computer is up-to-date and that you have anti-spyware software installed. Try to avoid clicking on any pop-up ads or suspicious links too.
Understand who you're purchasing from: If you decide to shop online or make a purchase over the phone, make sure you can trust the person you're speaking to. You never know how your credit card details could be used, so consider calling the seller back on a number you can find on their website and not just the number they called you on. Consider checking out the customer reviews on the online store you're buying from to make sure it's a genuine website too.
Avoid the 'remember my details/password' option: It may be tempting to save your information online without having to remember your credit card details each time however, this can be an especially dangerous practice. Your bank details and even username/password can still be hacked into, so avoid the easy option and keep your personal data safe.
Watch out when using public Wi-Fi: While using public Wi-Fi can be a free and convenient option, it's crucial to wise up on how you safely use it, especially when it comes to bank details. Connecting to the internet in a public place without a VPN (Virtual Private Network) opens yourself up to cyber criminals, who can create fake networks and steal your credit card details, passwords and any other personal information. Tread very carefully when using public Wi-Fi and try to avoid using your bank details if possible.
Don't forget to logout when you're finished: It's very important to sign out of your online banking account after you've finished your transaction, transfer or even after just checking your balance. Closing the browser doesn't mean you have automatically signed out – make sure you properly logout to avoid any issues or errors when you next hop online. This also lowers the risk of any outside parties getting access to your account and using your details while still logged in as you.
Sources
[1] Conducted by Pure Profile – Jan 2020
[2] Conducted by Pure Profile in December 2017
[3] Australian Payment Card Fraud report 2019 – Australian Payments Network (figure rounded to the nearest million): https://www.auspaynet.com.au/sites/default/files/2019-08/AustralianPaymentCardFraud2019_0.pdf
[4] Bankwest – Account and card security, how we protect you: https://www.bankwest.com.au/security-centre/account-card-security
[5] Virgin Money – Credit card insurance and protection, Fraudshield: https://virginmoney.com.au/credit-card/rewards-and-benefits/insurance-and-protection
Did you find this article interesting or helpful?