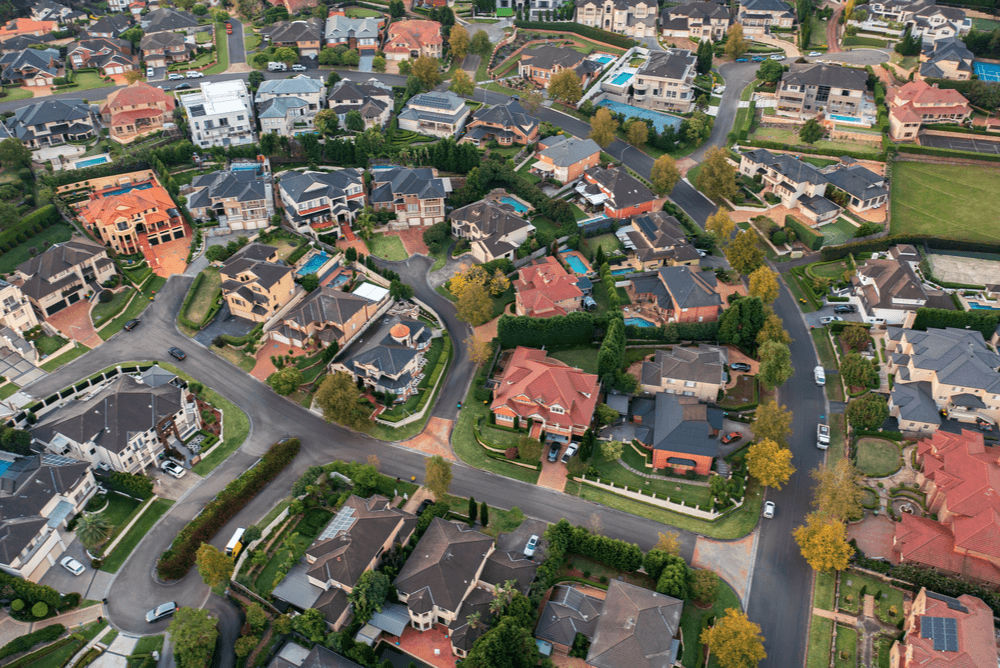 Australia's prudential regulator has tightened lending rules for Australian home buyers, potentially making it harder to get a home loan from now on.
The Australian Prudential Regulation Authority (APRA) has raised the serviceability buffer required by banks from a minimum of 2.5% to 3%.1
This essentially means that banks now have to consider a customers' ability to repay a mortgage at an interest rate 3% above the home loan's advertised interest rate.
Given many home loan rates are now averaging near 2% p.a,2 that would mean banks will review a customer's borrowing capacity at around 5% p.a (higher depending on their interest rate).
APRA Chair Wayne Byres said this move is designed to "reinforce the stability of the financial system".3
"In taking action, APRA is focused on ensuring the financial system remains safe, and that banks are lending to borrowers who can afford the level of debt they are taking on – both today and into the future," he said.
"While the banking system is well capitalised and lending standards overall have held up, increases in the share of heavily indebted borrowers, and leverage in the household sector more broadly, mean that medium-term risks to financial stability are building.
"More than one in five new loans approved in the June quarter were at more than six times the borrowers' income, and at an aggregate level the expectation is that housing credit growth will run ahead of household income growth in the period ahead.
"With the economy expected to bounce back as lockdowns begin to be lifted around the country, the balance of risks is such that stronger serviceability standards are warranted."
Is this enough?
This is a slightly different action to what was widely tipped prior to today's decision, with many in the industry saying a restriction on high debt-to-income borrowing (DTI) would be likely.
However, the Reserve Bank (RBA) did drop a hint at this in yesterday's cash rate announcement.
"The Council of Financial Regulators has been discussing the medium-term risks to macroeconomic stability of rapid credit growth at a time of historically low interest rates," RBA Governor Philip Lowe said.4
"In this environment, it is important that lending standards are maintained and that loan serviceability buffers are appropriate."
APRA acknowledged its decision not to cap high DTI ratio lending, saying that in the June quarter 2021, more than 20% of banks' new lending was to people borrowing more than six times their pre-tax income.
"In the current circumstances, APRA's view is the interest rate serviceability buffer is the most appropriate tool to use. It acts as a cap on leverage, is relatively easy to implement, and will not have any impact on mortgage interest rates," the regulator said.
"A limit on the extent of high debt-to-income borrowing would precisely target more highly indebted borrowers.
"Compared to raising the interest rate buffer, however, limits would be more operationally complex to deploy consistently, and may lead to higher interest rates for some borrowers as lenders effectively seek to ration credit to this cohort."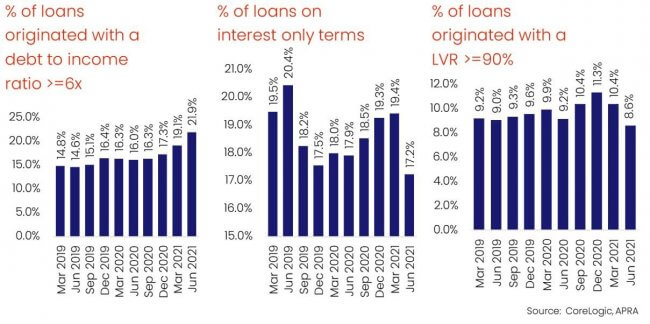 Essentially, that means a limit on high-debt borrowing would unfairly target the likes of first home buyers and owner-occupiers, while increasing serviceability buffers, according to APRA, will more likely target investors.
"Across borrower cohorts, the impact of a higher serviceability buffer is likely to be larger for investors than owner-occupiers. This is because, on average, investors tend to borrow at higher levels of leverage and may have other existing debts (to which the buffer would also be applied)," APRA said.
"On the other hand, first home buyers tend to be under-represented as a share of borrowers borrowing a high multiple of their income as they tend to be more constrained by the size of their deposit."
What impact will this have on house prices?
Ultimately, APRA says this action was not made with house prices in mind and "isn't seeking to target the level of housing prices".
"Rather, APRA's objective is to ensure that mortgage lending is conducted on a prudent basis and that borrowers are well-equipped to service their debts under a range of scenarios."
However, the regulator said it was not ruling out further measures being used in the future.
What it means here and now is your borrowing power might be slightly lower.
"Putting aside the impact from other aspects of serviceability assessment, a 50 basis points increase in the serviceability buffer will reduce maximum borrowing capacity for the typical borrower by around 5%."
According to Compare the Market's Chief Digital Transformation Officer David Ruddiman, this means a customer with a borrowing capacity of $500,000 will now only be able to borrow $475,000.
"They'd have to now come up with an additional $25,000 in contributions toward the purchase of a home at the same price, or they'll need to become really good at negotiating a vendor down on the sale price," Mr Ruddiman said.
"With any luck this will see the brakes being pumped on investors, who tend to be more highly geared.
"In the context of the current red hot property market this change is likely to have a modest impact, with further action by regulators more likely than not.
"For now, we're of the view that APRA is simply looking to prepare consumers for the inevitable rate rises that will be made by the RBA."
See also: Could you afford the next cash rate increase?
---
Sources
Image via Shutterstock
Australian Prudential Regulation Authority, 6 October 2021. 'Strengthening residential mortgage lending assessments'.
Reserve Bank of Australia, Lenders' Interest Rates. Accurate as at July 2021.
Australian Prudential Regulation Authority, 6 October 2021. 'APRA increases banks' loan serviceability expectations to counter rising risks in home lending'.
Reserve Bank of Australia, 5 October 2021. 'Statement by Philip Lowe, Governor: Monetary Policy Decision'.
Did you find this article interesting or helpful?