The number of first-time mothers choosing assisted birthing techniques has increased, according to data released by the Australian Institute of Health and Welfare (AIHW) in October 2020.
Almost half of all selected first-time mothers aged between 20 and 34 gave birth by induced labour in 2018, which is almost 15% more than was previously recorded. The AIHW figures focus on women whose babies were born between 37 and 41 weeks gestation.[1]
According to Dr. Robert Butler, Head of Obstetrics at Eve Health, this is mostly due to the mother's choice and the medical evidence that supports it.
'I would say the greatest reason for an increase in the uptake of induction of labour in first-time mums is an informed choice, combined with recent studies which have reassured women and their care providers regarding the safety of this approach.'
While it was more common in private hospitals in 2004, induced labour births are now more common in public hospitals (among selected mothers) than in private hospitals.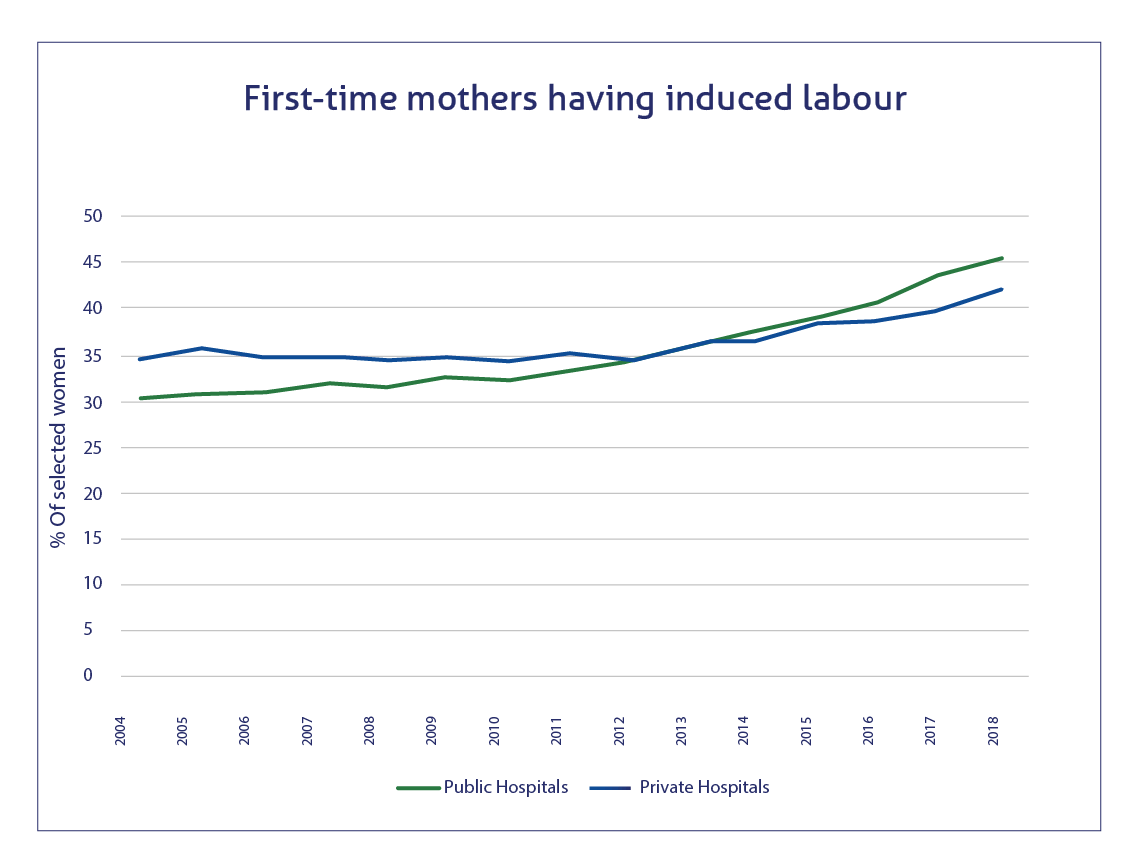 Source: Induction of labour. Australian Institute of Health and Welfare, Australian Government. 2020.
The Australian Government's Pregnancy, Birth and Baby service notes that one in three Australian mothers gives birth via induction.[2],[3],[4] Data from New South Wales, Victoria and Western Australia also shows that the increase in induced labour births (including first-time births and subsequent births) has continued into 2019.[5]
Lauren Williams, Director of Midwifery at Hatch Private Maternity in Brisbane, notes that sometimes there may be a need for medically necessary intervention to assist a mother and her baby.
'The average age of women having their first baby has also increased, and age is a determining risk factor affecting recommendations for inducing labour. When medically indicated, interventions to assist the progress of labour or expedite the birth can effectively prevent maternal and newborn mortality.'
A 2018 study found that induction between 39 to 40 weeks gestation lowered the need for emergency caesareans, compared with women who waited for labour to occur.[6]
What is induced labour?
Induced labour refers to labour that's started artificially rather than naturally. It may be carried out by medication, breaking the waters using medical instruments, or mechanically opening the cervix. It can be a planned procedure to try and have the baby born by a certain time or unplanned.
Typically, health professionals will recommend and carry out an induced labour in the following scenarios:
the mother is giving birth to multiple babies;
the mother has diabetes, high blood pressure, kidney problems or another health condition that may complicate a natural birth;
the doctor is concerned about the placenta not working correctly;
contractions haven't started on their own despite the waters breaking;
something may be wrong with the baby, such as a change in heart rate, growth rate or movement in the womb; or
the mother is more than 41 weeks pregnant.[7]
More Australian mothers likely to have some form of intervention when giving birth
The AIHW report also shows that the number of instrumental vaginal births (where forceps or vacuum suction is used to help deliver the baby) for first-time mothers has increased across Australia between 2004 and 2018.
State
Number of instrumental births in 2004
Number of instrumental births in 2018
New South Wales
5,081
6,667
Victoria
4,903
7,143
Queensland
2,433
3,804
South Australia
1,229
1,381
Western Australia
1,760
2,606
Australian Capital Territory
408
531
Northern Territory
137
210
Tasmania
No data recorded*
353
Source: National Core Maternity Indicators: Instrumental vaginal birth. Australian Institute of Health and Welfare, Australian Government. 2020.

*No data for first-time mothers among selected women giving birth instrumentally in Tasmania was available from the AIHW for the years 2004 to 2012.
Other surgical methods of assisting birth also saw an increase in recent years:
the number of first-time mothers having an episiotomy (a surgical cut that enlarges the vaginal opening) has increased to 77.6%.[8]
the number of caesarean section (or C-section) births for first-time mothers has increased – especially in the private system, where 40.6% of women surveyed gave birth by C-section in 2018.[9]
In contrast, the number of first-time mothers in selected data groups who did not have any instrumental intervention when giving birth has declined steadily from just over 50% to 43.8%.
What does this mean for first-time mothers?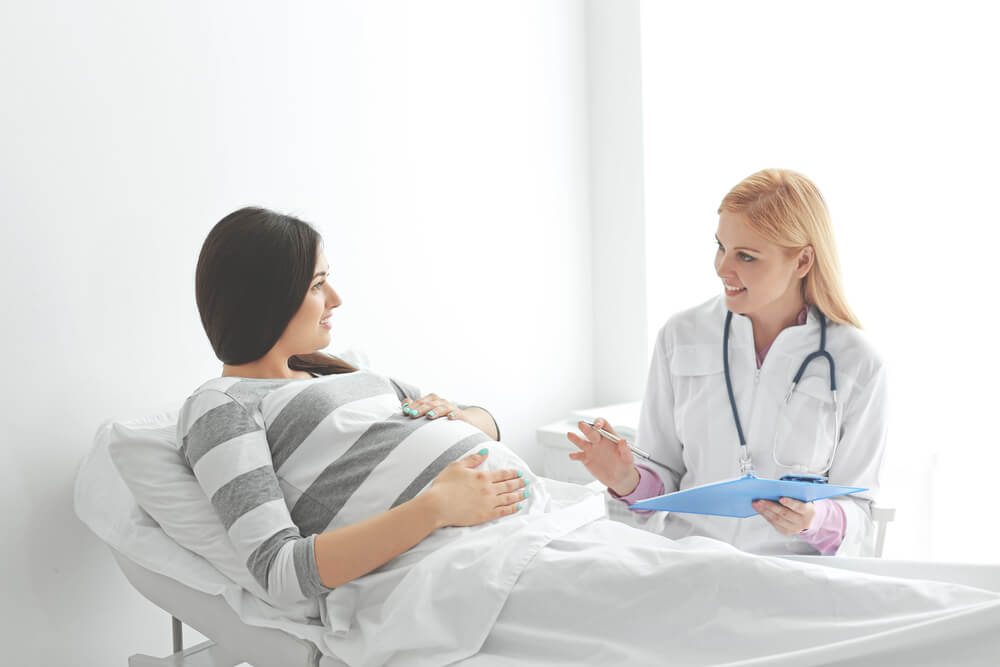 'There is no wrong way to birth, nor one that is risk-free,' says Williams.
Williams also explains that unnecessary interventions can lead to:
increasing other unintended interventions such as epidurals, instrumental and caesarean births and episiotomies; and
altering the beneficial hormonal balance of childbirth responsible for initiating mother-infant bonding and breastfeeding.
Dr. Butler notes that there are risks with any type of birth and recommends expectant mothers to stay informed.
'My advice would be to always ask lots of questions, read widely and challenge your healthcare provider to give you the most up-to-date and accurate information available. This way you can understand the various types of birth and how they might apply in different situations.'
Anxiety, choice and empowering women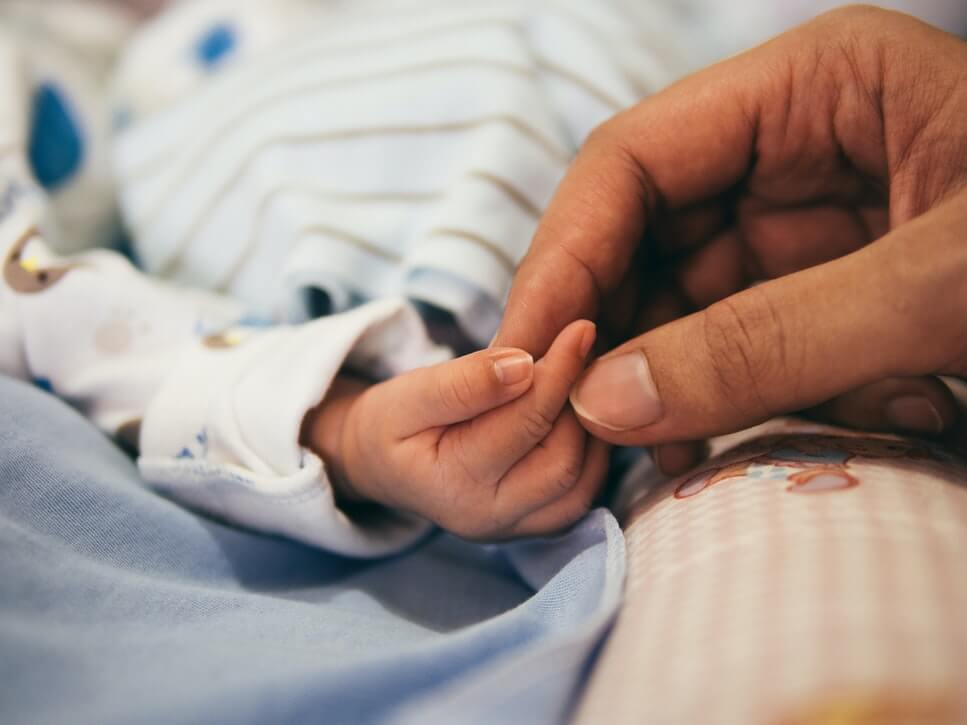 While medically necessary labour induction can help prevent infant or maternal death, but there are other benefits to induced labour, such as alleviating stress and helping mothers plan their baby's arrival. The number of babies that are born on their due date is very low – four to five per cent, according to Williams.
'Women learn they are considered 'term' from 37 weeks. They may have started maternity leave and are feeling all of the discomforts that come with the end of pregnancy, so often the focus turns to I'm done, how can I get this baby out?'
'Many women choose to go private, so they have a choice in timing the birth,' says Williams.
When it comes to stress and anxiety, Williams notes that as many as one in 10 develop post-traumatic stress disorder (PTSD). She notes that ensuring women feel empowered and involved in all decision making should be a top priority.
Dr. Butler echoes Williams' statement on the importance of choice.
'The fundamental point is that mothers should be the only ones making decisions about what happens to their bodies, and their birth plan should reflect this informed choice.'
Does intervention affect the cost of care during birth?
In the public system, all publicly admitted patients enrolled with Medicare have their costs covered in full by Medicare, regardless of the mode of delivery. For the difference in caesarean and vaginal birth costs in the private sector, the Department of Health's Medical Cost Finder can illustrate the difference in doctors' fees between these types of birth.
Operation
Avg % of patients with no gap
Avg gap fee*
Average doctors' fees
Caesarean delivery major complexity
40%
$420
$4,400
Caesarean delivery minor complexity
44%
$420
$3,700
Vaginal delivery major complexity
65%
$300
$3,000
Vaginal delivery minor complexity
71%
$350
$2,800
Source: Medical Cost Finder. Department of Health, Australian Government. 2020.

* Combined fee for all doctors and medical professionals involved.  Doesn't include fees charged by hospital or excess payments from health insurance provider.

Note: data from 2018-19 financial year.
According to the data above, there's a difference in fees between C-section births and vaginal birth, including major and minor complexity deliveries. Australian mothers in the private system giving birth by caesarean are more likely to have a gap payment than those giving birth vaginally.
When it comes to instrumental and assisted vaginal birth costs (for induction, forceps or vacuum suction), Dr. Butler states that induction and instrumental delivery don't impact the cost of care.
However, Williams adds that if an anaesthetist is required for an epidural, it could add to the cost of care.
'Choosing an induction or requiring one for a medical reason is unlikely to cost more, but each health fund has its own set of scheduled fees that they pay,' Williams says.
'Inductions are associated with a higher use of epidurals, which require an anaesthetist. Some private anaesthetists charge no gap and bill the health fund directly. Others may charge above what your health fund will pay, and that leaves a gap which is charged to the patient.'
Compare the Market's General Manager of Health Insurance, Anthony Fleming, notes that there are advantages to giving birth privately.
'Women can choose to give birth in a private hospital, have a private room – if one's available – and choose their obstetrician and gynaecologist for their pregnancy journey. It helps give women more choice, which can be a source of comfort during what can be both an anxious and exciting journey.'
If you're considering private health insurance for pregnancy and birth, you can learn more by reading our guide to obstetrics cover.
Sources: 
[1] National Core Maternity Indicators: Induction of Labour. Australian Institute of Health and Welfare, Australian Government. 2020.
[2] Induced labour. Pregnancy, Birth and Baby, Australian Government. 2019.
[3] Victorian perinatal services performance indicators: 2018-19. Safer Care Victoria, Victorian Government. 2019.
[4] Induction of Labour & Caesarean Section. Department of Health, Government of Western Australia. 2020.
[5] Type of birth (vaginal, caesarean, forceps etc) in first-time mothers. HealthStates NSW, New South Wales Government. 2020.
[6] William Grobman et al. "Labor Induction versus Expectant Management in Low-Risk Nulliparous Women," The New England Journal of Medicine. Massachusetts Medical Society. Pages 513-523. 2018.
[7] Induced labour. Pregnancy, Birth and Baby, Australian Government. 2019.
[8] National Core Maternity Indicators: Episiotomy. Australian Institute of Health and Welfare, Australian Government. 2020.
[9] National Core Maternity Indicators: Caesarean section. Australian Institute of Health and Welfare, Australian Government. 2020.
Did you find this article interesting or helpful?