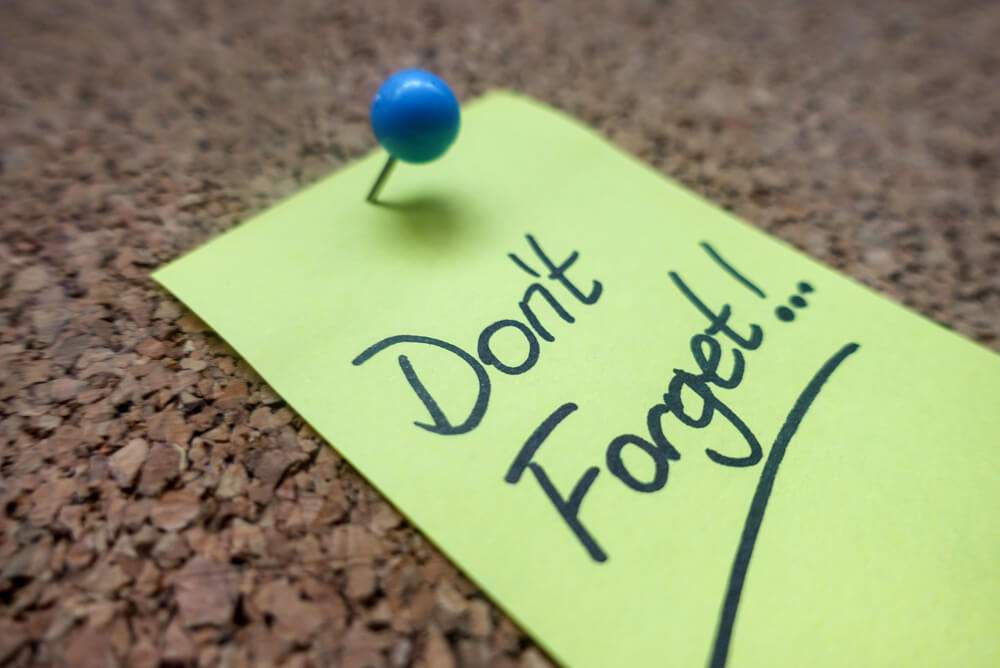 Buy Now, Pay Later purchases are one of the most forgotten about bills, new Compare the Market research shows.
Compare the Market's new Bill Shock Tracker for September 20211 found that 29% of Australians had missed or forgotten about a bill in the previous three months, based on a survey of more than 1,500 people.
Of those who'd forgotten a bill, Buy Now, Pay Later (BNPL) was the fourth most common, with 18% of respondents saying they had to pay for a repayment they hadn't remembered.
The most forgotten about bill was car registration costs, which nearly one-third (32%) of Aussies forget they have to pay.
Another commonly forgotten bill identified from the report was streaming and online entertainment services at 23%, which is fitting given payments for unused streaming services and subscriptions are costing the average Aussie roughly $200 a year.
According to the Bill Shock Tracker, the top 10 most commonly forgotten bills are as follows:
Car registration: 32%
Council rates: 27%
BNPL accounts: 18%
Credit cards and loan repayments: 14%
Car insurance: 13%
'Other' subscriptions (apps, websites etc.): 11%
School and sport fees: 10%
'Other': 9%
Health insurance: 7%
Women slightly outspending men on BNPL
Compare the Market's data shows that women are slightly outspending men when it comes to BNPL, with women spending roughly $180 on average in any given month compared to $172 for men.
The average across all genders is $177, and younger Australians (18-34) exceed this average at $185 per month. Those aged between 35-44 spend $182 per month; the average monthly BNPL spend for 55–64-year-olds was $100, while 65+ users spend about $54 on average.
As most industry data has specified, BNPL services are mostly used by young consumers. More than 55% of BNPL users were under the age of 40 in 2019, despite accounting for only 18% of Australia's population.2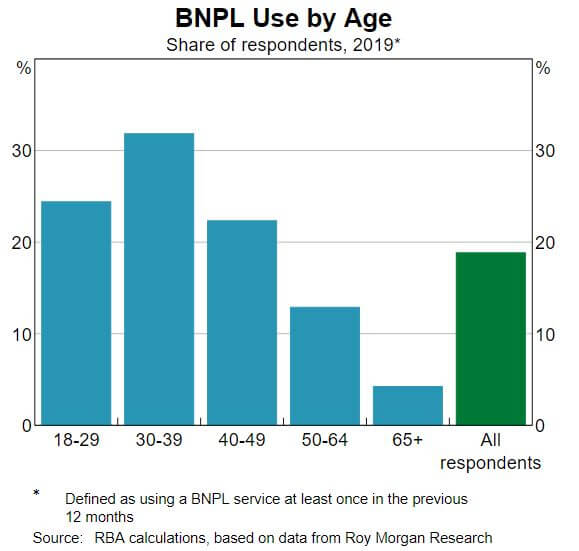 BNPL on the rise
While it might only be the fourth-most forgotten bill, it's worth noting the presence of BNPL with this significant position in the list, especially considering how new it is compared to other bills and repayments.
While things like car registration, council rates and health insurance are all common-place, BNPL is a relatively new phenomenon that hardly existed more than five years ago in Australia.
The number of people using health insurance and credit cards is declining3 4, at least among certain demographics, while BNPL accounts are opening rapidly.
As many as 3.3 million Australians (16%) used a Buy Now Pay Later service in the year to June 2021,5 up from only 7% in September 2018, while the number of active accounts essentially doubled from 2017 to 2018.6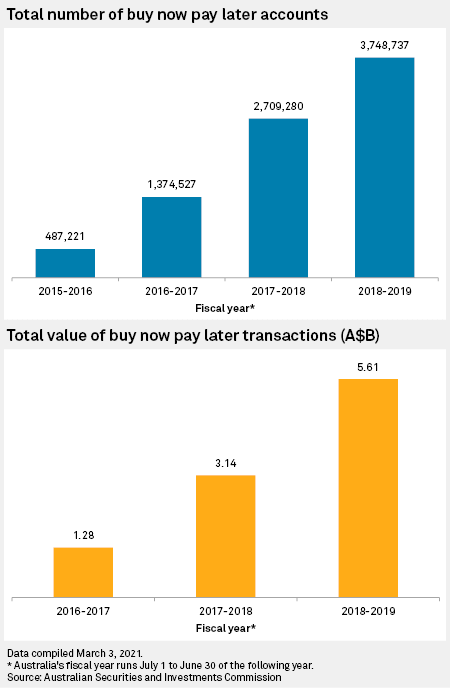 What happens if you forget Buy Now, Pay Later repayments?
Forgetting a BNPL repayment is potentially a problem, as most of the providers will charge late fees for customers who miss their scheduled repayment deadlines.
An ASIC review in 2020 found that 21% of BNPL users missed a payment in a 12-month period, and about half of which were charged multiple late payment fees.6
BNPL providers tend to charge late fees on each missed payment before capping the total amount the customer is charged, at which point they will usually be cut off from the service.
Afterpay, for example, charges an initial $10 late payment fee following a missed payment, with a further $7 late fee added every seven days afterwards if the balance is still overdue.7
These late fees are capped at either $68 or 25% of the original order value, whichever is lower.
This might not seem like much compared to what you could be charged on a credit card, but they can add up, especially since you can be charged on multiple BNPL platforms.
Forgetting about BNPL bills can also leave a black spot on your credit history, potentially making it harder to apply for other loans in the future.
Of the many BNPL services available, PayPal's 'Pay in 4' service is the only major provider not to charge any late fees.8
While around 6% of respondents in Compare the Market's survey said their BNPL spending was likely to 'cause them stress', ASIC's report found 20% said they had cut back on or went without essentials, like meals.
As many as 15% also said they had to take out an additional loan to meet their BNPL repayments.
---
Sources
Image via Shutterstock
Compare the Market Bill Shock Tracker: August 2021
Reserve Bank of Australia, 18 March 2021. 'Developments in the Buy Now, Pay Later Market'.
Australian Prudential Regulation Authority, February 2020. Quarterly private health insurance statistics.
Reserve Bank of Australia, 'Credit and Charge Cards – Seasonally Adjusted Series – C1'.
Roy Morgan, 10 August 2021. 'Roy Morgan Digital Payments Report.'
Australian Securities and Investments Commission, November 2020. 'Buy now pay later: An industry update'.
Afterpay Terms of Service, 1 March 2021.
PayPal, 13 July 2021. 'PayPal launches Australia's only no-fee buy now, pay later offering for consumers, PayPal Pay in 4'.
Did you find this article interesting or helpful?