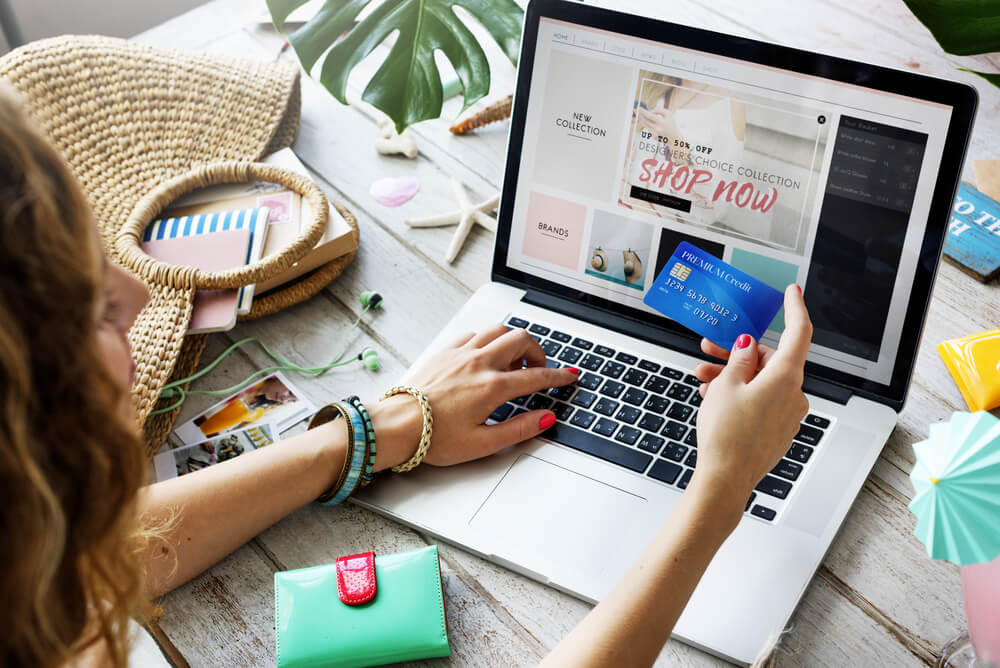 Buy Now, Pay Later applications grew 31.4% in the last 12 months to September 2021, as Australia continues its post-COVID-19 recovery.
According to the Equifax Quarterly Consumer Credit Demand Index: Sept 2021, overall consumer credit applications increased by 12.8% annually.1
As well as Buy Now, Pay Later (BNPL) rising by more than 30%:
Mortgage applications were up 13.1% in the 12 months to September
Credit card applications fell by 0.3%
Personal loan applications grew by 20.3%
Auto loan applications were reduced by 4.5%
Despite these gains, overall credit demand is still more than 20% lower than pre-COVID-19 levels (Q3 2019).
Applications for BNPL and mortgages however are 14% and 30.2% above pre-COVID-19 levels respectively.
"Mortgage and BNPL demand have remained strong in and out of lockdowns, but their gains haven't been enough to offset the drop in other categories of credit," Equifax General Manager Advisory and Solutions Kevin James said.
"Now that Australia is reopening, we can expect to see credit cards, auto loans and personal loans playing catch up.
"With international travel soon to reopen, we can expect to see consumer credit demand grow, specifically the use of credit cards to pay for people's overseas holidays.
"It should also hasten Australia's economic recovery that we're moving into a quarter that traditionally sees higher spending with Christmas approaching."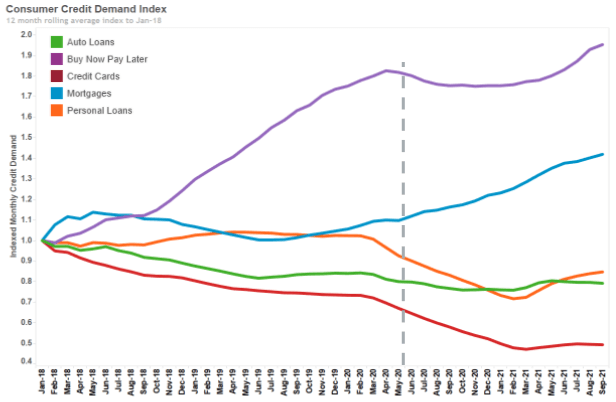 Source: Equifax
Is BNPL really that popular?
BNPL is supposedly incredibly popular in Australia, enough for major banks like Commonwealth Bank2 and Westpac3 to introduce their own versions of it.
According to Roy Morgan Research, 3.3 million Australians (15.7%) used a Buy Now Pay Later service in the year to June 2021, up from only 6.8% in September 2018.4
But new Reserve Bank data casts doubt on these figures and indicates that an increase of more than 30% in BNPL applications is coming off a very low base.5
The RBA Review of Retail Payments Regulation paper found the value of BNPL transactions was equivalent to about 1.7% of card transactions, up from 1.5% in March 2021.
"BNPL accounts for a relatively small, though growing, share of payments in the Australian economy," the report said.
"Moreover, while BNPL still accounts for a relatively low share of overall transactions in the economy,  there are indications that its use is now widespread in certain retail segments.
"Consistent with this, there was strong feedback from merchants that BNPL has become an essential payment offering for many of them…"
According to data collected by the RBA, BNPL providers processed around $11.5 billion of purchases in the year to June 2021.
Source. Only about 3% of those make a transaction at least once per week, according to the RBA.6
---
Sources
Image via Shutterstock
Equifax, 26 October 2021. 'Consumer credit demand set to shake off lingering impacts of COVID'.
Commonwealth Bank, 18 August 2021. 'CommBank's StepPay available now'.
Westpac, 20 October 2021. 'Westpac gives customers more 'Flex' with new zero interest digital card'
Roy Morgan, 10 August 2021. 'Roy Morgan Digital Payments Report.'
Reserve Bank of Australia, October 2021.' Payments System Board Annual Report 2021.'
Reserve Bank of Australia, 18 March 2021. 'Developments in the Buy Now, Pay Later Market'.
Did you find this article interesting or helpful?