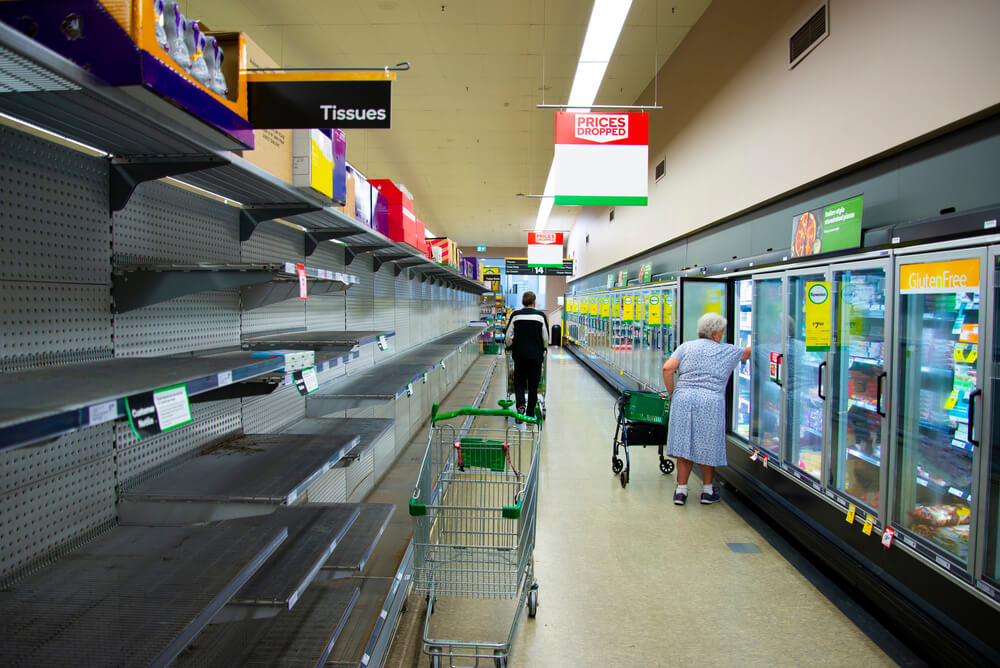 The cost of food, fuel, and other essential household bills have soared in the latest official inflation figures, as cost of living pressures for Australians hit the highest point in more than 20 years.  
The latest Consumer Price Index (CPI) data from the Australian Bureau of Statistics shows a 2.1% overall increase in prices in the March 2022 quarter, up from 1.3% in December.
In the past 12 months, the CPI rose 5.1%, greater than 2021's already high 3.5%, marking the biggest annual rise since the introduction of the goods and services tax (GST) back in the year 2000.
As expected, fuel and food costs were among the biggest increases, following recent surges at the bowser and the checkout due to the multitude of ongoing crises around the globe.
Fuel costs rose 11% in the last quarter to be more than two-thirds (35.1%) higher compared to March 2021, while food prices rose 4.3% compared to the same period last year.
According to the data, the increase in fuel prices is the largest since the Gulf War in 1990.
Other significant price increases in the past year could be found in:
The purchase of new dwellings (+13.7%)
Rent (+1%): Although sizeable increases were recorded in every capital city except for Sydney (-1.2%) and Melbourne (-0.9%)
Household utility and energy bills such as electricity (+3.5%) and gas (+7.4%)
Insurance (+4.2%)
Tertiary (+6.4%) and primary (+5%) education
Medical (+4.6%) and dental services (+1.4%)
Vet bills (+6.7%) and spending on pets (+7.1%)
Childcare costs (+4.2%)
Compare the Market's Chris Ford said many of these increasing costs have only gotten worse since this data was gathered.
"This quarter's inflation data is not that surprising given what we've already been seeing in fuel prices, supermarket costs and pretty much every other household expense, but things have seemingly got worse for many people into April," Mr Ford said.
"Our latest Bill Shock Survey for April found more than three-quarters of Australians have been shocked by an everyday bill in the last three months, which is well up from the previous quarter, and nearly every Australian (92%) has noticed a rise in their cost of living.
"While we were starting to see some relief for fuel, other costs might just get worse in the coming months, particularly housing and rent costs.
"The Reserve Bank is expected to raise interest rates as many as five times before the year is out, which could add hundreds of dollars to the average mortgage repayment and lead to further rental stress as well."
Which groceries have increased the most in the past year?
| | |
| --- | --- |
| Item | Annual change (Mar 21-22) |
| Bread and cereal | +3% |
| Beef and veal | +12.1% |
| Pork | +3.3% |
| Lamb | +7.2% |
| Poultry | +3.7% |
| Fish and seafood | +2.2% |
| Milk | +4.3% |
| Cheese | +3.3% |
| Fruit and vegetables | +6.7% |
| Eggs | +1.5% |
| Meals out and takeaway foods | +2.6% |
| Coffee and tea | +8.2% |
| Wine | 0% |
| Beer | +1.6% |
See also: Two-thirds of mortgage holders and renters would struggle to afford an increase in payments.
What to do about soaring costs
High inflation could be here to stay, with the International Monetary Fund recently bumping up its inflation forecast to 5.7% for advanced economies in 2023.
"In response to high everyday costs, Compare the Market's data found nearly 60% of people had been cutting back on non-essential spending, while 35% were trying to cut their spending at the supermarket," Mr Ford said.
"People have also been shopping around to save money on petrol (60%), energy plans (21%) and insurance products (25%).
"Despite this, many will still be struggling to keep up, and as many as one-in-five Aussies say they stress about their money every single day at the moment."
For those who aren't sure how they can better manage their expenses at a time of high inflation, Mr Ford offers the following tips:
Food: hunt for discounts, buy more frozen foods and eat everything you buy, as households can save up to $2,500 a year by reducing their food waste. For those who are really struggling, food banks are an option too.
Petrol: driving less is the most obvious way to save on fuel, but if this isn't an option, comparing fuel prices near you with the Simples App can help you find cheaper fuel in your area.
Energy and utilities: there are potential savings available each year by switching to cheaper energy plans as well as other household bills like water and internet. If you're struggling to keep up with your payments, you can get in touch with your provider's hardship team to make arrangements.
Mortgages and rent. Rates are set to increase, so if you have a mortgage, compare home loan rates today and see if you can find a better deal before they do, and continue to monitor your loan's competitiveness over the next few months and years. There are fewer options available for renters but moving into shared accommodation or finding a roommate are good ways to ease the rental burden if that's a suitable option for you.
Insurances: Check your policies are right for you, especially if your circumstances have changed. If you're working from home more and driving less, you may be able to save on your car insurance. Or if you are planning on having children, you may be able to save money by splitting your private health insurance policy and covering each partner independently.
---
For more information, please contact:
William Jolly | 0405 968 369 | [email protected]   
Compare the Market is a comparison service that takes the hard work out of shopping around. We make it Simples for Australians to quickly and easily compare and buy insurance, energy, travel and personal finance products from a range of providers. Our easy-to-use comparison tool enables consumers to find products that best suit their needs and back pocket.
Did you find this article interesting or helpful?