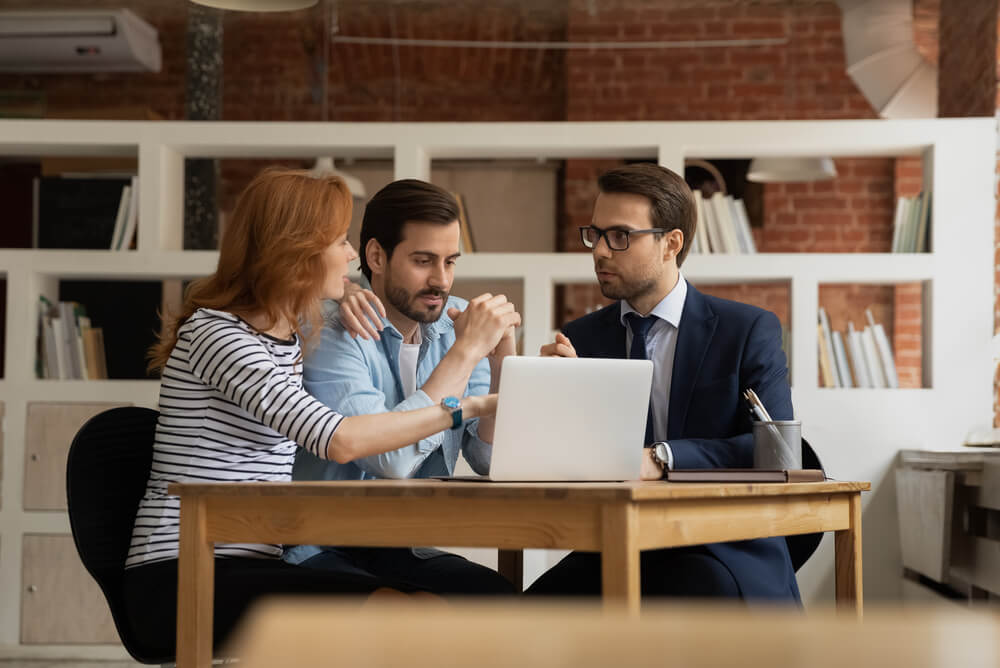 A representative body for smaller customer-owned banks has warned that further lending restrictions could potentially harm competition for customers. 
Chief executive of the Customer-Owned Banking Association (COBA), Michael Lawrence, told a parliamentary hearing yesterday that lending restrictions imposed by the Australian Prudential Regulation Authority (APRA) could "disproportionately impact" smaller lenders.1
In October, APRA raised the serviceability buffer – essentially an assessment of a customer's ability to manage repayments at a higher interest rate – from 2.5% to 3%.
The regulator has also said it was considering possible further steps, while the Reserve Bank has other options at its disposal, such as:
And more.
According to Mr Lawrence, previous restrictions such as caps on investment lending have disadvantaged smaller and regional banks, when the problem is mainly centred in Sydney and Melbourne.
"If you're a smaller member like ours and you've got a $200 million portfolio, you're going to hit your 10 per cent cap a lot quicker than someone who's got a $500 billion portfolio," he said.
"So these blunt instruments… you're applying it to someone in Warwick, in rural Queensland. Was the issue in Warwick? Was the issue in some of our regional centres? No.
"It's absolutely a competition issue. And it poses an enormous amount of pressure on our sector."
COBA has previously spoken out about the increased threat regulation has on smaller banks compared to major ones.
"New entrants to retail banking, such as neobanks, and existing challenger banks, such as customer-owned banks, are critical to applying competitive pressure to the major banks," Mr Lawrence said in July 2021.2
"The increasing diversion of scarce resources away from customer service and innovation to meet new compliance obligations hits challenger banks hardest and gifts a competitive advantage to major banks.
"The ultimate losers from this entrenched trend are all banking customers who need a vibrant, dynamic and innovative retail banking market."
How big are customer-owned banks?
Customer-owned banks, or 'mutual banks', are banks that return all profits to their members instead of shareholders, which according to COBA and the banks themselves, it allows them to offer more competitive products.
They tend to be smaller than retail banks although still offer the same products: home loans, bank accounts, credit cards, car loans, insurance and more.
According to COBA, it represents a total of 67 customer-owned institutions with a total of $139 billion in assets under management.3
The largest customer-owned banks (by total assets) are as follows:4
Great Southern Bank (formerly CUA): $19.5 billion
Newcastle Permanent: $11.10 billion
Heritage Bank: $10.74 billion
People's Choice: $9.45 billion
Teachers Mutual Bank: $8.14 billion
While some of these banks are growing rapidly as competition in the banking sector heats up (see the image below), customer-owned banks still only represent 2.6% of Australia's total banking by assets.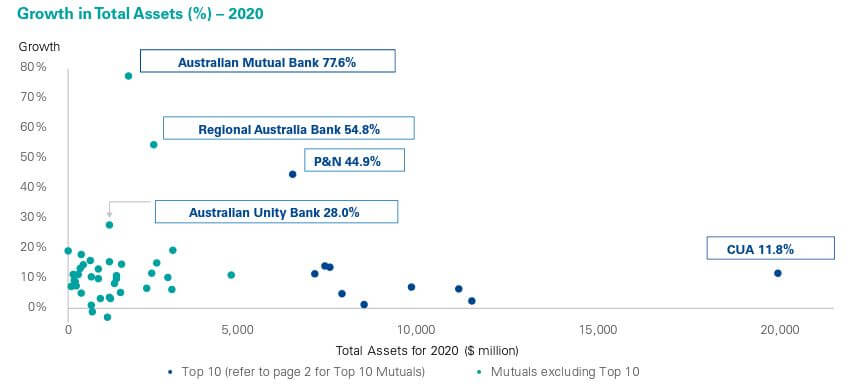 According to the latest Monthly Authorised Deposit-taking Institution (ADI) data from APRA, Commonwealth Bank alone has more than $1 trillion in assets.5
Combined, the big four – ANZ, Commbank, Westpac and NAB – have more than $3.4 trillion as of September 2021.
Customer-owned banks not fazed by potential rate increases
The Reserve Bank may have held the official cash rate at 0.10% in November, but many experts are now predicting the next hike to occur very soon – potentially as early as Easter.
Commonwealth Bank, for example, predicts as many as five cash rate increases by the end of 2023, taking the official rate to 1.25%.
That would raise the average interest rate by 115 basis points – more than a whole per cent – but Mr Lawnrence said the banking sector would already be prepared for such a scenario.
"We will assess your ability to repay 3% or above what the standard variable rate is at the moment," Mr Lawrence said.
"So with interest rates to increase, you aren't going to get into distress. There are many processes that the banks go through to ensure that people can afford the loan that they're going into."
---
Sources
Image via Shutterstock
House of Representatives Committees, Standing Committee on Tax and Revenue. Inquiry into Housing Affordability and Supply in Australia, 3 November 2021. 
Customer-owned Banking Association, 19 July 2021. 'Regulatory burden a python squeeze on banking competition.'
Customer Owned Banking Association, December 2020. 'Customer Owned Banking Sector factsheet'.
KPMG, 24 November 2020. 'Mutuals industry review 2020'.
Australian Prudential Regulation Authority, 29 October 2021. Monthly Authorised Deposit-taking Institution Statistics.
Did you find this article interesting or helpful?