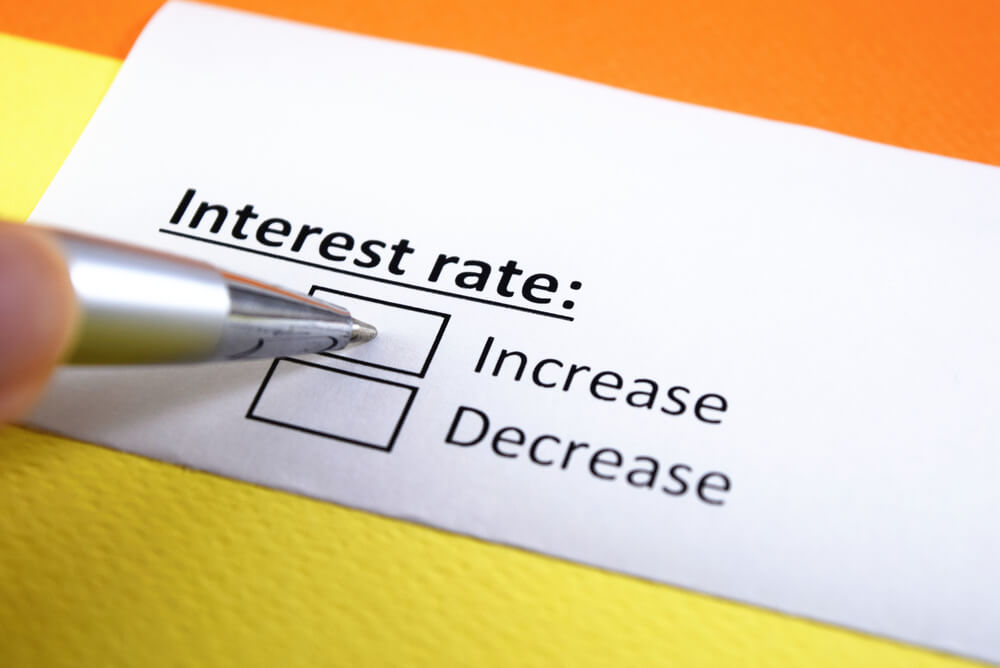 Nearly one-third of property industry experts expect mortgage rates to rise in the next 12 months, thanks to a Reserve Bank cash rate increase.
According to the latest ANZ-Property Council survey1 for June 2021, 30% of respondents said the RBA will raise the cash rate in the next year, which is up from 15% compared to March 2021.
Mortgage rates are closely tied to the cash rate historically, as it represents the cost of borrowing money for Australia's banks.
The current record low cash rate of just 0.10% (last cut from 0.25% in November 2020) has resulted in mortgage rates falling to record lows, with the average owner-occupied home loan rate sitting at 2.42% p.a for new customers as of April 2021.2
A standard cash rate change is 25 basis points – 0.25% – and the Reserve Bank has not made an increase to the cash rate since 2010, when it was raised from 4.50% to 4.75%.
The cash rate can't stay at 0.10% forever, but ANZ senior economist Felicity Emmett believes it may be a bit longer than 12 months before we see an increase.
"It seems unlikely that the Reserve Bank will increase the cash rate over the coming year, given that wages growth and inflation remain very low and well below the RBA's targets," Ms Emmet said.
"Fixed mortgage rates, however, have already begun to rise and are likely to drift higher over the next few months."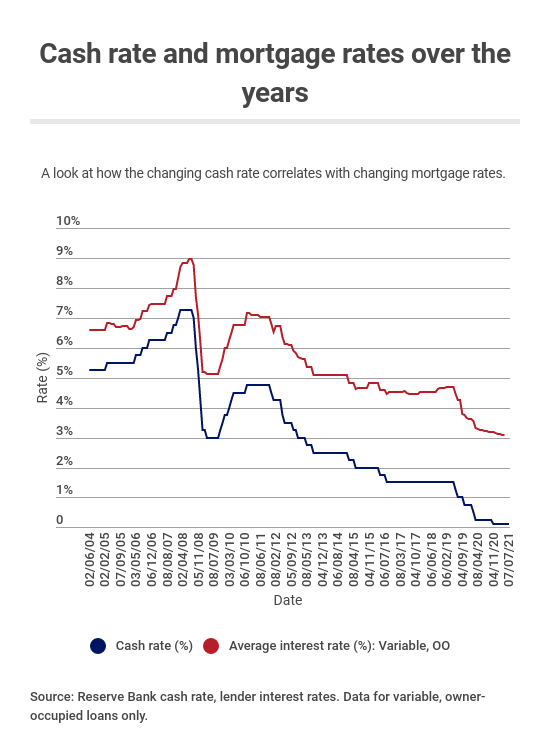 When then, will the cash rate be increased?
The RBA says: no cash rate rise until 2024
The official stance on when the cash rate will next be increased from the RBA itself is not for a few years – 2024, to be exact.
The RBA has been saying this for a while, but in its most recent cash rate announcement3, Governor Philip Lowe said, "it will not increase the cash rate until actual inflation is sustainably within the 2 to 3% target range."
He added: "For this to occur, the labour market will need to be tight enough to generate wages growth that is materially higher than it is currently. This is unlikely to be until 2024 at the earliest."
The government also expects this to happen, as the 2021 Federal Budget papers refer to this4:
"Accommodative monetary policy settings are expected to remain in place for some time, with the RBA not expecting conditions to warrant an increase in the cash rate until 2024 at the earliest."
All that financial jargon can be explained another time, but what that means for the average Australian is their mortgage rates might not see a substantial increase for a few years.
The only problem is, there are plenty of experts who think this won't happen.
The major banks say: cash rate rise could happen in 2022
Economists from the major banks have all chimed in with their own predictions in recent months, and all of them bar NAB predict a change sooner than 2024.
Commonwealth Bank (CBA) economist Gareth Aird this week said the bank expects the first cash rate increase to occur in November 2022.
"We have pencilled in an increase of 15 bps (basis points) which would take the cash rate to 0.25%. We expect that to be followed by an increase of 25 bp in December 2022," Mr Aird said.
That would mean a new cash rate of 0.50% by the end of 2022, and according to Mr Aird, CBA predicts three further 25 basis point hikes in early, mid, and late 2023 to 1.25%.
"By late 2022 there is likely to be a euphoric mood amongst consumers and businesses, as COVID-related disruptions to day-to-day life are a thing of the past," he said.
Westpac chief economist Bill Evans also said this week the bank was forecasting the first rate rise to occur in the March quarter (January 1 – March 31) 2023 and will finish that year at 0.75%.
"The unemployment rate is expected to reach 4% (full employment) by June 2022 and inflation will be above 2% by end 2022 – no longer requiring the COVID emergency rate settings," Mr Evans.
ANZ thinks there'll be a cash rate hike in 'early 2023'.
Economists say: cash rate rise likely in 2022-23
Many economists have also forecast the next interest rate rise to occur well ahead of the 2024 timeframe set by the RBA.
A panel of 21 economists surveyed by The Conversation5 in 2021 saw the majority predict a change to happen in either 2022 or 2023, with only a handful saying 2024.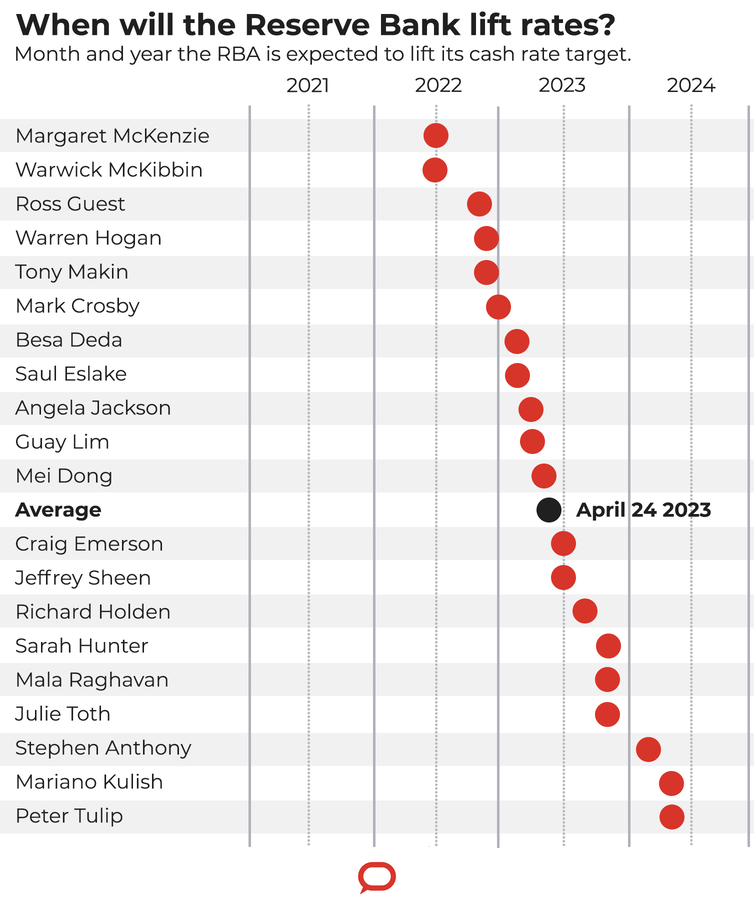 Source: The Conversation
How will a cash rate increase impact mortgage repayments?
If you own a home and have a mortgage, you are almost certainly going to be impacted by any future RBA changes.
From 1990 to the end of 2010, the Reserve Bank cut rates 28 times and increased them 27 times, and home loans have always followed these changes very closely.
While there's no way to know exactly when the cash rate will next be increased, it'd be wise to assume that it will happen sometime, and when it does, mortgage repayments can be significantly impacted.
Let's use the predictions for the end of 2023 by both Commonwealth Bank (1.25%) and Westpac (0.75%).
Using the average home loan size of $512,655 (Australian Bureau of Statistics6), the average owner-occupier interest rate of 2.42% p.a and monthly principal and interest repayments, then the repayments on this 30-year loan would see the following changes:
Cash rate change
Current repayments
New repayments
Extra $ (per month)
0.65% increase
$2,004.35
$2,180.78
$176.43
1.10% increase
$2,004.35
$2,307.78
$303.43
Source: Compare the Market Home Loan Repayment Calculator. 'Cash rate change' is the expected change minus the current cash rate (0.10%).

Assumes this change occurs all at once and from the very beginning of a 30-year term. Cash rate changes occur more gradually in real life, so this is just an illustration of how repayments can change and should be used as a rough guide only.
If a home loan interest rate perfectly followed these expected cash rate changes, then your home loan repayments in this instance would rise by more than $300 a month – more depending on your individual interest rate and loan size.
You can see in the table below just how much of a difference interest rate increases can make to the same home loan's monthly repayments: 
New interest rate
Loan size
$300,000
$500,000
$750,000
$1 million
3.00% p.a.
$1,264.81
$2,108.02
$3,162.03
$4,216.04
3.50% p.a.
$1,347.13
$2,245.22
$3,367.84
$4,490.45
4.00% p.a.
$1,432.25
$2,387.08
$3,580.61
$4,774.15
4.50% p.a.
$1,520.06
$2,533.43
$3,800.14
$5,066.85
Source: Compare the Market Home Loan Repayment Calculator. Assumes no loan fees and monthly repayments, 30-year loan term.
A cash rate increase of around 1% can lead to hundreds of extra dollars in repayments each month.
How can you prepare for an increased cash rate?
Record low interest rates mean that even though house prices and mortgages are bigger than they have ever been in Australia, the share of repayments as a percentage of household income is smaller than it has been previously.
In 2008, this ratio peaked at 37.5%, meaning more than 37% of take-home pay was being spent on mortgages – well beyond the official definition of mortgage stress, which is 30%.
Now, however, the debt-income ratio for mortgage repayments is just 22% on average: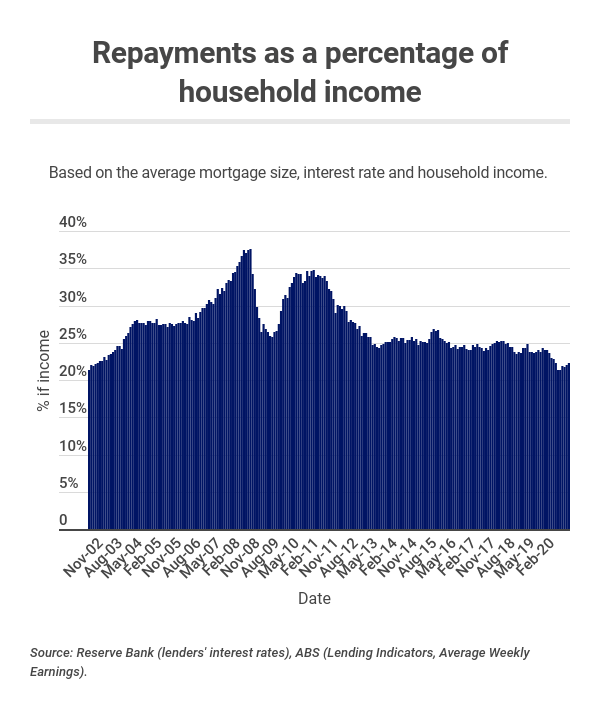 Low interest rates mean people have more disposable income to put towards:
paying off their mortgage early and other debts
saving money or investing it elsewhere
spending that money on enjoyable things and essential things
But our interest rates have been so low for long enough that it could lead to mortgage complacency.
The latest Financial Consciousness Index (FCI) from Compare the Market7 found that more than one-third of Australians never check the cash rate, and of those Australians, 30% had no interest in doing so and 28% didn't see how it was relevant.
But as we've explained, it's very relevant. Recent estimates show a 0.5% increase in the cash rate could increase mortgage stress from one in four households to one in three, while a 2% cash rate rise would throw half of all mortgaged households into stress.8
Our research revealed a whopping 68% of mortgage holders have not done a stress test on their mortgage, which can be as simple as taking their current home loan information and inputting a new, higher interest rate to see what they could reasonably afford.
To prepare for a potential increase in future interest rates, homeowners today could consider:
Paying above the minimum interest rate on their home loan to reduce the principal
Refinancing to a lower interest rate now, or a loan with fewer fees
Consider locking in a low fixed rate
Choosing a loan with features like an offset account and redraw facility, which can allow for greater repayment flexibility
Building a savings buffer and an emergency savings stash
Cutting down on other debts such as credit cards, starting with the highest interest rate debt first
Our online home loan comparison tool can help you identify some affordable home loan options with competitive rates and low fees, to help you get ahead of your home loan repayments and weather any oncoming cash rate storm.
---
Sources
ANZ-Property Council Survey, 2 July 2021.
Reserve Bank of Australia, Lenders' Interest Rates. Data as at May 2021.
Reserve Bank of Australia. Statement by Philip Lowe, Governor: Monetary Policy Decision, July 2021.
Budget Strategy and Outlook, Budget Paper No. 1. 11 May 2021.
The Conversation, Economic Survey, 'Economy will be weak and in need of support after pandemic, say top economists in 2021-22 survey'. 30 June 2021.
Australian Bureau of Statistics, Lending Indicators data, May 2021.
Compare the Market, Deloitte Access Economics, 'The Financial Consciousness Index edition 3'. Accessed July 2021.
ABC, Inga Ting, Ri Liu and Nathanael Scott, 'Mortgage stress hotspots revealed'. August 2017.
Did you find this article interesting or helpful?