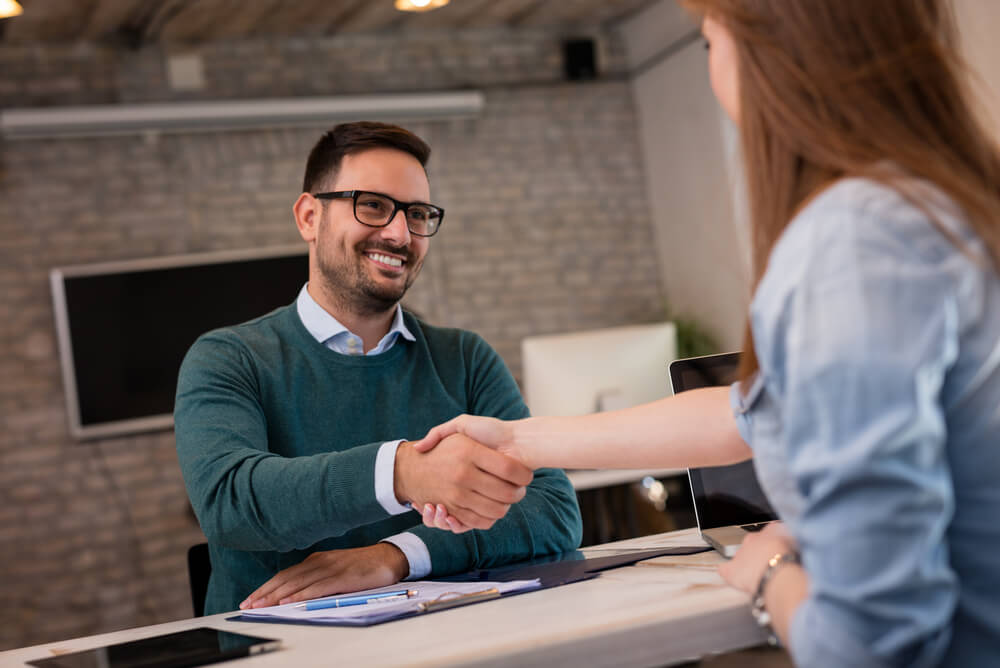 When it came to offering proactive financial support to customers impacted by COVID-19 lockdowns last year, providers in some industries were much more generous than others.
The Consumer Policy Research Centre's (CPRC) recent report, the 'Consumers and COVID-19: Sector Scorecard', surveyed nearly 7,000 Australian consumers from May to December 2020, exploring five different aspects of financial assistance that they experienced across six 'essential service markets':1
According to CPRC's report, mortgage lenders and insurance companies offered the most proactive support based on payment assistance, waived fees and reduced costs, while telco and internet providers were the least proactive.
Energy companies, as well as credit/finance providers, were firmly in the middle, based on five different categories the report considered:
Did providers in the sector offer assistance and support to their customers?
Did providers in the sector take negative actions that left consumers worse off?
The extent to which consumers reported receiving fair and transparent information from providers
Whether consumers received helpful advice and customer service when it came to managing usage and payments
Whether consumers received helpful advice and customer service when it came to managing usage and payments

Source: CPRC
The worst performing sectors – Telco and consumer credit providers – have "let down their customers when they most needed support", according to CPRC CEO Lauren Solomon.2
"Weak and piecemeal hardship protections, poor customer service culture and the challenge of largely offshore customer service staff, all contributed to leaving telco consumers lacking the support they deserve from an essential utility sector," Ms Solomon said.
"The self-regulatory era of yesteryear for this sector needs to end. Telco products and services are now the gateway to almost every other facet of our lives. There is a higher degree of responsibility to the community.
"Australians deserve better from these companies."
What kind of support were customers offered during the pandemic?
Mortgage support
A range of support measures were introduced by Australian banks and regulators for mortgage holders, early in the pandemic.
Primarily, customers were offered an initial six-month deferral on the mortgage repayments if they experienced a negative impact from the virus, such as losing working hours, with extensions granted on a case-by-case basis.
These repayment deferrals were widespread, peaking at nearly 500,000 in June 20203, before falling to around 60,000 in March4. When New South Wales and Victoria went into lockdowns again in 2021, another 30,000 mortgage deferrals were approved.5
According to CPRC's report, mortgage providers scored best in every category, delivering the best overall experience as a result.
"This may well be a consequence of mortgage deferrals offsetting debt collection activity for the duration of the deferral, as well as the closer scrutiny of customer service and bank practices post-Royal Commission into Banking and Finance to improve consumer outcomes," the report said.
"It's likely the relatively greater financial stability of consumers with a mortgage going into the pandemic, relative to consumers of other essential services analysed impacted these scores."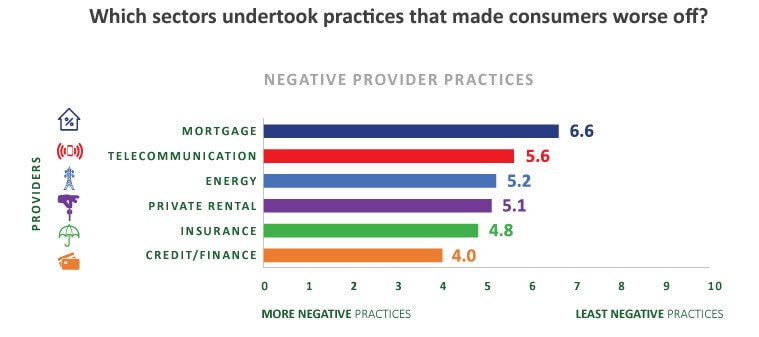 Source: CPRC
Rental support
Support for private renters landed right in the middle at 4.8/10 overall. In terms of fair and transparent information and helpful advice/customer service, it scored poorly.
Rental support was quite fragmented between state and federal governments, with each state initially mandating a six-month eviction moratorium with differing levels of rental relief grants and landlord support payments available.
Tenants still had to negotiate with their landlords for rent reductions.
In a previous report in October 20206, CPRC said renters were far more likely to be concerned about their financial position during the pandemic, but its latest report notes "positive shifts in the experiences of tenants as governments introduced eviction moratoriums and rental relief grants."
"The rental market is fragmented by nature, in which more than a million investors own a single property, either leased privately or managed by an agent, and without ongoing payment assistance obligations to tenants," it said.
"This highlights significant policy challenges for providing consistent, clear information and adequate support to renters in times of financial difficulty."
Energy support
To help struggling customers keep the lights on during the pandemic, the Australian Energy Regulator (AER) set reasonable expectations of energy companies to comply with:7
All residential and small business customers needed to be offered a payment plan or hardship arrangement if they said they may be in financial stress
No disconnections could be made to customers who may be in financial stress without their agreement
Defer their referrals of customers to debt collection agencies
At 5.1 out of 10 overall, the energy sector did not "deliver particularly poor experiences to consumers either overall or in particular categories, they did not deliver overly positive outcomes either".
"The energy sector has seen significant reforms to improve consumer outcomes in recent years, however the extent to which retailers have genuinely embraced these reforms in a cultural shift has been raised," the report said.
In light of the NSW lockdowns in August, the Berejiklian government re-introduced its Energy Accounts Payments Assistance (EAPA) scheme.
Insurance support
The insurance sector – covering provider partners of health insurance, car insurance, travel insurance and home & contents insurance – was the second best-performing sector in terms of customer support at 5.3 out of 10.
Insurances scored particularly well for user experience and accessibility (6.2), supportive provider practices (5.6) and transparency (5.5).
While it often came down to individual insurers, insurance support during COVID-19 generally included:
Increased financial hardship support
Access to premium reductions or temporary premium freezes, and delayed premium increases
The option to change premium payments from annual to monthly for no additional cost
Reduced or waived excess amounts on claims
Waived cancellation and administration fees for customers who cancel their policies
Refunds on travel insurance policies where customers were unable to travel due to pandemic restrictions8
And more.
"Insurance premiums are often paid yearly which may reduce touchpoints for consumer interaction relative to other sectors," the report said.
However, our data also indicates significant numbers of consumers cancelled their policies throughout the year, which may reflect affordability challenges and reprioritisation by consumers as  they grappled with reduced income."
Compare Health Insurance with Compare the Market
Credit support
Credit and personal finance providers delivered the worst customer experience overall during COVID-19, scoring particularly badly around negative provider practices.
Not much was offered by way of credit card support during the pandemic, and despite a record low cash rate, credit card rates actually increased since March 2020, from an average of 17.02% p.a. to 17.16% p.a. in July 2021.9
According to CPRC's report, Buy Now, Pay Later (BNPL) was also a factor.
"We know that as time went on, consumers exhausted available resources and increasingly turned to credit to make ends meet," Ms Solomon said.
"Young people have been particularly exposed by glossy, fast-credit that extract significant premiums by way of fees and charges.
"We're seeing this show up in our scorecard, with consumers outing this sector as providing some of the least fair and transparent information in contracts or agreements."
Sources
Image via Shutterstock
The Consumer Policy Research Centre, 21 September 2021. 'Consumer insights series: Sector Scorecard.'
The Consumer Policy Research Centre, 21 September 2021. 'Telcos and credit providers fail consumers during COVID-19, says new scorecard.'
Australian Banking Association, 6 August 2021. 'Banks offer loan deferrals as lockdowns continue'.
Australian Banking Association, 19 June 2020. 'COVID-19 Australian Banking Statistics'.
Australian Banking Association, 15 September 2021. 'Hardship assistance triples as deferrals continue to rise.'
The Consumer Policy Research Centre, June 2020. 'COVID-19 and Consumers: from crisis to recovery.'
Australian Energy Regulator, 29 June 2021. 'Protecting customers and the energy market during COVID-19'
IAG, 15 July 2021. 'How we're helping our customers during COVID-19.'
Reserve Bank of Australia, September 2021. 'Personal Lending Rates – table F8.'
Did you find this article interesting or helpful?