It's no secret that tangible cash is a dying breed, but now we're becoming more and more cardless, thanks to the ever-growing popularity of digital wallets.
In June 2019, Woolworths became the first supermarket to add Apple Pay to its credit cards, following the lead of several banks who have already welcomed this service. [1]
This change means the supermarket's credit card holders can now buy groceries and pay for their meals, taxis and more at a tap of their phones; it also points to the evolving ways we spend our money and our search for convenience.
In 2007, the Reserve Bank of Australia (RBA) noted that cash accounted for 69% of all payments.[2] By 2016, the use of notes and coins had dropped to 37%, whereas credit cards had risen from 26% in 2007 to 52% in 2016.
But will bank cards one day join physical money on the endangered species list?
Data from Australian market research company Roy Morgan showed more than 14.5 million Aussies over 14 years old are now predominantly using digital payments like:
Bpay
PayPal
Apple Pay
Google Pay
buy-now-pay-later platforms, like Afterpay and ZipPay.[3]
Australian banks also have their own, similar digital wallets and mobile banking systems, such as NAB Pay.[4]
What are digital wallets?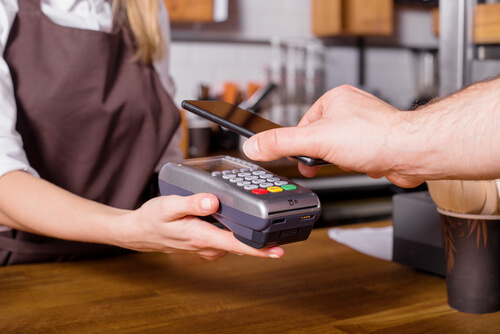 Digital wallets allow you to store your credit and debit card information on an app or platform, and then use it to pay for things without requiring the physical card on you.
This shopping technology may sound convenient, but you might be wondering how exactly it works, and whether it's secure.
Are digital wallets secure?
Digital wallets, like Apple Pay or Google Pay, have measures in place to make your information and transactions more secure.
Firstly, you enter your credit card details into the app, and the details are then verified with the platform. Your card details aren't stored on the phone but are replaced with a unique number or 'token' to represent them.[5] This token is then encrypted to help keep it secure, and each transaction uses a one-time-only security code to authorise its use.[6]
With the ability to set passwords on your phone, and even the ability to use fingerprint scanning on some devices, digital wallets as a shopping technology are more secure against theft than physical cards.
Because your card data is not stored in the digital wallet, it is harder for someone who nicks your phone to access it, even if your phone is not password-protected.[7]  Additionally, you might be able to remotely lock down a stolen phone, as noted by tech giants Apple and Google.[8]
On the other hand, digital wallets can be targeted by hackers, while physical credit cards and hard cash can't be.
Do digital wallets give you credit card rewards?

Depending on which type of credit card you have, you might be able to earn reward points when you spend your money with it – whether physically or digitally.
This can help you save money on a variety of things, such as:
It all depends on the type of rewards program your card and banking institution offers.
The shopping technology of the future
As society becomes increasingly cashless and now cardless, what else could be on the horizon?
For one, Amazon Go stores in the United States utilise a range of new shopping technology that tracks your movements in the store and which items you pick up.[9] The technology then uses your tracked movements to create a virtual shopping trolley and tally up your shop, charging it to your Amazon account. All you need to do is turn on your Amazon Go app on your phone and touch it to the turnstile at the front door.
This kind of technology is powered by artificial intelligence (AI) algorithms connected to sensors and cameras.
Australian robotics and technology company black.ai is working on their own system similar to the one used in Amazon Go stores, meaning this whole new shopping technology trend could make its way to Australia in the near future.
Trialling our system in our new in-house supermarket space! 🍊🍎🍑#automation #ai #persimmon @IntelRealSense @nvidia pic.twitter.com/g1ojnWWUeJ

— black.ai (@RGBA0001) December 11, 2018
Sources
[1] Woolworths offers Apple Pay to its credit card customers. Woolworths Group. 2019.
[2] How Australians Pay: New Survey Evidence. Mary-Alice Doyle et al, Reserve Bank of Australia. 2017.
[3] The Way Australians Pay is Changing. Roy Morgan. 2018.
[4] NAB Adds Google Pay. National Australia Bank. 2018.
[5] How payments work. Google Pay Merchant, Google. 2019.
[6] Woolworths offers Apple Pay to its credit card customers. Woolworths Group. 2019.
[7] If your iPhone, iPard or iPod touch is lost or stolen. Apple. 2018.
[8] Keep your payment info safe. Google Pay Merchant, Google. 2019.
[9] Amazon Go. Amazon. 2018.
Did you find this article interesting or helpful?