Don't tell your grandparents, but older Millennials and younger Gen Xers have earned the bragging rights in our 2020 Financial Consciousness Index.
Aussies aged between 35 and 44 years were the biggest winners, averaging a score of 53 – two points above the national average. This age group narrowly edged out older Gen X and younger Baby Boomers (both scoring 52), along with the 65-70 demographic (51), for the top spot.
To determine these generations, we based them on the parameters defined by the Pew Research Center.[1]
What is the Financial Consciousness Index?
The Financial Consciousness Index is an annual questionnaire that measures the control a person feels they have over their finances, as well as their ability and willingness to make changes to improve their financial outcomes. Upon completion, Aussies are ranked depending on their overall score out of 100, with higher scores indicating a higher level of financial consciousness.
This result not only represents a four-point increase on 2019's average for those between 35 – 44, but it has also jumped up from the fourth position in 2019 to claim the top spot in the 2020 quiz. Younger Baby Boomers (51), older Gen X (50) and the 65-70 age group (50) held the top three positions in the previous iteration of our quiz.
While older Millennials and younger Gen X's close win over older Gen X and Baby Boomers is worth celebrating, it's the two youngest age groups that still have some ground to make up on some of their older counterparts.
Gen Z (46) and younger Millennials (50) held down the bottom two rankings this year, but like the other generations, still improved on their average scores from 2019. However, Aussies aged over 70 also have some work to do to improve their financial consciousness, tying the younger Millennials effort with an average score of 50.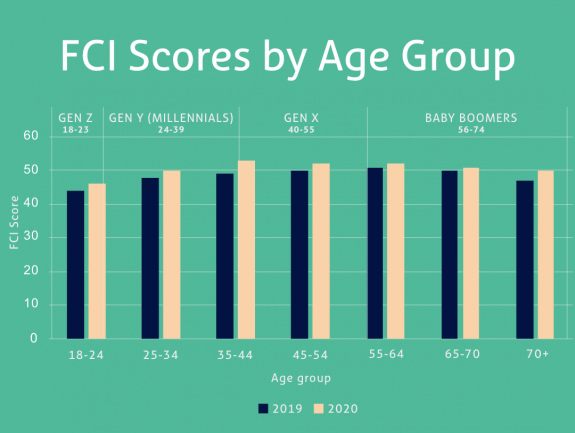 Although the scores differ between age groups, on average, each generation falls within the 'conscious' ranking of the Financial Consciousness Index.
This suggests that Aussies of all ages typically have decent financial capabilities and take full responsibility when it comes to determining their financial outcomes.
How can I become more financially conscious?
If you're not happy with your quiz score or know there's room for improvement, you can take simple steps to become more financially conscious.
Our finance expert, David Ruddiman, suggests reviewing financial products regularly to strengthen your money game.
'Whether it's your car insurance or your energy plan, it's worth shopping around every few months and seeing if you can save on these essential products,' David says.
'With our comparison service, you can see if you're spending too much on some of your biggest financial products in just a few minutes.'
David also encourages Aussies looking to get into the housing market to monitor the Reserve Bank of Australia (RBA) cash rate, which is typically announced on the first Tuesday of every month.
'Following the cash rate announcements may help you negotiate more competitive interest rates with your lender, which can save you money over the course of your home loan.'
The cash rate changes every month based on economic factors, both local and global, and can impact how much interest you pay and receive. So, if it increases, you could earn more interest on your savings accounts, but pay more on your variable rate loans – and vice versa if it decreases.
While banks don't have to follow these changes, they may feel compelled to do so due to public pressure.
Five simple ways you can increase your financial consciousness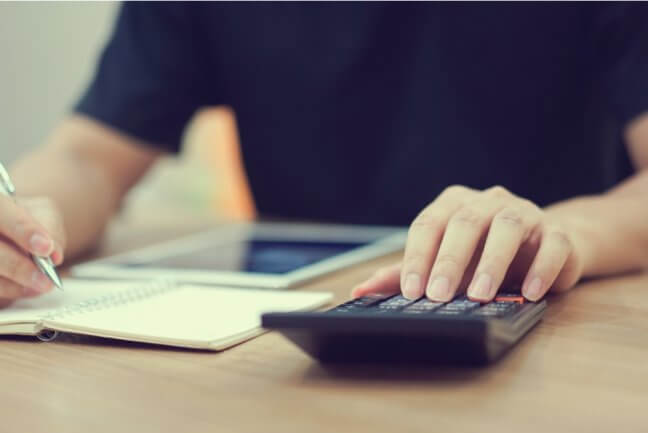 Think you're savvy with your finances? Take the Financial Consciousness Quiz today and see how you stack up against other Aussies in your age group. Who knows, you could be the most financially enlightened person in your family!
Source
[1] Pew Research Center. The generations defined. Retrieved 15/9/2020.
Did you find this article interesting or helpful?