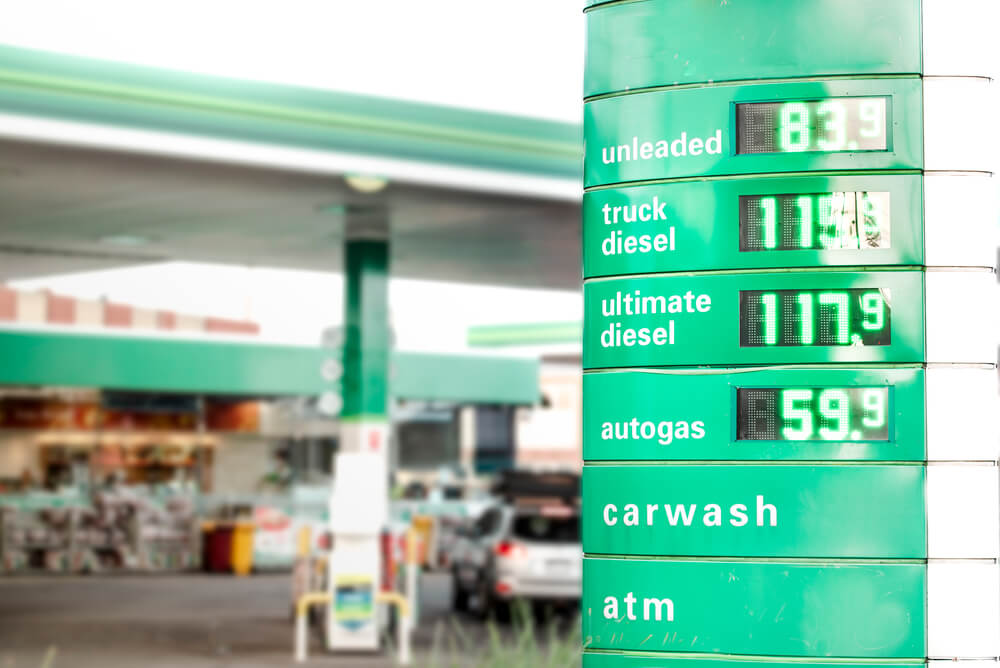 National unleaded petrol prices have soared to their highest point in 13 years, at an average of 160.7 cents per litre.
Prices have increased by 6.9 cent in just one week and are now above levels last seen in July 2008, according to price tracker MotorMouth.1
MotorMouth's data, analysed by Commsec, found the average retail prices for unleaded fuel  in each capital city on 17 October 2021:
Sydney: 170.4c/l
Melbourne:7c/l
Brisbane: 178c/l
Adelaide:5c/l
Perth: 152.4c/l
Hobart: 166.5c/l
Darwin: 160c/l
Canberra: 161.7c/l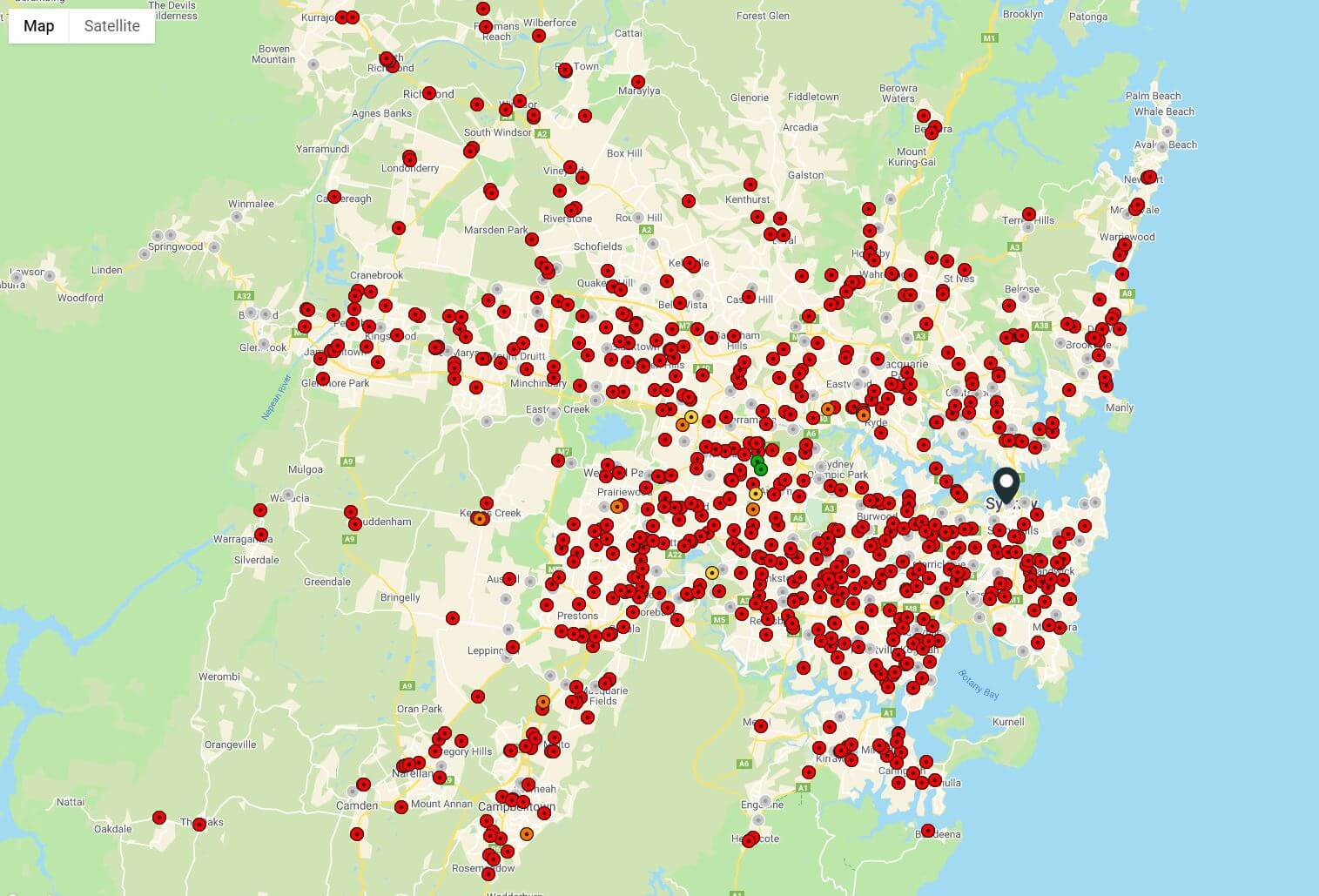 In Sydney, each red dot indicates unleaded prices above 148 cents per litre. Source: MotorMouth
Compare the Market's own Bill Shock Tracker survey for September 2021 also found the average cost of petrol in Australia is $117 per month, or $1,404 per year.
Despite Perth having lower average prices than other capital cities, Compare the Market found Western Australian residents actually had higher average petrol costs due to their higher commuting times.
State
Average monthly cost of petrol
Average annual cost of petrol
NSW
$113.50
$1,362
VIC
$111.60
$1,339.20
QLD
$123.40
$1,480.80
WA
$134.10
$1,609.20
SA
$122.10
$1,465.20
Source: Compare the Market Bill Shock Tracker: September, Compare the Market. 2021.
Why are prices so high right now?
According to Commsec analysis of the data, motorists filling up a 70-litre car are now paying $56 more than they were 18 months ago, at a total cost of more than $112.
This is a far cry from late 2020 and even early 2021, where unleaded prices in Australia's five largest cities fell to a 22-year low, according to the ACCC.2
Back then prices were averaging just 129.7 cents per litre.
According to the ACCC, pandemic restrictions on travel and economic activity meant fewer people were driving, resulting in less petrol purchased at the bowser.
"Low average petrol prices in the last financial year have come after prices reached record lows around the onset of the COVID-19 pandemic," ACCC Chair Rod Sims said.
"The pandemic has had an enormous impact on demand for petrol in Australia, going back to March last year and this has influenced retail prices and gross retail margins," Mr Sims said.
Millions of Australians beginning to emerge from lockdowns across the country could well be one factor behind these increases, but there's more to it than that.
Changes in Australian petrol prices generally mirror movements in international refined petrol and crude oil prices, and about 90% of Australia's fuel is imported.3
Compare the Market's Head of Innovation Donald Farquhar said last week that global events can significantly impact fuel prices here. "Generally, petrol prices in the big city follow a local cycle, and normally this makes it a bit easier to predict when petrol will be cheap. Huge global impacts, like we've all seen with COVID-19, can have massive, long-lasting impacts on fuel prices," Mr Farquhar said.
"In 2020 we saw global lockdowns drive the price of petrol down, but now that countries are re-opening, petrol prices are rising."
So, when international oil prices rise, so too do they rise here – over the weekend the Brent crude oil price topped US $85 a barrel for the first time in three years.1
"Australian petrol prices reflect international refined petrol prices so when prices go up in the Asia Pacific region, motorists in Australia pay more for fuel," Mr Sims said.
Will prices get higher or lower?
Unfortunately for motorists, it looks likely that petrol prices are still yet to peak in the short term, according to motoring group NRMA.
"These record prices could not have come at a worse time – just as families are getting out and about the city's economic activity was meant to be ramping up," NRMA spokesman Peter Khoury said.4
"With OPEC showing no desire to increase oil production levels, we are now seriously concerned that there is little relief in sight and that is bad news for families and the economy.
"These prices are going to hurt family budgets and the importance of doing some research before filling up has never been clearer."
Australians continue the switch to electric vehicles
As fuel prices soar, the slow but steady trend towards electric vehicles (EVs) that can be charged instead of refilled with petrol appears to be increasing.
The Electric Vehicle Council (EVC) surveyed over 3,000 car buyers in October and found that 54% of Australians now consider purchasing an EV as their next car.5
Nearly half (49%) saw themselves driving an EV by 2030, and 50% said they would be willing to pay more for an electric vehicle compared to a petrol or diesel model.
This follows new monthly sales figures from the Federal Chamber of Automotive Industries (FCAI), which show a whopping 189.4% annual jump in fully electric vehicles in September 2021.6
There were also 35 brand new hydrogen cars purchased, mostly as a part of government fleets.
"Australians are now well and truly ready to go electric," Electric Vehicle Council chief executive Behyad Jafari said.
"This survey shows we understand the personal benefits and we're also ready to start contributing to the societal advantages of the electric transition – like lower carbon emissions, increased fuel security, and cleaner air."
See also: Will electric vehicles ever be more cost effective than their petrol counterparts?
'Electricity is cheaper than fuel'
The EVC previously found that the average equivalent cost to 'refill' an electric vehicle when comparing it to fuel is 0.33 cents per litre, leading to potential savings of $1,600 per year.7
Mr Jafari told Compare the Market that powering cars with electricity rather than fuel will always be cheaper.
"EVs provide fuel security in a way that imported fuel can't, because Australian renewable energy can be used to charge electric vehicles," he said.
"Making the switch from an EV today provides security for the Australian consumer of the future that they will always be able to recharge their vehicle, for less.
"We won't see the fluctuations that we see (with) petrol and diesel because our access to electricity relies on domestic supply, and we already power our homes, offices, and appliances with it.
"Even better, as we produce more renewable energy, electricity and recharging will become cheaper."
When combined with solar panels and batteries at home, the cost of charging an EV can essentially be zero.
---
Sources
Image via Shutterstock
Commsec Economic Insights, 18 October 2021.
Australian Competition and Consumer Commission, 14 September 2021. 'Australian petrol prices in 2020-21 were lowest in 22 years'.
Australia's fuel security package. Department of Industry, Science, Energy and Resources, Australian Government. 2021.
NRMA, 18 October 2021. 'Sydney records its highest ever petrol price today'.
Electric Vehicle Council, 7 October 2021. 'Australians ready to embrace electric cars and want their pollies to back the switch: poll'.
Federal Chamber of Automotive Industries, 5 October 2021. 'New car sales grow despite lockdowns and supply chain woes'.
CarsGuide via Electric Vehicle Council, 31 March 2021. 'Do electric cars actually save you money?'
Did you find this article interesting or helpful?