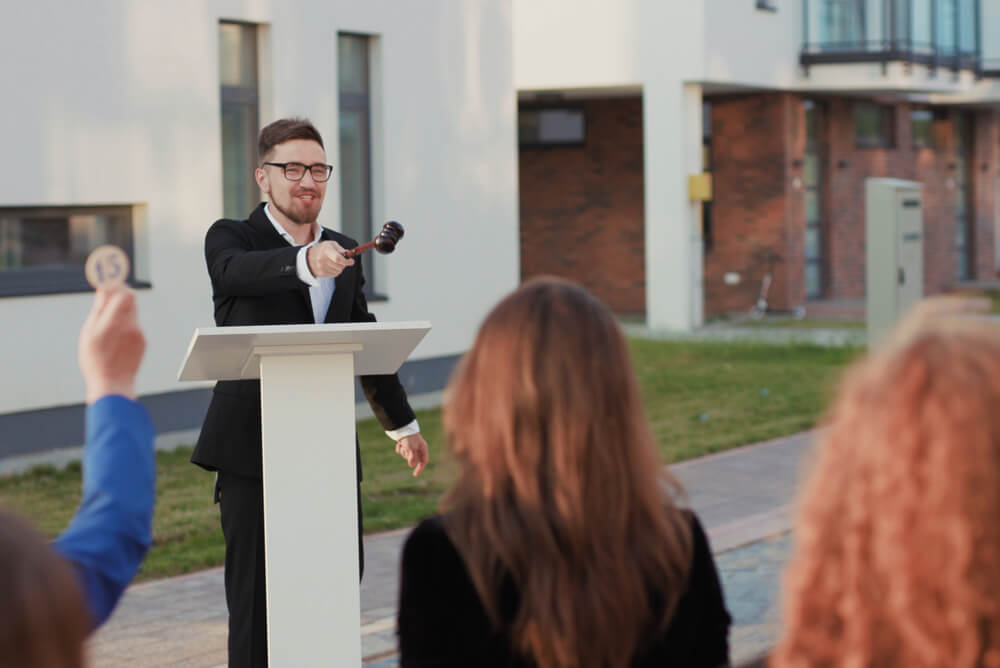 Housing affordability is at its worst level in five years thanks to substantial house price growth and subdued income growth.
The Bluestone Home Loan Affordability Index1 measures the proportion of the average income required for the average home loan repayment, based on Australian Bureau of Statistics data.
The index found home loan affordability has risen above the long-term average for the first time since 2016, with a score of 90.8 (vs the average of 86.9).
According to Bluestone, higher index numbers "reveal a higher proportion of the average income required for the average home loan and reflect lower affordability".
"Recent strong house price growth has resulted in buyers having to borrow more and, with subdued incomes growth and flat interest rates, this has resulted in a higher proportion of incomes required for loan repayments," the report said.
"Strict lending conditions from financial institutions place a ceiling on borrowing capacity for buyers which results in reduced demand and lower prices growth."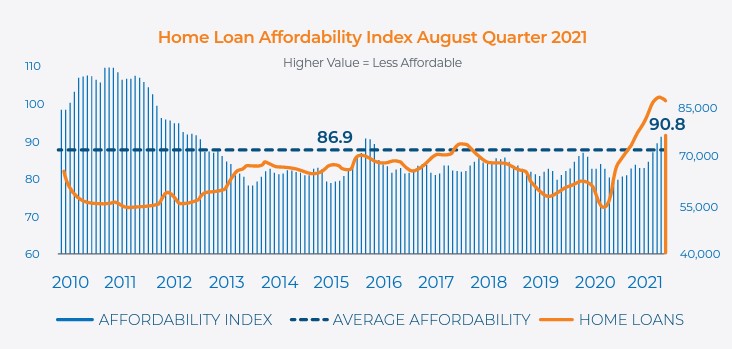 Source: Bluestone
Unsurprisingly, New South Wales and Victoria recorded the worst affordability rating thanks to "sharp" recent value growth.
The Northern Territory, by contrast, had the smallest change to affordability.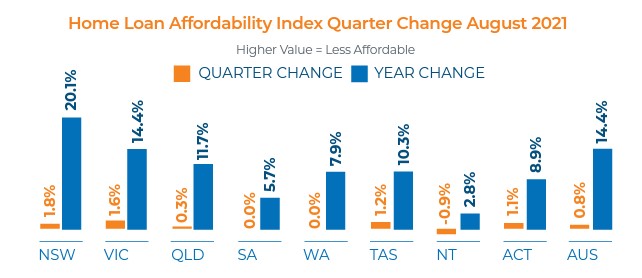 Source: Bluestone
Related: Inner-city or outer suburbs: where can you afford to buy?
Low affordability set to stay
Another report from investment agency Moody's also highlights Australia's declining housing affordability, noting that affordability has fallen across all capital cities over the seven months to September.
Sydney in particular, could see its worst housing affordability in a decade if prices increase by a further 4.6%, or if mortgage rates increase by at least 42 basis points (a possibility if there are any cash rate increases soon).
According to the report, affordability woes aren't going to improve anytime soon.
"For the rest of 2021 and into early 2022, we expect housing affordability will continue to deteriorate moderately because property prices will continue to increase, while mortgage lending rates and household incomes will stay broadly steady," the report said.
"Mortgage lending interest rates have likely bottomed and will stay at around current low levels for some time, with the potential for rate rises increasing after 18-24 months if inflation grows."
New borrowers in Sydney need, according to Moody's, the following per cent of their household income to meet the average mortgage repayments:
Sydney – 35.4%
Melbourne – 28.3%
Brisbane – 20.6%
Adelaide – 20.2%
Perth – 15.3%
The commonly accepted definition for mortgage stress is 30%, and Sydney and Melbourne are both above the 10-year average of 25.8%.
Price growth at its highest in decades and is set to keep going
This sharp decline in affordability matches the significant house price growth seen in recent months.
CoreLogic's Home Value Index for September 2021 shows Australian housing values recorded their fastest annual growth rate since 1989, growing 20.3% nationally over 12 months.3
While CoreLogic said the housing market is slowing somewhat, prices are set to rise even further, continuing to present an affordability challenge to prospective buyers.
Major bank Westpac has made a revised prediction for house prices, saying it now expects a 22% gain across 2021 and a further 8% increase in 2022.4
"With housing values rising substantially faster than household incomes, raising a deposit has become more challenging for most cohorts of the market, especially first home buyers," CoreLogic research director Tim Lawless said.
"Sydney is a prime example where the median house value is now just over $1.3 million. In order to raise a 20% deposit, the typical Sydney house buyer would need around $262,300.
"The slowdown in first home buyers can be seen in the lending data, where the number of owner-occupier first home buyer loans has fallen by -20.5% between January and July.
"Existing homeowners looking to upgrade, downsize or move home may be less impacted as they have had the benefit of equity that has accrued as housing values surged."
---
Sources
Image via Shutterstock
Bluestone October home loan market report, 25 October 2021.
Moody's, 25 October 2021. 'Australia: Housing Affordability Will Continue to Worsen On Rising Prices And Stagnant Wages.'
CoreLogic, 1 October 2021.' Australian housing values rising at the fastest annual pace since June 1989, but the monthly rate of growth continues to lose steam.'
Westpac, 14 October 2021. 'Outlook for Australian dwelling prices.'
Did you find this article interesting or helpful?