It might feel like only yesterday that there were significant changes to your energy bill, but the Default Market Offer (DMO), which was only introduced in July 2019, is set to change on 1 July 2020.
This DMO, available in south-east Queensland, New South Wales and South Australia, sets a price cap on how much your energy provider can charge you for your electricity usage. This price cap is indicative, based on your area's typical annual usage and supply charges. So, you shouldn't pay more than this price cap if your energy usage is in line with these averages.
Ultimately, the DMO protects you from unfair usage charges on standing offers (energy plans without discounts).
How is the DMO changing on 1 July 2020?
Certain factors (which we touch on below), have led to the DMO increasing or decreasing, depending on your location. These changes are outlined in the Australian Energy Regulator (AER)'s report titled Final Determination: Default Market Offer Prices 2020-2021, which was released 30 April 2020. The AER governs electricity and gas markets in southern and eastern Australia.
If you're on a DMO, here's how you could be affected:
residents in south-east Queensland on a flat-rate energy tariff will have a DMO annual limit $62 cheaper than 2019 (based on an estimated average annual usage of 4,600kWh)
South Australian flat-rate DMO customers will also have a cheaper annual limit with the DMO cap decreasing by $109 (based on an estimated average annual usage of 4,000kWh)
New South Wales residential flat-rate customers could face more expensive or cheaper energy bills, based on location, with their DMO annual limit increasing by three dollars or decreasing by five dollars to nine dollars (depending on your distribution zone and estimated average annual energy usage in your distribution zone).[1]
New Default Market Offer annual price caps for the 2020-2021 financial year
Distribution zone
Residential customer on a flat-rate or time-of-use tariff
Difference to  the 2019-2020 DMO (per annum)
Residential customer with controlled load tariffs
Difference to the 2019-2020 DMO (per annum)
Ausgrid (Greater Sydney area)
$1,462 (3,900kWh p.a.)

$5 lower
$2,024 (general usage 4,800kWh p.a. + controlled load 2,000kWh p.a.)
$35 lower
Endeavour (Sydney's Greater West, Blue Mountains, Southern Highlands and New South Wales South Coast)
$1,711 (4,900kWh p.a.)

$9 lower
$2,1654 (general usage 5,200kWh p.a. + controlled load 2,200kWh p.a.)
$1 lower
Essential Energy (regional New South Wales)
$1,960 (4,600kWh p.a.)

$3 higher
$2,356 (general usage 4,600kWh p.a. + controlled load 1,900kwH p.a.)
$19 lower
Energex (south-east Queensland)
$1,508 (4,600kWh p.a.)

$62 lower
$1,812 (general usage 4,400kWh p.a. + controlled load 1,900kWh p.a.)
$115 lower
South Australian Power Networks (South Australia)
$1,832 (4,000kWh p.a.)

$109 lower
$2,244 (general usage 4,200kWh p.a. + controlled load 1,800kWh p.a.)
$176 lower
Source: Final Determination: Default Market Offer Prices 2020-2021. Australian Energy Regulator, Australian Government. 2020.

GST-inclusive, nominal.

DMO figures correct at 30 April 2020, based on the average annual usage across distribution zones. Individual prices for customers will differ depending on their energy usage, their energy retailer and their location.
Jargon-buster: What is a 'controlled load tariff'?
A controlled load tariff is a rate you're charged for powering the devices and parts of your home that use more electricity (i.e. swimming pools, underfloor heating, hot water systems). These can have their own energy meters and can be charged at a cheaper off-peak rate compared to a flat rate which accounts for all energy used in the home.
The AER noted in its report that wholesale energy costs for controlled load customers are different from costs on other tariffs and experienced greater changes than the costs for other tariffs. Some regions had controlled load wholesale energy costs drop by 15% compared to the 2019-2020 financial year, leading to greater price reductions for controlled load customers in those zones.[2]
Why is the DMO changing?
According to the AER's report, several factors led to the DMO price changes for the 2020 to 2021 financial year:
changes to wholesale energy costs across different distribution zones
environmental costs
some decreased network costs in some distribution zones
inflation.[3]
While Victorians don't have access to the DMO, they do have the Victorian Default Offer or VDO, which was increased by the Victorian Essential Services Commission (ESC) by $100 in 2020 on average for flat rate residential customers on a standing offer across all distribution zones on 1 January 2020.[4]
Has the DMO helped Aussies save money on their energy bill?
As noted in the AER's price determination report, the DMO could save some residential customers on standing offers between $118 and $236 a year based on estimated annual usage, depending on their distribution zone and tariff type.[5] Small businesses on standing offers could save up to $896 a year based on estimated annual usage.
However, most households in zones where the DMO is in place are on discounted offers with their energy provider – these offers are known as market offers.
Australian state with the DMO
Number of residential DMO customers
New South Wales
382,813 (11.8% of all New South Wales residential energy customers)
South-east Queensland
176,241 (23.8% of all south-east Queensland residential energy customers)
South Australia
62,269 (8% of all South Australian residential energy customers)
Source: Final Determination: Default Market Offer Prices 2020-2021. Australian Energy Regulator, Australian Government. 2020.
Regularly comparing energy plans is a good idea to make sure you're not potentially missing out on additional savings.
Four ways to make the most of your energy plan in 2020 – and during COVID-19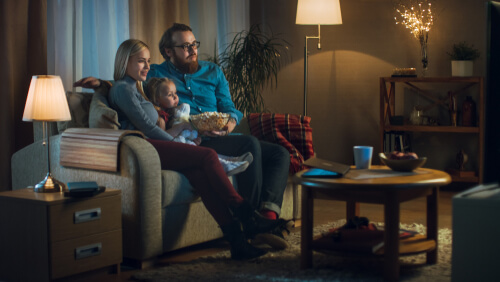 As families have been forced indoors during COVID-19, Aussies will be using more electricity and gas. So, whether you're working from home, your kids need to use the computer to continue their education, or you just find that you're using more appliances, here are some tips to help you get the most of your energy plan.
Could you benefit from a smart meter? Smart meters (a digital energy meter hooked up to your home) provide greater insight into your energy usage and may have tariffs that are more suitable to your current situation. For example, say your energy usage is charged at a flat rate, rather than different rates for peak (when most people are using electricity, typically the afternoon and evening) and off-peak periods. If you're at home more due to COVID-19 and are using more electricity, you could face higher energy bills.
Contact your energy provider if you've been impacted financially by COVID-19. Energy providers are supporting Aussies who are having difficulty paying their bills, especially in the wake of this global pandemic. If you're experiencing financial hardship due to the impacts of COVID-19, contact your energy provider to discuss your situation. Have more questions about energy plans and COVID-19? Check out our list of COVID-19 FAQs for electricity and gas
Don't forget classic energy-saving tricks. During winter, Australian households use more energy to stay warm and need to use the lights more due to fewer daylight hours. Remember to:

rug up
turn appliances off at the wall when not in use
set your heater or air-conditioner a few degrees less than (when heating) or higher (when trying to stay cool) than you normally would (like heating the house at 21˚ instead of 24˚ during winter).

Compare your energy plan with others on the market. The DMO acts as a price cap for how much you can be charged for electricity (depending on where you live), but you could be saving more money if you find a market offer that is cheaper and meets your needs. You can compare a range of electricity and gas plans with us for free! Comparing only takes minutes, there are no marked-up prices or additional fees, and it could help you save on an essential service.
Sources
[1]
Final Determination: Default Market Offer Prices 2020-20201. Australian Energy Regulator, Australian Competition and Consumer Commission, Australian Government. 2020.
[2]
Ibid.
[3]
Ibid.
[4]
 Victorian Default Offer to apply from 1 January 2020: Final Decision. Essential Services Commission, Victorian State Government. 2019.
[5]
 Final Determination: Default Market Offer Prices 2020-2021. Australian Energy Regulator, Australian Government. 2020.
Did you find this article interesting or helpful?