Inflation reached 0.8% over the June 2021 quarter and 3.8% over the last 12 months.
That's according to the Australian Bureau of Statistics (ABS) Consumer Price Index (CPI) data for the three months to the end of June this year.
Economists had forecast a quarterly increase of 0.7% and correctly predicted an annual rate of 3.8%, well above the Reserve Banks' (RBA) target of 2-3%.
However, this huge increase is only expected to be temporary, caused by a reversal of several COVID-19 price reductions last year.
"Additional context can be gained by comparing the current CPI to pre-pandemic levels in the March 2020 quarter," Head of Prices Statistics at the ABS Michelle Marquardt said.
"Over the five quarters from the March 2020 quarter to the June 2021 quarter, inflation rose 1.9%."
The annual increase of 3.8% is the biggest seen for some time, with inflation last reaching an annual 3% rise in 20142.
It's also a far cry from the negative annual inflation (-0.3%) recorded in the June 2020 quarter, off the back of a -1.9% quarterly fall3.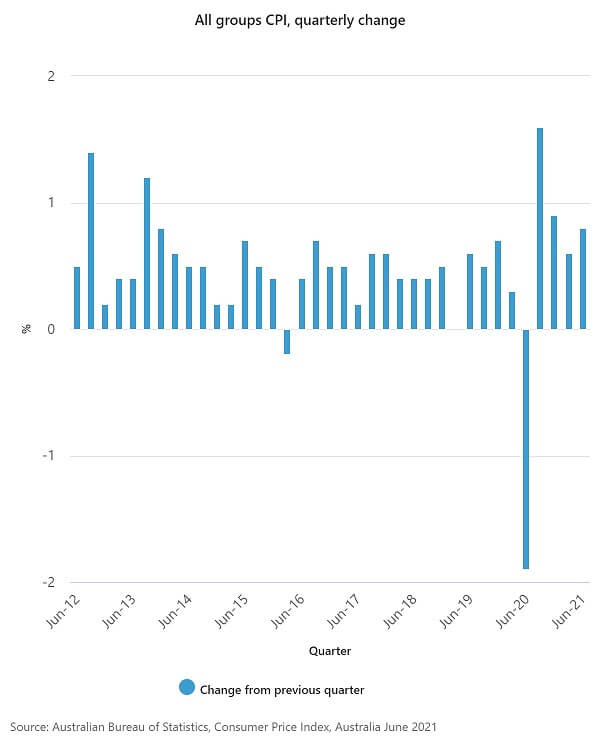 What saw the biggest changes in price?
According to the results, fuel once again saw the largest quarterly increase at 6.5%, after it rose by 8.7% in the March 2021 quarter.
"Rising fuel prices accounted for much of the increase in the June quarter CPI, with prices surpassing pre-pandemic levels," Ms Marquardt said.
In the 12 months to June 2021, fuel prices rose 27.3%.
New dwelling (house) prices meanwhile fell 0.1% over the quarter, thanks mainly to the support of various housing grants.
"Without the offset from these housing grants, new dwellings would have risen by 1.9% due to demand-driven increases in material and labour costs."
Medical and hospital services were up 2.4% due to the annual increase in private health insurance premiums, while general insurance prices (home and contents, life etc.) rose 1.3% over the quarter.
Domestic airfares are still down 14.4% compared to pre-COVID in the March 2020 quarter, while accommodation prices are up 5.3% over the same period.
Other significant increases and decreases included:
Electricity prices (+3.3%), due to the continued unwinding of the Western Australian Government's $600 electricity credit
Fruit (+4.7%), vegetables (+5.5%) and beef (+3.6%)
Takeaway and fast foods (-0.7%) and Restaurant meals (-0.6%)
Alcohol and tobacco (+0.4%)
Transport (+2.8%)
Clothing and footwear (+0.4%)
Furniture (+3.8%), due to "strong demand for timber and supply constraints contributing to price rises in timber-based furniture"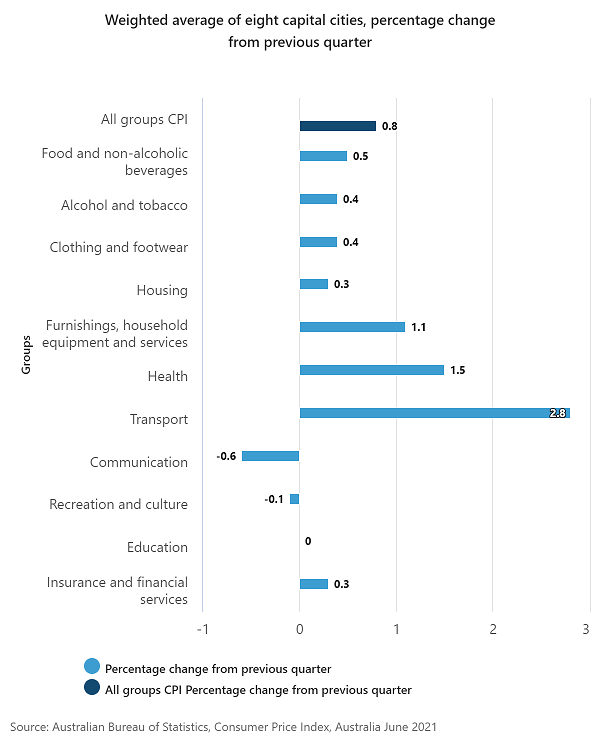 What do these inflation figures mean?
The Consumer Price Index measures the percentage change in the price of a 'basket' of goods and services consumed by households.
The ABS then collects price data on thousands of items across 87 different categories and subcategories and calculates the rate of price changes: It isn't a measure of prices themselves.
In the words of the Reserve Bank4:
"If the price index of bread is 140 and the price index of eggs is 180, it does not mean that eggs are more expensive than bread. It only means that the price of eggs has increased by more than the price of bread from a particular point in time."
Why does inflation matter to you?
So, the CPI is one of the key ways households can measure the price of living, and if 'living' has become more or less expensive.
CPI is important because it can be tracked and compared to your own personal expenses and income, like:
And so on. As an example, health insurance premiums have risen by more than 50% in the past 10 years (about 4.6% each year on average)5, while CPI in that time has risen by 20% overall.
In terms of wages, in the decade to 2018 wages grew by about 30% compared to roughly 20% for inflation – a faster rate of growth.
But after factoring inflation in (real wages growth) more recently, then real wages grew 3.1% in the eight years to December 2020, an annual average of 0.4%6. Not a lot.
It can also matter because some expenses like petrol can appear to be increasing by more than they really are, simply because we notice them so much.
What is (and isn't) included in inflation?
According to the ABS, it includes the following categories of spending, based on household surveys determining the most 'representative' purchases:
Food and non-alcoholic beverages (16.8% weighting)
Alcohol and tobacco (7.10%)
Clothing and footwear (10.10%)
Housing (22.30%)
Household equipment and furnishing (9.10%)
Health (5.30%)
Transport (11.60%)
Communication (2.5%)
Recreation (12.60%)
Education (~4.7%)
Insurance and financial services (5.10%)
These categories include a lot of different purchases, but they don't cover everything. That would be impossible.
But this does mean some major factors are left out. Housing, for example, includes the cost of mortgages and rent, repairs and maintenance, electricity and other key ongoing costs, but not the impact of house prices increases.
Given the sheer scale of recent price rises in Australian property, AMP Chief Economist Shane Oliver argued in The Australian Financial Review that house price increases need to be included.
According to Mr Oliver, rising house prices create a "permanently higher cost of living" for many households.
"There was a period in the 1980s when house prices were included in the Australian CPI, but after much debate, it was felt that that wasn't appropriate," Mr Oliver said.
"And that reflects the simple logic that the CPI is supposed to measure the prices of goods and services that are consumed.
"When housing prices are rising by15%, the cost of living is going up for people who are trying to get into the housing market.
"But for two-thirds of households, this is not the case and they actually get a benefit in the form of rising wealth."
While even the ABS admits the CPI is not perfect, it also says "there is no single best measure of inflation".
However, the CPI is the most comprehensive, and with a few exceptions, covers most of the average household's key expenses.
---
Sources
Australian Bureau of Statistics, Consumer Price Index, Australia. June Quarter 2021.
Australian Bureau of Statistics, 'CPI rose 0.6% in the March 2021 quarter', 28 April 2021.
Australian Bureau of Statistics, Consumer Price Index, Australia. June Quarter 2020.
Reserve Bank of Australia, 'Inflation and its Measurement'.
Australian Government Department of Health, 'Average annual increases in private health insurance premiums', December 2020.
ABC Fact Check, 'Anthony Albanese says Australia's real wages have 'flatlined' for eight years. Is he correct?', 29 June 2021.
CoreLogic Home Value Index, June 2021. 'Australian dwelling values finish the financial year 13.5% higher', 1 July 2021.
Australian Financial Review, 'Inflation figures ignore soaring cost of housing', 27 July 2021.
Did you find this article interesting or helpful?