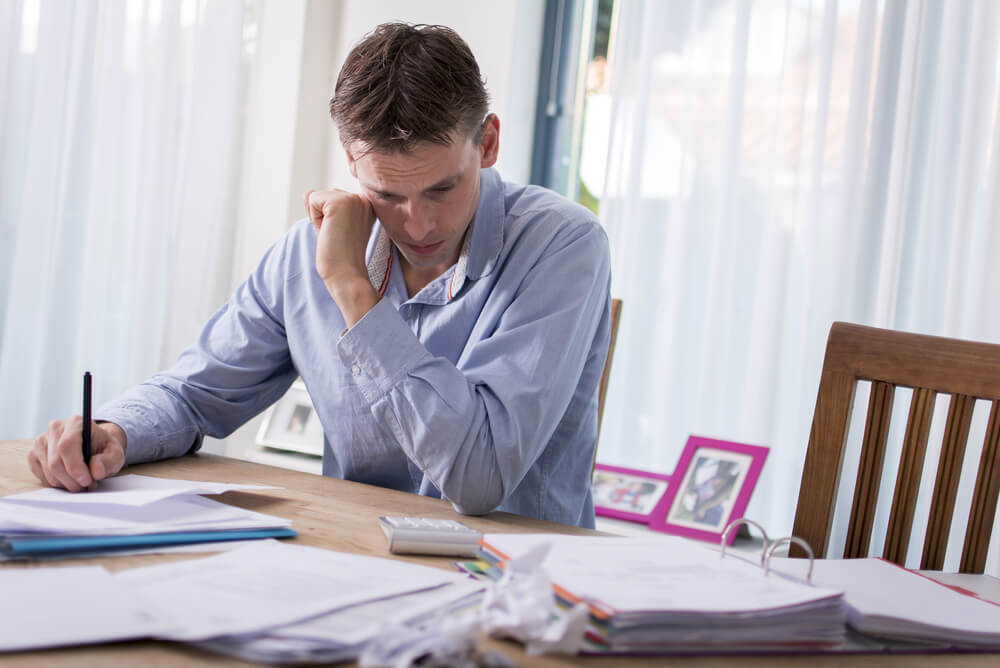 A key regulator has said the number of larger mergers between businesses in Australia is reducing competition and increasing prices.
Australian Competition and Consumer Commission (ACCC) chair Rod Sims, speaking at a Law Council of Australia workshop, said changes in Australia's merger laws are needed1.
According to Mr Sims, current laws strongly support large companies seeking mergers, which in turn can lead to anti-competitive industries where consumers pay the price in the form of higher bills and costs.
This, he said, should be a "real concern" to most Australians.
"Market power is hurting Australians across many walks of life," Mr Sims said.
"Consumers are paying more than they should for a wide range of goods and services.
"Many markets are dominated by a small number of providers, including banking; supermarkets; mobile telecommunications; internet service provision; energy retailing; gas supply and transport; insurance; pathology services; domestic air travel; internet search and social networking services.
"Without action, market power in Australia will become further entrenched; and will certainly not reduce."
How much choice do Australians have?
Australia has some of the most heavily concentrated industries in the world: when the term 'big four' comes up, for example, multiple industries come to mind.
In the 2016 Australian Economic Review, an analysis of 481 industries found that on average, the largest four firms in any industry controlled 36% of the market.
In banking, the largest four – Commonwealth Bank, ANZ, Westpac and NAB – have a combined market share of more than 80%3, with NAB also setting off alarms in the ACCC by announcing an agreement to purchase Citigroup's consumer banking arm4.
Supermarkets and grocery stores meanwhile are dominated by Coles and Woolworths, with just those two having a market share of around 70% as seen below.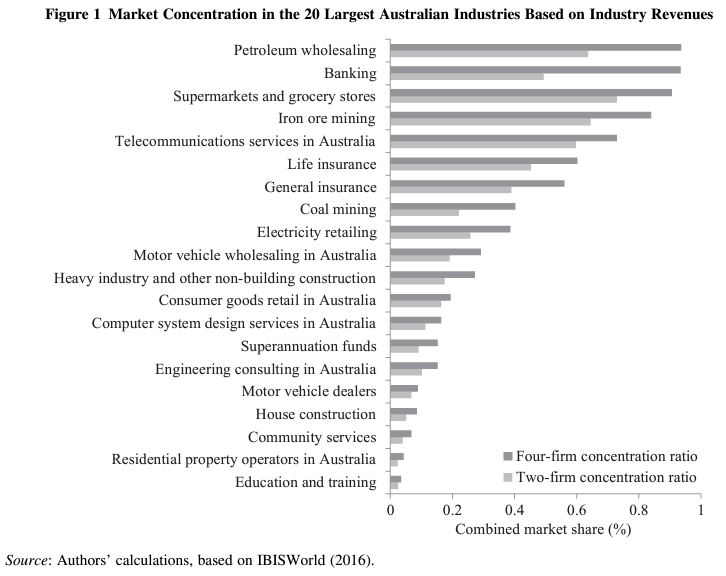 Image via Australian Economic Review.
"Market power, or the lack of competition, is having broader effects on the Australian economy. It appears to be a contributor to the slowdown in overall productivity and wages growth," Mr Sims said.
"Market power can contribute to economic inequality by promoting the interests of the few with power over the interests of many.
"It also undermines trust in the operation of markets and encourages wasteful rent-seeking activities to protect monopoly profits."
As a submission to a Parliamentary inquiry by the Finance Sector Union of Australia (FSU) said in 20095, "each time two banks merge there is one less choice for consumers", and the same can be true for supermarkets, energy and telecommunications companies and more.
What can the ACCC do?
The ACCC is the consumer and competition regulator: its purpose is to enforce the Competition and Consumer Act 2010 and promote competition and fair trading among Australian businesses.
It's generally seen as being pretty good at its job, winning the 2019 Government Agency of the Year award in 2019 at the Global Competition Review6.
But while the ACCC does assess mergers between companies big and small, it doesn't actually have the power to reject them.
"Many Australians will be surprised to know that Australia does not require companies to obtain ACCC clearance for mergers. Contrary to popular myth, the ACCC does not currently 'approve' mergers," Mr Sims said.
"To stop a merger that we consider is anti-competitive, the ACCC must persuade the Federal Court that the proposed acquisition is likely to have the effect of substantially lessening competition in the future."
A recent example of this occurred in 2020, when Australia's third and fourth-largest telecommunications companies – Vodafone and TPG – were approved for a merger by the Federal Court, despite the ACCC attempting to block the move7.
This merger meant the 'big four' of Telstra, Optus, Vodafone and TPG controlled almost 90% of the telco market.
"Australian consumers have lost a once-in-a-generation opportunity for stronger competition and cheaper mobile telecommunications services with this merger now allowed to proceed," Mr Sims said at the time.
"There is clear evidence that consumers pay more when markets are concentrated. The ACCC's concern was that with this merger, mobile data prices will be higher than they would be otherwise."
The ACCC also lost out in an attempt to stop AGL Energy from buying the power assets of Macquarie Generation in NSW several years ago8, and this week Mr Sims said power prices were higher as a result.
"The Australian approach to merger control is out of step with most merger regimes internationally, under which mergers are required to be notified as part of a formal assessment regime, and must obtain clearance before they can proceed," he said.
"Changes to the test for assessing mergers are necessary to ensure the focus is on the competition that will be lost if the merger proceeds, and on the impact of the merger on structural conditions for competition in the relevant market."
---
Sources
Photo via Shutterstock
Australian Competition and Consumer Commission, 'Protecting and promoting competition in Australia', 27 August 2021.
The Australian Economic Review, 'Markets, Monopolies and Moguls: The Relationship between Inequality and Competition', 2016.
Australian Prudential Regulation Authority, Quarterly authorised deposit-taking institution statistics, 8 June 2021.
NAB, 'NAB announces agreement to acquire Citigroup's Australian Consumer Business', 9 August 2021.
Finance Sector Union of Australia (FSU), 'Inquiry into Aspects of Bank Mergers', 2009.
Australian Competition and Consumer Commission, 'ACCC Global Competition Agency Of The Year', 27 March 2019.
Australian Competition and Consumer Commission, 'Federal Court allows TPG-Vodafone merger', 13 February 2020.
Australian Competition and Consumer Commission, 'ACCC disappointed by Tribunal decision authorising AGL to acquire Macquarie Generation', June 2014.
Did you find this article interesting or helpful?