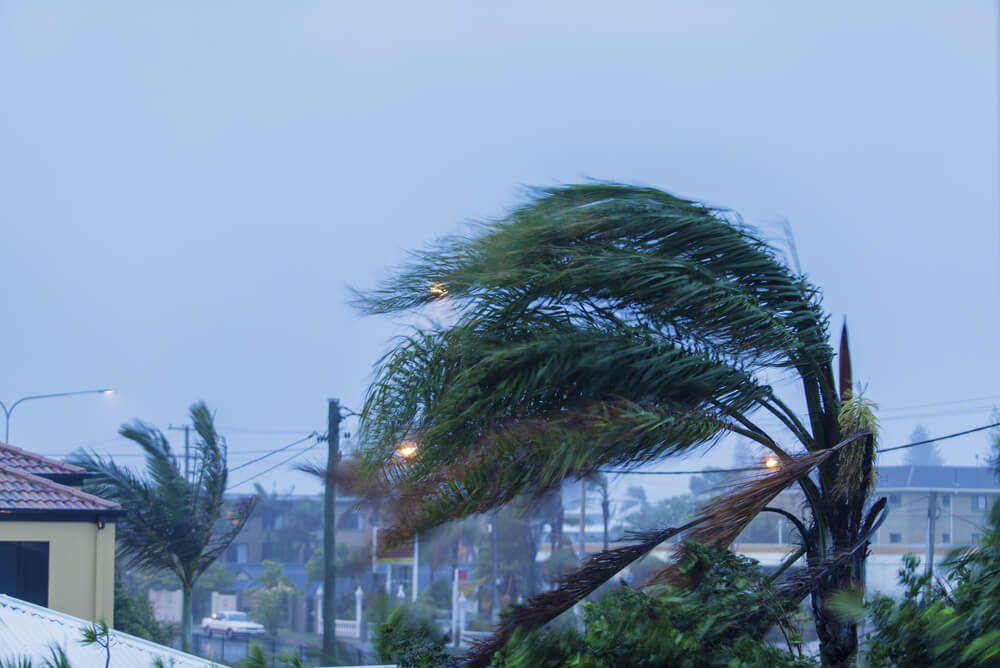 The Bureau of Meteorology has warned of an increased chance of tropical cyclones in the coming months, as well as floods heatwaves and even fires.
According to the Bureau's (BOM) Severe Weather Outlook, which explores expected weather from November through to April every year, the chances of seeing more tropical cyclones than average this storm season is 65%.1
On average, there are 9 to 11 tropical cyclones each season in the Australian region, four of which cross the coast.
Thanks to the La Niña development in the tropical Pacific Ocean and warmer than average ocean temperatures, Northern and Coastal Australia can expect more than this.
"Many climate drivers are indicating that it could be an active season across parts of Australia," Bureau Senior Climatologist Greg Browning said.2
"It is also likely that the first rains of the northern wet season will arrive earlier than normal for much of Northern Australia.
"And with an already wet landscape and above-average rainfall likely, there is an increased risk of widespread flooding for eastern and northern Australia."
While it has been expected that the chance of an above-average cyclone season is 65% across Australia, certain areas have different likelihoods of increased activity:
Western Australia: 61%
Northwestern sub-region: 62%
Eastern Australia: 66%
Northern Australia: 57%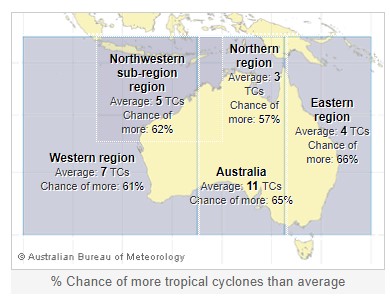 Australians "can't afford to be complacent"
Mr Browning warned of complacency ahead of an above-average storm season and urged Australians to stay on top of weather warnings and updates.
"Severe weather can disrupt and endanger lives in many ways, that is why the Bureau is asking the community to 'know your weather, know your risk'," he said.
"That means understanding the kinds of severe weather that can impact the area you live in and what you should do when it occurs.
"Today's release of the Severe Weather Outlook is also a timely reminder for all of us to follow the advice of local emergency services before, during and after severe weather."
Compare the Market's General Insurance expert Stephen Zeller recommended that all Australian households have an emergency plan, especially if they live in an area prone to cyclones and floods.
"The plan is a great way to capture and share information that is important to you and your family in case your home is damaged by a storm," Mr Zeller said.

"There's a lot you can do to prepare your property for storm seasons, to minimise injuries and damage. You should make sure trees close to your home are trimmed, gutters are cleared of leaves and your roof is free from damage that could result in leakages.

"It's important to review your insurance cover annually to make sure you have the cover you need and your policy has been kept up to date with any changes made to your home."
Compare home and contents insurance here
Cyclones making premiums "unaffordable" in Northern Australia
A 2019 report by the ACCC revealed home, contents and strata insurance is becoming increasingly unaffordable in northern Australia, with average premiums in some northern areas almost four times the national average.3
The ACCC also found underinsurance rates in Northern Australia are nearly double the rest of the country.
The average home insurance premium rose by 178% in Northern Australia compared to 52% in the rest of Australia in real terms in the decade between 2007-08 and 2018-19; over the same period, combined home and contents insurance rose by 122% in Northern Australia and by 71% in the rest of Australia.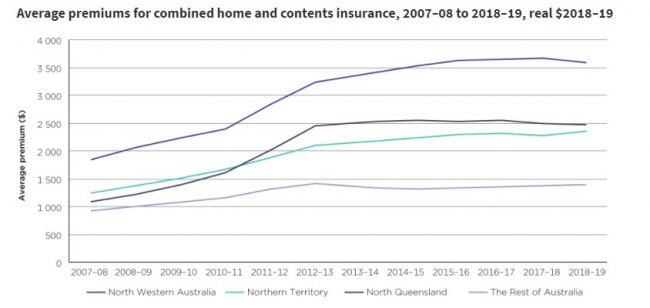 Source: ACCC
This sharp increase is mainly due to the higher chance of dangerous weather events in the Northern parts of the country, primarily cyclones and floods. It can make finding affordable insurance policies challenging.
"Our report details just how expensive insurance has become in some parts of northern Australia and that many households are opting out of insurance altogether," ACCC Deputy Chair Delia Rickard said.
"These high premiums pose a risk to the resilience, liveability and prosperity of our northern regions."
To counter these high premiums, which are set to get even higher in the coming decades thanks to climate change, the Federal Government is introducing a $10 billion reinsurance pool for North Australian residents.4
"More affordable insurance means peace-of-mind for hundreds of thousands of Australians across Northern Australia, knowing that their economic livelihoods are protected," Treasurer Josh Frydenberg said.
However, it's important to note that this reinsurance pool introduction will only cover cyclone and flood-related damages from 1 July 2022.
---
Sources
Image via Shutterstock
Bureau of Meteorology, 11 October 2021. 'Australian Tropical Cyclone Outlook for 2021 to 2022.'
Bureau of Meteorology, 11 October 2021. 'Cyclones, flooding risk highlighted in Bureau's severe weather outlook.'
Australian Competition and Consumer Commission, 20 December 2019. 'High premiums leading to rise in uninsured homes in northern Australia'.
Prime Minister of Australia, 04 May 2021. 'More affordable access to insurance for Northern Australians'.
Did you find this article interesting or helpful?