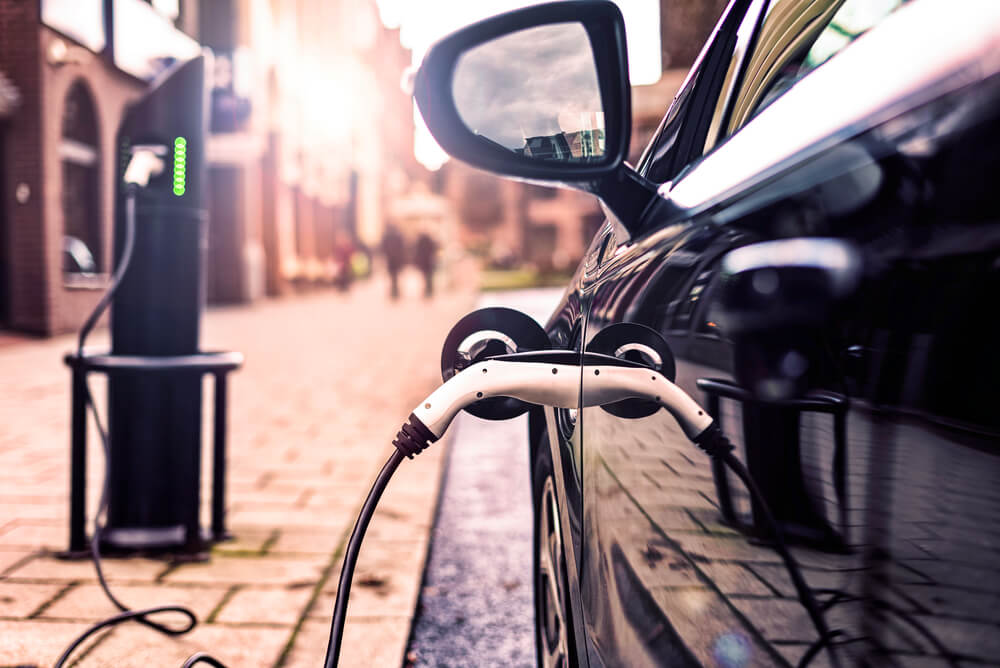 More and more Australians are buying electric vehicles, with sales in the first half of 2021 already surpassing all electric car sales through all of 2020.
That's according to the Electric Vehicle Council's (EVC) State of Electric Vehicles 2021 report1,  which found 8,688 electric vehicles (EVs) had been purchased in the six months to June.
That's compared to 6,900 in all of 2020.
The EVC's report follows the latest monthly car sales data from the Federal Chamber of Automotive Industries (FCAI)2, which showed "significant" growth in sales in the 12 months to July 2021.
In Victoria, EV sales were up 191.1% – but that pales in comparison to the mammoth 260% growth seen in NSW.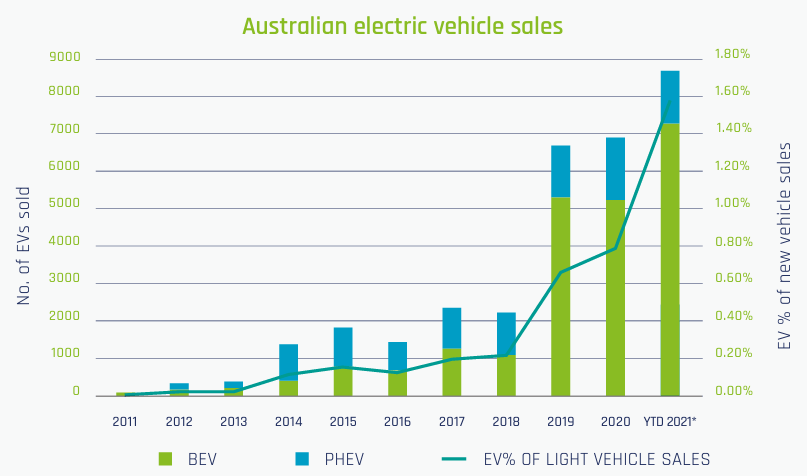 Source: Electric Vehicle Council. BEV = battery electric vehicle, PHEV = plug-in hybrid electric vehicles.
NSW leading the states in electric vehicle policy
The difference in growth between Victoria and New South Wales is, according to both bodies, due to State Government policies aimed at encouraging EV uptake.
In the EVC's report, NSW topped the EV policy scorecard for the first time with a 9/10, after the Berejiklian Government introduced its 'nation leading' EV strategy earlier in the year.
"New South Wales has introduced Australia's best electric vehicle policy to date. That $500m of investment and package of incentives to accelerate the uptake of zero emissions vehicles is finally something comparable with jurisdictions overseas," EVC Chief Executive, Behyad Jafari said3.
"I know the whole industry is buoyant about the effect it will have on electric vehicle availability and sales."
The ACT came in second with 8/10, followed by:
The NT: 7/10
TAS: 7/10
QLD: 6/10
SA: 6/10
WA: 6/10
The Victorian Government meanwhile scored a 6/10, with its controversial 'road user charge', aka an EV tax, offset somewhat by a $3,000 consumer grant4.
The Federal Government scored just 3/10, with the EVC report labelling it a "failure".
"The movement across most states and territories is now generally positive and that's providing greater confidence to private sector investors, which will pave the way for more places to charge and better services to support e-mobility," Mr Jafari said.
"The chief headwind at the moment is, unfortunately, a continued lack of leadership on electric vehicles at the federal level. After promising a national strategy two years ago, the Federal Government has failed to deliver.
"We need to see more electric vehicle models in Australia, particularly at lower price points.
"That's happening slowly, but if we want to accelerate the process and attract the globally limited electric vehicle supply, we need policies enacted at the national level, like fuel efficiency standards."
Australia still lags behind the rest of the world in terms of EV uptake, even with this increased growth.
Based on the data so far in 2021, 1.57% of Australia's light vehicle market is electric – almost double the number in 2020, but still well below the global average.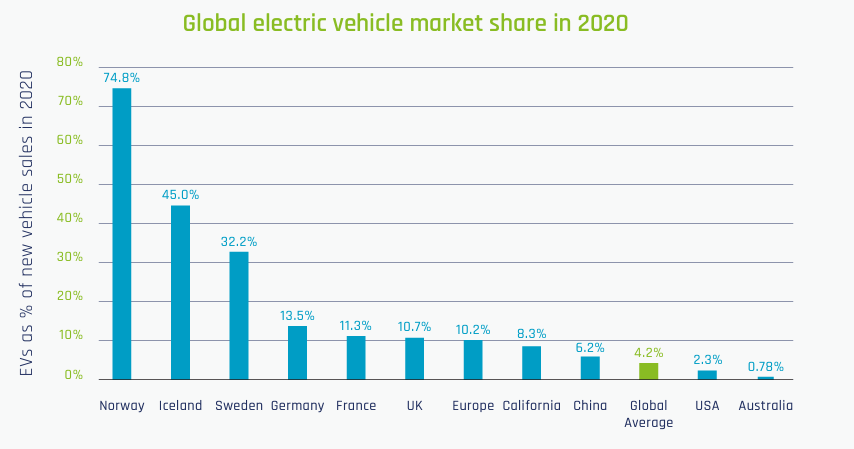 Source: Electric Vehicle Council.
What incentives does each state actually offer?
Here's what each state and territory, as well as the Federal Government, offers for wannabe EV buyers.
Federal EV incentives
The Federal Government offers no direct incentives for EV purchases. It also has no set goal for phasing out petrol and diesel cars. Most other major countries now adopted both:
The UK is banning ICE (internal combustion engine) sales from 2030 and hybrids from 20355
The United States has a minimum tax credit of $2,500 for EV buyers6
On a federal level, Australia has provided a $24.55 million fund for the charging infrastructure7.
NSW EV incentives
The highest-scoring state at 9/10, the NSW Government now offers the following8:
A $3,000 rebate for the first 25,000 EVs sold after 1 September 2021 (up to $68,750)
Waived stamp duty for EVs and hydrogen fuel cell vehicles under $78,000
NSW is aiming for more than half of all its cars to be electric by 2030/2031.
VIC EV incentives
At 6/10, the Victorian Government has mixed EV policies9:
Through its (ZEV) subsidy, 20,000 EV purchases can receive a $3,000 rebate (up to $68,740)
Buyers can also get $100 off their registration
However, Victoria also charges a controversial 2.5c per kilometre road tax for EVs, which the EVC has previously described as being "the worst EV policy in the world"10
To be fair to Victoria, NSW is also planning to bring in a tax of 2.5c per kilometre for EVs from 2027 onwards, but EV experts have said it makes more sense to do so later once electric vehicles are more popular, not when states are trying to convince people to buy them.
QLD EV incentives
At 6/10, Queensland has minimal incentives for EV buyers. The state has issued a 1-2% discount on stamp duty for new EVs and waives some registration costs11, but not much else.
ACT EV incentives
The ACT has a comprehensive EV strategy, placing the state second at 8/10. Current EV buyers in the Capital Territory can12:
Access 0% loans for up to $15,000
$0 for stamp duty
$0 for registration for the first two years of owning an EV
Data from the Australian Electric Vehicle Association (AEVA)13 shows a 20% spike in EV sales in the two months (24 May- 24 July) since the ACT waived registration and stamp duty costs.
WA EV incentives
Western Australia's government offers no direct subsidies or grants for EV purchases14.
SA EV incentives
South Australia also does not offer any direct financial help to buyers, while also planning to introduce the EV road tax from 202215.
TAS EV incentives
Tasmania scored fairly well at 7/10, partly thanks to a recent decision to waive stamp duty for EVs purchased there for the next two years. That's expected to save EV drivers $2,000 in upfront costs16.
NT EV incentives
From July 2022 onwards, EV buyers in the NT can access free registration and a $1,500 reduction in stamp duty for models up to $50,00017.
---
Sources
The Electric Vehicle Council, 'State of Electric Vehicles 2021 report', 23 August 2021.
Federal Chamber of Automotive Industries, 'Industry Maintains Traction Amidst Pandemic', 4 August 2021.
The Electric Vehicle Council, 'New South Wales zooms to the front in 2021 electric vehicles policy ratings', 23 August 2021.
Solar Victoria, 'Zero Emissions Vehicle (ZEV) Subsidy', 2 May 2021.
UK Department for Transport, 'Sales of new petrol and diesel cars to end in the UK by 2030', 18 November 2030.
IRS, 'Plug-In Electric Drive Vehicle Credit', 27 June 2021.
Australian Renewable Energy Agency, '$24 million boost to expand EV charging network', 30 July 2021.
NSW Government, 'Rebates for electric vehicle purchases', 2021.
Victoria State Government, 'Zero Emissions Vehicle (ZEV) Roadmap'13 August 2021
The Australia Institute, 'Victoria EV Tax Worst EV Policy in the World', 22 April 2021.
Queensland Government, 'Zero Emission Vehicle Strategy', 5 July 2021.
ACT Government, 'Zero Emissions Vehicles' 2021.
Australian Electric Vehicle Association, 'ACT EV statistics', 16 August 2021.
WA State Government, 'Electric Vehicle Strategy for Western Australia'17 August 2021.
Government of South Australia, 'South Australia's Electric Vehicle Action Plan', December 2020.
Tasmanian Government, 'Supporting Tasmania's Electric Vehicle future', 3 June 2021.
Northern Territory Government, 'Electric vehicle strategy and implementation plan', 26 July 2021.
Did you find this article interesting or helpful?