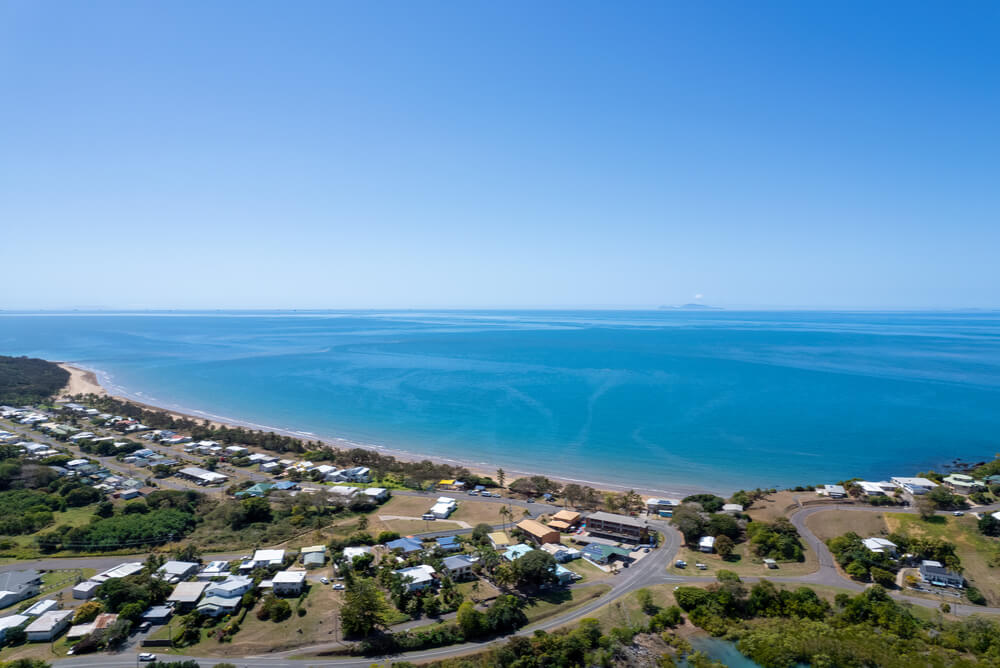 While some might be finding it tough to break into the property market right now, that hasn't stopped Aussie property buyers from dreaming about their perfect home.
Research from Compare the Market revealed the top three 'must-haves' for Australians in their dream home if money was no obstacle.
Without the constraints of reality, the number one dream feature that Aussies would love in their home was an ocean view, with nearly 28% wanting to look outside and see the sea.
The second most important dream-home feature was having big bedrooms at 22%, while a garden was not far behind in third at 21.8%.
Nearly 30 features were available for respondents to choose from in total, with options ranging from simple things like walk-in wardrobes to fancier inclusions like a home theatre or a spa.
Must-haves sitting outside the top three include the likes of:
A pool (21.1%)
Ensuite bathrooms (19.6%)
A big kitchen (15.4%)
Ducted heating and cooling (15%)
Renewable appliances such as solar panels, solar hot water etc (15%)
A spacious lawn (14.7%)
A large garage (13.4%)
And having high energy efficiency (12.3%)
The least important feature in a dream home was 'living in a densely populated area', which less than 1% of people chose.
According to Compare the Market's William Jolly, these figures show that what people really treasure in a home more than anything is space.
"An ocean view was the most popular dream-home feature people chose if money was no obstacle, which essentially means they want to live in a coastal town or city that often tend to be less populated than the big cities," Mr Jolly said.
"This follows the trend since the onset of the pandemic where a greater number of people moved to coastal regions as soon as they were able to work from home more often.
"In contrast, dense living was the least chosen option, which people seem to do out of necessity rather than by choice.
"Many of the features chosen had 'big' in the name or implied an abundance of space: big bedrooms, big kitchens, their own garden, a spacious lawn, a large garage and so on.
"Back in reality though, homes with these features tend to be out of people's price range at the moment.
"But if you're willing to look a bit further out and make a few compromises, then some of these dream features might be more accessible."
'Lack of noise' the most important lifestyle feature for aspiring buyers
Compare the Market also surveyed aspiring homebuyers on what their three most important lifestyle considerations were when looking at properties and found yet more evidence to suggest what Aussies really want is some peace and quiet.
'Limited noise pollution' from cars, trucks and buses was the most popular response, chosen by 33.6% of respondents – it tied with 'walking distance to local shops' for the top spot.
Also on the podium were 'lots of natural light' (32.5%) and 'proximity to nature' (31.7%), while 'being close to the beach' was the fourth most popular option at 29.4%.
Other popular lifestyle features included:
Having a quick commute to the city (23.2%)
Close to trains (20.4%)
Pet-friendly (19.8%)
Room to grow a family (18.7%)
And proximity to pubs and cafes (15.2%)
"People want to be isolated – but not too isolated – from the hustle and bustle," Mr Jolly said.
"They want to be close to nature and away from all the noise, but they also want to be close to local amenities like shops and have quick commute times to where they want to go.
"This means that for those who have the money, it's not off-the-beaten-track locations that buyers might flock to, but rather the more established coastal and regional towns, like the Sunshine Coast, Broome, Yamba and Byron Bay.
"These sorts of places represent a good mix of regional and major metropolitan locations."
Notes to editors
Survey of 1,000 people looking to buy a property during the next two years carried out in February 2022. Data attained by PureProfile for Compare the Market Australia.
---
For more information, please contact:
Sarah Orr | 0401 044 292 | [email protected]   
Compare the Market is a comparison service that takes the hard work out of shopping around. We make it Simples for Australians to quickly and easily compare and buy insurance, energy, travel and personal finance products from a range of providers. Our easy-to-use comparison tool enables consumers to find products that best suit their needs and back pocket.
Did you find this article interesting or helpful?