Last month saw the return of Compare the Market's annual Financial Consciousness Index (FCI) report, which measures how aware people are of their finances and their ability to control their financial circumstances.
This year's FCI coincides with the COVID-19 pandemic and its sudden and sustained impact on not just an individual's finances, but also the broader economy.
This year, around 11% (or roughly one in 10) of respondents – whose employment has been affected by the pandemic – deferred their mortgage repayments. This number is in line with the Australian Prudential Regulation Authority's (APRA) recent statistics, showing that 11% of the total number of housing loans in Australia have been temporarily deferred.1
It's not just homeowners either, with 9.5% of renters also having deferred their rent as a result of their employment changing under COVID-19.
So, what else did the FCI data reveal about the finances of mortgage holders and renters?
Mortgage holders have higher FCI scores than renters – and the rest of the country
Mortgage holders scored an average FCI score of 56 out of 100, a full five points higher than the national average of 51 and 11 points ahead of renters on 45.
A score of 56 falls in 'rising up the ranks', the second-highest category in FCI, while scores of 51 and 45 fall under the third ('conscious').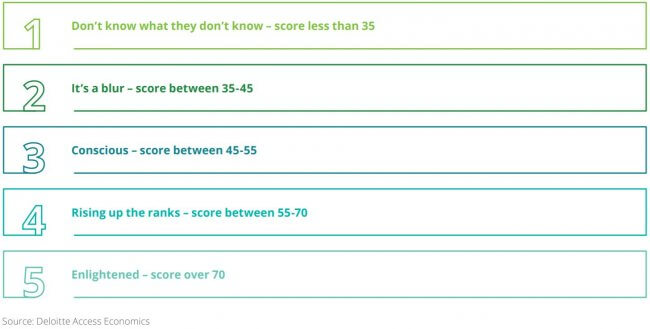 However, it's unfortunately not all good news for those mortgage holders who've had to defer their repayments due to changed employment. While a third of them feel reasonably secure in their job, another third say they worry about their job security at times.
Overall, approximately 54% of mortgage holders who have deferred payments have doubts about their job security, compared to the 46% who feel secure in their job.
In more reassuring news, most of the mortgage holders with deferred payments have stated that many of their financial positions remain unchanged despite the pandemic, including their ability to stick to a budget, pay their bills and retire at 65.
Majority of people who've deferred rent have had work hours reduced
The FCI data tells a rather grim picture of the financial circumstances of people who have deferred their rental payments.
Around 55% of FCI respondents who have had to defer their rent payments have also had their work hours reduced. Furthermore, a staggering 70% of deferred renters also struggle to pay their bills at least some of the time.
Furthermore, nearly half (49%) of renters who've deferred payments feel doubts about the security of their employment.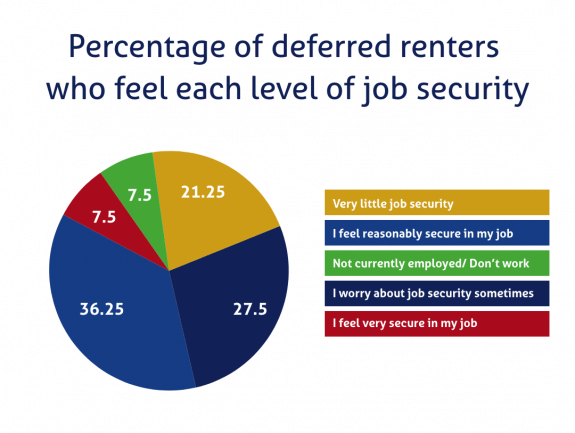 If the deferred renters were suddenly unemployed or without income for three months:
34% say they would rely on family and friends
31% would rely on government support
27% would access their superannuation.
Good news, though; a third of deferred renters say their ability to save has improved somewhat in light of the pandemic. Overall, around 44% of deferred renters said their ability to save has improved in some capacity.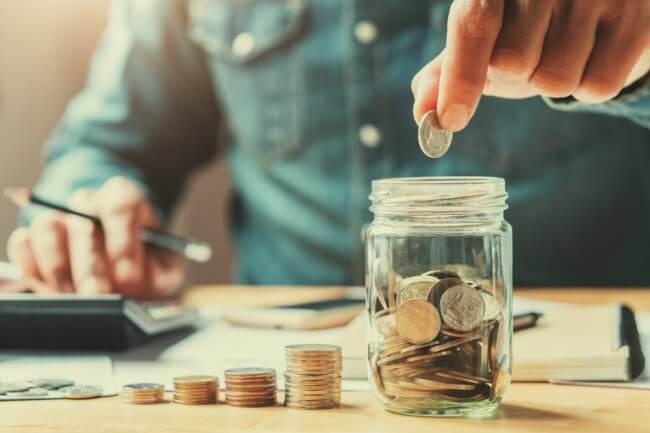 What can you do when your mortgage or rental deferral ends?
For many people, their six-month loan and rental payment deferrals will be coming to an end over the next month or so. Here's what both renters and mortgage holders can do when that time comes.
Renters
Much has been done by the state governments to provide support for renters during COIVD-19. For example, there is a moratorium on evictions across the states and territories, and many have also implemented bans on rent increases and introduced rent relief grants.
It's always best to contact your landlord as early as possible if you're having trouble paying rent. There are processes in place in most states and territories where you can negotiate a rent reduction with your landlord, with conciliation and dispute resolution agencies available to help in these negotiations between parties.
We've outlined some of the rental assistance measures for each state and territory, but you should also consult your state or territory government to understand the help available to you.
NSW
The NSW Government's moratorium included a 60-day interim stop on landlords issuing eviction notices to tenants who meet the COVID-19 hardship criteria and a six-month restriction on evictions of people suffering hardship without attempting to negotiate first.2
VIC
The VIC Government also put in place a moratorium on evictions, as well as a suspension of rent increases and rent relief assistance for eligible tenants.3
QLD
In QLD, renters under financial stress due to COVID-19 cannot be evicted or listed in the tenancy arrears database.4 Fixed terms agreements are also being extended. The rules surrounding routine repairs and maintenance have been relaxed, with tenants having the right to refuse non-essential physical entry (particularly if there's a vulnerable person in the household).
WA
Among the measures implemented by the WA Government, included is a moratorium on evictions and a ban on rent increases.5 Renters are also exempt from break lease fees if they end their fixed-term tenancy before the date due to COVID-19 hardship.
SA
Like the other states, the SA Government's rental assistance policies include a moratorium on evictions and a suspension of rent increases.6
TAS
Evictions are also in suspension in Tasmania, as are rent increases.7 Tenants can also negotiate a rent reduction with their landlord and rent relief packages are available from the state's government.
ACT
In the ACT, the government implemented a moratorium on the eviction of tenants who can't pay rent due to COVID-19.8 Rent increases are also off the table, and there are restrictions on tenancy database listings and certain household inspections. Renters who've been impacted by COVID-19 also have the power to end their fixed-term agreements ahead of schedule.
NT
Renters in the NT can apply to their landlords for an extended period in which to pay their rent, and landlords are not allowed to ask for money in advance.9 Renters can also apply to the Northern Territory Civil and Administrative Tribunal (NTCAT) for early termination of their lease.
Mortgage holders
The Australian Securities and Investments Commission (ASIC) has already outlined their expectations for lenders dealing with people coming out of deferral periods, which include:10
making reasonable efforts to contact customers as the end date draws near;
liaising directly with customers who are unable to resume payments (e.g. through phone calls);
putting in place flexible and tailored processes to assist customers who may need further financial help; and
ensuring that they comply with ASIC regulations should customers be dissatisfied with their services.
If you're coming to the end of your deferment and find you're unable to resume your payments, your bank may offer you an additional four months of payment deferral.11 Contact your bank to discuss your options.
For those resuming their home loan payments soon, here are some tips to help you stay on top of your finances.
1. Make additional repayments
If you're in the position to do so, making additional repayments on your home loan can go a long way to reducing the interest you're charged.
Just bear in mind that not all loans will allow additional repayments, and some may have hidden fees or charges for these.
You can use our additional repayment calculator to see how much you could potentially save in the long run by adding a little extra to your repayments.
2. Change up your repayment schedule
If you're currently making repayments each month, switching to a fortnightly schedule can make a real difference in the long run.
Since there are more fortnights in a year than months (i.e. 26 fortnights as opposed to 12 months), a fortnightly payment schedule will result in you making an extra month's worth of repayments by the end of the 12 months.12 This can reduce the interest owing on your loan, and in turn, help you pay off the loan quicker. Also, interest is calculated daily; so, by regularly paying off your loan, the interest will be calculated more regularly on a smaller principle.
Also, depending on your loan and personal circumstances, you may consider switching your repayments from principal and interest to interest only. During this time, you will only be repaying the interest on your mortgage and nothing on the principal amount you borrowed for a set amount of time (e.g. five years).
While interest-only repayments will typically be lower than principal and interest ones, it's important to remember, however, that you won't be reducing your principal during this interest-only period; the amount will remain unchanged and this could possibly see you faced with higher repayments at the end of the interest-only period, so that the loan is still repaid within the initially agreed term.
3. Restructure your loan
There are several things you can do to restructure your loan to make things easier for you.
Switching to a fixed interest rate means you'll have a better idea of what you need to repay, which can help you form a budget to stay on top of your bills and finances. A fixed interest rate doesn't change for a determined time (e.g. one, three or five years).
On the other hand, a split interest rate (where a portion of your loan is subject to a fixed interest rate while the rest is subject to a variable rate) has the pros and cons of both types of interest rates. This means you'll still have a better idea of how much you need to repay each time, but also be able to take advantage of falling interest rates.
Having an offset account can also help you get back on your feet after financial difficulty. These work by linking a transaction or savings account to your home loan (if eligible); the money in those accounts will be offset against your mortgage. For example, if you have a linked savings account with $20,000 and a home loan of $320,000, the amount in your savings account means you only have to pay interest on $300,000.
4. Search for a better deal
One important thing you can do to take control of your finances and potentially improve your situation is by refinancing – or switching – your home loan. Refinancing your home loan (either with your current lender or with a new one) is an opportunity to get lower interest rates, reduce the term, consolidate debt and change your loan type.
If you've decided that refinancing your mortgage is the right move for you, you can start your journey by comparing home loans through our free comparison service.
Our service is fast, free and easy to use; all you need to do is put in a few details about the loan you want, and away you go!
Sources:
1 APRA – Temporary loan repayment deferrals due to COVID-19, June 2020. Published August 2020. Accessed September 2020.
2 NSW Government: Fair Trading – Residential tenancy moratorium on evictions during COVID-19. Accessed September 2020.
3 Victoria State Government: Consumer Affairs Victoria – Renting rules and support during the moratorium. Last updated September 2020. Accessed September 2020.
4 Queensland Government – For renters. Last updated June 2020. Accessed September 2020.
5 Government of Western Australia: Department of Mines, Industry Regulation and Safety – Residential tenancies – COVID-19 response. Last updated September 2020. Accessed September 2020.
6 Government of South Australia: Consumer and Business Services – Rental advice due to COVID-19. Accessed September 2020.
7 Tasmanian Government: Consumer, Building and Occupational Services – Residential tenancy – Changes to residential tenancies in Tasmania during COVID-19. Last updated September 2020. Accessed September 2020.
8 ACT Government: Justice and Community Safety Directorate – Information for tenants and occupants impacted by COVID-19. Accessed September 2020.
9 Northern Territory Government: Consumer Affairs – Residential tenants affected by COVID-19. Last updated May 2020. Accessed September 2020.
10 ASIC – COVID-19 and financial hardship: ASIC's expectations of retail lenders when loan repayment deferrals end. Published August 2020. Accessed September 2020.
11 Australian Banking Association – Banks enter phase two on COVID-19 deferred loans. Press release. Published July 2020. Accessed September 2020.
12 Moneysmart – Pay off your mortgage faster. Accessed September 2020.
Did you find this article interesting or helpful?