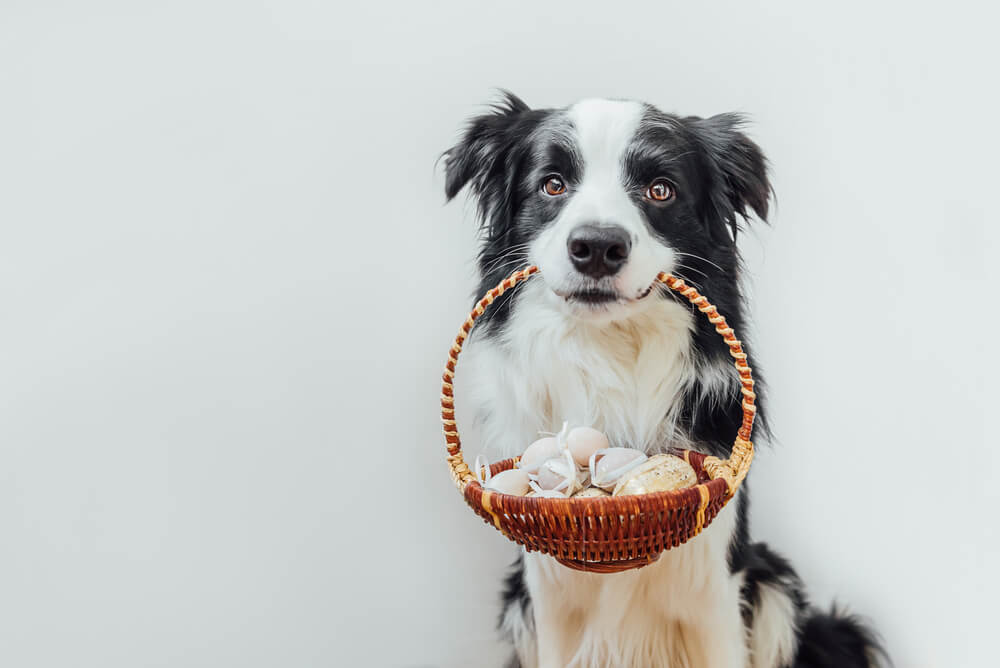 A tasty treat for humans – a lethal threat to canines. Families looking forward to an egg hunt this Easter are being urged to be extra careful with their chocolate goodies as dogs and cats can face an increased risk of illness during the long weekend period. 
In what is one of the busiest times for Australia's vets and emergency clinics, Aussie families could be forking out hundreds and potentially thousands of dollars for treatment if their pet falls ill.
Data from Compare the Market's April Bill Shock Tracker Survey found nine per cent of Australians surveyed said they incurred an unexpected cost related to a pet emergency in the last three months – a sign that many pet owners may not be prepared if their furry friend becomes sick over Easter.
Compare the Market's Chris Ford said many Australian families became first-time pet owners during the pandemic and may not be aware of risks to their pets, including tick bites, poisoning from eating human foods, anxiety and other diseases.
"This will be the first Easter that many families spend with their pets, but we know from past holiday periods that there are many things that could increase the likelihood of your dog or cat requiring emergency care or veterinarian treatment," Mr Ford said.
"Without an appropriate level of pet insurance, families could be left significantly out of pocket if their pet falls ill.
"However, there are many health issues that aren't covered by pet insurance policies, so it's a good idea to take extra preventative care when it comes to your pet's health. If you have pet insurance for your pet, read your policy carefully for health issues or treatments that may not be covered."
While many families will tuck into hot cross buns, chocolate bunnies, party food and barbequed meat over the long weekend, they could harm your pets.
David Lee, the President of the Small Animal Special Interest Group of the Australian Veterinary Association, told Compare the Market that these foods are one of the main reasons pets require medical treatment over Easter.
"Things like sausages, that can be high in sugar and fat, make dogs quite ill and cause gastric symptoms and an upset stomach," Mr Lee said.
"Chocolate has an enzyme which dogs have some difficulty breaking down and can suddenly cause symptoms including very high heart and breathing rate, signs of being hyperactive and anxious and can also cause things like vomiting and diarrhoea.
"Even things like raisins off hot cross buns. Raisins are dried grapes and grapes are toxic to dogs. Grapes have the potential to cause kidney damage and potentially one grape can cause that."
Meanwhile, ticks remain a threat to cats and dogs, particularly across the East Coast, where there's been higher than usual rainfall. Pet insurance can help cover some vet costs if your pet falls ill – usually up to a certain limit per policy each year – but effective treatments are available to prevent tick and parasite bites.
"It's not uncommon to still see dogs or cats coming in with toxicity from tick bites at this time of the year," Mr Lee explained, noting there are monthly oral medications and twice-yearly topical treatments that can keep ticks at bay.
"In terms of preparing your pets if travelling, the key is to make sure they're up to date. If they're not, ensure they've had that preventative application a few days before they travel, so it's become active in the body system."
Pet owners are also advised that many pets – particularly those purchased during lockdowns or the COVID-19 pandemic – may be at risk of separation anxiety and other behavioural issues if they're left behind while the family partakes in Easter activities.
"We're now seeing some of the flow-on effects of all these lockdowns," Mr Lee said.
"It's really difficult to come up with a rough estimate of how much those treatments can cost because there are some dogs and cats that will suffer from quite severe anxiety, and they potentially may be on medication for life.
"There are several different subtypes of anxiety, which need to be carefully investigated at the vets to work out the best line of treatment."
It's also important to ensure your pet's vaccines are up to date, especially when travelling with them or leaving them at pet accommodation or daycare. While the threat of diseases such as dog hepatitis, dog parvovirus, kennel cough syndrome and cat flu are prominent all year round, they're something to be aware of if you're taking your pet out of its usual environment.
Be aware that while there may be some cover that your pet can access immediately, you must serve waiting periods for many pet insurance policies.
Mr Ford said it's worth considering pet insurance to protect your pet and finances.
"Would you be able to afford a large vet bill upfront? Pet insurance itself can be expensive, but there are options to pay your premium in monthly instalments, which may make it easier to manage," he said.
"Take some time to do some research and check which policies are available for your pet."
Consumers can use Compare the Market's pet insurance comparison tool to compare a range of policies and providers in one place.
---
For more information, please contact:
Sarah Orr | 0401 044 292| [email protected]   
Compare the Market is a comparison service that takes the hard work out of shopping around. We make it Simples for Australians to quickly and easily compare and buy insurance, energy, travel and personal finance products from a range of providers. Our easy-to-use comparison tool enables consumers to find products that best suit their needs and back pocket.
Did you find this article interesting or helpful?