Aussies may face even longer waiting list times for elective surgery across most state public hospitals. These waiting lists had already ballooned, following March-April's temporary, nation-wide pause on non-urgent elective surgeries to help combat COVID-19.[1]
CEO of Private Healthcare Australia, Dr Rachel David, explained this increased wait is going to hit some Aussies harder than others.
'We expect to see public waiting list times blow-out due to the pause on elective surgery, especially in Victoria, where additional restrictions were put in place,' says Dr David.
How long are public waiting lists throughout Australia?
Data from several states show that public waiting lists for elective surgery have grown at a higher rate due to the COVID-19 pandemic.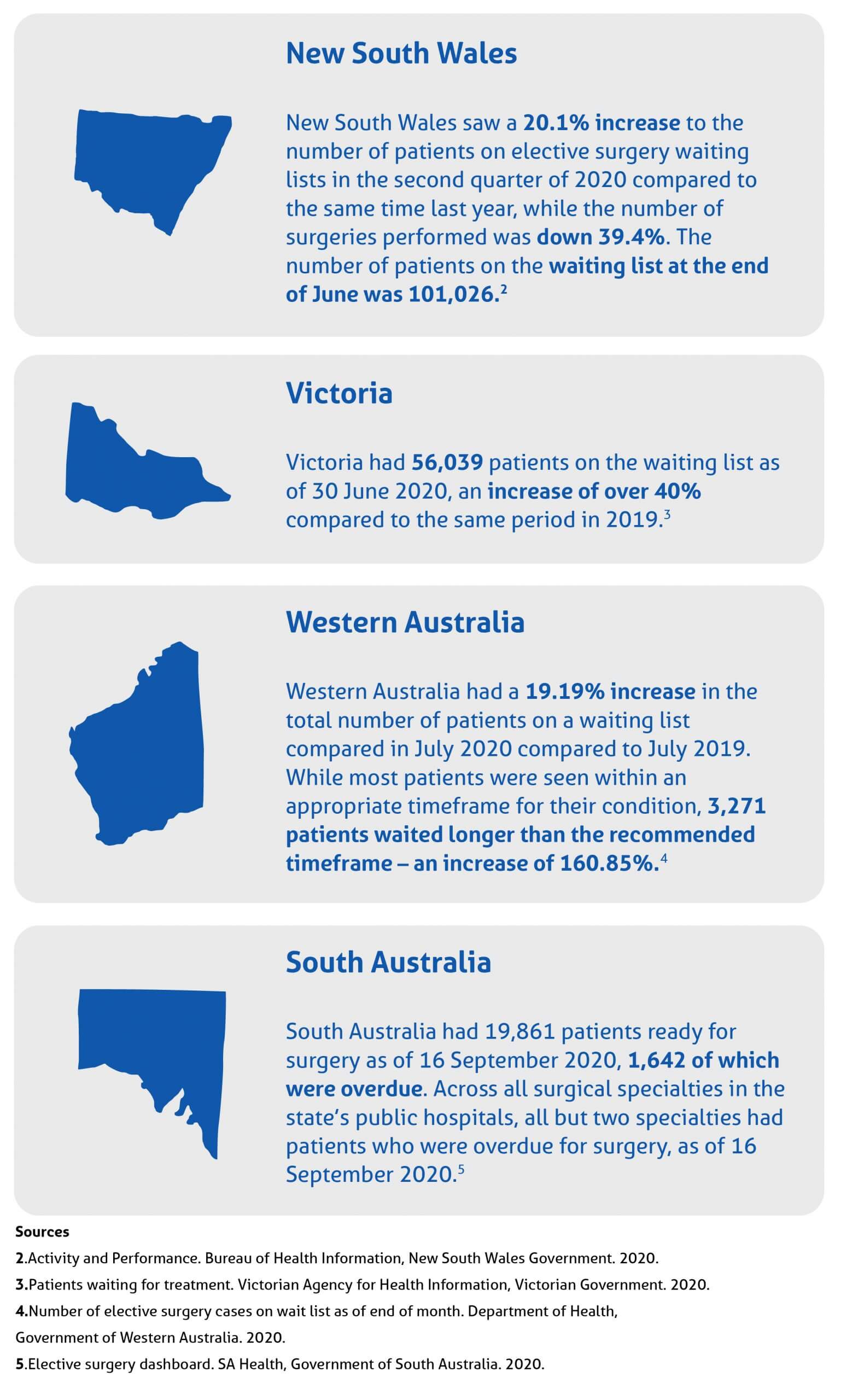 In contrast, Queensland saw a reduction in both elective surgery and emergency surgery wait times in public hospitals between April and June 2020 compared to the same period last year. At the end of June 2,774 Queenslanders were waiting longer than expected for elective surgery, much less than the predicted number of 7,000.[6]
The Australian Capital Territory (ACT) is seeing the public and private system work together to deal with a backlog of elective surgeries, effectively adding two extra surgery theatres operating for 250 days over 12 months as of August 2020.[7] While waiting lists have grown, the ACT plans on performing over 16,000 elective surgeries in 2020-21, over 2,000 more surgeries than 2018-19. To help improve public waiting list times and get back on track.[8]
N.B. At the time of writing, the latest data for Tasmania and the Northern Territory does not cover elective surgery wait times in public hospitals in March 2020 or afterwards.
The increased demand for surgery is also evident in the private sector.
Private health claims jump after a painful lockdown
Now that elective surgeries have reopened in many states and territories, several types of treatment are in hot demand; this is especially true for patients who have endured a wait with painful symptoms.
For instance, June saw private health insurance claims jump between 11% and 24% for certain elective surgeries, according to Private Healthcare Australia.[9]
'Joint and dental conditions can cause pain, so a number of these patients were eager to book in as soon as they could to have their surgery,' says Dr David.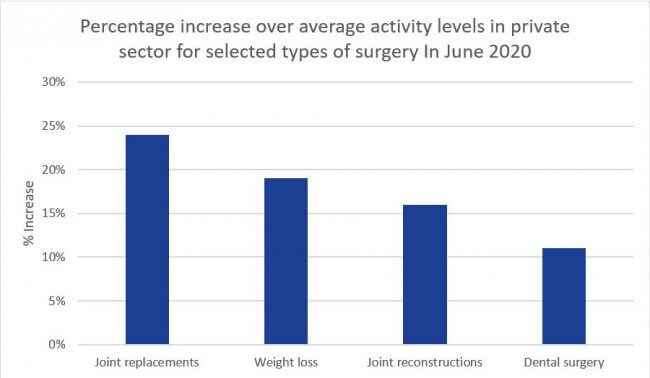 Source: Press release: Australian Health Funds pay more than $21b in benefits despite significant COVID-19 headwinds. Dr Rachel David, Private Healthcare Australia. 2020.
Activity levels based on the number of private health insurance claims in June 2020 compared to June 2019.
'The increase in wait times may put additional pressure on other health support services and increase costs,' explains Fleming.
'This is because patients have to manage the symptoms of their health issues while they wait for their surgery, such as pain and restricted mobility. GPs may see an increase of patients requiring prescription pain medication to deal with their symptoms while they wait for surgery, for example.'
Mental health and other treatments also expected to see increased demand
Other types of treatment, especially mental health care, could also feel the pressure.
Dr David notes that most in-patient care for chronic mental health conditions takes place in private hospitals.
'There has been a demand to increase access not just to elective surgery, but other types of treatment,' she said.
'With the additional restrictions, Victoria will likely see even more demand for a range of healthcare services.
'As such, it's good that elective surgery and private hospitals have opened up again, even if not to their full capacity.'
To help combat the effects of lockdown and isolation, the Australian Government has expanded subsidised psychological therapy sessions for eligible Australians.
Do Aussies see shorter wait times in the private health system?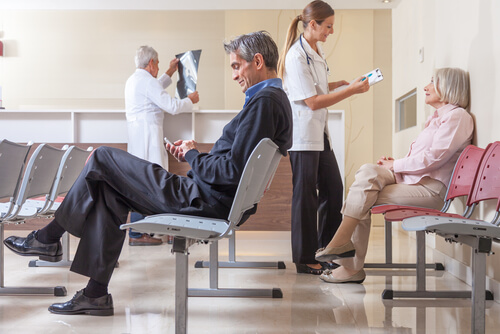 Our General Manager of Health, Anthony Fleming, expects waiting list times to grow across both Australia's public and private health sectors.
'Pre COVID-19, the average wait times in the public system for elective surgery were four and a half times longer than in the private system,' says Fleming.
'However, I expect a significant backlog of patients waiting for treatment in both the public and private systems.'
The Australian Private Hospitals Association (APHA) notes that as of 18 August, over 230,000 surgeries, treatments and appointments in private hospitals were postponed because of COVID-19.
The APHA also states that the backlog could take years to clear, even if the private and public health systems were both operating at full capacity.[10]
'A key reason why people take out private health insurance is so that they don't have to wait to get treatment,' says Dr David.
What's being done to combat growing elective surgery waiting list times?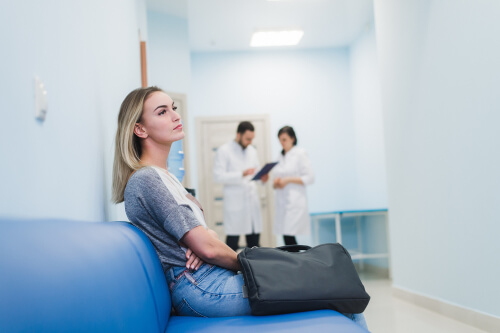 Multiple states and territories have established plans to push postponed elective surgeries through the door. The Federal Government has also established a partnership between private and public hospitals to not only deal with COVID-19, but also to accelerate postponed elective surgeries as the pandemic receded.[11]
Beyond this, Fleming says its best to discuss your health issues and concerns with a GP sooner rather than later.
'By doing so, they can refer you to a specialist or put you on a waiting list for surgery to get on top of the issue,' he explains.
He also notes that privately insured Australians will no doubt be glad that elective surgery and treatment restrictions have largely lifted.
'Now that the restrictions on elective surgery has mostly lifted, Aussies with appropriate private hospital insurance cover who have completed their waiting periods will be able to use it.
'This not only helps them get treatment without being put on a public waiting list but accessing care in a private hospital will offer them the choice of who treats them and where they're treated.'
Sources:
[1] Elective surgery restrictions eased. The Hon. Greg Hunt, MP, Minister for Health, Department of Health, Australian Government. 2020.
[6] Wait times improve despite COVID-19. Deputy Premier and Minister for Health and Minister for Ambulance Services, the Hon. Steven Miles MP. Department of the Premier and Cabinet, Queensland Government. 2020.
[7] Surgery. ACT Health Service, Australian Capital Territory Government. 2020.
[8] Boosting elective surgery and specialist outpatient clinics. Minister for Health, the Hon. Rachel Stephen Smith, MP, the Hon. Chief Minister The Hon. Andrew Barr, MP, Australian Capital Territory Government. 2020.
[9] Press release: Australian Health Funds pay more than $21b in benefits despite significant COVID-19 headwinds. Dr Rachel David, Private Healthcare Australia. 2020.
[10] Private health insurance affordability issue: new APRA data. Frith Rayner, Australian Private Hospitals Association. 2020.
[11] Australian Government partnership with private health sector secures 30,000 hospital beds and 105,000 nurses and staff, to help fight COVID-19 pandemic. The Hon. Greg Hunt, MP, Minister for Health, Department of Health, Australian Government. 2020.
Did you find this article interesting or helpful?