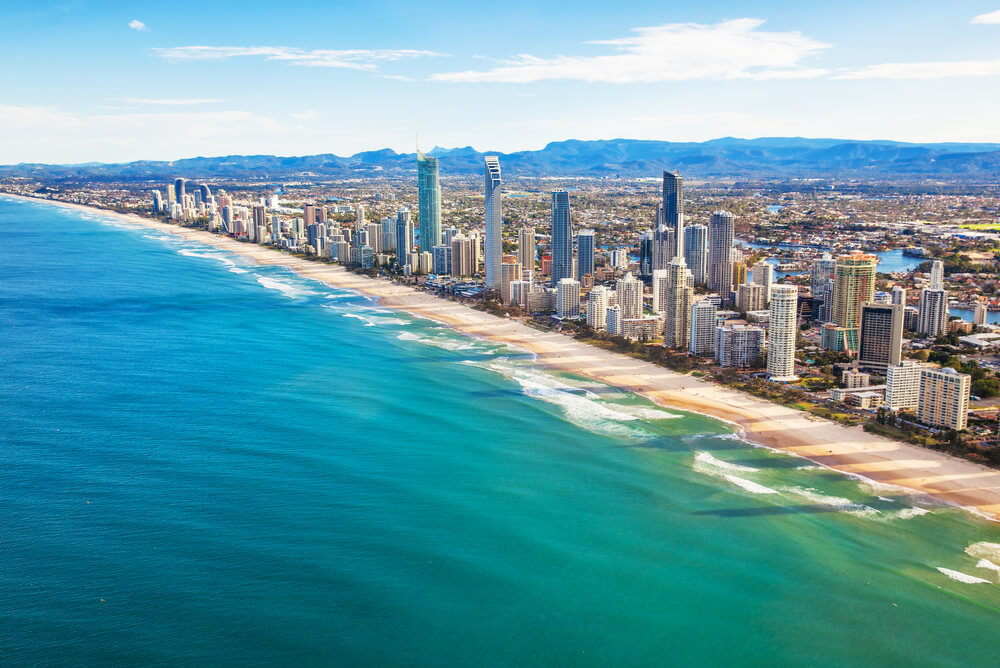 Australians have been busy comparing home loans, with refinancing up significantly in the 12 months from June 2020 to 2021.
This is particularly true in two of the biggest states – Queensland and New South Wales – according to Property Exchange Australia's (PEXA) July 2021 settlement and mortgage insights report1.
According to PEXA, refinancing jumped 19.1% in NSW month-on-month (May to June) and 20.5% month-on-month in Queensland.
Total refinancing ended the financial year (June 2020-21) up 10.4% in NSW and 5% in Queensland.
Victorian refinancing also saw a sizeable 23.1% monthly increase, although 2021's figure is 0.6% below refinancing recorded in the "remarkably high" month of June 2020.
PEXA noted that the surge in refinancing is particularly significant given refinancing activity was already high in 2020, thanks to not one but two Reserve Bank cash rate cuts in March2.
Home loan interest rates, as the following graphic shows, are at record lows in line with the cash rate: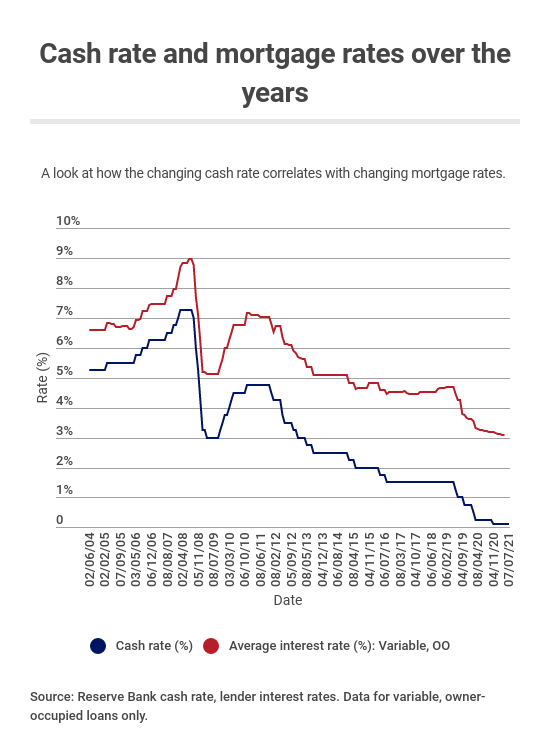 Indeed, Australian Bureau of Statistics (ABS) Lending data shows $22.6 billion worth of home loans were refinanced during March this year, a 21% increase from the previous month3.
And it wasn't just refinancing that soared in these states: property settlements and property buying in general has been massive on the East Coast from June 2020.
Queensland was the standout performer amongst the eastern states, with sale settlements jumping 37.1% to more than 203,000 in June 2021 and the total value of settlements rising 44.3%.
NSW and Victorian property settlements increased by 25.8% and 11.7% respectively, to just under 219,000 and 199,000.
Total value of sale settlements
| | | | |
| --- | --- | --- | --- |
|   | NSW (billions) | QLD (billions) | VIC (billions) |
| FY20 | $147 | $74 | $118.3 |
| FY21 | $186.3 | $106.8 | $127.4 |
| Year-on-year growth | 26.7% | 44.3% | 7.7% |
Source: PEXA
Refinancers look away from the big banks
Back to PEXA's data, much of this refinancing was done away from the big four banks – Commonwealth Bank, ANZ, NAB and Westpac – as customers expand the range of products they're considering.
In NSW, for example, the major banks are now seeing fewer refinancers than non-major banks and lenders4: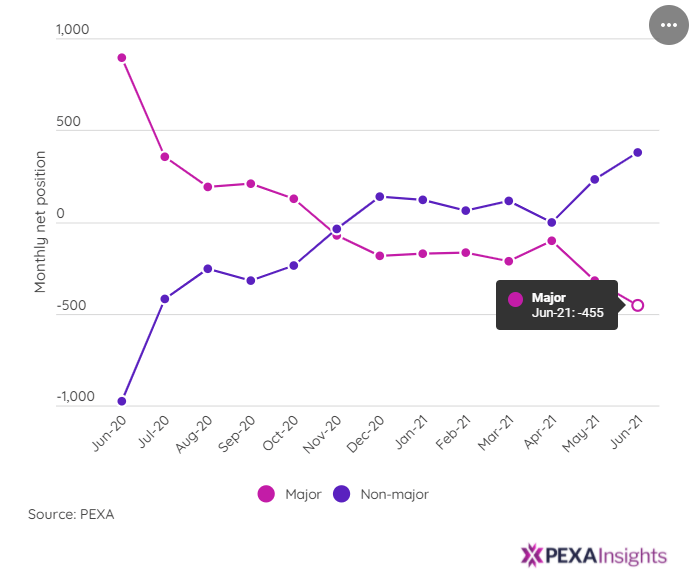 Despite the increase in refinancing, PEXA has forecast refinancer activity to fall in the coming weeks and months.
Nationally, refinances were down 8.4% on the prior week as of 11 July5, a figure that was as high as 11.2% in NSW and 20.4% in South Australia.
PEXA predicts refinancing will fall during July 2021 by 5.5% in NSW, 7% in Queensland and 7% in Victoria.
Want to refinance? Start your journey with Compare the Market
---
Sources
PEXA Insights, Property and Mortgage Insights Report—East Coast. 12 July 2021.
Reserve Bank of Australia, Cash Rate Target.
Australian Bureau of Statistics Lending Indicators Data, May 2021.
PEXA Monthly Mortgage Insights, NSW – July 2021.
PEXA Insights, Pre-Settlement Indicator. 12 July 2021.
Image source: Shutterstock
Did you find this article interesting or helpful?