The weekly cost of renting across Australia has increased at its fastest rate since January 2009.
According to CoreLogic's Rental Review for the June 2021 quarter1, median national rental rates rose by 6.6% to $476 per week from June 2020 to June 2021.
That's despite a recent slowdown in rental increases: median rents rose 2.1% over the three months to June, down compared to the 3.2% recorded in the previous quarter.
Rents increased at a much faster rate in regional areas compared to capital cities.
According to CoreLogic's data, annual regional rental growth reached 11.3% in June, while capital city rents were up 5%.
That 11.3% annual growth in regional rents is the highest CoreLogic has ever recorded since it began taking records in 2005, and Head of Research Eliza Owen said rental values had not seen increases this high in more than a decade.
"Following subdued rental performance through much of the 2010s, the Australian rental market has seen an increase in values due to many of the same factors that have led to the current housing price upswing," Ms Owen said.
"These factors include increased government stimulus through COVID-19, accumulated household savings through lockdown periods, the swift economic recovery seen as restrictions eased, and a lack of rental supply in some markets have also exacerbated rental price increases, particularly in major centres of regional Australia."
According to Ms Owen, increased investor activity in the housing market could also be contributing to surging rents, with the latest Australian Bureau of Statistics (ABS) data showing a 13.3% increase in lending for investment properties2.
"It is interesting to note that, as with house prices, rent prices are seeing a deceleration in growth at the national level and across each of the capital cities," she said.
"This may reflect affordability constraints, but there could also be higher levels of rental supply as investor activity in the market increases."
CoreLogic's report follows similar research from Domain earlier this month, which found a 5.9% national increase in median rental prices3.
Which cities saw the biggest increase in rental prices?
Rental increases were vastly different depending on the city or region, with some even recording decreases.
Over the month from May to June, Darwin recorded the largest increase in rents (1.8%) to $548 per week, while it also saw the largest quarterly (4.5%) and yearly (21.8%) increases.
That means over the 12 months to June 2021, Darwin rental prices rose by nearly one-quarter.
In contrast, Melbourne renters have experienced a 1.4% fall in rental costs – the only capital city to not see an increase.
Canberra is the most expensive city to rent with a median weekly price of $620, up 7.3% in 12 months, while Adelaide is the cheapest at $430 per week (up 7.2% annually).
Adelaide's median property is now cheaper to rent than the median regional property ($441 per week).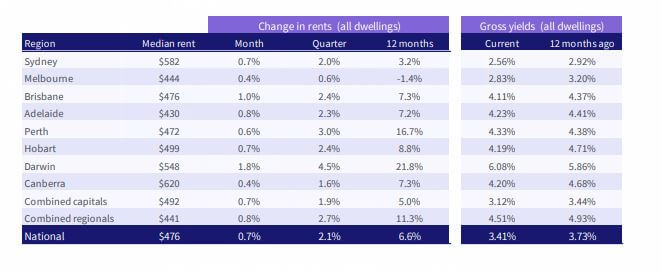 Source: CoreLogic
Ms Owen said some areas have seen different price changes for rental properties because of the "unique impacts COVID-19 has had on different parts of the country".
"As noted in previous quarters, [Sydney and Melbourne], which have historically had the highest intake of international migrants, have seen rental demand most impacted by international border closures amid the pandemic," Ms Owen said.
"Hobart rent values also took a hit at the initial onset of COVID-19. Anecdotally, many short-term accommodation holders had marketed their property on the long-term rental market amid domestic and international travel restrictions.
"However, as domestic travel flows have somewhat normalised, save for sporadic lockdown conditions, the return of domestic tourism may have seen the reversion of this excess supply to short term accommodation."
Servicing a mortgage cheaper in 'over a third' of Australian properties
Other CoreLogic research last week found that it's actually cheaper to service mortgage repayments than it is to pay rent on 36.3% of properties4. That's an increase from 33.9% of homes pre-COVID.
CoreLogic compared properties' rental repayments based on its own rental estimates and a set of mortgage assumptions:
An interest rate of 2.4%, based on the Reserve Bank's average owner-occupier data5
A 25-year term and no mortgage fees
The results found that it's much more likely to find a cheaper mortgage in regional areas than it is in capital cities, although the recent rent increases may soon change this.
Nearly two-thirds (60.1%) of regional properties are cheaper to own than rent, while the same can only be said for around 25% of capital city properties.
In regional Northern Territory, for example, nearly all (96.4%) of homes have cheaper mortgage repayments compared to rental costs.
At the opposite end, Sydney (4.9%) and Melbourne (7.3%) are still better for the average renter, primarily due to high property costs.
"Reduced interest costs have not led to cheaper mortgage serviceability relative to rents in every instance. This is especially the case in Sydney, where property values have increased markedly against low interest rates, pushing up loan principals (the amount borrowed) and outpacing growth in rents," Ms Owen said.
"However, the low interest rate environment is still conducive to better serviceability in many parts of the country.
"The analysis is a good reminder for renters to weigh up housing costs and savings, to see if it is time for a change in tenure."
Portion of properties cheaper to rent or buy
Greater Capital city or rest of state region
Portion of Cheaper to Buy
Portion of Cheaper to Rent 
National
36.3%
63.7%
Combined Capital Cities
26.2%
73.8%
Combined Regionals
60.1%
39.9%
Regional NT
96.4%
3.6%
Darwin
86.5%
13.5%
Regional SA
79.4%
20.6%
Regional WA
79.4%
20.6%
Regional Qld
73.1%
26.9%
Regional Tas.
71.4%
28.6%
Perth
59.6%
40.4%
Brisbane
55.3%
44.7%
Hobart
50.2%
49.8%
Regional NSW
48.2%
51.8%
Adelaide
47.4%
52.6%
ACT
43.6%
56.4%
Regional Vic.
43.6%
56.4%
Melbourne
7.3%
92.7%
Sydney
4.9%
95.1%
Source: CoreLogic.
---
Sources
Core Logic, 'National rents record highest annual growth in over a decade'. 19 July 2021.
Australian Bureau of Statistics Lending Indicators, 'Investor housing loan commitments rise 13.%'. 2 July 2021.
Domain, 'June 2021 Rental Report'. 7 July 2021.
CoreLogic, 'Mortgage serviceability cheaper than renting on over a third of Australian properties'. 15 July 2021.
Reserve Bank of Australia, 'Lenders' Interest Rates'. Data as at May 2021.
Image source: Shutterstock
Did you find this article interesting or helpful?