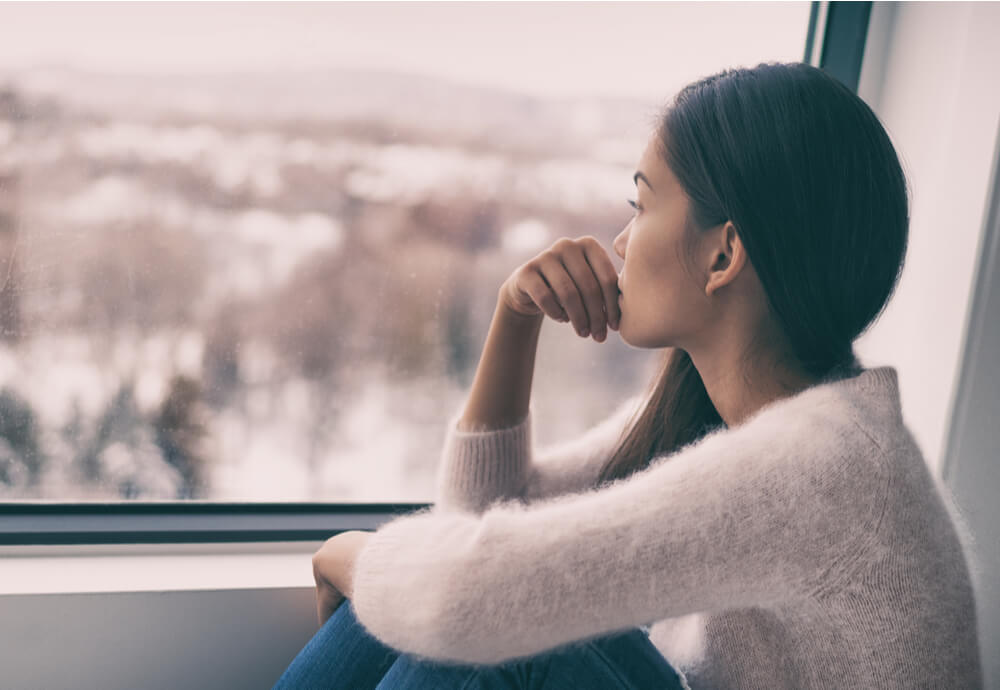 Given the current stresses within our society and the ongoing pandemic, there is no doubt that young Australians are struggling with their mental health.
The 2021 Annual Hospital High Claims Report issued by Private Healthcare Australia, shows that insurance claims relating to mental health have risen significantly.1
The annual report analyses the hospital treatment high claims paid by Australian Health Funds for a 12-month period. According to the report, high claims for mental health treatment for Private Health Insurance (PHI) members under 30 years of age have increased by 4.8% from 2019. Some of these claims include psychiatric, mental, addiction or behavioural disorders.
Private Healthcare Australia CEO, Dr Rachel David said, "despite the slight reduction in the number of hospital high claims due to COVID-19 (the deferral of some elective surgery), mental health high claims among young Australians had increased significantly."2
• 1 in 5 hospital claims for PHI members under 30 were attributed to hospital treatment and care of patients with psychiatric, mental, addiction or behavioural disorders.
• A large percentage (72%) of mental health treatment in high claimants under 30 years old, were female. This was an increase from the 2019 results.
• For people aged 20-30 with mental health issues, the average length of stay in hospital for treatment was roughly 26 days.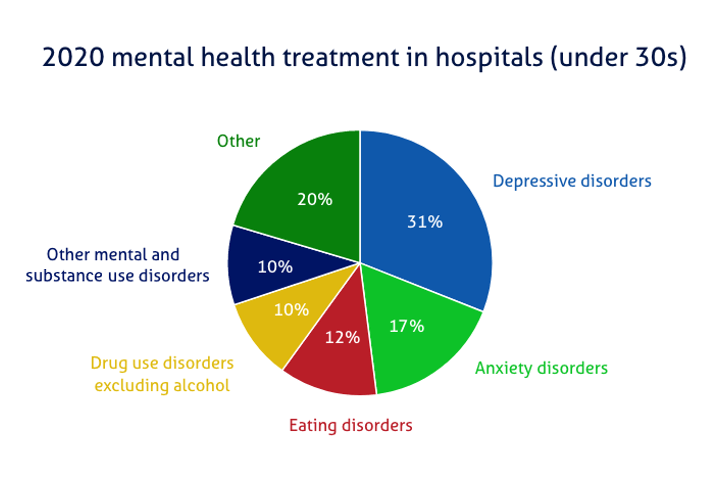 Source: PHA Annual Hospital High Claims Report 2021
How private health insurance (PHI) can help you
There are several options available to young Australians to subsidise their mental health treatment with PHI:
Mental health professional support with extras cover
If you exceed the allotted 20 sessions with a mental health professional via Medicare, Extras Cover (which covers out-of-hospital medical care) can offer some benefits towards psychological services or sessions and some medications.
It is important to review your health care policy as your health fund could pay a portion of the cost and you'll just need to cover the remaining costs associated.  Depending on which policy you hold, can determine how much  you can claim and how many sessions you can claim on.
When considering a new policy, also ensure you review the waiting periods, as these will apply and vary depending on your health insurance policy. Generally, the waiting period is two months before you can start claiming on these services.
Hospital treatment as a private patient with hospital cover
There are a number of benefits associated to being a private patient in a public hospital, these include your choice of hospital that you go to, your choice of doctor and a private room (depending on the availability).
To be covered as a private patient for hospital psychiatric services, you need hospital cover.
In Australia, hospital cover is presented in four tiers or levels of cover which includes Gold, Silver, Bronze and Basic. All four tiers cover hospital psychiatric services. However, only a Gold tiered policy provides the unrestricted cover which allows for you to claim  the maximum amount available.
It's important to know that hospital psychiatric services have a two-month waiting period. This means that you will be covered two months after your policy has commenced.
Although with cover, there are a lot of things you could be covered for during your time in hospital, there are still costs associated with your admission that PHI will not cover. There are still out of pocket expenses you may incur as a private patient including but not limited to fees stemming from doctors who charge above what Medicare and your health fund will cover.
According to the Commonwealth Ombudsman, if you're expecting a hospital admission, you should contact your health fund, your hospital and your doctor to find out how much will be covered during your stay, how much you will have to pay, and any other expenses.4
How our public health system (Medicare) can help you
If you can't afford health cover, the Australian health system can still support you with a number of services available in your times of need.
Mental health professional support with Medicare 
In the first instance, your GP can assess your needs and possibly create a mental health treatment plan for you. The plan identifies what type of health care you need and what you and your doctors are trying to achieve.
A mental health treatment plan (through Medicare) allows you to claim up to 20 sessions with a mental health professional each calendar year.3 According to Medicare, to start with, your doctor or psychiatrist will refer you for up to six sessions at a time.
Your doctor can refer you to multiple mental health professionals, including psychiatrists, psychologists, counsellors and social workers.
Hospital treatment as a public patient
When it comes to hospital treatment, if you don't have private health insurance and you're hospitalised, Medicare will cover the costs of your treatment. However, your choices on who treats you and in which hospital or facility will be limited.
---
If you or someone you know is struggling with their mental health help is available 24 hours a day, 7 days a week:
Lifeline – 13 11 14
Kids Helpline – 1800 55 1800
Beyond Blue – 1300 224 636.
---
Sources:
Private Healthcare Australia. PHA Annual Hospital High Claims Report 2021. Accessed August 17, 2021.
Private Healthcare Australia. Media release. High Claims for mental health treatment peak during COVID pandemic. August 15, 2021.
Services Australia. Mental health care and Medicare. Mental health professional support. Help with costs. Accessed August 17, 2021.
Commonwealth ombudsman. Mental Health Treatment and Private Health Insurance. Private hospital insurance for psychiatric services and rehabilitation. Accessed August 17, 2021.
Did you find this article interesting or helpful?