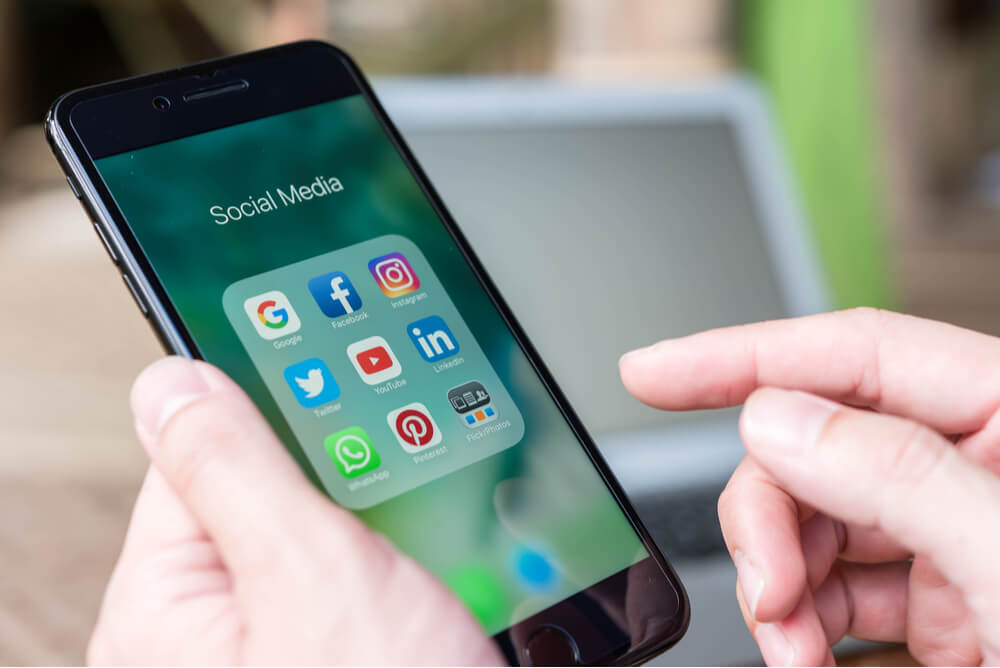 Australians now spend more than $118 billion in total via social media platforms and apps every year.
The latest Know Your Numbers Index by UBank has discovered Australians are spending nearly $500 per month on average ($6,000 a year) on discretionary items via social media and apps.1
According to the data, 22% of Aussies say they spend up to 40% of their total discretionary (non-essential) funds on items via social media and apps.
Almost 10% said they are spending between 50% and 70% on discretionary items.
UBank CEO Philippa Watson said COVID restrictions have not only changed the way we live but how we spend and make purchases.
"Australians are finding new avenues to part with their cash using apps on their phones and devices," Ms Watson said.
"More surprisingly, it's men who are spending more on average each month in areas like clothing, dining out, entertainment and gadgets."
UBank's data shows men are spending an average of $602 each month on discretionary items, compared to $400 for women.
| | | |
| --- | --- | --- |
| Top categories | Average Monthly discretionary spend (Men) | Average Monthly discretionary spend (Women) |
| Clothing and shoes | $89.14 | $75.44 |
| Dining out | $102 | $62 |
| Entertainment | $86 | $56 |
| Tech gadgets | $88 | $38 |
Source: UBank Know Your Numbers Research

As of 2021, 93% of Australian adults have a smartphone, while 72% used a social media app in 20202, making it easy for ecommerce businesses to send traffic from their socials to their websites and drive sales.
Broken down by generation, millennials clearly lead the pack when it comes to monthly spending using social media and apps:
Millennials ($773)
Gen X ($528)
Gen Z ($465)
Baby Boomers ($236)
In fact, Millennial's account for 50% of all discretionary spending on these channels at $59.1 billion each year.
The rise of food delivery apps
Last year, more than one in four Australians used food delivery apps, according to Roy Morgan, an increase from 19% in 2019 and 16.3% in 2018.3 
That's over 5.5 million people aged 14+.3
According to Roy Morgan's data:
Women are more likely to use meal delivery services (27.9%) than men (24.9%)
Men and women aged 25-34 record the highest usage

People in cities (31.6%) are far more likely to have had their meals delivered than those in country areas (16.6%)
| | | |
| --- | --- | --- |
| Brand | Monthly Google Search (July 2016) | Monthly Google Search (July 2021) |
| Menulog | 437,500 | 673,000 |
| Uber Eats | 38,600 | 450,000 |
| Door dash | 0 | 201,000 |
| Deliveroo | 141,700 | 110,000 |
Source: Keywords Everywhere (Aus data)
The biggest players in the food delivery app market are the US-owned Uber Eats, Menulog (founded in Sydney), Deliveroo, DoorDash and HelloFresh.3
Roy Morgan CEO Michele Levine says the lockdowns around Australia have provided a huge boost to meal delivery services.
"The lockdowns enforced to halt the spread of COVID-19 have provided the perfect environment for the rapid growth of meal delivery service apps such as Uber Eats, Menulog, Deliveroo, HelloFresh and DoorDash – which launched in Australia in late 2019 just before the pandemic began," Ms Levine said.
"Over a quarter of Australians used meal delivery services in 2020 and this spiked to well over a third of both Millennials and Generation Z (37.2% of both).
"These two generations account for almost 4 million users of meal delivery services – or over 70% of the current market."
Sources:
UBank Social Media is Changing Aussies Spending Habits. Media release on August 5, 2021.
Communications and media in Australia: How we communicate. April 2021.

Roy Morgan. Meal delivery services Uber Eats, Menulog, Deliveroo and DoorDash experienced rapid growth during 2020 – a year of lockdowns & work from home. May 28, 2021.
Did you find this article interesting or helpful?