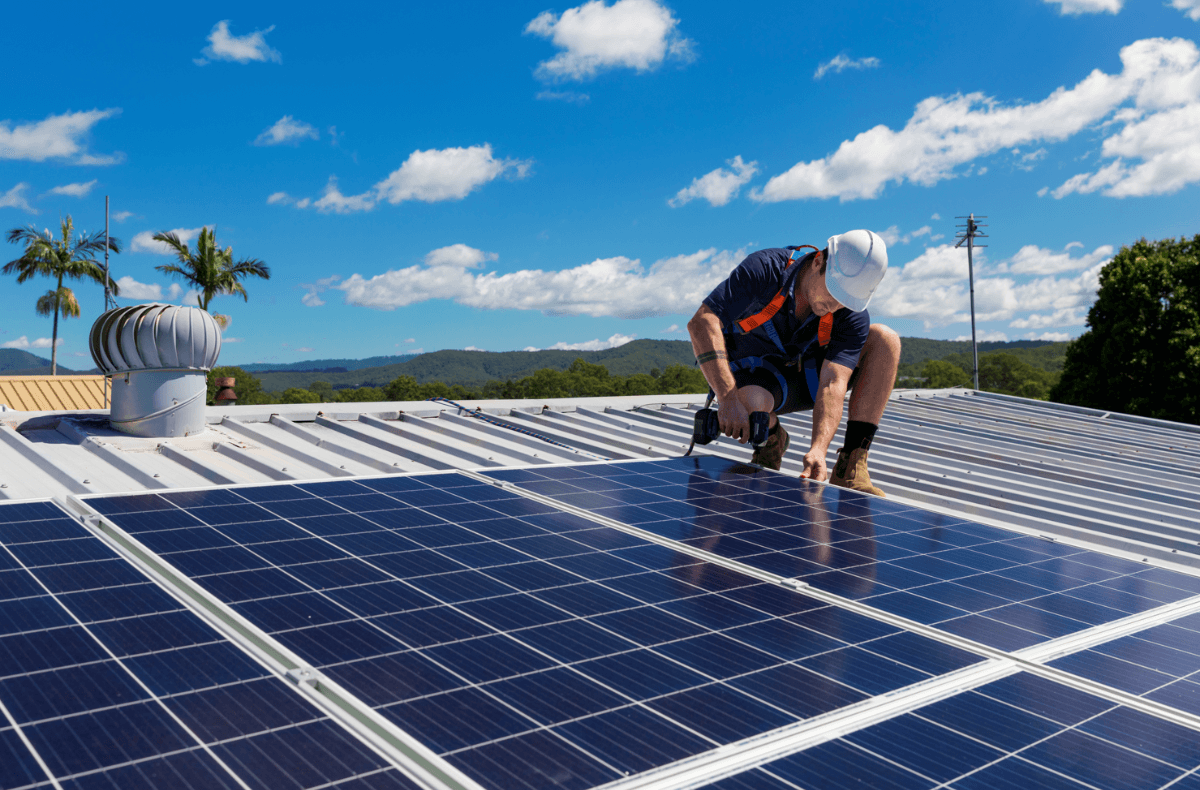 Solar customers have been urged to start changing their habits to avoid the sting of the impending 'sun tax' that will see users charged for exports when there's low demand.
The Australian Energy Regulator (AER) has confirmed a controversial shake-up to the solar industry that will see households charged for exporting solar electricity at certain times from 2025. The new change is known as two-way pricing but has been dubbed a "sun tax" by many.
But experts say the impost can be avoided by avoiding peak times and making better use of energy storage systems.
Brett Mifsud – Compare the Market's General Manager, Energy and Utilities, urged customers to think ahead and start practising good habits now to prepare.
"It's important to know that there's still real value in solar panels and ways to cheat the system to save on energy bills and avoid being slogged with export fees," Mr Mifsud said.
"Many households are already seeing the price they're paid to export solar electricity to the grid through feed-in tariffs decline and we want families to be in the best position possible when two-way pricing comes into effect."
When two-way pricing is introduced, families will likely be charged a fee to export during low-demand times, such as the middle of the day when solar electricity is generated. However, you could earn more for exporting solar power when demand is high, such as afternoons and evenings. Ultimately, it will be up to retailers to determine these exact times.
"What this tells us is now's the time to start getting into the habit of using your solar electricity during the day when demand is usually the lowest or if you're not using electricity during the day, charge your solar battery so you're not relying on energy from the grid at night," Mr Mifsud said. "Use timers and run power-guzzling appliances such as dishwashers, washing machines and dryers during the day or charge laptops, mobile phones, tablets and other devices when your solar system generates power.
"With more people working from home, it makes sense to run these jobs during the day and use your own solar electricity rather than drawing from the grid – which could drive up your electricity bill."
Changes are set to come into effect from 1 July 2024 in the ACT, New South Wales, the Northern Territory and Tasmania, from 1 July 2025 in South Australia and Queensland, and from 1 July 2026 for Victorians.
Solar panels generate electricity through sunlight during the day, so ideally, you'll want your panels to get as much sunlight as possible – regardless of whether you choose to use, store or export electricity.
"We know that panels facing north typically get the most sunlight, which means they'll generate the most power," Mr Mifsud said. "If your roof's orientation doesn't allow for this, remove any obstructions to increase solar generation if possible."
Meanwhile, storing excess solar electricity in solar batteries will allow you to use it when you need it most or export it to the grid when the payback is higher. For example, you may not be home during the day but want to use your solar electricity to run your air conditioner or heater during the evening. Solar batteries can give you this option.
Batteries can cost anywhere from a few thousand dollars for a smaller system to almost $20,000 for systems with more storage and inverter chargers. Mr Mifsud said it's best to think of solar batteries as investments.
"The reality is solar batteries give you more flexibility around the solar electricity you generate," Mr Mifsud said. "You may choose to store it and use it later when you need it the most or export electricity when there's more financial benefit to you when two-way pricing is introduced.
"We also know that some state governments offer solar battery rebates, giving families a chance to claw back some of the upfront costs. It's worth investigating the rebates available in your location when you're doing your research."
Batteries are also helpful on days when the sun doesn't shine as brightly and when your PV system isn't generating as much electricity.
And, if your household is in the market for a new car, Mr Mifsud said EVs could be worth considering.
"What a lot of people don't realise is that the batteries in EVs can be used to store the electricity your solar PV system generates," Mr Mifsud said. "You may use this to power your car or simply store excess electricity your solar system generates. Of course, electric vehicles do come with a higher price tag, but could save you from forking out money for a separate solar battery."
Two-way pricing is being introduced to ensure the electricity grid isn't overwhelmed by an upswing in solar use. According to the Australian Energy Market Commission (AEMC), some homes are already blocked from exporting electricity at certain times to avoid disruptions.
In good news for Australians as the cost of living continues to soar, the AER has confirmed that a free export level will remain, providing customers meet the criteria outlined by retailers and distributors.
For example, customers may be able to export a certain amount of solar electricity to the grid up to a specified limit without charge. However, the AER outlines that these limits can be set to different limits at different times, so customers are advised to compare retailers and tariff structures that best suit their needs when the changes are implemented.
These basic options will be available for 10 years following the introduction of two-way pricing, although the AER has confirmed that the basic export levels may change within this period.
Mr Mifsud said while retailers inform customers when there will be changes to their solar tariff structure, there are likely be several competitive options available in the market.
"Just as feed-in tariffs vary between retailers, spending some time comparing options on services like Compare the Market will be vital in looking for a deal that's best for your circumstances," Mr Mifsud said.
"We know that making small changes now could help you down the track when two-way pricing is introduced."
For more information, please contact:
Phillip Portman | 0437 384 471 | [email protected]   
Compare the Market is a comparison service that takes the hard work out of shopping around. We make it Simples for Australians to quickly and easily compare and buy insurance, energy, travel and personal finance products from a range of providers. Our easy-to-use comparison tool enables consumers to find products that best suit their needs and back pocket.
Did you find this article interesting or helpful?