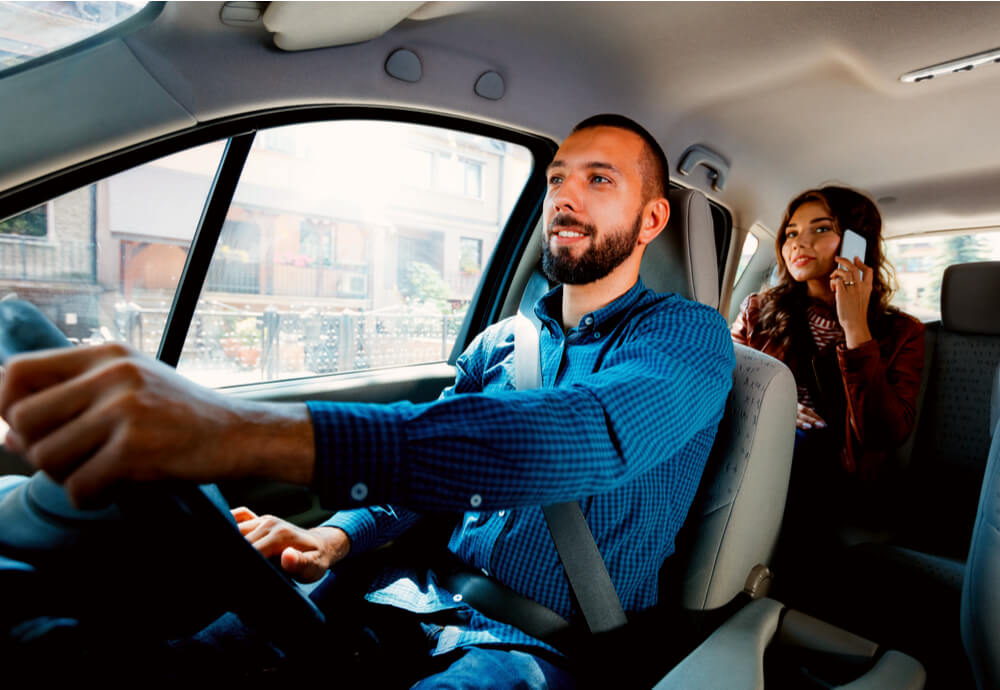 Rideshare driving – where passengers use an app to hail a car and pay the driver – has grown exponentially since Uber began operating in Sydney in 2012. Now, there are multiple rideshare platforms where Australians can become a user or a driver.
While millions of Australians regularly use rideshare apps as passengers (with Uber accounting for the largest share with 3.8 million active Australian users in 2020),1 there are far less drivers.
Based on the last 2.5 years of all car insurance sales (purchased through Compare the Market's comparison service) where customers specified whether they carried passengers for payment, only 6.89% said they did.
Using Compare the Market's data, we can get a glimpse of the average set of wheels used by rideshare drivers, as well as some stats on who's driving those cars.
What are the most popular cars with rideshare drivers?
Looking at the top 10 most popular car models for customers who do pick up passengers as a rideshare driver, one model stands out from the crowd. The Humble Toyota Camry was almost twice as popular as the second most popular car, the Toyota Corolla.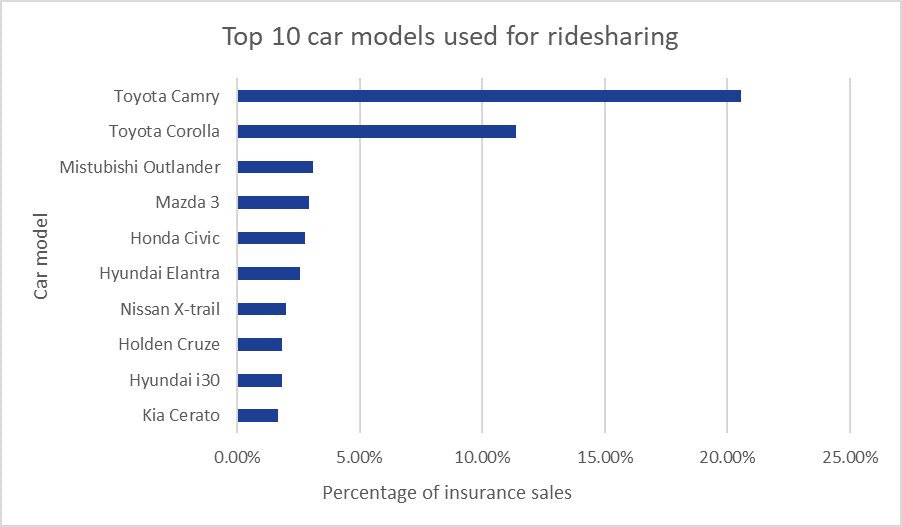 Note: Based on car insurance sales through Compare the Market from 01/01/2019 – 29/06/2021 where customers indicated they picked up passengers for money.
While Toyota dominated the top two spots – which is unsurprising as the Japanese powerhouse has topped passenger vehicle sales in Australia for 16 consecutive years2 – other Japanese and Korean brands were also popular.
Interestingly, while SUVs are incredibly popular with Australian motorists in general (making up almost 50% of all new vehicles sold since 2018),3,4 they're less popular among rideshare drivers – only two models in the top 10 were SUVs.
Rideshare driving much more popular with men than it is with women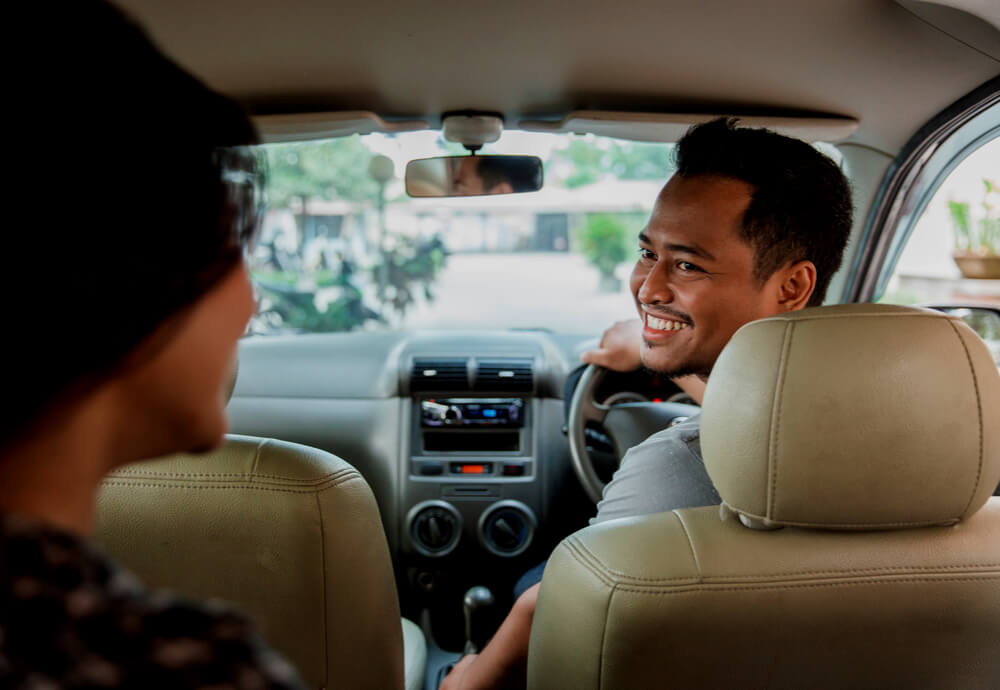 Men accounted for over 90% of the insurance sales where the car is used for ridesharing (91.2%), with women only accounting for the remaining 8.8%.
Concerns over driver safety is possibly a big reason why there are so few female rideshare drivers. A survey by the Rideshare Drivers' Co-operative and the Transport Workers' Union found one-in-five drivers received sexual comments from passengers and one-in-ten were physically assaulted.5
Rideshare driving is also more common for men and women aged over 30, with most drivers being aged 30-34 years old.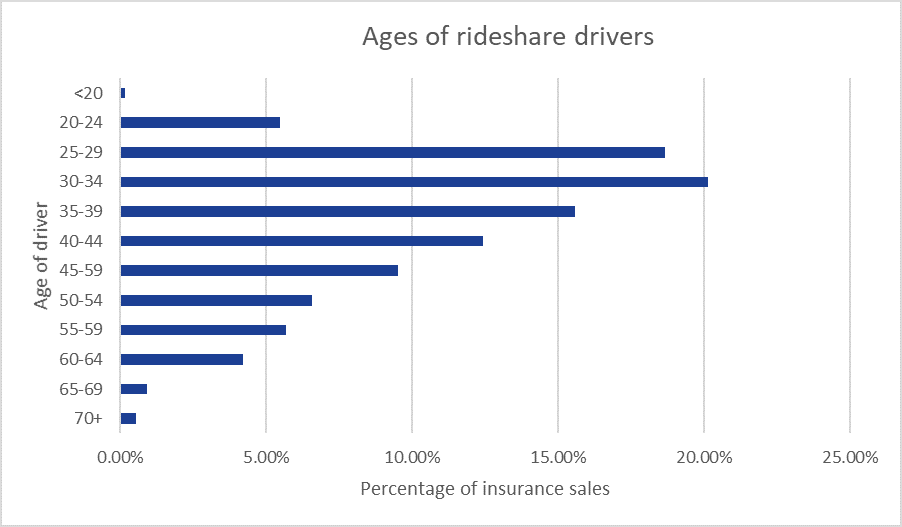 Note: Based on car insurance sales through Compare the Market from 01/01/2019 – 29/06/2021 where customers indicated they picked up passengers for money.
While the 25-29 age bracket had the second highest count, there were still plenty of drivers in older age-brackets looking to make some money from their car.
How does rideshare driving affect car insurance?
A major issue is that not all car insurance providers cover rideshare driving, but rideshare platforms require drivers to have an existing car insurance policy that meets their minimum standards of cover. Our General Manager of General Insurance Stephen Zeller explains:
"Some car insurance providers have specialised policies for rideshare driving, or may cover rideshare driving and food delivery through a business and private use policy. However, many policies won't cover this, so drivers should double check they're covered before signing up to a rideshare platform."
"Not having adequate cover can leave you out-of-pocket should an incident occur while carrying passengers. If you do join a rideshare platform, it's critical you inform your insurer as failing to do so can void your insurance."
While rideshare platforms provide their own liability cover for drivers, these insurance policies are designed to work around your existing policy. You can learn more about car insurance for rideshare driving with our handy guide.
Sources:
1 How do Australian cities move? Uber data lifts the lid. Dom Taylor, Uber Australia, Uber Technologies Inc. 2020.
2 Australian Motor Vehicle Census. Australian Bureau of Statistics, Australian Government. 2021.
3 Sales. Federal Chamber of Automotive Industries. 2021.
4 New vehicle sales down in challenging 2019 market. Federal Chamber of Automotive Industries. 2020.
5 Biggest Survey of Ride-Share Drivers Reveals Low Pay, Violence & Sexual Assaults. Transport Workers Union. 2018.
Did you find this article interesting or helpful?