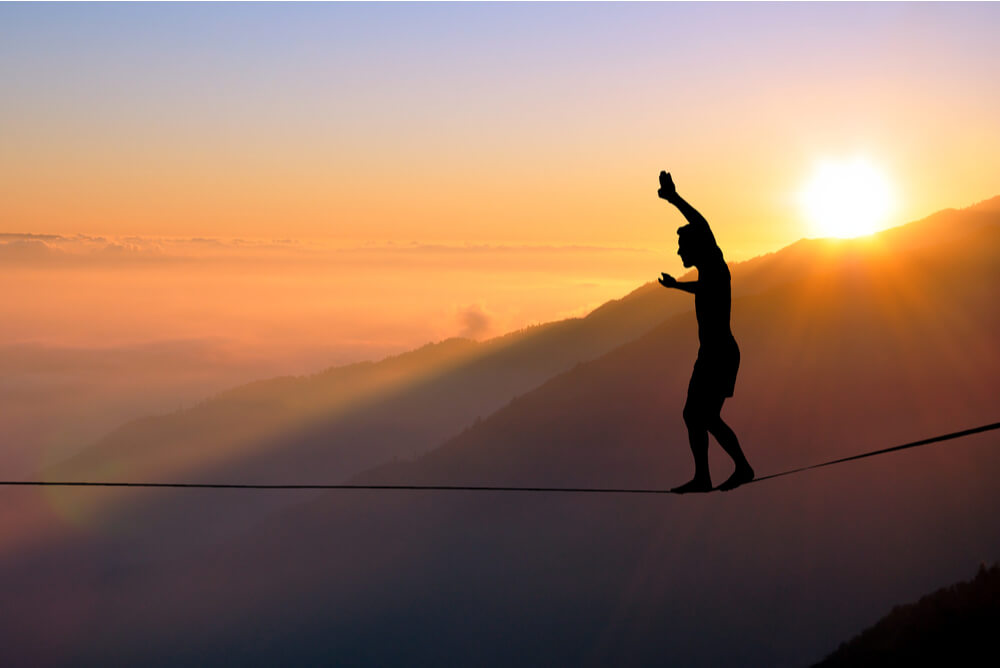 The Reserve Bank has once again held the cash rate at its record low 0.10%, marking the ninth straight month of no change.
As most people expected, the Reserve Bank (RBA) again said it would not increase the cash rate until 2024 in last month's announcement.
"The Board will not increase the cash rate until actual inflation is sustainably within the 2 to 3 per cent target range. The central scenario for the economy is that this condition will not be met before 2024," RBA Governor Philip Lower said in August.1
Dr Lowe sang a similar tune today, and noted how Australia's economic recovery has been interrupted by the Delta outbreak.2
"GDP is expected to decline materially in the September quarter and the unemployment rate will move higher over coming months," he said.
"While the outbreak is affecting most parts of the economy, the impact is uneven, with some areas facing very difficult conditions while others are continuing to grow strongly."
However, he also said this setback is likely to be temporary.
"The Delta outbreak is expected to delay, but not derail, the recovery. As vaccination rates increase further and restrictions are eased, the economy should bounce back," Dr Lowe said.
"Housing prices are continuing to rise, although turnover in some markets has declined following the virus outbreak. Housing credit growth has picked up due to stronger demand for credit by both owner-occupiers and investors.
"Given the environment of rising housing prices and low interest rates, the Bank is monitoring trends in housing borrowing carefully and it is important that lending standards are maintained."
What does this mean for mortgages?
Mortgage rates are closely tied to the cash rate historically, and a record low cash rate of 0.10% (last cut from 0.25% in November 2020) has also helped create the record low mortgage rates we are seeing in the industry.
As of July 2021, the average interest for new owner-occupied home loans is just 2.38% p.a. and is 2.74% p.a. for investment loans3, with much lower rates available.
In 2008, the average owner-occupied interest rates sat at around 9% p.a with a cash rate of more than 7%.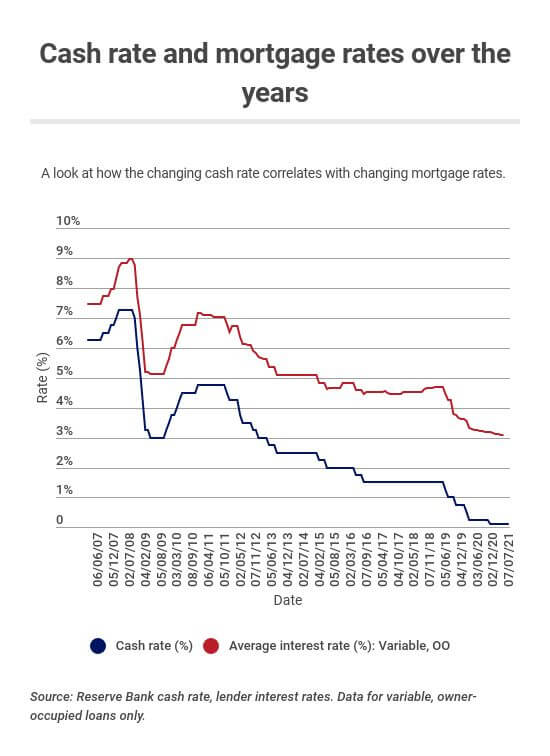 As there has been no change to the cash rate here this month, wholesale changes to mortgage rates are unlikely, and chances are that banks won't be in a hurry to increase or decrease their rates for customers.
But that doesn't mean interest rates aren't changing even without a change to the cash rate.
Is now a good time to fix your interest rate?
Looking at Reserve Bank interest rates data up to July 2021, we can see some interest rates now are a bit higher than they were a few months ago, particularly among fixed home loans.
Owner-occupied, three-to-five-year fixed-rate home loans for new customers, for example, are 23 basis points higher as of July 2021 (2.23% p.a average) than they were in January 2021 (2.00% p.a average).
However, fixed rates remain popular, and on average, fixed interest rates for owner-occupied borrowers for three years or less are below 2% p.a, and many other types of interest rates are still seeing decreases across the market.
By fixing an interest rate now, homeowners could avoid future increases to their home loan rates.
"We are witnessing more home loan borrowers locking in fixed interest rates than the same time last year, as borrowers look to protect their household budgets against potential future rate rises, while taking advantage of fixed interest rates being offered by the majority of the major home loan lenders at below 2%," Compare the Market's Digital Banking Expert David Ruddiman said.
"Many people are looking to implement a strategy of splitting their home loan into a fixed interest component to provide a safeguard against future rate rises, and a variable interest component that enables them to make additional contributions to pay their home loan down faster while rates are at historic lows.
"This provides borrowers the best of both worlds, stability and predictability of repayments on the fixed interest component, with the flexibility of being able to focus their repayment efforts on the variable component."
The majority of home loan customers do expect interest rates to rise in the next 12 months, which might partially explain the popularity of fixed mortgages.
Westpac's latest Housing Pulse report4 shows 55% of homeowners expect mortgage interest rates to rise over the next year; 41% expect no change, and just 4% expect further declines.
Refinancing is at an all-time high, particularly for fixed loans
The Australian Bureau of Statistics (ABS) released its lending indicators for July 2021 last week, which revealed that refinancing between home lenders reached a new all-time high of $17.2 billion, rising 6% in just one month.5
"There has never been a better time for those with a mortgage to consider meeting with a mortgage broker to review their home loan and lock-in potential savings," Mr Ruddiman said.
Refinancing has been on an upward trend in recent years but has hit a new crescendo in the latest data set, and according to ABS Head of Finance and Wealth, Katherine Keenan, the value of refinancing between lenders is 60% higher compared to 12 months ago.
"This reflected borrowers seeking out lower interest rates, particularly for fixed-rate loans, and cashback deals across a large number of major and non-major lenders," Ms Keenan said.
The value of new fixed-rate loan commitments funded in the month rose 0.8%, and compared to July 2019, the value of fixed-rate housing loans has soared nearly 500%, from $4.63 billion to $27.5 billion.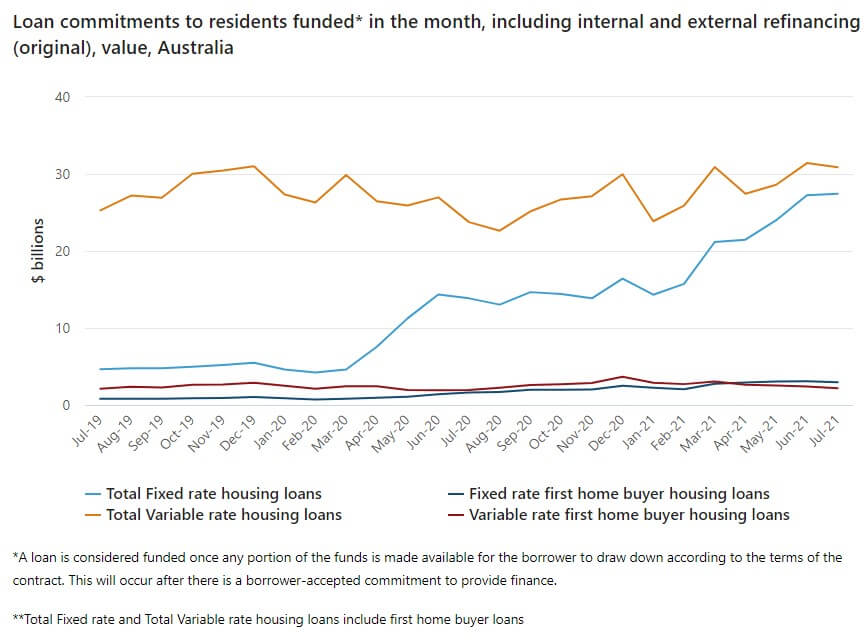 Source: Australian Bureau of Statistics.
What about first home buyers?
While talk of refinancing is all well and good for current homeowners, how can the news of yet another cash rate hold affect those looking to break into the property market for the first time?
The ABS' data for July 2021 shows a 6.8% fall in new loan commitments to first home buyers, which are now 20.5% below January 2021 but remain 20.4% higher than 12 months ago.
With median house prices now 18.4% higher over 12 months6, many first home buyers may find themselves struggling to buy, especially with the prospect of interest rates slowly increasing.
"The conundrum for first home buyers is always weighing up the benefit of time in the market versus timing the market," Mr Ruddiman said.
"That said, there are some signs that the current boom in house prices could be slowing, with auction clearance rates falling, listing rates rising and building approvals surging while immigration to Australia has all but evaporated due to COVID restrictions.
"This isn't to say housing prices are about to turn negative, but more like prices will start to flatten for a period of time.
"This combined with record low interest rates may mean there is an opportunity for first home buyers to get on the property ladder, even with a smaller deposit than would otherwise be prudent."
Many first home buyers could be doing just that: the latest quarterly regulator data7 shows a 35% annual increase in the number of Lenders Mortgage Insurance (LMI) policies underwritten, indicating more home buyers are purchasing with deposits below 20%. 
---
Sources
Image via Shutterstock
Reserve Bank of Australia, 3 August 2021. 'Statement by Philip Lowe, Governor: Monetary Policy Decision'.
Reserve Bank of Australia, 7 September 2021. 'Statement by Philip Lowe, Governor: Monetary Policy Decision'.
Reserve Bank of Australia, Lenders' Interest Rates. Accurate as at July 2021.
Westpac Housing Pulse August 2021. 23 August 2021.
Australian Bureau of Statistics, 2 September 2021. 'Refinancing reached all-time high in July'.
CoreLogic Hedonic Home Value Index August, 1 September 2021.
Australian Prudential Regulation Authority, Quarterly general insurance statistics, 26 August 2021.
Did you find this article interesting or helpful?