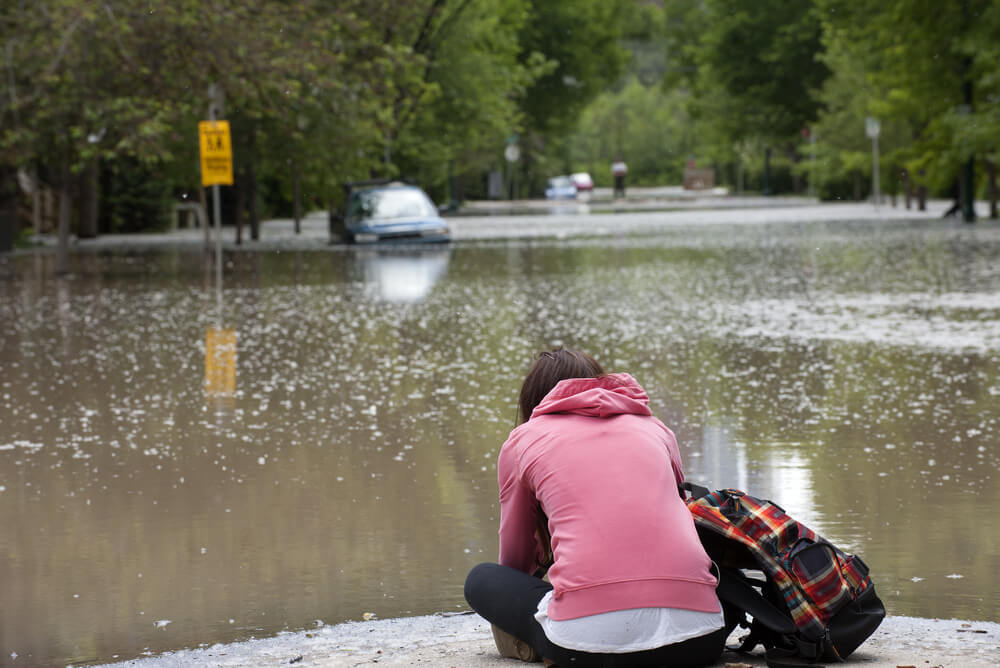 Renters who had not insured their valuables could be particularly vulnerable to losses and damage caused by the recent flooding disaster, experts say.
It is believed many renters could be uninsured if they have relied on their landlord's insurance for building protection which does not cover renters' personal belongings.
Data from Compare the Market reveals a stark difference between the number of insurance policies taken out by homeowners and renters, who make up roughly 30% of the population.
Of the contents insurance quotes made via Compare the Market's website in 2021, 56% were for homeowners while 44% were made by tenants.
According to the Insurance Council of Australia (ICA), more than 100,000 claims have already been made due to flooding events in each state since 21 February, with more expected to follow.
Compare the Market's insurance expert Stephen Zeller said sadly, people without appropriate cover could face big out of pocket costs for repairs and replacements.
"Take a look around your house right now and estimate how much everything you own is worth: it's likely in the tens of thousands of dollars all up," Mr Zeller said.
"Building insurance only covers damage to the property itself, and if you're renting you don't have to pay for that. But you do have to pay for your own personal belongings.
"If you don't have any insurance and your home floods, catches fire, or is destroyed by a number of other natural disasters, you would have to replace every single thing yourself.
"Renters are already statistically worse-off financially than homeowners, generally speaking. Could you afford to replace everything from scratch? The answer is probably no."
According to the latest data from the Australian Bureau of Statistics in 2018, the mean value of contents in Australian dwellings was $69,400.
What is renters insurance, and what does it do?
Renters insurance, also known as contents-only insurance, is designed to provide a financial safety net for tenants and their belongings.
Items typically covered include white goods (fridges, dryers), technology (televisions, laptops, cameras), clothing, furniture, appliances and more, while you can pay extra to be covered for more expensive items, like jewellery, motorised vehicles (like an e-bike or scooter) and collectible items.
However, a standard renters insurance policy may not include flood cover. This is likely to be an optional extra, which will come at an additional cost.
How much is renters insurance?
Specific costs for renters insurance vary from person to person. A number of factors can influence premiums, including:
The estimated value of the contents in the home
Your claims history
The suburb's crime rate and median rent
The security in the home
The risk of natural hazards in the area
Whether you try to claim for additional itemised contents (like jewellery, expensive technology etc.) and more
However, it is cheaper than home insurance on average. According to the Insurance Council's data, the average quarterly premium for home building insurance as of March 2021 was $363, compared to $154 for contents insurance.
On average, contents insurance premiums are less than half that for building insurance.
Why don't renters take out contents insurance?
It's not just renters avoiding cover for their belongings. In general, contents insurance is less common than cover for the home itself.
Compare the Market data shows throughout 2021, contents-only quotes were 37% less common than home-only quotes.
But renters are less likely to take out contents cover than homeowners, and according to Mr Zeller, there are several reasons for this.
"Renters are generally less financially secure than homeowners, so they can often see cost as a barrier to protecting their possessions," he said.
"Others might have the perception of renters insurance not covering them enough to justify the money, or they might think their landlord's insurance will cover them for damage instead.
"There's also the possibility that they might not even be aware that insurance for renters even exists."
But Mr Zeller says renters insurance can definitely be a worthwhile purchase.
"We've seen the damage flooding can do, but renters insurance can cover so much more than that," he said.
"The right policy can protect you from fires, hail, lightning, explosions, earthquakes, theft, vandalism, other damage to the property such as leaks, and even for damage sustained during moving.
"Ultimately, lots of people don't think they need this kind of insurance until they do, but at that point it'd be too late."
For more information, please contact:
William Jolly | 0405 968 369 | [email protected]   
Compare the Market is a comparison service that takes the hard work out of shopping around. We make it Simples for Australians to quickly and easily compare and buy insurance, energy, travel and personal finance products from a range of providers. Our easy-to-use comparison tool enables consumers to find products that best suit their needs and back pocket.
Did you find this article interesting or helpful?