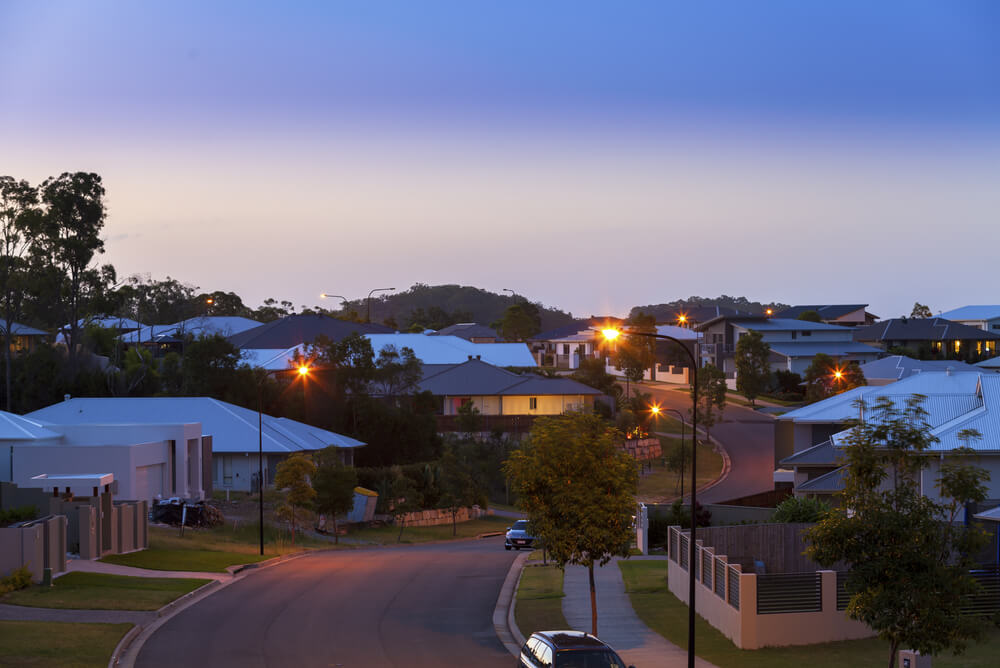 The Reserve Bank has again left Australia's cash rate on hold at a historic low of 0.10%, amid growing calls for action on property prices.
Having last altered the cash rate in November 2020, RBA Governor Philip Lowe repeated his mantra that the cash rate will not be altered until 2024.
"The Board is committed to maintaining highly supportive monetary conditions to achieve a return to full employment in Australia and inflation consistent with the target. It will not increase the cash rate until actual inflation is sustainably within the 2 to 3% target range," Dr Lowe said.1
"The central scenario for the economy is that this condition will not be met before 2024.
"Meeting this condition will require the labour market to be tight enough to generate wages growth that is materially higher than it is currently."
The decision comes amid warnings that debt caused by surging house prices could lead to future instability.
With an annual growth rate of 16.8% across capital city prices2, the Reserve Bank is under pressure to say what, if anything, it can do about the housing market.
To date, views from the Reserve Bank about whether it should step in to 'fix' housing affordability have been mixed.
After saying it would not lift the cash rate to slow house price growth, the RBA has since said it was considering different levers to cool the market.
"The Council of Financial Regulators has been discussing the medium-term risks to macroeconomic stability of rapid credit growth at a time of historically low interest rates," Dr Lowe said in today's statement.
"In this environment, it is important that lending standards are maintained and that loan serviceability buffers are appropriate."
Debt on the rise and calls for curbs
According to Knight Frank's Global House Price Index for Q2 2021, Australia's housing boom ranks 7th overall in the world, and the 16%+ annual growth rate is the highest since 2003.4
Latest figures from the Australian Prudential Regulation Authority (APRA) show a substantial (5.8%) yearly increase in loans worth at least six times the borrower's annual income.5
The International Monetary Fund (IMF) has urged Australia to consider reforms to housing supply and lending standards, pointing to an increase in high debt-to-income mortgages, increasing investor demand, and already high owner-occupier levels.6
"Surging housing prices raise concerns about affordability and financial stability. Structural reforms to boost housing supply and targeted support for low-income households are needed to improve housing affordability," the IMF said.
"Macroprudential policy should be tightened and lending standards closely monitored.
The IMF also called for more reforms outside of lending, such as more efficient planning, zoning reforms, promoting flexible work-from-home arrangements, and more infrastructure investments, such as building affordable and social housing.
Their concerns have been echoed by some of the major banks including ANZ and Commonwealth Bank, with Commbank CEO Matt Comyn saying modest steps should be taken "sooner rather than later" to cool the market.7
How do macroprudential measures work and what's on the table?
Macroprudential measures are something that could very well be on the table at the moment, with the Council of Financial Regulators (CFR) – which includes the RBA, APRA, ASIC and the Australian Treasury – issuing a joint statement in late September.
"The Council is mindful that a period of credit growth materially outpacing growth in household income would add to the medium-term risks facing the economy, notwithstanding that lending standards remain sound," the statement said.8
"Over the next couple of months, APRA also plans to publish an information paper on its framework for implementing macroprudential policy."
But what exactly does that excruciatingly long word mean?
Well, according to the Reserve Bank:9
"(Macroprudential policy is) the use of prudential actions to contain risks that, if realised, could have widespread implications for the financial system as a whole as well as the real economy"
These measures would include caps on loan-to-value ratios (LVRs), which might restrict the percentage of loans a bank can approve for borrowers with certain deposit sizes.
Other restrictions that can be made might include:
Limiting interest-only (IO) borrowing
Limiting borrowing to investors
Limiting high debt-to-income borrowing
Tightening of serviceability requirements (banks 'stress test' potential loans at higher rates)
A combination of each
Some of these measures have been implemented in Australia, in previous years.  From March 2017 to December 2018, APRA previously mandated that banks were required to limit interest-only loans to 30% of new loans, and from December 2014 to April 2018 investment loans were limited to no more than 10% growth per year.10
Although, when these restrictions were in place, house prices were at a 'trough' compared to where they are today.
"The last time tighter lending restrictions were enforced to cool the market, Australia slipped down into last place on the Global House Price Index in early 2019 for three consecutive quarters, with annual growth falling by an average of 6.6%," Michelle Ciesielski, Head of Residential Research at Knight Frank Australia, said.
New Zealand has recently implemented a number of LVR restrictions. According to the Reserve Bank of New Zealand (RBNZ):11
LVR restrictions for owner-occupiers will remain at a maximum of 20% of new lending at LVRs above 80%.
LVR restrictions for investors will be further raised to a maximum of 5% of new lending at LVRs above 60%.
So far, these directives haven't yet managed to slow New Zealand's runaway price growth12, but Australia would more likely target restrictions on high debt-to-income ratio loans, as interest-only and low-deposit lending has fallen, while the former has risen.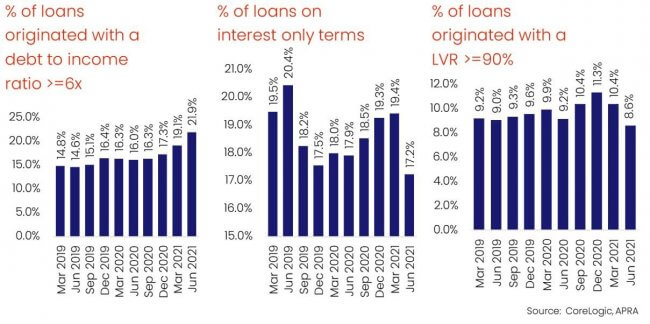 Ultimately though, Governor Lowe says the RBA can only do so much, and that fiscal policy – that's policy implemented by State and Federal Governments – is more important.
"While monetary policy is contributing to higher housing prices at the moment, the way to address these concerns is through the structural factors that influence the value of the land upon which our dwellings are built," Lowe said.
---
Sources
Image via Shutterstock
Reserve Bank of Australia, 5 October 2021. 'Statement by Philip Lowe, Governor: Monetary Policy Decision'.
Australian Bureau of Statistics, 14 September 2021. 'Residential Property Price Indexes: Eight Capital Cities'.
Australian Bureau of Statistics, 2 September 2021. Lending Indicators July 2021.
Knight Frank, 16 September 2021. 'Australia records its highest rate of annual price growth since 2003'.
Australian Prudential Regulation Authority, 7 September 2021. Quarterly Authorised Deposit-taking Institution (ADI) Performance statistics.
International Monetary Fund, 23 September 2021. 'Australia: Staff Concluding Statement of the 2021 Article IV Discussions.'
Standing Committee on Economics, 23 September 2021. 'Australia's four major banks and other financial institutions'
Quarterly Statement by the Council of Financial Regulators, 29 September 2021.
Reserve Bank of Australia, December 2016. 'Macroprudential Policy Frameworks and Tools'.
Australian Prudential Regulation Authority, 31 March 2017. 'APRA announces further measures to reinforce sound residential mortgage lending practices'.
Reserve Bank of New Zealand, 'LVR restrictions at a glance'.
Real Estate Institute of New Zealand, 5 August 2021. 'Number of million-dollar-plus property sales more than double in a year'.
Reserve Bank of Australia, 14 September 2021. 'Delta, the Economy and Monetary Policy'.
Did you find this article interesting or helpful?