Where did toys come from?

Your Meerkat toy's journey starts at Yakov's toy store in Meerkovo. Yakov has made toys before they even a thing. He even helped to train all the elves at Santa's workshop. He made hundreds of toys enjoyed by meerkats across globe, these include The Yakov's Cube and the Itch-A-Skratch. So he was the only choice when it came to making our toys.
Yakov's toy store is the most famous toy store in all of Meerkovo. He works tirelessly every evening to make toys for all the little meerpups. He has cancelled his holiday when he heard about the opportunity to make Meerkat toys for the peoples of Australias. You will be in awe what this meerkat can make with claw and thread.

How your toy reaches Australias

 The journey of your Meerkat toy continues with PostKat. He'll follow Sergei's instructions and travels to Australias from Meerkovo with your toy. He'll also send you postcards from his travels until he hands toy over to the Australia Post.
Meet PostKat
PostKat was ex special forces in the United Meerkovo Army. He lead many dangerous and secret mission across globe. He know how to navigate by just using the sun and his tail. When he leave army, he become messenger to royalty. However, he was fired shortly after for moulting on carpet.
Even though he now very old, he never want to retire. Once he heard about our plan to give Meerkat toys to the peoples of Australias, he decided to paw deliver every one himself. He may not be as fast or as skinny as he once was but there are no safer paws in all of Meerkovo.
Once PostKat reaches Australias, you'll receive an email with your Australia Post tracking number. From there you can keep an eyes on your toy through their website.
House warming party
Get ready to receive your Meerkat toy and maybe hold house warmings party for him with small bowl of beetle bits and relaxing glass of beetle juice/pint of Maggot Mayhem/snail squash/sweet ladybird tea. Simples!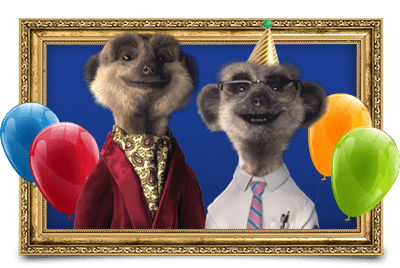 Want more?