London is a thriving, modern city with a deep connection to its historic roots; the city of London has been around, in one form or another, for over 2,000 years! Despite plagues, fires, civil and world wars, terrorist attacks and an economic crisis, London remains a global financial, political and trading powerhouse.
Much of the city was rebuilt following the Great Fire of London in 1666 and then again following the Luftwaffe air raids during WWII; just walking the streets will take you on a journey through the city's history, and the architectural diversity London's buildings is a testament to the resilience of this great metropolis.
Whether you want to explore the city's historic past, shop its most famous streets, or tour its famous sites, you'll be spoiled for choice when it comes to setting your London itinerary. In fact, you'll probably struggle to fit it all in! Here's our guide to some of London's most iconic sites and off-the-beaten-path experiences.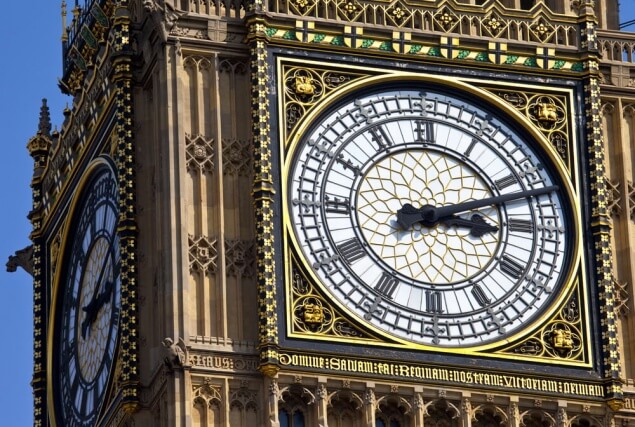 Where to go
London's a sightseeing paradise: Tower Bridge, the London Eye, the Houses of Parliament, the Globe… and don't forget the dozens of museums, like Tate Modern, the National Gallery, the British Museum, the Natural History Museum and the Victoria & Albert Museum…the list is nearly endless! Of course, there are a few must-do tourist activities for any London visitor, and hopping aboard a red double decker bus is just the start.
Whether you're a republican or a royalist, take in the changing of the guard, browse the Queen's gallery and enjoy the Royal Mews at Buckingham Palace. Stop for a spot of tea at the Orangery at Kensington Palace before taking a tour of the recently renovated home of Prince William, the Duchess of Wales and Prince George. You can also tour Hampton Court, the home of the infamous Henry the VIII and his six wives. It's creepy and fascinating and beautiful all at once, and full of great photo opportunities, particularly in the extensive gardens.
Balance out the overload of royal opulence with a meander through one of the many parks and gardens in London. Head to Speaker's Corner in Hyde Park to hear people express their opinions on topics ranging from war to Sunday trading! Stop to smell the roses in Regent's Park or watch the deer graze Richmond Park. Climb to the top of Parliament Hill in Hampstead Heath to take in spectacular views of central London or enjoy a treetop walk through Kew Gardens, Richmond.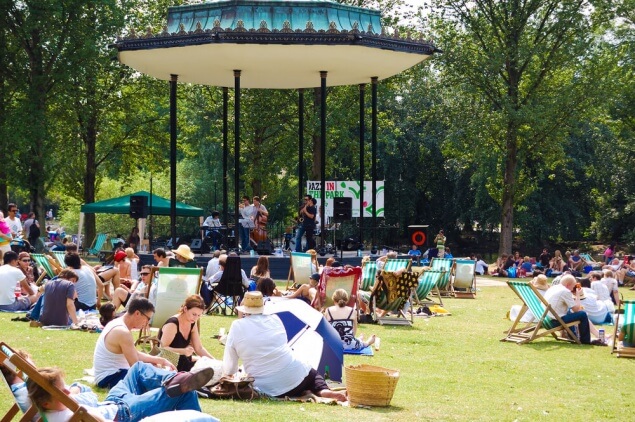 Something different
Music lovers can join the locals to take in a free lunchtime concert at St Martin-in-the-Fields, Trafalgar Square or discover the crumbling old-world charm of Wilton's Music Hall in Whitechapel. Free concerts are common in London, and you'd be shocked at the calibre of the performers – household names like Tom Jones can pop up right in front of you!
Step into London's historic past with a visit to Dennis Severs' House in Spitalfield – an interactive museum/gallery space or head underground to visit Churchill's War Rooms in a bunker at Westminster. It's a fascinating insight into British wartime strategy and guides are incredibly knowledgeable on the entire era.
For something out of the ordinary, take a candlelight tour of Sir John Soane's Museum in Holborn, full of precious art and architectural artefacts from around the world, or set your spine tingling with a ghost bus tour of the city. Walk in the footsteps of Jack the Ripper with a visit (and guided tour, if you're game) in Whitechapel. For more light-hearted evening fun, head to Zoo Lates at London Zoo in Regent's Park – on selected Friday evenings during the summer months the zoo transforms into a unique venue for a variety of cabaret, improve comedy and live music shows. Make sure you check the schedule up front and get in early, as these shows are popular. And then, of course, you'll need to take in at least one show in London's famous West End theatre district.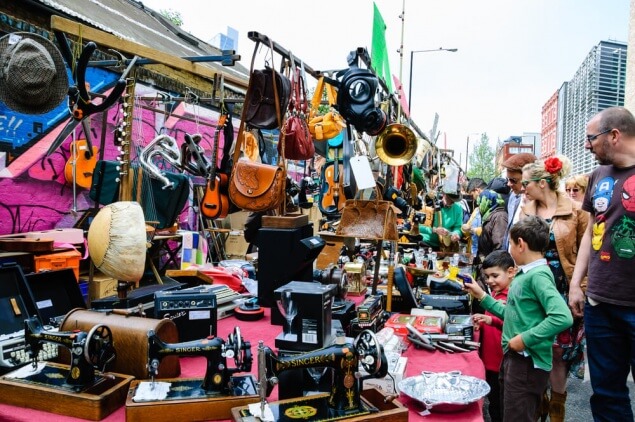 Shopping at the markets
London boasts a vast array of shopping experiences, from modest markets to landmark department stores. Whether you're shopping for groceries, bargain antiques or you just want to rub shoulders with the hustlers and bustlers of London, there's nowhere better to visit than one of the many London markets.
For a splash of colour on a grey Sunday morning, head to Columbia Road Flower Market. If you're in the mood for something fishy, check out the famous Billingsgate Fish Market; established in the 16th century, it's one of the oldest markets in London.
Brick Lane is the place for bargain hunters to muddle through a motley collection of stalls selling vintage memorabilia, antiques, street food and groceries.  Netil Market in Hackney is a launching pad for young creatives, so alongside the traditional vintage vendors, you'll find up and coming designers and artists peddling their unique wares.
Brixton Village Market is a gastronomer's paradise – from juicy dumplings at Mama Lan's to free range fried chicken at Wishbone, you'll find a temptation for every palate. Maltby Markets in Bermondsey is fast becoming the market in London; enjoy a leisurely Saturday morning stroll amongst some of the best high-quality food producers in London. A visit to Maltby isn't complete without sampling the heather honey from the urban beekeepers of London Honey Company.
Last, but certainly not least, is the crowded, touristy Borough Market, which, despite its almost crushing popularity, still retains an old-world charm; if you're short on time, this is the London market to tick off your list.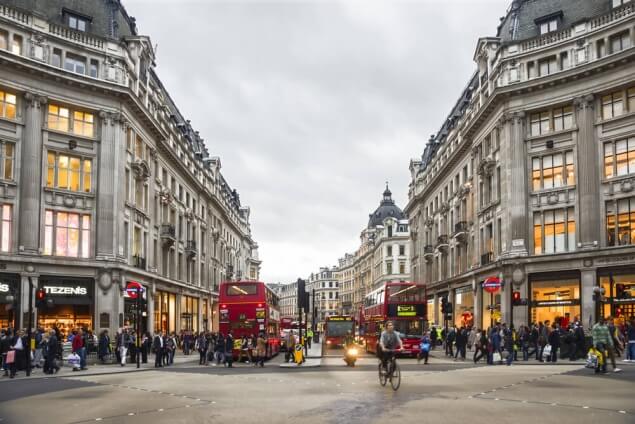 A little bit fancier
At the upmarket end, many of the world's most expensive luxury brands can be found in the streets of London. But no matter what your shopping style or budget is, you can find it in London. Oxford Street is the heart of London shopping, offering patrons more than 300 shops and designer outlets. Historic department stores like Selfridges and Debenhams also call Oxford Street home. Duck down a side street to discover a hidden gem or two; St Christopher's Place and Berwick Street might surprise you.
For the very best in high-end fashion and luxury brands, head to Burlington Arcade in Mayfair – they're the self-proclaimed "curators of London style since 1819." Pop over to Savile Row to acquire a bespoke tailored suit, if you have pounds to spare. King's Road, Convent Garden and Carnaby Street will suit shoppers with more eclectic taste, with high street brands and local designers mixing it up with art stores, homewares and other special interest retailers.
No London shopping spree would be complete without a visit to the world famous Harrod's department store in Knightsbridge; take some time out from shopping and have lunch at one of the 28 in-store restaurants, and recall a time when Harrods would sell you a wild jungle animal for the right price.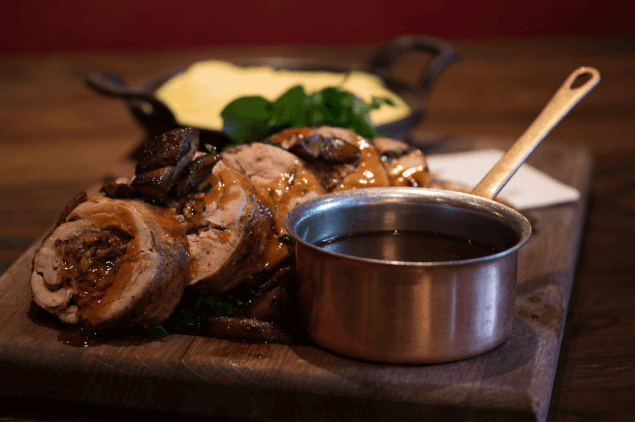 Where to eat
Feeling hungry after all of your touring and shopping? Why not pop into the Ritz to indulge in a traditional English high tea? For a healthy alternative, try Tea Tox at Brown's Hotel or if you prefer your tea with a view, hop aboard a Tea Cruise down the Thames and get another look at London's iconic landmarks.
It's not all tea and scones and teensy, weensy finger sandwiches. Break with tradition and head to Sanctum Soho for a 'Gentleman's Afternoon Tea', complete with a hearty serving of oysters, steak sandwiches and sliders to accompany your Earl Grey (or, more likely, a pint of hearty English ale).
The range of cuisine available in London is vast, and the prices vary from inexpensive to mind-boggling! For budget eats, try Mangal Ocakbasi (Turkish), Apollo Banana Leaf (Sri Lankan), Koya (Japanese) or Dosa n Chutney (Indian/Sri Lankan). Street vendors and food trucks are also dotted throughout the city, offering a variety of cheap and cheerful treats for travellers and locals alike.
Although some 'traditional' British foods are considered pretty stodgy, forgo the mushy peas and mash and head to one of London's many gastropubs. London gastropubs take traditional 'pub grub' to the next level; try the signature roast loin of wild Yorkshire rabbit at the Jugged Hare, the rum roast banana at The Bull & Last, braised wood pigeon at the Anchor & Hope or a West country beef burger at The Railway Tavern. It's paddock-to-plate eating at its best.
For top-notch fare, give your credit card a workout at one of the many Michelin-starred restaurants in the city, or check out one of the city's hot up-and-coming restaurants like Chiltern Firehouse, Gymkhana, Jinjuu, Bunga Bunga, Hixter Bankside or the Gallery Mess, most of which sound like a new kind of dance.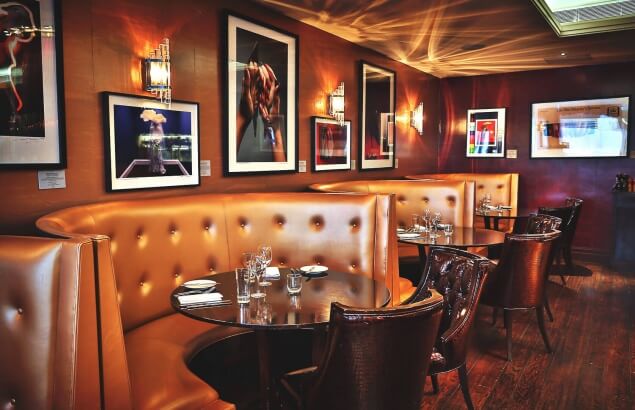 Where to drink
There's no shortage of establishments to quench your thirst in London-town. From the corner pub to chic urban bars, there's somewhere to suit everyone who enjoys the odd tipple.
For a quintessential English pub experience, head to the Mawson Arms in Chiswick to take the Fuller's Brewery tour; history and literature buffs take note, 18th century poet Alexander Pope was a resident of the Mawson Arms and the pub's function room is named after him.
Prefer wine to ale? The Sampler in South Kensington is an award-winning independent wine seller on a mission to take the elitism out of fine wine buying; get yourself a sampling card and try one or many of the 80 bottles they have available for tasting every day!
Rooftop bars are popping up all over the place, so out and head up for a tipple. Tried and true standouts worth a visit include: The Radio Rooftop, Queen of Hoxton's, Boundary, Dalston's Roof Park, SkyLounge, Big Chill House and Sanctum Soho Roof Terrace.
For a truly out of the ordinary experience, try The Roof Gardens, owned by Richard Branson. Wander through woodlands and gardens high above the city streets. The Roof Gardens are free to visit the gardens but calling ahead is recommended as they are often closed for private functions. Babylon Restaurant overlooks the gardens, so book a seat on the terrace, sit back and enjoy a cocktail or two with an extraordinary view!
Accommodation
Accommodation in London can really break the bank but there are plenty of inexpensive and moderately priced options available for the budget-savvy traveller.
Like any big city, there are plenty of chain hotels (like Travelodge and Best Western) throughout London, but they tend to be pretty pricey for pretty unspectacular hotel rooms. If you're looking for a more grassroots, live-like-the-locals experience, Air BnB and One Fine Stay are great alternatives to hotels, especially for those looking to stay in the city for more than just the weekend. Hostels, like Astor Victoria, Wombat's City Hostel and Clink78, are also popular with travellers of all ages. The style of hostels ranges from large multi-bed dormitories to single/double bed private rooms (usually with shared bathrooms). Hostels tend to be pretty friendly places, so if you're travelling alone or even with a few friends, hostels are an awesome place to meet a diverse cross-section of people from around the world.
If you're travelling to London over their summer months (June/July/August), try looking for accommodation at some of the local university accommodation halls; many rent out rooms (some with ensuites and kitchenettes) during the summer months while students are away on their summer holidays. Check out University of Westminster, University of London, University College London and University of the Arts London. They're often located in sought-after areas, close to public transport links and are very reasonably priced. University summer accommodation sells out quick! If you choose this option make sure you plan your trip and book well in advance.
Want to splash out on thousand thread count sheets, deferential butlers and opulent interiors? Take a room at one of the many grand London hotels like The Dorchester, Claridges, The Savoy or The Ritz. Don't forget that at most high-end hotels, there's a gratuity amount automatically added to your bill, so no need to tip individual staff throughout your stay.
Although London's grand hotels are stunning, boutique luxury hotels like The Milestone, Brown's Hotel and 45 Park Lane are equally magnificent and offer visitors a chance to explore some of London's trendiest (and famous) neighbourhoods. Other boutique hotels like the uber-trendy Ace Hotel Shoreditch, Dukes Hotel and The Ham Yard are also worth a look.
For a more intimate affair, try B+B Belgravia, a modern take on the traditional English bed and breakfast. Situated in the heart of Belgravia in three converted Grade II listed Georgian Townhouses, guests can enjoy simple, fresh décor with the warmth of friendly service you'd expect from a B&B. Or, head upmarket and check-in at Dean Street Townhouse in Soho.
The final word
Whether you're heading to London to enjoy a West End show, snap a selfie at Big Ben or lose yourself in the British Museum, make sure you take out travel insurance to cover any illnesses or accidents that occur while you're away. Always compare travel insurance policies to find one that suits your itinerary and budget. And if you get stuck for idea, why not pull out the Monopoly board and roll the dice?!