By now you know about Las Vegas. You know about the neon lights and the casinos and the chintz. You know about the weekends to remember or conveniently forget. And it's true – walk ten metres in Sin City and the world outside the city limits can slip away in a maze of gambling tables and haze of good times, but before you leave home make sure you get the right travel insurance for your needs.
But Las Vegas is changing. It's no longer the gambling capital of the world (Macau overtook Vegas in terms of gaming revenues in 2007) and the entertainment dollar is now king. Residencies from the likes of Britney Spears and Rod Stewart are common, while every weekend another circus is rolling through town, whether it be NASCAR or Rock in Rio USA or the Rugby Sevens.
Tourism increasingly takes visitors beyond the Strip, even if it's just to Downtown Vegas (a different municipality), which beyond the Fremont Street Experience boasts natty bars and slick eateries, popular with the local cool kids (yes there are locals, yes they are cool). Looking further afield, there's the Grand Canyon and Hoover Dam and Lake Mead. And Las Vegas is no longer scared of history, acknowledging via the Neon and Mob Museums the fascinating quirks and bends in its own culture.
In short, Vegas is reclaiming its place on the map, but also beckoning a new, more refined visitor to experience the desert wild life.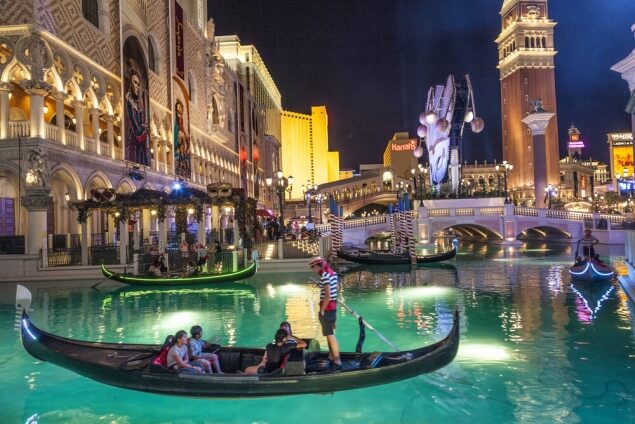 When to go
Something that's easy to forget with Las Vegas is that while the city is in the middle of the Mojave Desert, it's a long way from the equator. In short, there are seasons.
Summer is brutal, with temperatures between May and August regularly hitting 37°C. Only pool-ponies and sun-chasers need apply. If, on the other hand, you plan on walking the strip or heading out into the great outdoors, pack some layers and aim for the November-December shoulder season, when the mercury tops out at around 18°C during the day. Otherwise, Late February and early March make for a great time to visit, when temperatures hover around the 25°C mark with the nights cool rather than cold.
Just be aware of those most Vegas of occasions: New Year's, July 4, Labor Day and of course, Valentine's Day. Room rates will go up, and that's if you can even find something.
Getting there
Firstly, the good news: a clutch of airlines can fly you to Las Vegas starting at a very reasonable $1,100. The bad news is that all of them involve a stopover in either Dallas or — more likely — Los Angeles (you can go cheaper but it will involve two stops, in Honolulu as well as Los Angeles. ).
Qantas's A380s and recently refurbished 747s are an excellent option to get you there in economy comfort, with the frequent flyer option of a comfy business class upgrade if you have the points on hand. You will, however, have to switch to American Airlines once in the States, and negotiating their LAX terminal and crammed economy seats isn't for the faint-hearted (even if that second leg lasts only 50 minutes — just enough time for a quick drink before touchdown).
The other options are Delta and United Airlines, with both offering a similar price for flights through Los Angeles. Still, the on-ground experience tends to favour United; their service is slick and consistent, and you have the added advantage of being able to check your luggage all the way through to Vegas. Also, the in-flight magazines are just the greatest (seriously — don't laugh — they've won a bunch of publishing awards).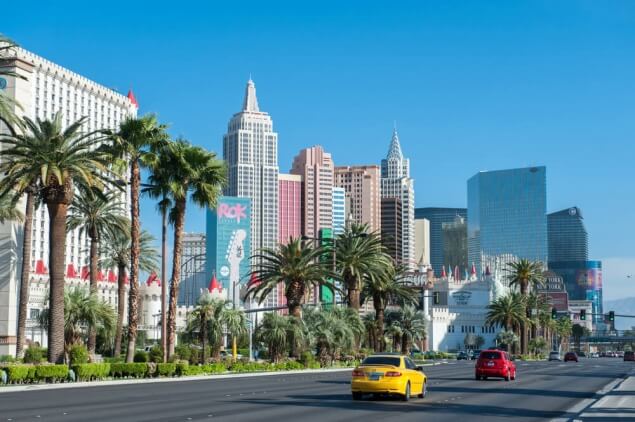 Getting around
The not-so-easy part! Las Vegas is small but it sprawls, dominated by its freeways and the multi-lane Las Vegas Blvd, or the Strip as it's commonly known. Firstly, let's be clear:  you will need to consider if you want to drive in Las Vegas.  . Unless you're heading out of town, it may not be worth the stress.  For tours, the companies will typically pick you up from the hotel, and around town taxis are cheap and plentiful outside of rush hours. Most cabs accept both cash and credit card payments.
If you want to style it up and are travelling in a group, you can hire a limousine for as little as $35 an hour. Just don't be perplexed if you actually end up feeling a little anonymous — business is thriving in Las Vegas and your limo will be just one of many.
In terms of public transport, the choice tends to be the Las Vegas Monorail, which can take you from the MGM Grand all the way north to the SLS Las Vegas. It's a neat route too, dodging to the east of the Strip and giving you beautiful nighttime views of the city. The monorail operates seven days a week, 7am until at least 12am, with later services running on the weekend.
Of course, you're in the United States so you might also want to bust out your phone and order an Uber. Just be aware that the ride-sharing service is at this point still illegal in Nevada (no surprise given the power of the taxi and limousine companies). This is an ongoing issue in the courts, though, and could change any day, so pack the app just in case.
Finally, if you feel like, y'know – walking – make sure you do it either at night or during the cooler months. That said, Vegas is surprisingly pedestrian-friendly, and a stroll down the Strip with a beer or wine in hand is perfectly legal. It's a great way to either get your bearings on your first night or reminisce on the last.
Where to stay
It's Las Vegas! There are about a billion places to stay — particularly if you have an obsession with anything shiny and new.
If all you want to do in Vegas is party, try the Wynn. This is an exceptional hotel, often considered one of the best in Vegas — but only if you like your vacations at full throttle. From Thursday right through the weekend the noise from the Wynn's clubs is deafening. Still, if you want to take Sin City to the hilt, this is where you should stay.
The Cosmopolitan is arguably the sweet spot for a Vegas visit, as well as a great sign of the changing face of the city. A bunch of different gaming options around in its 100,000 square-foot casino, but it's the entertainment options that will truly blow you away. There's the Marquee Nightclub — one of the city's best with exceptional performers and precise service; the Chandelier, with its three different bar experiences right in the centre of the complex; Rose.Rabbit.Lie, a modern reinvention of the traditional supper club; and any number of first-class restaurants and events — such as the Valley to Vegas spring concert series (April 8-16), which has attracted artists of the calibre of Lykke Li and Interpol. All this is before you get to the spacious, urban-inspired rooms, many of which pack private terraces overlooking the Strip. Perfect.
If you want to dial things back just that little bit more, try the Delano. Without the invasive casinos between you and the front desk, or the gigantic queues typically only associated with a) airports and b) Vegas hotels, these all-suite recently refurbished digs still have enough pep in their step to have you swaggering out for a night on the town. Besides, its parent property the Mandalay Bay is only a short (internal) walk away, where you can find gaming tables stretching as far as the eye can see.
Finally, at the most refined end of the spectrum, once again with nary a gaming table to be seen, is the Mandarin Oriental Las Vegas. This is a proper oasis in the heart of the strip, with coolly designed rooms, exceptional bars and restaurants, and first class facilities. Despite its demurring nature, it's more or less the hottest place to stay in Las Vegas right now.
Where to game
First, a couple of tips on gambling in Vegas: first, don't ever poker it up against locals. They're pros who make their living fleecing money from patsies like you and me. Instead, make the most of your jet lag and hit the tables at 3am when the clubs are clearing out. Your opposition will be drunk, full of liquid courage and won't be wearing sunglasses. Second, don't feel like you have to make a night of it. Instead, try kicking off your evening at the tables. Drinks are often free or cheap if you're gaming, so keep tipping the waitress and wager wisely. As soon as you win, ride the high and get out of there and head to dinner, a show or a club or two.
That all said, there's a bunch of essential spots for those determined to gamble their way in Vegas. . Aria's hotel is already terrific enough, but its 150,0000 square-foot casino is something else. The table games and slots are fringed by restaurants, shops and cafés, but the best feature is the natural light that hits the floor. It might not seem like much but for Vegas this is a game changer. You can gamble without ending your session feeling like you're covered in pond scum.
Caesars attracts gamers like few other casinos on the strip, but it's also one of the best if you simply like to watch. The view of the baccarat pit is exceptional, and it's not unusual to witness some gigantic wagers being placed. Elsewhere, there's the infamous US$500 slot machine, with a $1 million jackpot — be sure to bring your gold tokens.
If you're short on cash, head off the Strip to El Cortez. Craps minimums go as low as US$3, while you can get busy on the roulette wheel for a measly 25 cents. Otherwise, it's a joint of glorious anachronisms: coin-operated slots and a poker room with one of the last seven-card stud games in town.
And if you want to move on up while in Downtown, head for the iconic Golden Nugget — its salubrious digs stick out on Fremont Street. There's a segregated pit for high rollers but also a good selection of slot and video-poker machines for a variety of gamers, and the sports book is second to none.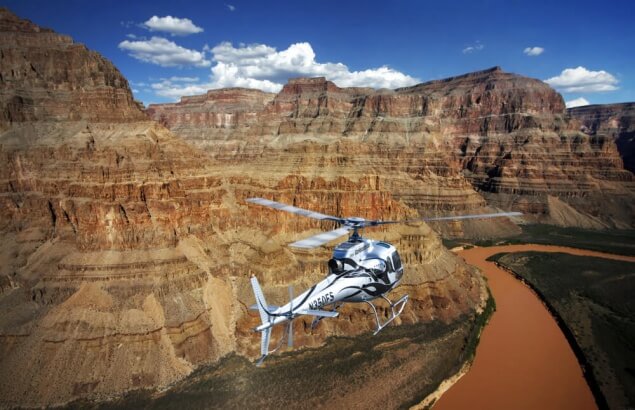 What else to do
Extra-curricular activities in Vegas range from the obvious (visiting the Grand Canyon or the Hoover Dam) to the crazy (zip lining your way down Fremont Street). Whatever your budget, there's something to do, and often it's not WHAT you do, but HOW you do it. For example, you can visit the Grand Canyon by car or by  helicopter? Papillon is the world's largest aerial sightseeing company, and their pilots are stone-cold professionals and exceptional tour guides.
There are numerous trips available but the most popular is the Grand Celebration, which features an adrenalising, ear-poppingly fast descent to the canyon floor where you then enjoy a champagne picnic. It's fascinating and frequently breathtaking stuff, and an added bonus is that the helicopters tend to operate in packs, meaning you feel part of a proper airlift. A four-hour tour sets you back around US$460 per adult, and includes hotel pick-up and drop-off.
Closer to town is the High Roller, the world's tallest observation Ferris wheel. A full rotation takes half an hour, with each pod including a bar to help you marinate in the views — which of course are spectacular. In the evening is the best time to visit, hotels and casinos shimmering beneath you in a carpet of light. But it's also fun to look a little further to the city limits, watching the grid of Vegas lights disappear into the blackness of the Mojave Desert. Tickets start at US$26.95 for a daytime ticket, $36.95 for night. Afterwards, explore the Linq, Caesars Entertainment's casino, hotel and classy shopping promenade.
It's showtime
Otherwise, if Vegas isn't about gaming it's about the shows, and there's something for every taste. Zarkana is the current darling of the world-famous Cirque Du Soleil, a beautiful, lyrical introduction to the entertainment company's eye-popping, body-bending antics. Tickets currently start at the US$75 mark, but pay the premium and get to the front stalls for US$170.
Elsewhere is an endless series of residencies from the likes of Rod Stewart, Britney Spears and Celine Dion, or other annual events blowing through town: NASCAR, the Rugby Union Sevens or Rock in Rio. It can be hard to wrap your head around exactly how much is going on at any one time; best of luck trying to decide what to check out.
Of course, sometimes you just want to take it easy. Ask the locals working the Strip and they'll  tell you the one place they like to get out and about: Downtown. But they're not talking about the Fremont Street Experience. Venture southeast from that retina-frying affair and you'll leave behind the tourists to discover a series of terrific, indie-minded bars and eateries.
Start at small business incubator, the Downtown Container Park, with its scruffy gift shops and food and beverage options, and venture further afield from there, either to the bars in the surrounding streets, or a few blocks southwest on the opposite side of Las Vegas Boulevard to the city's impressive 18b Arts District.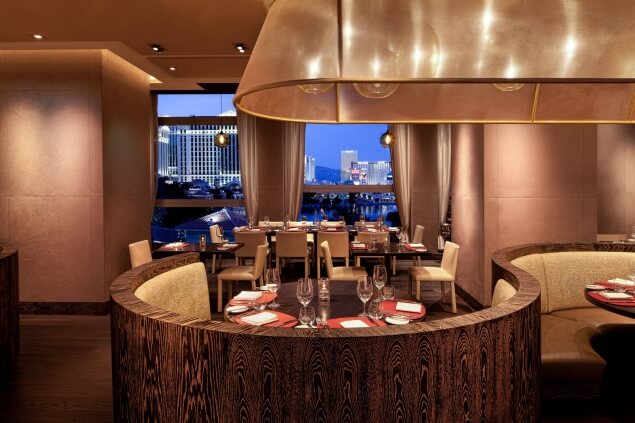 Where to eat
For something high-end try Scarpetta at the Cosmopolitan (pictured). This is exceptional Italian fare and a nice change of pace if you've been going crazy on burgers and hot dogs all week, with the added bonus of the window seats packing a terrific view of the Bellagio Fountains next door. Prices are all over the shop, depending on the kind of produce chef Scott Conant is throwing in the pan, but entrees start at US$16, (freshly made) pasta US$27 and mains US$35. Service is unfussy but exacting, so don't forget to tip.
The mid-range is where Vegas thrives and there's a bunch of terrific options on the table. Our favourite is the award-winning Yusho at Monte Carlo, which boasts a rambling menu of Japanese grill and noodle options. Try some spicy tuna tacos followed by one of the restaurant's excellent ramen bowls. You won't spend more than US$50, a couple of drinks and a tip included.
At the Linq is Off the Strip, which boasts classic Nevada-style comfort food. Go a burger or a steak to keep it authentic, or hit up the Just Real Food Brunch on Saturdays and Sundays, which includes a starter, entrée and dessert of your choice for US$25.
Heading downtown, try Carson Kitchen, a classy, renovated bistro that deals in Americana-heavy share plates. Think killer shrimp with rocoto pepper cream (US$11), tempura green beans (US$8) and the restaurant's signature bacon jam (yes, there is such a thing) with baked brie (US$12). This is the perfect place for a grazing lunch before heading off to the Container Park or venturing further afield into the grungy downtown blocks.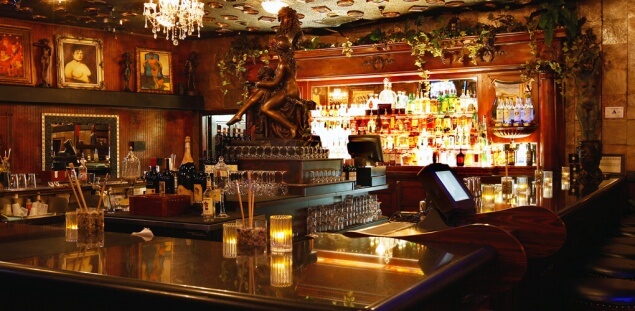 Where to drink
Again, this is almost impossible to narrow down, but there is nevertheless a clutch of essentials. Chandelier is the go-to on the Strip, combining three separate experiences in one, with service remaining speedy even on busy nights. A couple of miles up the Strip on West Sahara Avenue is Artisan Lounge (pictured), a bar and gallery in one, the walls absolutely covered in gold-framed prints and paintings.  With no gambling, it's also very quiet.
For something more homely, try Frankie's Tiki Room, a humble bungalow on the far side of the freeway about as unpretentious as they come. Think traditional carvings mixed with lowbrow art, delicious drinks and of course a smattering of gaming. Perfect. Back in downtown, head to Atomic Liquors — the oldest freestanding bar in town, which under new owners is currently experiencing an impressive renaissance — and any of the classy drinking holes at Container Park: Oak Ivy, the Perch and Bin 702 are all fantastic.
Of course, no trip planning is complete without proper travel insurance, and it's not something you want to be caught without. Medical care, for example, is staggeringly expensive in the US without adequate coverage, so compare travel insurance providers well before you leave home and give yourself that peace of mind. Stay safe, and Viva Las Vegas!
Matt Shea was a guest of the Las Vegas Convention and Visitor Authority. For more information, or to book, visit www.lasvegas.com.