Over the past few years there have been several high-profile instances of data breaches, ransomware attacks and other types of cybercrime, demonstrating that good cybersecurity practices have become more important than ever.
With that in mind and as business insurance experts, we were interested to see how individuals across Canada, Australia and the United States of America were keeping safe, and how their habits could be putting them at risk.
Here is what we found out.
Older Australians would not pay a ransom to get their information back
Respondents across all three nations were asked whether they would want a company they use to pay a ransom to retrieve their data if it were to be compromised, and Australians were quite divided on the issue. In fact, it was almost an even split, with 50.5% declaring they would indeed want the company to pay the ransom, compared to 49.5% who indicated otherwise.
Interestingly, slightly more women (56.6% saying yes) reflected the same sentiment compared to their male counterparts (43.3%). When comparing the statistics based on age groups, we discovered that as many as 80.3% younger Australians (18 to 25 years old) expected a company to cover potential ransom costs, compared to just 35.1% of Baby Boomers.
Furthermore, there was a nationwide consensus on whether people would pay a ransom for a personal attack, with the majority saying no (80.5%). The generation which was the least likely to pay a ransom was people aged 58 and older (92.7%).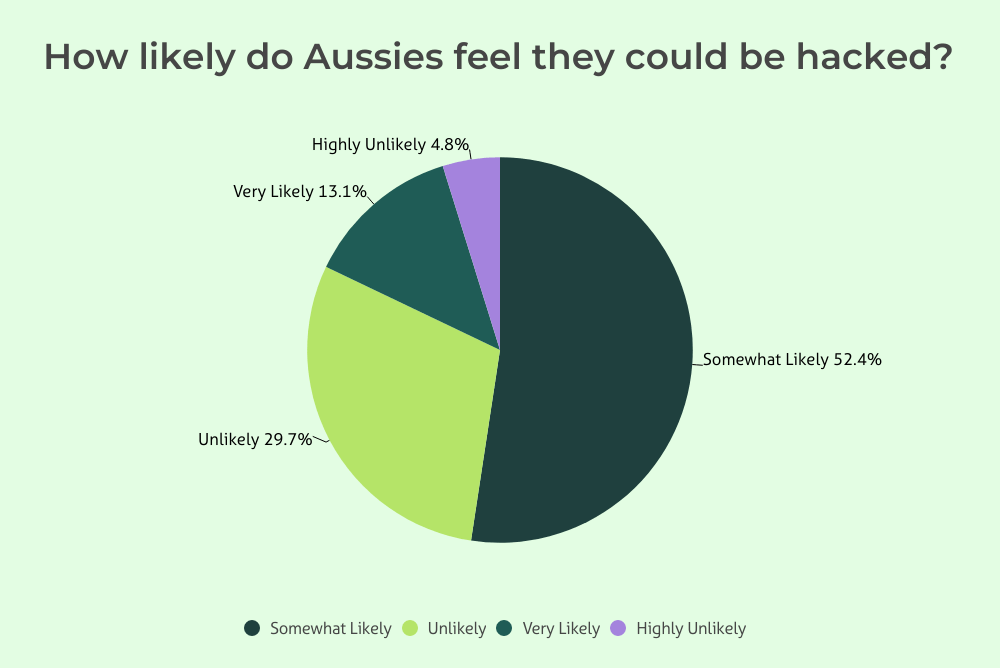 When asked whether they think they are immune to being hacked, the majority of Australians (65.5%) felt it was likely they could be security compromised. In fact, more than one in 10 admitted the likelihood of their personal information being accessed was 'very likely'.
In contrast, as little as 4.9% of male respondents were confident that the chance of being hacked was highly unlikely. With that in mind, we were curious to understand what contributes to a person's confidence in their online security. So, we asked what measures people had put into place to protect themselves from being hacked.
What are the most commonly used protection methods?
The most common answers were ensuring all passwords were unique (66.6%), using multi-factor authentication (62.2%), and using anti-virus/firewall software (57.8%). Other ways that Australians protect themselves digitally include changing passwords regularly (50.2%), using a password manager (27.8%) and regularly clearing their digital footprint (25.3%).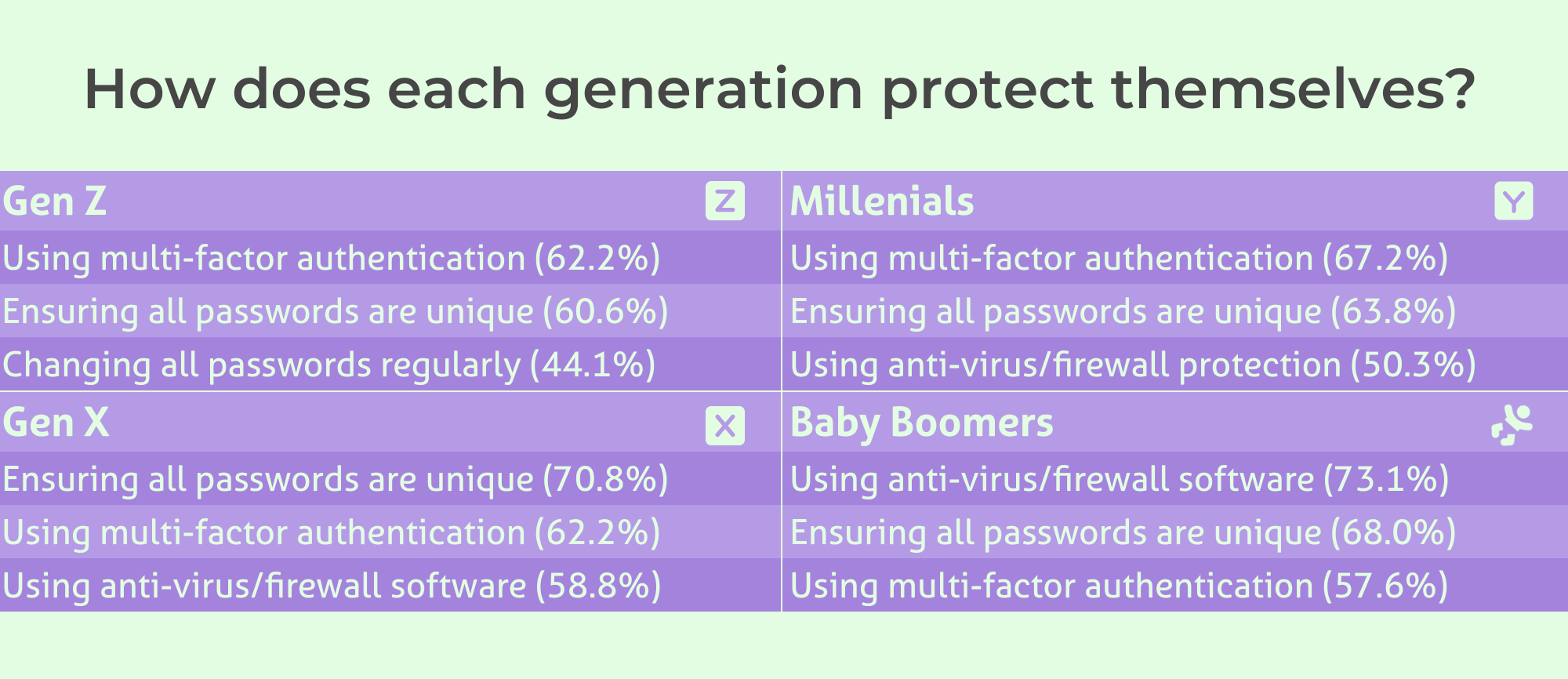 Where do Australians keep their passwords?
More than two in five Australians (43.4%) don't keep a record of their passwords. For those that do, the most popular places to save them includes in notebooks (27.7%), in their phone (15.0%), or in a secure app (9.4%).
When asked how often the passwords for sensitive accounts were changed, most claimed to have done so in the past month (49.8%). Alarmingly, around one in five (22.1%) don't recall the last time they updated their sensitive passwords, and in some cases, they have never been updated.