Work takes up such a significant part of our days and weeks, that, if we're not enjoying it, it can have a detrimental impact on the quality of our lives.
Whilst COVID-19 has brought about hybrid working, which has left many people feeling like they have a healthier work-life balance, with commuting times cut down, and school drop-offs and pick-ups made easier, a recent survey found that 46% of Australians suffered from burnout in the first three months of 2022.1
For 24% of those surveyed, it was because they'd taken on more responsibilities in their role, and 32% felt overwhelmed by the amount of work they had to complete.
With all of us striving for a better work-life balance to improve our overall health, we decided to uncover the countries in the world that offer it. So, we looked at several factors including average hours worked, maternity and paternity pay, sick pay, and happiness scores to find out the best countries in the world for achieving a healthy balance of work and play.
We also look at ways that you can reduce the level of stress in your life, and how health insurance can be a vital factor in supporting your journey towards good health.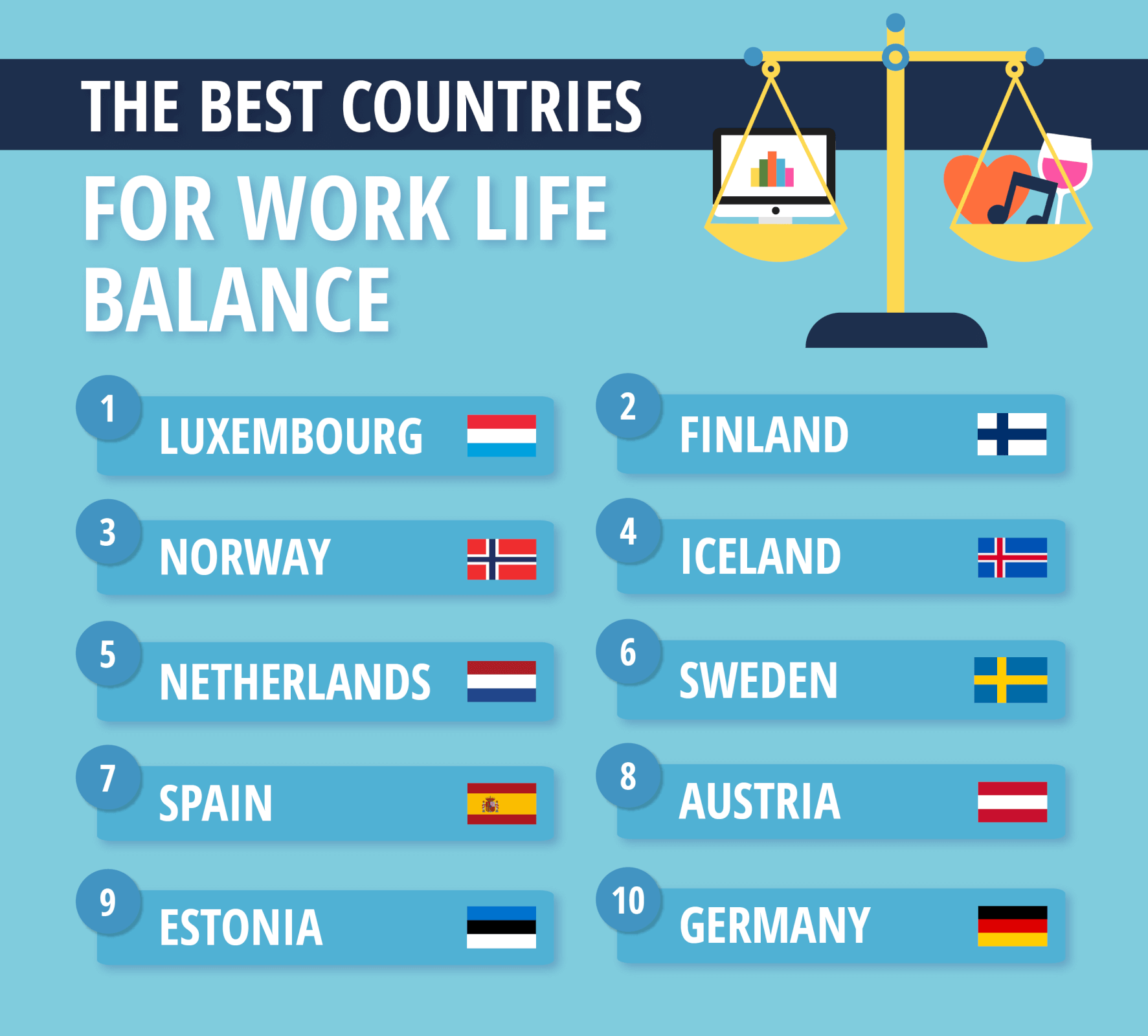 Luxembourg tops the list for work-life balance
Topping the list is Luxembourg, with its annual working hours one of the lowest, at 1,382 (just Germany and Denmark rank higher). One thing that's extremely attractive is the paternal paid leave, which they cover for 28 weeks – much higher than Australia and the UK, at just two weeks. They also score well for happiness, with Luxembourg coming sixth overall.
Finland, Norway, Iceland, and the Netherlands make up the remainder of the top five, with all of them offering 6+ weeks of paid sick leave, and extremely high rates of maternity leave.
The Nordics dominate the top 10
It comes as no surprise that the Nordics dominate our top 10 list, as they constantly rank as the happiest countries in the world. In fact, Finland has been crowned the happiest country in the world five times, with Denmark and Iceland topping the lists too.2
Finland has the second highest paid maternal leave on our list, just behind Slovakia, at 161 weeks (that's over three years!), and 30 days of paid annual leave a year.
When it comes to happiness, Finland, Denmark, and Iceland make up the top three, suggesting that great work perks and a work-life balance makes people happier in their lives.
Sweden makes it into sixth place, while the rest of the top 10 are dominated by European countries – with Spain, Austria, Estonia and Germany all promoting a good work-life balance.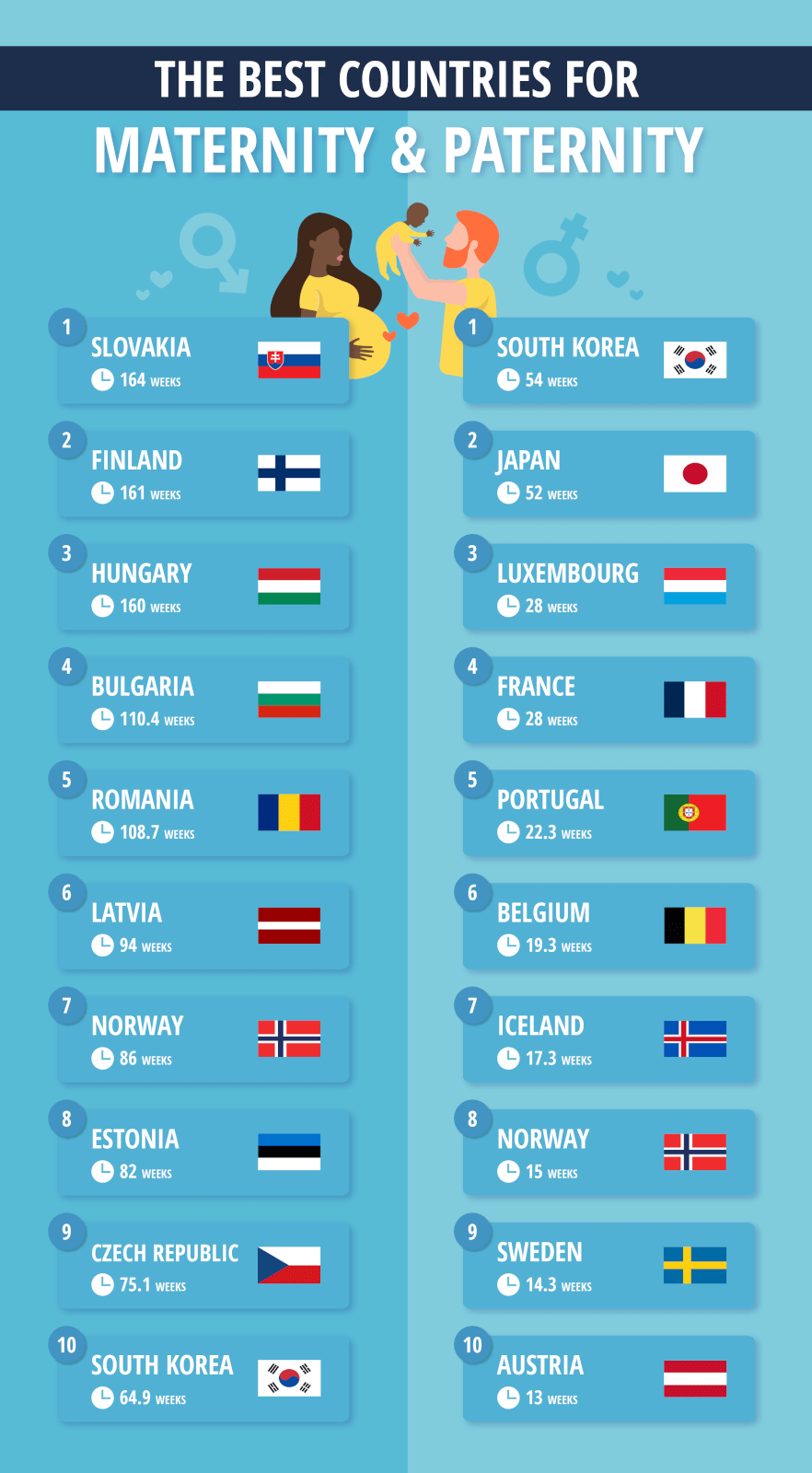 Slovakia offers three years of paid maternity leave
We know that Scandinavia pays well, but it turns out they don't lead the way when it comes to maternity leave. In fact, it's Slovakia that tops the list, at 164 weeks of paid leave. Finland isn't far off, in second place, with Hungary, Bulgaria and Romania making up the top five.
The USA is the only country in the world to not offer any maternal paid leave, with Mexico and Switzerland offering low amounts, at 12 and 14 weeks respectively.
Paternal paid leave, on the other hand, is significantly average in Australia and the UK at just two weeks, with so many countries offering better pay.
South Korea and Japan are top of the list, at 54 and 52 weeks of paid leave for new dads respectively, with France and Luxembourg next on the list, both at 28 weeks.
There are quite a few countries that don't offer any paid paternal leave at all – the US, Switzerland, Israel, Costa Rica, New Zealand, and Slovakia.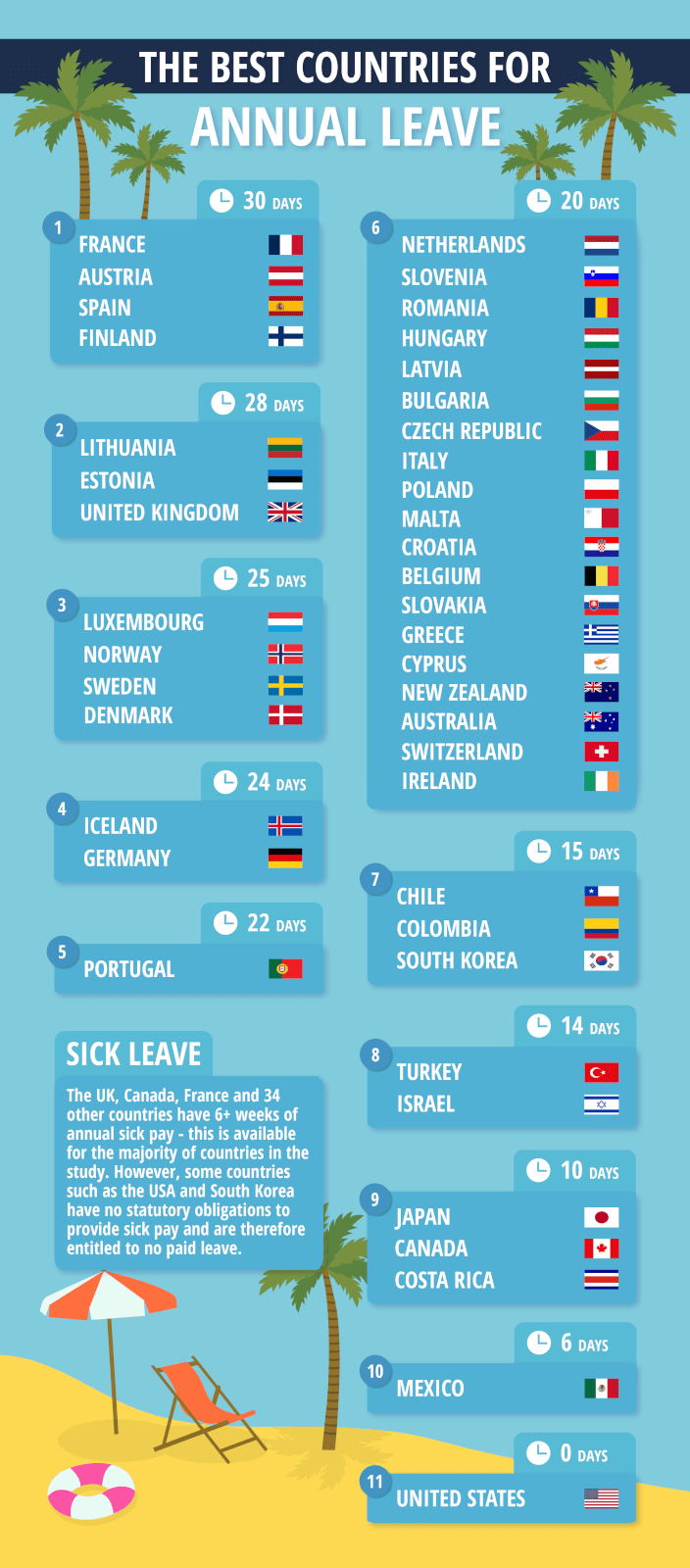 Whilst in Australia, 20 days of paid annual leave is the norm, Finland, Austria, France and Spain all offer an extra 10 days; and the UK rates highly too, with 28 days.
At the bottom of the list is America, with nothing at all, joined by Mexico in second to last place, with just six days of paid holidays a year.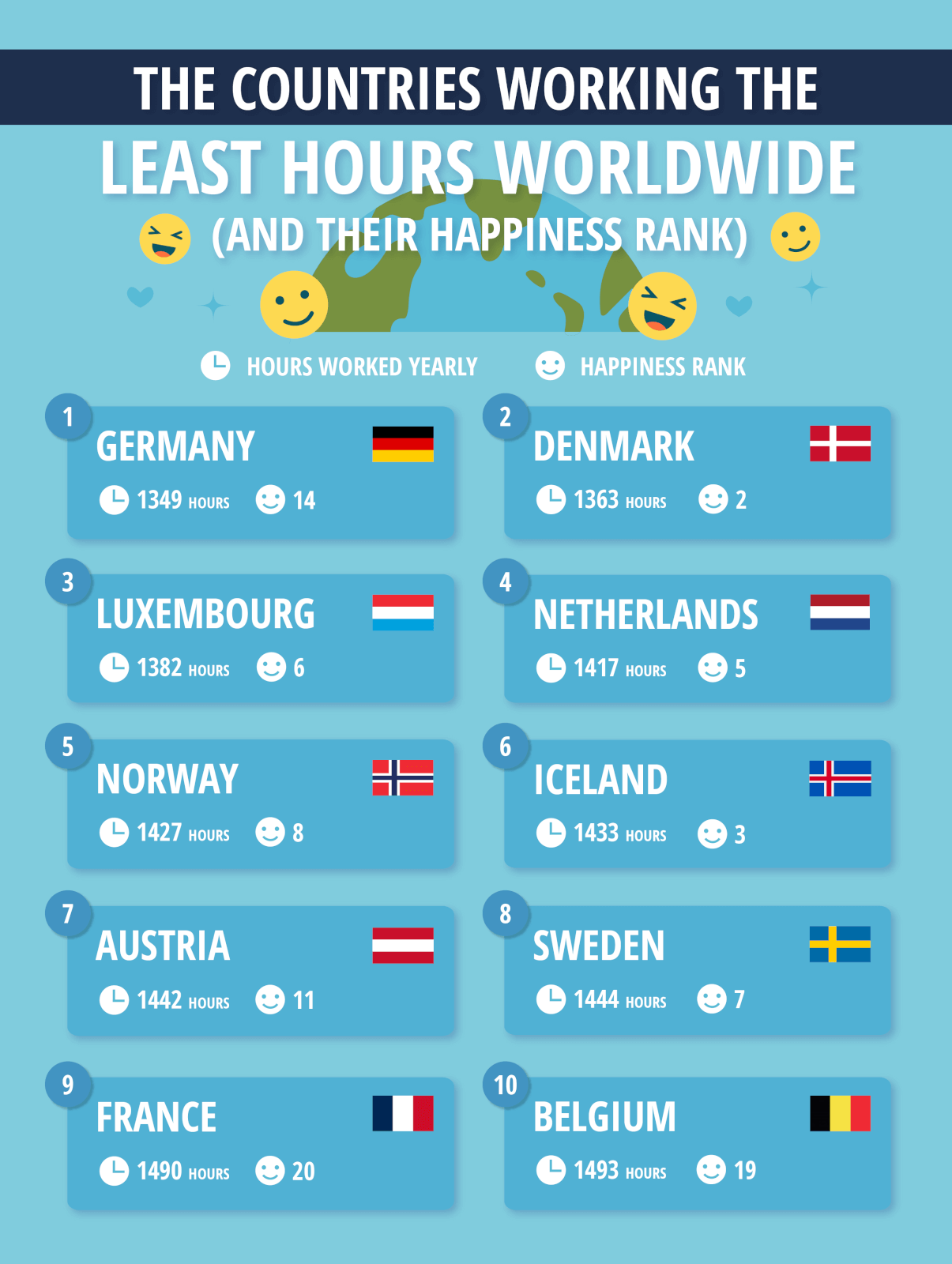 Finally, when looking at the number of hours worked over the year, people in Germany work the least, at 1,349, followed by Denmark, Luxembourg, the Netherlands and Norway. At the other end of the spectrum, Mexicans work almost twice the number of hours as Germans, at 2,128 a year, with Costa Rica and Colombia not far behind; showing that countries that work less hours, tend to feature higher up on the happiest countries lists.