It's not often that you think about the danger that may come with your job, especially if you have been in an industry for a while. And while many occupations are not inherently dangerous, serious injury or illness can still occur in any type of job.
Latest records on the Australian industry show that just under half a million people had a work-related injury or illness in the 2021-2022 financial year1 with a further 169 fatalities caused by work-related events in 2021.2
In comparison, there were 5,190 fatal work injuries across the USA in 20213, an increase of 8.9% from 2020, in addition to 2.6 million non-fatal work-related injuries and illnesses.
While workplace injuries in Australia may be initially supported by workers compensation, ongoing challenges could leave you with out-of-pocket costs, particularly if you experience a truly long-term recovery journey. For example, weekly compensation provided by the government will stop when the amount you are receiving reaches the maximum amount payable, you have been receiving payments for longer than five years, or you return to work having overcome your injury, among other eligibility criteria.3
What this doesn't account for, however, is the fact that some workplace accidents can leave you on a recovery journey that significantly exceeds five years – sometimes for the rest of one's life. And, even if you have 'physically' recovered, you may suffer from ongoing psychological challenges such as post-traumatic stress disorder (PTSD).
Having an appropriate private health insurance policy can prove extremely beneficial for injuries that pose ongoing challenges. If your physical injuries remain despite any workers compensation benefits ceasing, a health insurance policy can help fill the gaps so that you are not left out of pocket in the years you still require ongoing treatment. Not only that, but some policies can include cover for mental health appointments to help you navigate any psychological challenges you may be left with following your injury – which can quickly become expensive for those without financial support.
With some industries more at risk of causing injuries than others, the health insurance experts at Compare the Market have analysed US data to discover the occupations and injuries that are the deadliest, as well as the ones that cause the highest number of non-fatal injuries. We then looked at the median number of days taken off in each occupation, due to a work-related injury.
Here's what we found.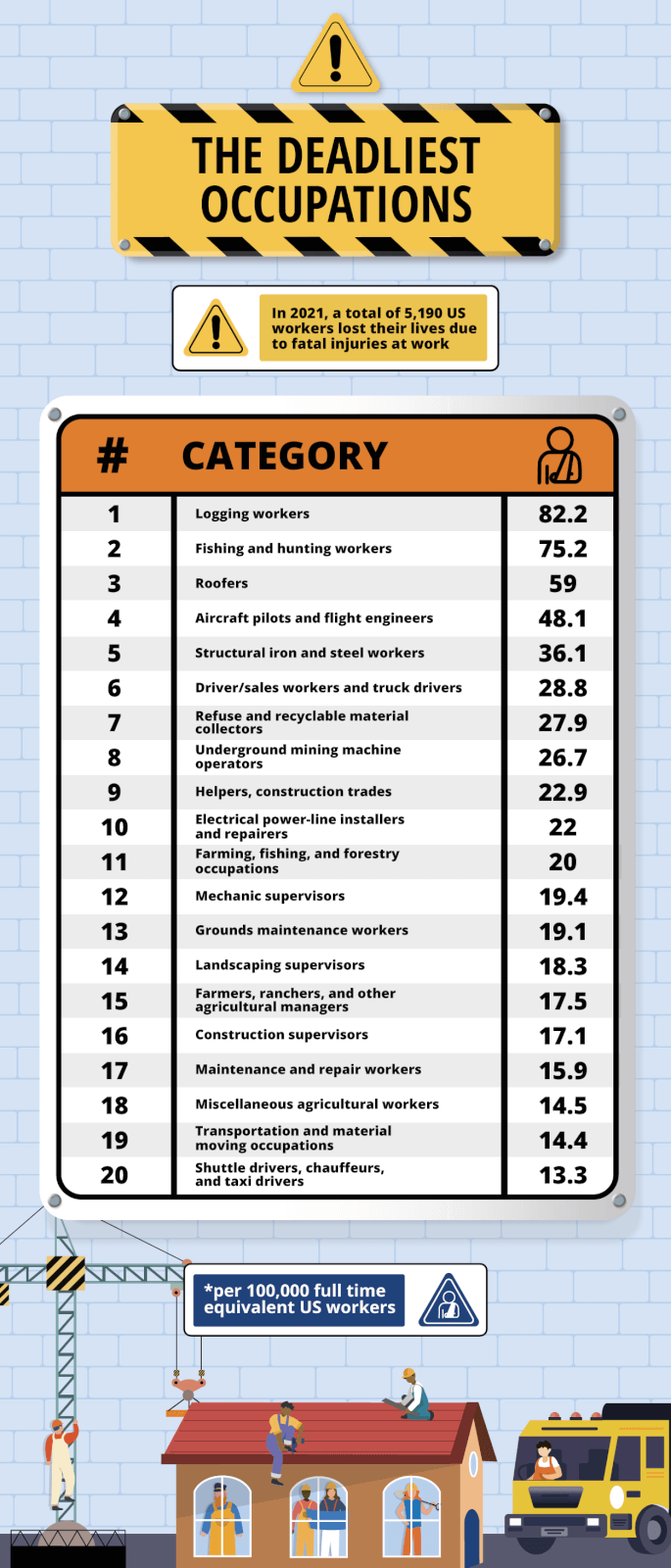 Logging is the deadliest occupation to work in
With a tragic 5,190 fatalities in US workplaces in 2021, some injuries prove to be deadlier than others. At the top of the list is logging, with 82.2 deaths per 100,000 workers, with the job extremely physically challenging, and the potential for trees to fall on workers.
Not far behind in second place are fishing and hunting occupations, at 75.2, followed by roofers, in third place, with 59 fatalities per 100,000 people. For those working in fishing, there are several potential causes of injuries – from extreme weather when out at sea, to injuries from fish spines, and potential diseases from insect bites. For roofers, the main cause for concern is falling from a height, which can be fatal.
Rounding off the top five deadliest occupations, are aircraft pilots and flight engineers, and structural iron and steel workers. Many pilots can suffer from stress and fatigue due to the demands of the job – after all, they're the ones in complete control of the plane, and if they make a mistake, there could be many fatalities.
For ironworkers, falling from a great height is a big risk, as well as deep cuts and sprains: that's why wearing safety equipment such as hard hats, gloves, and harnesses is crucial in reducing the risk of fatal injuries.
One thing's clear: jobs that involve labour come with a much higher risk of fatality, with pilots and sales workers the only industries on our top 10 list that wouldn't be classed as 'labour'.

Common non-fatal injury types, natures, and causes
Some injuries can seem understandable for certain industries, but it seems that most job types come with their own element of risks.
For example, cabinetmakers and bench carpenters can end up needing amputations due to their job, with 21 injuries per 10,000 workers. Using machinery such as saws come with a huge risk, but so does the potential for heavy products falling on you from a height.
Surprisingly, for wellness practitioners and nutritionists (i.e. dietetic technicians), bruises and contusions can be a common part of the job, at 216.2 cases per 10,000 employees.
For motorcycle mechanics, fractures are relatively common, at 300 cases per 10,000 people, with the potential for motorbikes or other heavy equipment falling on top of employees presenting a real risk of causing fractures.
Psychiatric aides (people who care for others who have mental illnesses) can suffer from multiple traumatic injuries with sprains while on the job, with patients sometimes confused or aggressive, which can lead to workers sustaining injuries.
If we then look at the nature of injuries in specific industries, for couriers and messengers, animal and insect-related injuries are commonplace, at 43.8 per 10,000 – showing how important it is to keep your pet under control if someone's knocking at the door.
For nursing assistants, exposure to harmful substances or environments can cause non-fatal injuries, at a huge 701.5 cases per 10,000 people. Dealing with different medicines and chemicals, not to mention equipment such as needles, and potentially aggressive or confused patients can easily lead to cuts, bruises, burns, and more.
Alternatively, for concierges, 139.8 per 10,000 workers suffer from falls to lower levels (e.g. falling from a mezzanine), whereas, for police officers, a big risk of the job is intentional injury by another person, with people being arrested or in prison sometimes violent and aggressive, and police officers often bearing the brunt of their attacks.
The occupations that take the most time off work due to injuries
Injuries sustained at work mean that workers have to take time off to recover. In joint top place, with 180 median days away from work in 2020, are excavating, loading machine and dragline operators, and costume attendants.
For some extraction workers, they've had to have limbs amputated as a result of the work they've carried out; whereas for costume assistants, bruises and contusions are the most common type of injury, as they have to regularly use sewing machines, and pin costumes in place.
Health specialists are in third place, with a median of 153 days away from work in 2020, followed by motorboat mechanics, rail transportation workers, small engine mechanics, and motorcycle mechanics, at 120, 110, 103, and 103 days off work respectively.
How do Australian industries compare?
Australians working in the accommodation and food services industry had the highest rates of work-related injury (5.6%), followed by the agriculture, forestry and fishing industry (5.4%), and the transport, postal and warehousing industry (5.1%) for the 2021-2022 financial year. Sprains, strains and dislocations were the most common types of work-related injuries, while out of all the reported injuries, lifting, pushing, pulling and bending were the most common causes for injury (23.5%). Slipping, tripping and stumbling (17.3%) and being hit or cut by an object or vehicle (11.4%) were the second and third-most common injuries in the workplace.1
In terms of work-related fatal injuries, the transport, postal and warehousing industry had the most on-job fatalities (52 deaths), however fatalities in the agriculture, forestry and fishing industry had the highest fatality rate of 10.4 deaths, per 100,000 workers (compared to 7.9 fatalities per 100,000 in the transport industry) in 2021. The mining industry had the third-highest rate of fatalities (2.3 per 100,000), while the construction industry had the third-highest tally count of deaths within the industries (24 deaths).2
Across Australia, drivers and operators of machinery were the most likely to have injuries leading to death at work, with a fatality rate of 8.2 (or 68 deaths across the occupation). Labourers (34 fatalities) and managers (24 fatalities) were the next most likely to experience work-related deaths.2
Lastly, the latest reports in Australia show that those who had work-related fatal accidents were most likely to have been because of a vehicle collision (38%). 24 people also died as a result of being hit by moving objects, while a further 19 died because they fell from a height.2