If there's one thing we're constantly reminded about to look after, it's our teeth – and for good reason. Not only is good dental hygiene incredibly important for keeping our mouth in tip-top condition, but if you stop brushing regularly, you might very well join the 45% of the world's population that suffers from some form of oral disease.1
Fortunately, if you stick to the morning and evening brushing routine we're all treated to growing up, floss regularly, watch your diet, and avoid excessive smoking and alcohol, the risk of many of these diseases can be reduced.2
Visits to the dentist can be notoriously expensive, and poor dental hygiene can mean paying more for things like fillings, whitening or cleanings! As experts in health insurance and dental cover, we decided to analyse data from both the World Health Organisation (WHO) and World Population Review to uncover which country in the world has the best oral hygiene.
To this end, we looked at the number of dentists per 10,000 people, the percentage of the population who smoke, and the average annual sugar and alcohol intake per capita in 134 countries around the world to give each one a total score out of 6 based on these criteria.
Here's what we found out.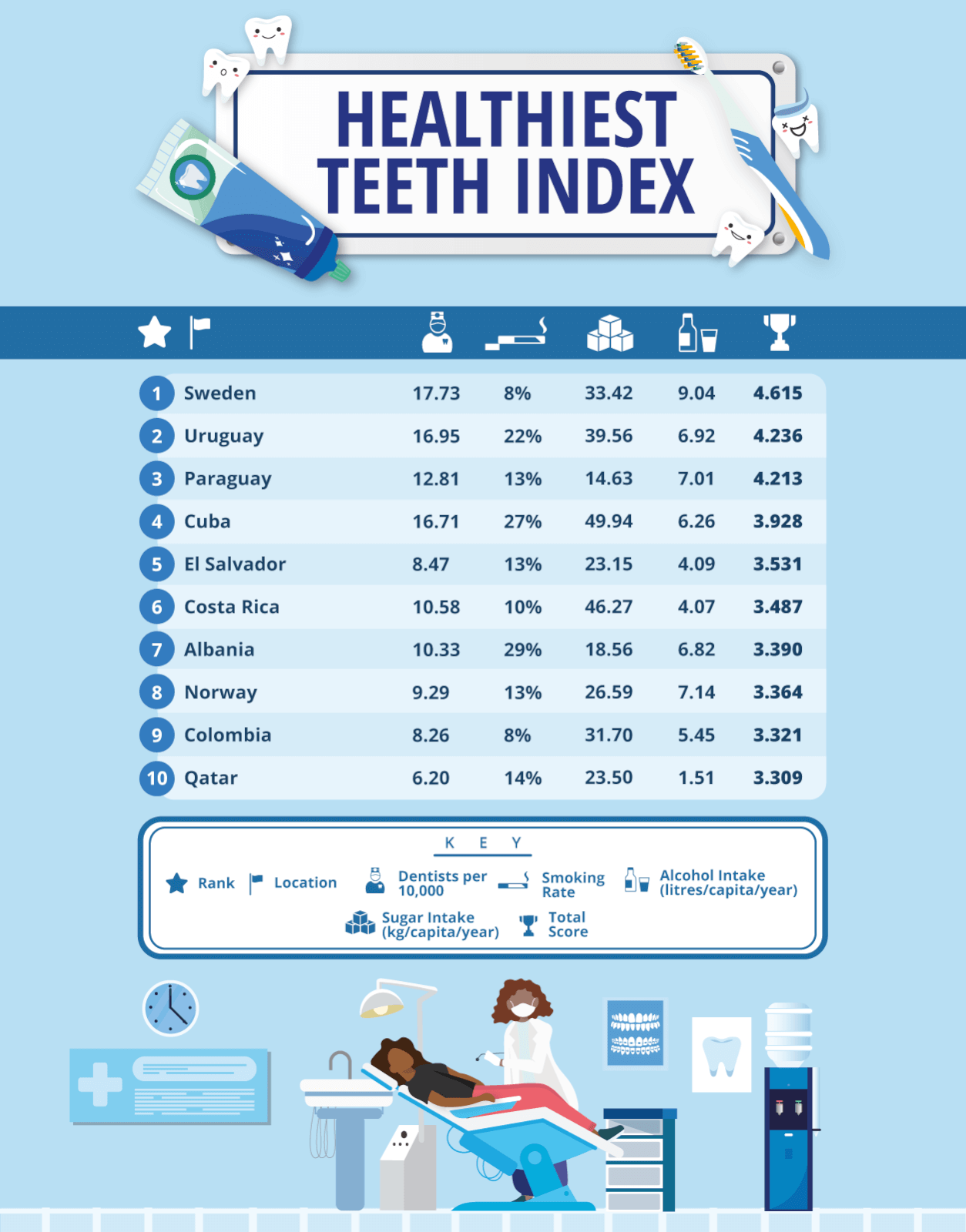 Countries with the best dental hygiene
According to our research, the country with the healthiest teeth is Sweden.
With a total score of 4.615 out of 6, Sweden boasts 17.73 dentists per 10,000 people (the best on our list), a smoking rate of 8% (the 9th lowest of all 134 countries), and an average annual alcohol intake of 9.04 litres per capita. This shows just how effective the Swedish healthcare system is, and how much they care about their health in general.
After Sweden comes the South American countries of Uruguay and Paraguay, with total scores of 4.236 and 4.213 respectively. This is particularly interesting when you consider that 22% of the Uruguayan population are smokers and they consume a relatively high 39.56kg of sugar per capita, per year. Although, with 16.95 dentists per 10,000 people (the second highest on our list), they have the medical staff to keep up with this intake.
As for fourth place, we have another surprise ranking, with Cuba managing to score a grand total of 3.928. This is again in spite of its high smoking population, which accounts for over a quarter of its citizens (27%), and its very high sugar intake of 49.94kg (the second highest on our list). However, Cuba also has a low overall alcohol intake and 16.71 dentists per 10,000, which helps balance out these other factors.
Finally, in fifth place, we have El Salvador. Despite having just 8.47 dentists per 10,000 people, they still managed to acquire an overall score of 3.531. This is likely due to El Salvador's population only hitting an average sugar and alcohol consumption of 23.15kg and 4.09 litres per capita, per year, respectively – which is towards the lower end of our list.