Romantic relationships can be a really important part of life for many people. Not only can they bring happiness and emotional satisfaction, but they can also encourage a sense of financial stability, particularly when expenses are shared between partners.
Financial stability though should not be limited to people in a relationship. As experts in income protection insurance, we understand the immense value that this type of cover can provide to singles. Financial support is especially useful in times of hardship, particularly when there is no significant other to fall back on – whether that be due to a medical condition or loss of employment.
Given that it can be harder for LGBTQ+ people to find partners due to a smaller pool of people who would reciprocate a romantic advance (1 in 10 of the world's population identify as LGBTQ+),1 we were interested in discovering the best cities for LGBTQ+ dating worldwide. So, by analysing six factors, including the percentage of the single population and the number of LGBTQ+ bars and clubs, we can reveal the best cities across the world for LGBTQ+ dating.
Simply read on to find out more, and see where the area you live in, or intend to live in, features.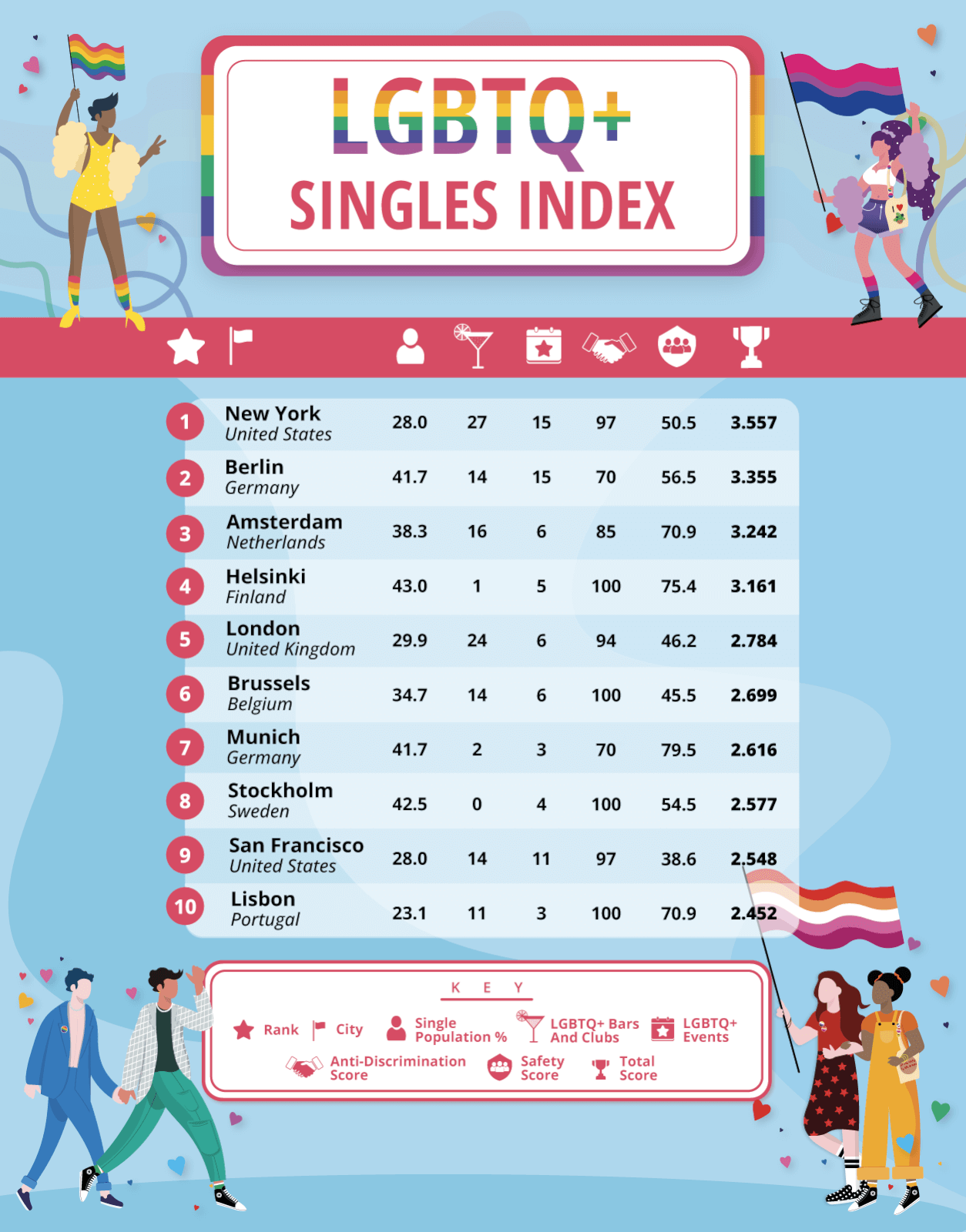 The world's best cities for LGBTQ+ singles
Globally, some countries are more liberal than others, which is key when it comes to the LGBTQ+ dating scene.
For instance, Global Citizen Solutions listed liberal countries like Portugal, Spain, Belgium and Denmark, amongst six others, as the most LGBTQ+ countries in the world.2 It's in countries like these where LGBTQ+ people feel safe, thanks to the culture of acceptance running throughout these areas. So, which are the best cities in the world for LGBTQ+ singles?
New York takes the lead for LGBTQ+ dating
From our research, it appears New York is the best city for LGBTQ+ singles. It's this popular city where the highest number of LGBTQ+ events occur (15), paired with Berlin (15). When compared to Amsterdam and London's offering (6), and Helsinki's (5), it's clear why these two popular cities rank so highly, as first and second, on the leaderboard for leading LGBTQ+ dating spots.
Our research showed that the thriving US city of New York is not only the top US city for LGBTG+ dating (3.557) but takes the crown as the top city worldwide. With a rich history dating back to the iconic Stonewall Riots in 1969, it comes as no surprise that this metropolis has secured the top spot globally.
Boasting an impressive count of 27 LGBTQ+ bars and clubs, New York provides ample opportunities to meet like-minded singles. Among these establishments, The Stonewall Inn holds a special place as an iconic symbol of queer history. The city also hosts numerous LGBTQ+ festivals throughout the year, catering to diverse interests, including the highly anticipated LGBTQ+ Film Festival that's held every October.
Berlin and Amsterdam complete the podium
Following closely in the rankings are the wondrous cities of Berlin in second place, and Amsterdam in third. Both of these European cities present welcoming LGBTQ+ communities, that are a joy to be a part of. Not to mention, Berlin's queer nightlife scene thrives with as many as 14 clubs and bars listed on TripAdvisor.
When in Berlin as an LGBTQ+ single, a visit to the Schöneberg district is imperative; it embodies the heart of the city's LGBTQ+ culture. Meanwhile, Amsterdam, a pioneer in LGBTQ+ history, legalised same-sex marriage in 2001. From our research, you can see this bustling city is home to 16 LGBTQ+ bars, providing an array of welcoming hangouts across this location when you're seeking out a partner.
Helsinki and London take the fourth and fifth spot
Rounding off the top five LGBTQ+ dating spots are Helsinki (3.161) and London (2.784). Recognised for their cultures of acceptance and commendable anti-discrimination scores, these two areas are where you can feel safe finding love.
Next to New York, it's London that boasts the highest number of LGBTQ+ clubs among the countries analysed, with an impressive count of 24 gay clubs and bars sprawled across the city. This doesn't even account for the exciting club nights happening all over London.
In conclusion, these cities, each with its unique LGBTQ+ scene, offer welcoming environments where love and connections can thrive. Whether you're exploring the historic streets of New York, soaking in Berlin's vibrant nightlife, or enjoying the accepting culture of London, there's a perfect haven waiting for you to date in, and find a deep connection.
Tips for dating safely in a new city
Here are our best pointers for LGBTQ+ dating in a new city, so you're as safe as possible:
Do your research first
To ensure your date is who they say they are, search for their social media profiles online before meeting up. This is a useful way to find out they're not a catfish (someone posing as someone else) or a fake account. You want to feel as safe as possible when dating, so the more you know, the better.
Let your loved ones know
While chatting with someone new, make sure others are aware of this. Also, when you both agree on a time and a place to meet for your date, tell friends and/or family the same information. Doing so means you've got that safety team of support behind you, just in case something goes wrong, or not the way you'd hoped.
Choose a comfortable dating spot
Heading to a new bar or restaurant is a fun idea, but when you're already a little nervous about dating in a new city, stick to somewhere you:
Know from visiting before – there's nothing wrong with playing it safe to begin with.
Have been recommended by a loved one who lives or is familiar with the area since you're new to it.
Can get home easily from – to ensure you feel safe on your return journey.
Know has a lot of visitors and will involve being surrounded by lots of people – such as a restaurant, a bar, or an activity spot (such as a mini-golf centre). You'll want people around you, so if, for any reason you want to leave, you're able to.
This ensures you're not heading to meet a new person in an area of a city you're unfamiliar with, as this could make you nervous when heading on the date, or returning home from it.
Trust your instincts
If a date isn't working out and you're in a city you don't know as well, you don't feel obliged to stick around. You are well within your rights to leave whenever you wish, so if your date isn't who you thought they were or it's not going so well, leave politely. Your gut will tell you how well it's going, and if you suspect something is up, it probably is!
Commenting on the study, Compare the Market Australia's Head of Income Protection Insurance, Lana Hambilton said income protection can be important for singles as it can be for people in a committed relationship:
"Income protection can help to protect someone's financial independence by giving them a critical safety net.
"Income protection insurance can provide you with a monthly benefit of up to 70% of your income if you are unable to work for an extended period and you meet other eligibility criteria such as serving any relevant waiting periods.
"This may be important for LGBTQ+ singles to consider if they're concerned about insuring their financial independence."