When you're young and single, travelling the world is one of the most exciting adventures you can embark upon. Discovering new cuisines, immersing yourself in new cultures, and creating lasting memories are some of the biggest pulls for young people to move around the world. But having the money to enjoy yourself often involves working – and protecting the income that you make will become incredibly important for keeping yourself financially afloat.
There are a few ways you can keep your finances in check, many of which you can organise before you head off on your adventure. Some of those may include:
Ensuring you meet any entry visa requirements. Entry visas are required for Australians in many foreign countries, and in some cases the application process can be lengthy, so it's best to organise this well in advance.
Checking whether you need a working visa. It's common for a country to request working visas from foreigners in order to work legally. Again, the process can take some time, so try to organise it early.
Taking out an income protection insurance policy. If you're relying on a steady income to keep you stable while overseas, it's vital you protect it in case you are left unable to work due to illness or injury. This type of insurance will ensure you can maintain a portion of your income throughout such an ordeal. Before you go, it is important to check whether you will be covered overseas with your insurer.
Undertaking adequate tax preparation. Tax situations can become quite complicated for both the country you're moving to, but also where you're moving from. Allow yourself plenty of time to really understand how things will work once you're abroad.
As experts in protecting your income regardless of your circumstances and with all that in mind, we wanted to find out where in the world is best for young singles to live and work, so we ranked 50 different cities around the world. Read on to find out what the results were!
How did we establish which cities were the best?
To rank each of the 50 cities, we looked at 7 different factors:
Cost of going on a date
Cost of a pint
Number of restaurants/bars
Number of attractions/things to do
Unemployment rate
Internet download speeds
Rent prices
The cities were then ranked from highest to lowest, based on their total scores. Let's find out which city came out on top!
The top 20 cities for young single people to live in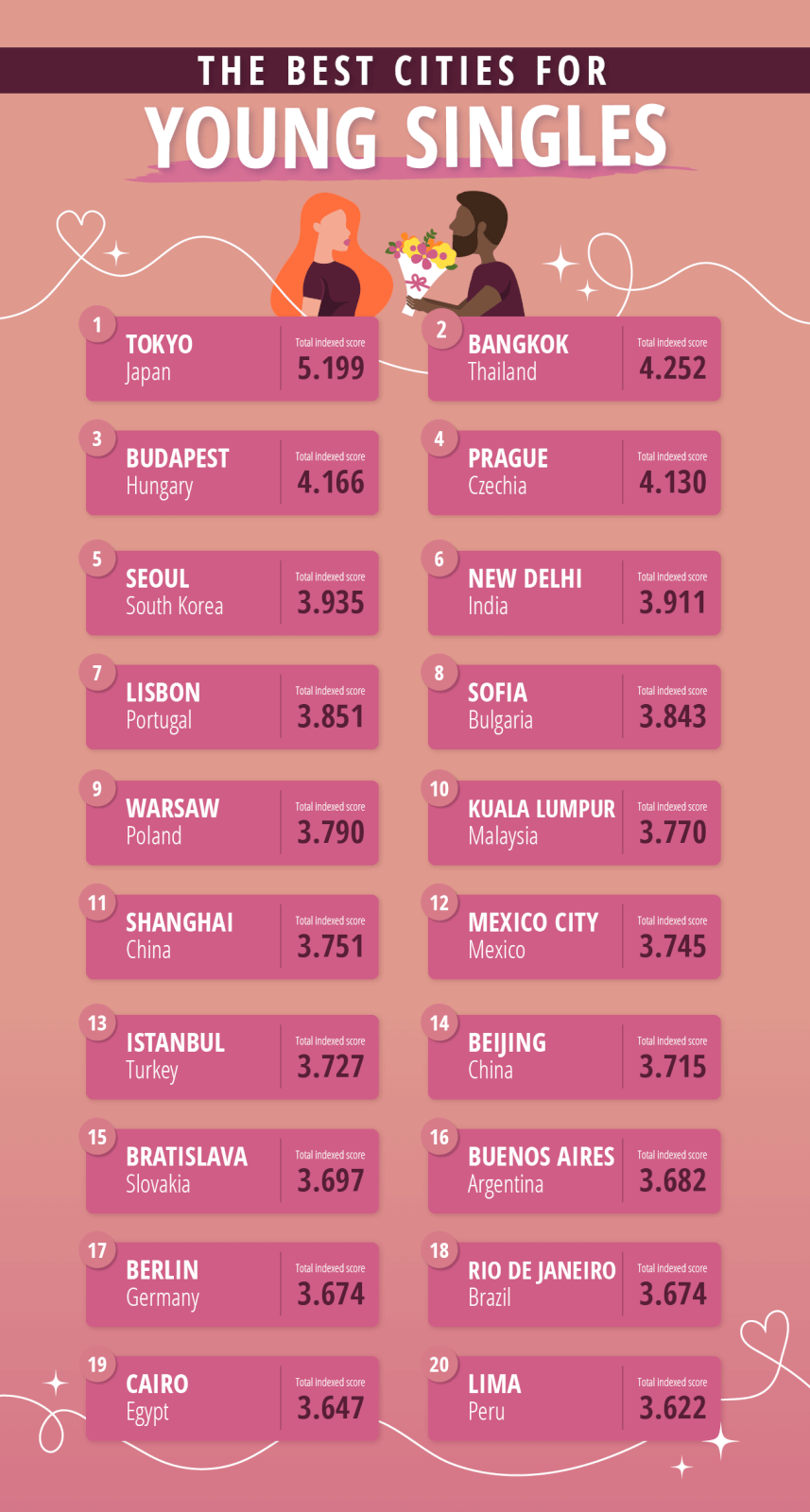 1. Tokyo, Japan
Tokyo came out on top, and we don't have to wonder why! This city from the future is clean, safe, and has so many 24/7 facilities that you don't need to sleep. In our ranking factors, Tokyo came mid-table for the cost of a date and the cost of a pint, and first for the number of bars and restaurants, meaning that socialisation and dating can be much easier.
In terms of how great it is for working individuals, it had the 4th lowest unemployment rate, meaning work is readily available, and had the 13th quickest internet speed so working from home is reliable too.
2. Bangkok, Thailand
Bangkok is the second-best place for young single people to live and work for several great reasons, including ranking in the top 15 cities for the cost of a date – making it a great place to meet new people at a very affordable price!
It also nearly edges into the top 10 for cheapest pints, as well as making the top 8 for the highest volume of bars and restaurants, meaning you can have a lot of fun and keep your bank account healthy while you're at it. The real winner is that Bangkok comes first for lowest unemployment rate, so it's really likely that you can easily find work.
3. Budapest, Hungary
In third place comes Budapest in Hungary. Hungary has a very low unemployment rate, as well as one of the best internet speeds and cheapest date costs – so you can work hard and play hard in this Central European playground!
4. Prague, Czechia
Prague makes it into the top five with its cheap pints and vast number of attractions. However, this beautiful World Heritage city isn't just great for a weekend break – it ranks in the top 15 for cheap dates and is in the top five for low unemployment rates, meaning life here can be easily afforded with available work.
5. Seoul, South Korea
The up-and-coming place to be is Seoul in South Korea – this capital city has a lot of attractive factors that make it a great place for young single people to live and work. Seoul comes second only to Japan when it comes to bars and restaurants in the city, and places mid-table for almost every factor we ranked for, making it a great mid-range affordable place to be young and single and experience the world.
Best dating scene cities for young single people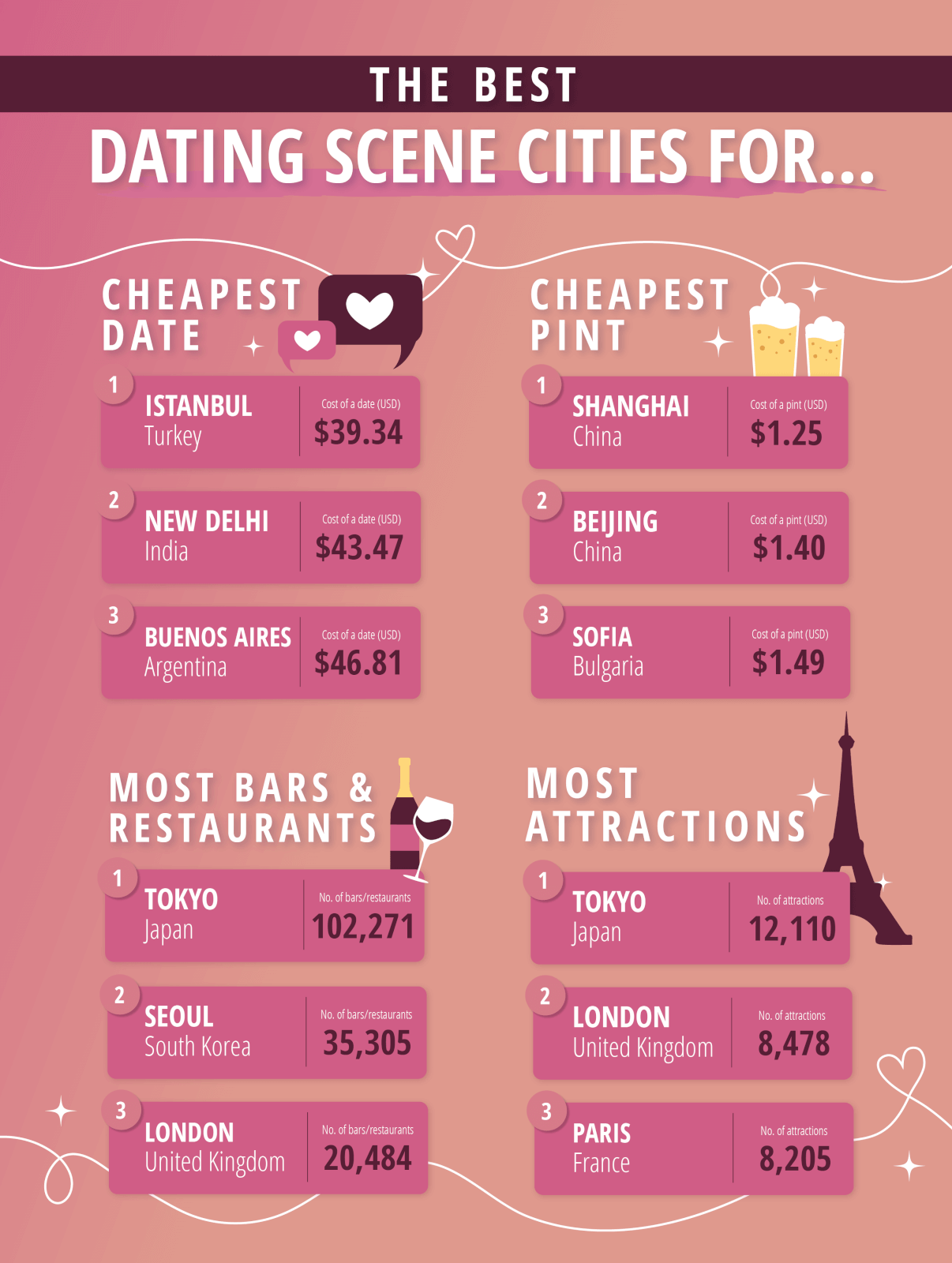 Finding love in a foreign country doesn't have to be difficult, and some cities actually make it a lot easier for you with cheap dates and plenty of date night spots.
The city with the cheapest date is Istanbul in Turkey, with a cost of only $39.34 (USD) for 2 cinema tickets, 1 bottle of wine, a 5km taxi journey, and a three-course meal for two in a medium-priced restaurant.
The cheapest pint out of all 50 cities can be found in Shanghai, China for $1.25 (USD), while the city with the most bars and restaurants is Tokyo, with over 100,000! Tokyo also had the most attractions out of any city, with over 12,000 potential date night plans you can make.
Best cities for young working people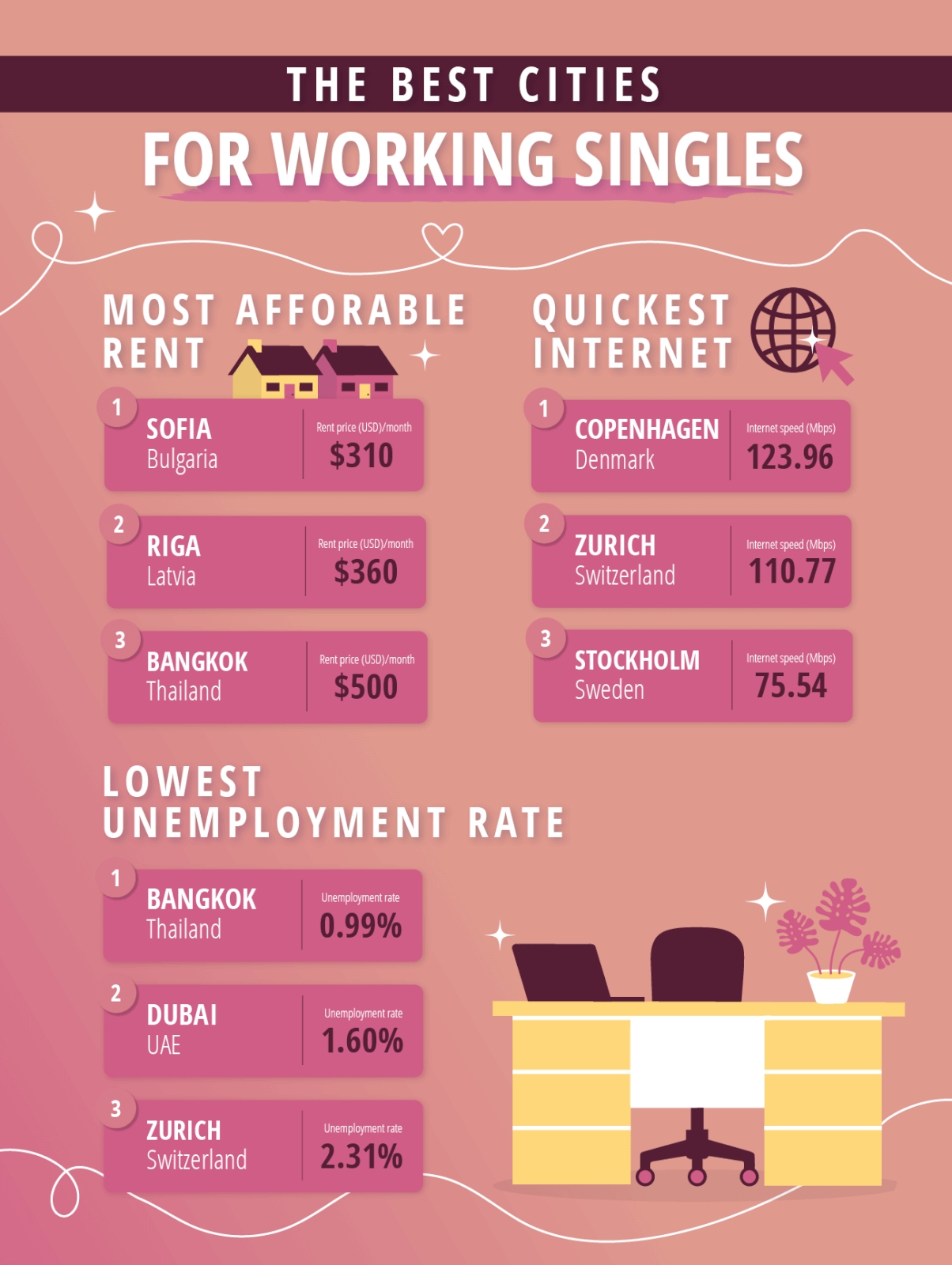 When it comes to making money while you live abroad, you'll want to go somewhere where work is easily available, and you can choose to work remotely if you want.
To work remotely, you'll need a good internet connection; Copenhagen in Denmark has the quickest speed at 123.96 Mbps, followed by Zurich and Stockholm.
Bangkok in Thailand has the lowest unemployment rate out of all 50 cities, alongside Dubai and Zurich, making these some of the easiest cities to find work in.
And finally, you'll want to stay somewhere where the rent is affordable, and Sofia in Bulgaria fits that description perfectly with the average monthly rent being only $310 (USD).
Ensuring financial security with income protection insurance
The pull of living and working overseas can be tempting for many young people who are looking to make a start in life, and thanks to the introduction of digital nomad visas, many people are now taking the leap. While there are many things to consider before you go, such as getting your working visa and securing employment, something that shouldn't be forgotten is getting income protection insurance.
Income protection in Australia is a product that pays you a regular cash amount if an unexpected illness or accident leaves you unable to work. Depending on your level of cover, it can compensate for up to 70% of your income for a pre-specified time period.
Anthony Fleming, General Manager of health, life and income protection insurance for Compare the Market, explains how a policy could work for those working overseas: "If you are on a working holiday, maintaining a source of income in the event of an accident can be the difference between an enjoyable and a disastrous experience.
"What's important to keep in mind is that while most Australian income protection policies will cover you anywhere in the world, some do have restrictions or increased premiums, depending on where you are travelling to.
"If the worst does happen and you are left unable to work, in most cases you will be required to return to Australia for treatment in order to make a claim. Otherwise, claims will only be paid for a restricted period of time."
Before departing on your overseas adventure, make sure that you not only have an income protection policy in place, but that you also inform your insurance provider of the details of your trip, so that the risk of any potential claims being voided are minimised.