Learning to drive is a rite of passage, whether you're learning to drive as a teenager or coming to it later in life. Being able to drive opens up a whole world of independence and enjoyment. At last, you can go where you want, when you want, with no more waiting around for public transport or asking your mates for a lift.
But for many people, learning to drive and passing that all-important driving test can be off-putting. Whether it's the cost, the time commitment, or the learning curve, there are plenty of barriers – and nerves about passing the test are likely to put plenty of people off.
But some places in the world make it easier than others. As experts in car insurance, we've taken a look into driver's license requirements across the world to discover the countries where it's harder to obtain a license, and the countries that make it a bit easier.
So, join us on a road trip across the globe!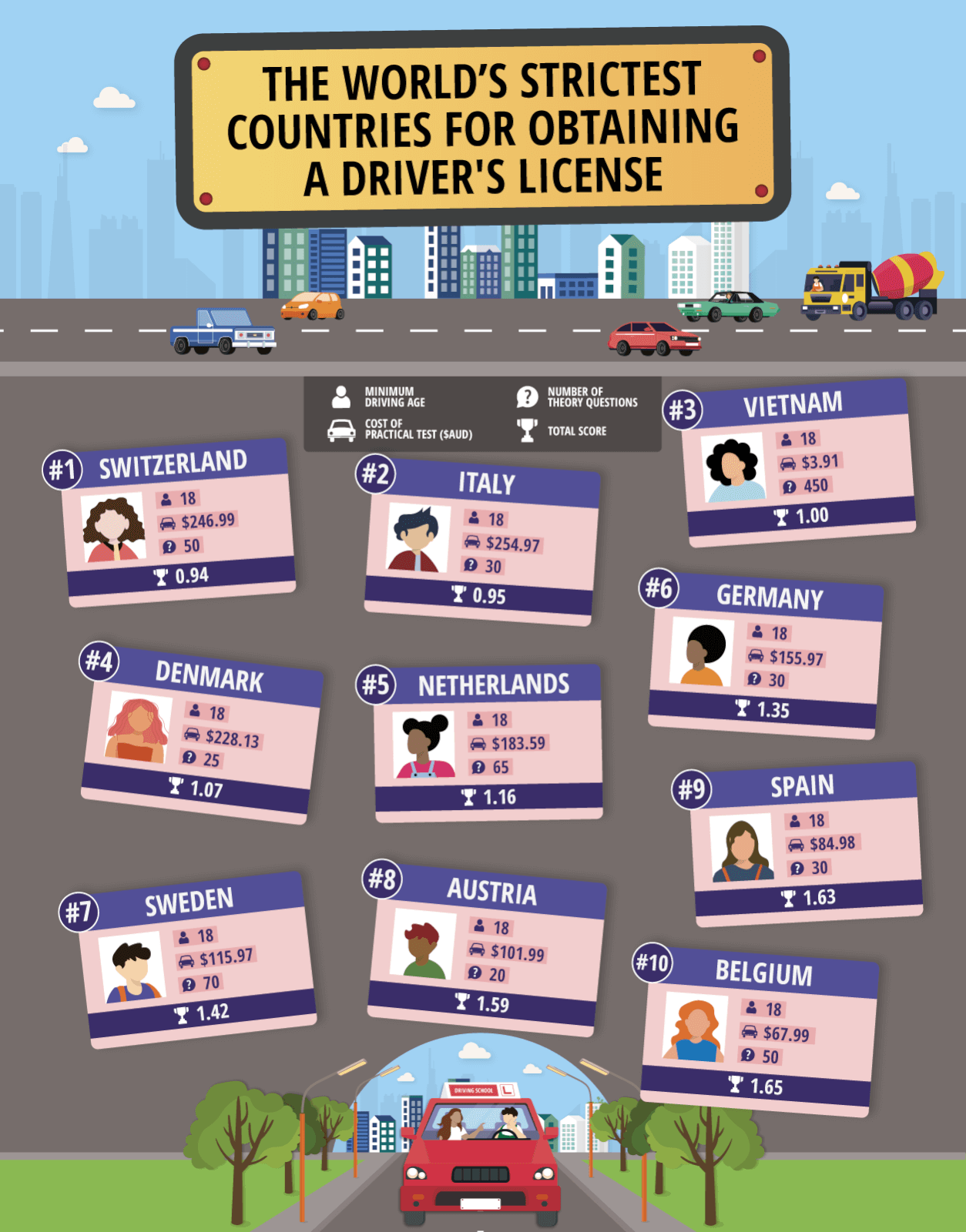 Strictest countries for obtaining a driver's license
Of course, it's important to make sure that it's sufficiently tricky to pass a driving test and get a license to keep the roads safe – but some countries make it a bit harder than others. These are the top three strictest countries from our research.
1. Switzerland
While Switzerland boasts some truly stunning drives, with curving roads winding through views of Alpen countryside, there are a few factors that have put it top of our list for the trickiest places to get your license.
In Switzerland, you'll be waiting until you're 18 to start driving, so there's no chance of getting an early head start while you're in school. Combined with one of the most expensive practical tests at AU$246.99, and a considerable 50 theory questions, that makes the process more challenging for aspiring drivers – and makes this peaceful country one of the strictest in the world when it comes to getting a driver's license.
2. Italy
Again, while Italy has plenty of beautiful drives to enjoy across the varied and stunning Italian landscape, getting a license in the first place can be difficult. While Italy's minimum driving age of 18 is in line with many other countries, there are a few other factors that help to place Italy as the second-strictest country on our list.
Similar to Switzerland, Italy's cost for a practical test is relatively high – in fact, it's the most expensive out of the 25 countries in our index, at AU$254.97. While you'll only need to revise for 30 theory questions, the cost of passing your driving test in Italy adds a bit of stress for first-time drivers feeling the pressure to pass the first time around!
3. Vietnam
Vietnam is a bit different from the other strict countries on our list – the cost for a practical automobile driving test works out at just AU$3.91, so it's not expensive, but you'll need to answer a staggering 450 questions as part of your theory test! That's a lot of revision before you even pass your practical. Plus, like Italy and Switzerland, Vietnam's minimum driving age is also 18.
If you're applying for a Vietnamese driver's license from another country, you'll have an even longer wait – you'll need to get your original driving license notarized, fill out several forms, and apply at the Department of Transportation before you can even take your test. But of course, once you do pass, Vietnam will reward you with gently curving roads and stunning views, winding through picturesque mountains, jungles, and rice paddy fields.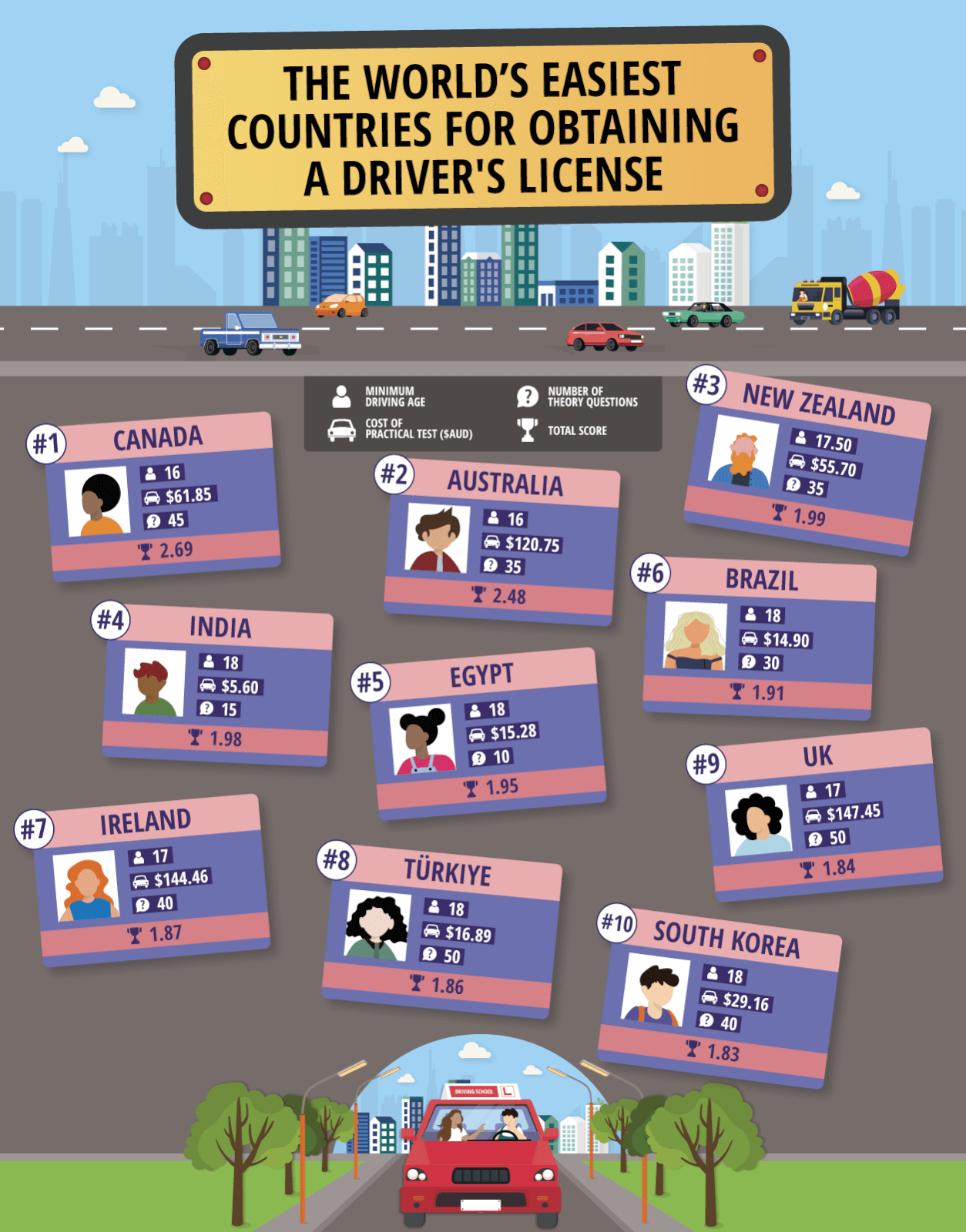 Easiest countries for getting a driver's license
In contrast, there are plenty of countries that make it a bit easier to pass your test and get the green light to drive. Some of these are often large or quite rugged countries, where being able to drive around to get from place to place is a big help. With that in mind, here are the three easiest countries for getting your driver's license, according to our research:
1. Canada
Topping the list of easiest countries is Canada. This nation boasts a young minimum driving age of 16, so you can start on your test a little bit earlier than other countries. Canada's practical test costs AU$61.85 – a bit more reasonable if you need a couple of attempts to pass. With 45 questions on the theory test, Canada is an easier environment for aspiring drivers to obtain their licenses.
Of course, once you have passed, you can start exploring – and Canada isn't short of stunning drives. From exploring Vancouver Island's atmospheric Pacific Rim Highway to trekking along Alberta's Dinosaur Trail, there are plenty of incentives for getting your Canadian driving license.
2. Australia
With a similar setup to Canada, our very own Australia is the second easiest country in which to get a driver's license and embrace your independence. The minimum driving age is 16, so even if they're not quite ready to hit the Great Ocean Road, teens can start driving earlier in life and get valuable experience. Though the practical test is a bit more expensive at AU$120.75, you'll only need to revise for 35 questions on your theory test.
Of course, once you have passed you'll be able to head out and explore the aforementioned Great Ocean Road, stretching 243 kilometres from Torquay to Allansford. Or you could always brave the longest, straightest road in Australia: Eyre Highway. Crossing the vast expanse of Nullarbor Plain – the world's single largest span of limestone bedrock – you'll see huge vistas stretching out for miles and miles.
3. New Zealand
New Zealand's driving test process is also on the easier side, thanks to their moderate minimum driving age of 17-and-a-half years. The practical driving test is also relatively affordable in New Zealand, at just AU$55.70, and first-time drivers will have an easier time of revision with a reasonable theory test of just 35 questions.
These factors contribute to an easy route to getting a license in New Zealand – but if you're planning on heading out on some long drives once you've passed, the path might not be quite as smooth. You can expect narrow, winding roads climbing up hills and mountains, before they drop away to reveal the stunning sights that New Zealand is so well known for. The winding Milford Road is a classic stretch of highway through Fiordland National Park, taking you past glacial valleys and gliding past the Mirror Lakes.
Compare the Market's General Manager of General Insurance, Adrian Taylor, explains how car insurance is an important part of driving and car ownership.
"When you first pass your test, it's natural to want to hit the road to start exploring and enjoying your new-found independence," Mr Taylor said.
"More paperwork might be the last thing you want to think about – but before you start planning a road trip, it's important to consider the value of car insurance.
"The same goes for parents – if you have a teenager in the house who is learning to drive in the family car, it's a good idea to make sure that they are covered under your existing car insurance policy.
"Whether you're the parent of an independent teenager or a first-time driver yourself, keep in mind that limited driving experience can impact any premiums and excesses you pay on a policy, which is why it's important to shop around and look for a deal that best suits your situation."
Before purchasing any car insurance policy, make sure to read the Product Disclosure Statement (PDS) to understand any limits, exclusions and restrictions. Also check the policy's Target Market Determination (TMD) to see if the product is suitable for you.