Regardless of the type of vehicle you drive, having car insurance is a worthwhile consideration. Not only can it cover you for things like accidents and theft, but it can also provide peace of mind during weather events and other unforeseeable incidents, depending on the level of cover.
This is worthwhile not only for newer cars, but also for second-hand ones, too. In fact, sometimes used cars can hold more value than their brand-new counterparts, which we have seen prominently in the last year or so.
Throughout the pandemic, vehicle manufacturing restraints has led to the used car market experiencing increased demand and value. Subsequently, many buyers have found that they are spending more on a used car than they had in the past – in some cases, second-hand cars have been selling for a higher price than brand new ones, thanks to the extended wait times associated with a new purchase.
This has put more onus on vehicle owners to ensure their car is adequately covered by their insurance. When you purchase a policy, you may have the option to insure it for agreed or market value. With agreed value, you and the insurer will need to come to an agreement about how much you will receive if your car is written off. Given this value is based on an agreement between you and the insurer and is not necessarily a reflection of current market prices, the cost of your policy can vary significantly based on what value you agree on. Naturally, the higher your agreed value, the higher the cost of your premiums. Whereas with market value, insurers will calculate an average price of cars on the market that are the same as yours, or at least as similar as possible, in the event you need to make a claim. Each insurer calculates the market value of vehicles differently, so it's worth checking with your provider to understand how they determine such values. Whichever way you go, be sure to check the Product Disclosure Statement (PDS) before purchasing so you are aware of any limits, exclusions or restrictions of your policy.
As experts in car insurance, Compare the Market is keen to understand just how the used car market has changed in recent years. We've analysed the current state of the used car market in the US to see which are most popular and which hold their value the best. With this information, we hope to help you decide which type of cover might be best for you and your vehicle, particularly if you're looking to purchase one of the models listed below!
The most in demand used cars in the US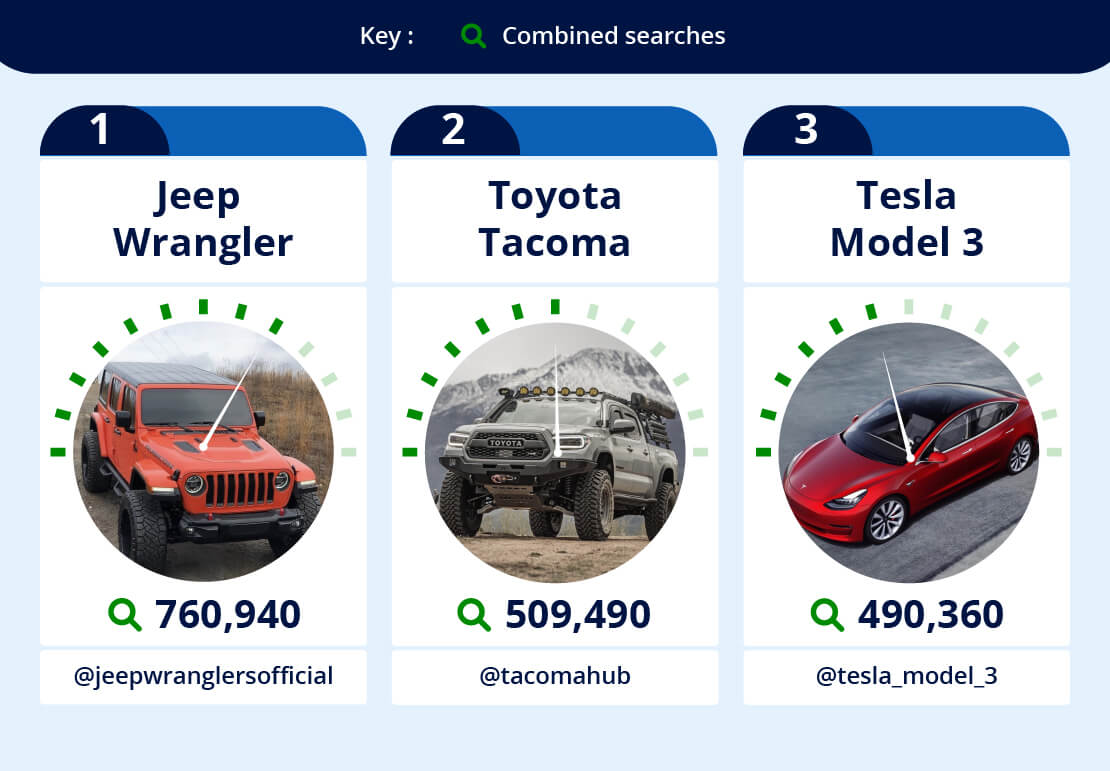 First, we've analysed Google search data from the last year to see which vehicles received the most searches from people looking to buy used models.
1. Jeep Wrangler – 760,940 annual searches
The Jeep is one of the most iconic vehicles of modern times, and its rugged four-wheel drive capabilities have seen the Wrangler model endure since 1986.1
Directly descended from the World War II Jeep,1 the Wrangler is an obvious choice if you're heading off-road, but it's also at home in cities too.
Searches for used Jeep Wranglers were higher than for any other vehicle in the US in the last twelve months, with just over three-quarters of a million searches.
2. Toyota Tacoma – 509,490 annual searches
Taking second place is the Toyota Tacoma, with just over half a million searches for used models in the last twelve months.
The Tacoma was Toyota's first pickup truck when it launched in 1995 and it has been hugely popular since,2 winning Motor Trend's Truck of the Year in 2005.3
While that initial Tacoma was a compact pickup, later models have seen the vehicle's size increase into the mid-sized pickup we know today.
3. Tesla Model 3 – 490,360 annual searches
The popularity of electric vehicles is really starting to pick up in the States and as such, a healthy market of used EVs has emerged.
The Tesla Model 3 is one of the most popular EVs in the US and the same is true when it comes to the used market, with just under 500,000 searches to buy used in the last year. As well as its performance and impressive regular software updates, the Tesla Model 3 is one of the more affordable Tesla models, which only adds to its popularity with consumers.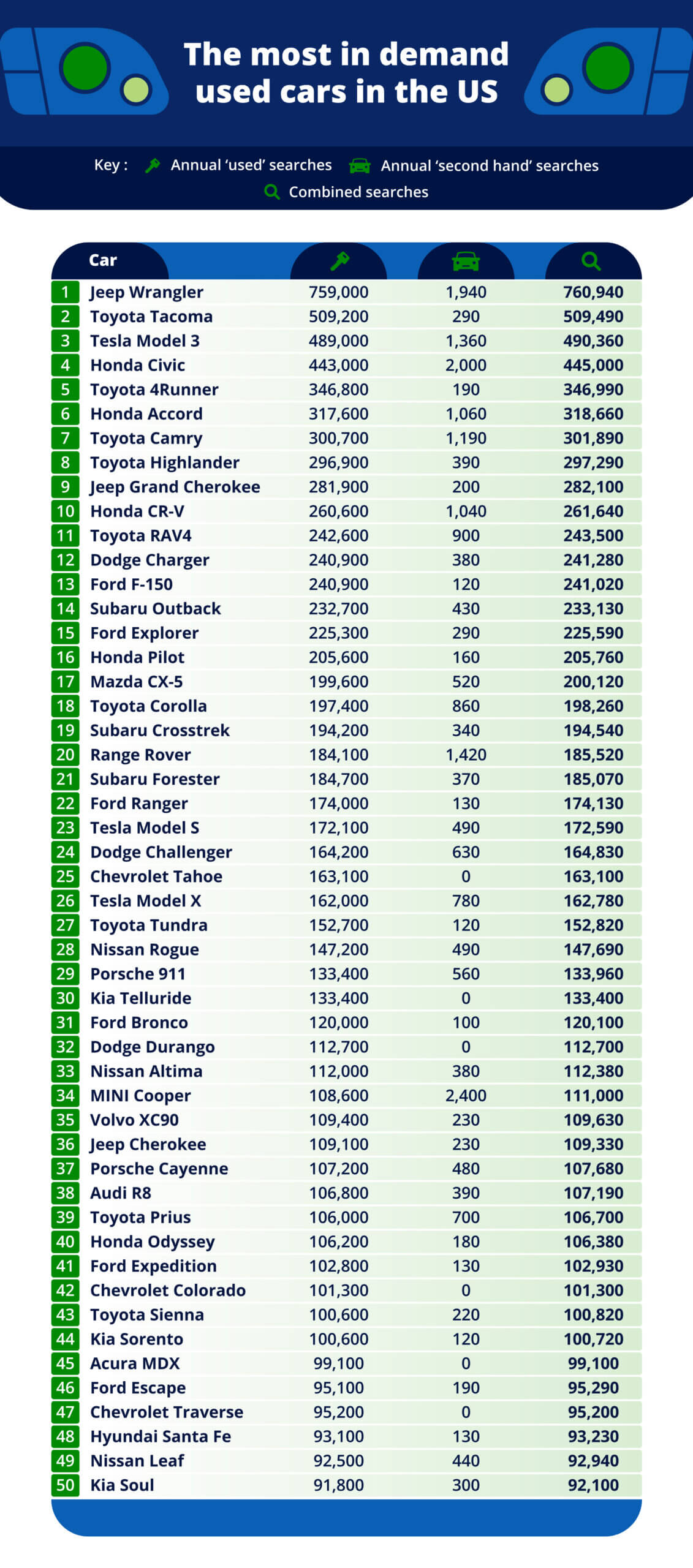 The used cars that lose their value the quickest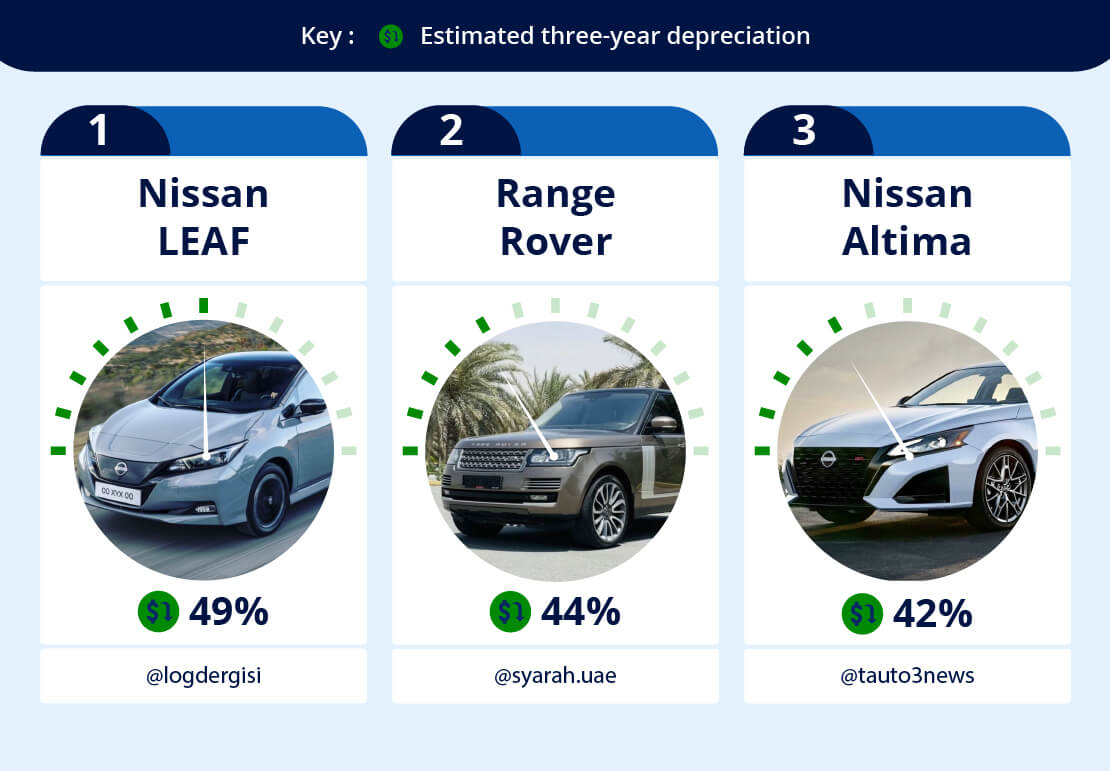 Depreciation is something very important to consider when buying a car. It can also be a good indicator of where you can get the best deals when buying used, showing which vehicles will drop down to a more affordable price the quickest.
Looking at the 50 most popular used cars from the section above, here's a look at which ones lose the most value within three years of being bought new.
1. Nissan LEAF – 49%
Electric vehicles are of course still a relatively new phenomenon, and the uncertainty around new technologies means that they could become outdated quickly as better models are introduced.
This could explain why the Nissan LEAF is the vehicle that loses the most of its value after three years, at almost 50%.
The LEAF is one of the best-selling EVs of all time and larger battery packs have seen its range grow from 117 km to 364 km, with older models quickly being improved upon.4
2. Range Rover – 44%
The Land Rover Range Rover is an instantly recognisable 4×4 that has stood the test of time, launching in 1970 and now in its fifth generation.5
It's also one of the vehicles on this list that sees its value drop the most within three years, at 44%, although it's also one of those that has the highest starting prices, starting at over US$100,000.
The Range Rover family has since expanded to include other popular models such as the Range Rover Sport, Evoque and Velar.
3. Nissan Altima – 42%
Another Nissan model takes third place, with the Nissan Altima having an estimated three-year depreciation rate of 42%.
The Altima is a mid-sized car that launched in 1992 and is one of the brand's best-selling models.6
Buying a used Altima could prove to be a more cost-effective option than one of its competitors such as the Toyota Camry and Honda Accord.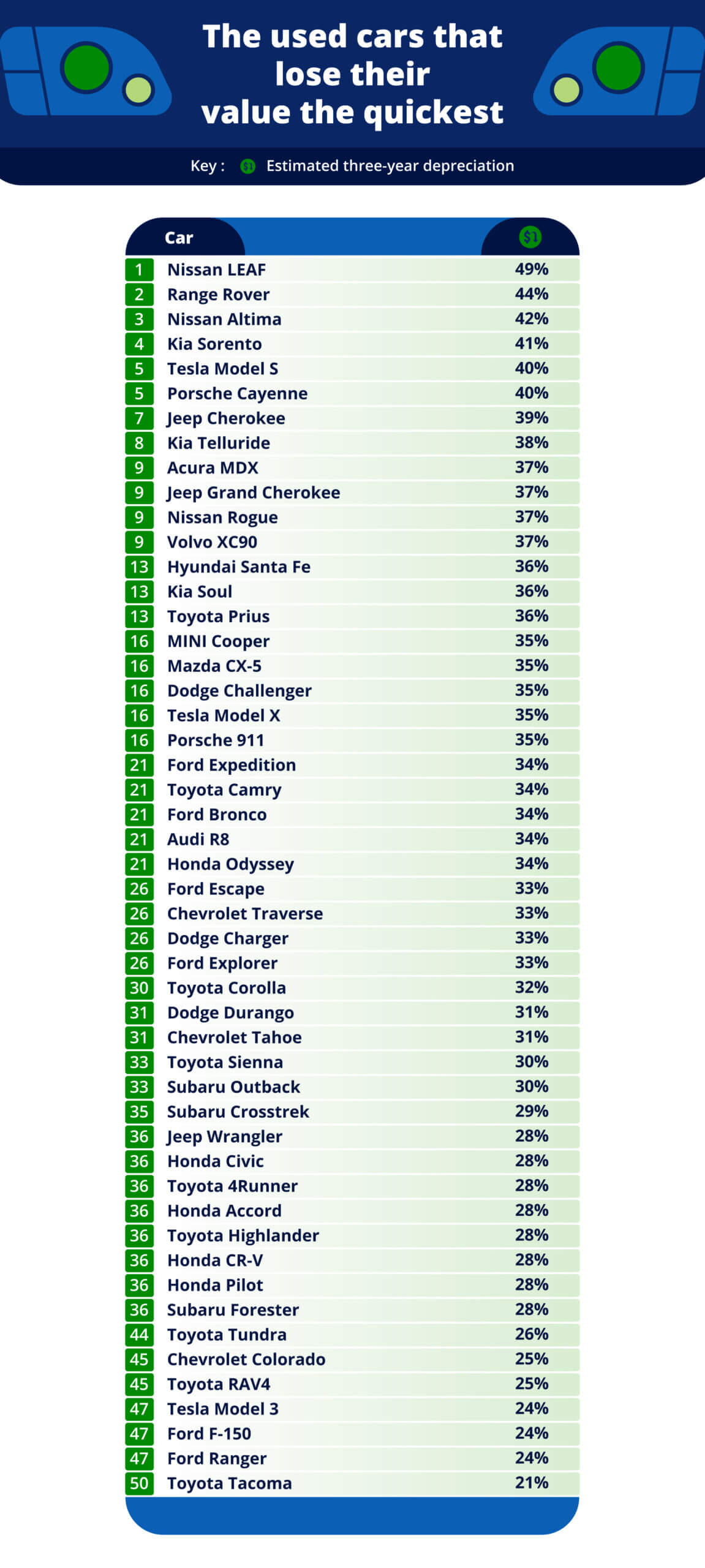 Methodology
Most popular used cars
We found the number of Google searches made between April 2021 and March 2022 in the US for used models of over a thousand vehicles, using Google Ads Keyword Planner.
For each vehicle, the number of annual searches for the following two terms were found, before these were combined:
Used [model]
Second hand [model]
Depreciation
Using the 50 most populated used models from the section above, CarEdge's Car Depreciation Calculator was then used to find out how much the average value of each falls within the first three years of being bought new, assuming an annual mileage of 12,000 miles (19,312km).