Canadians more likely to have health issues run in the family
For all those respondents who had at least one health concern, Canadians were the most likely to say they had a family history of that health issue. Almost half of Canadian respondents said their health concern runs in the family (45.9%), with American respondents not far behind at 44%.
On the other hand, Australians who have a medical concern are less likely to have a family history of it. Only 38.3% of Australians said their family history included their specific health concerns, while 51.6% said there was no family history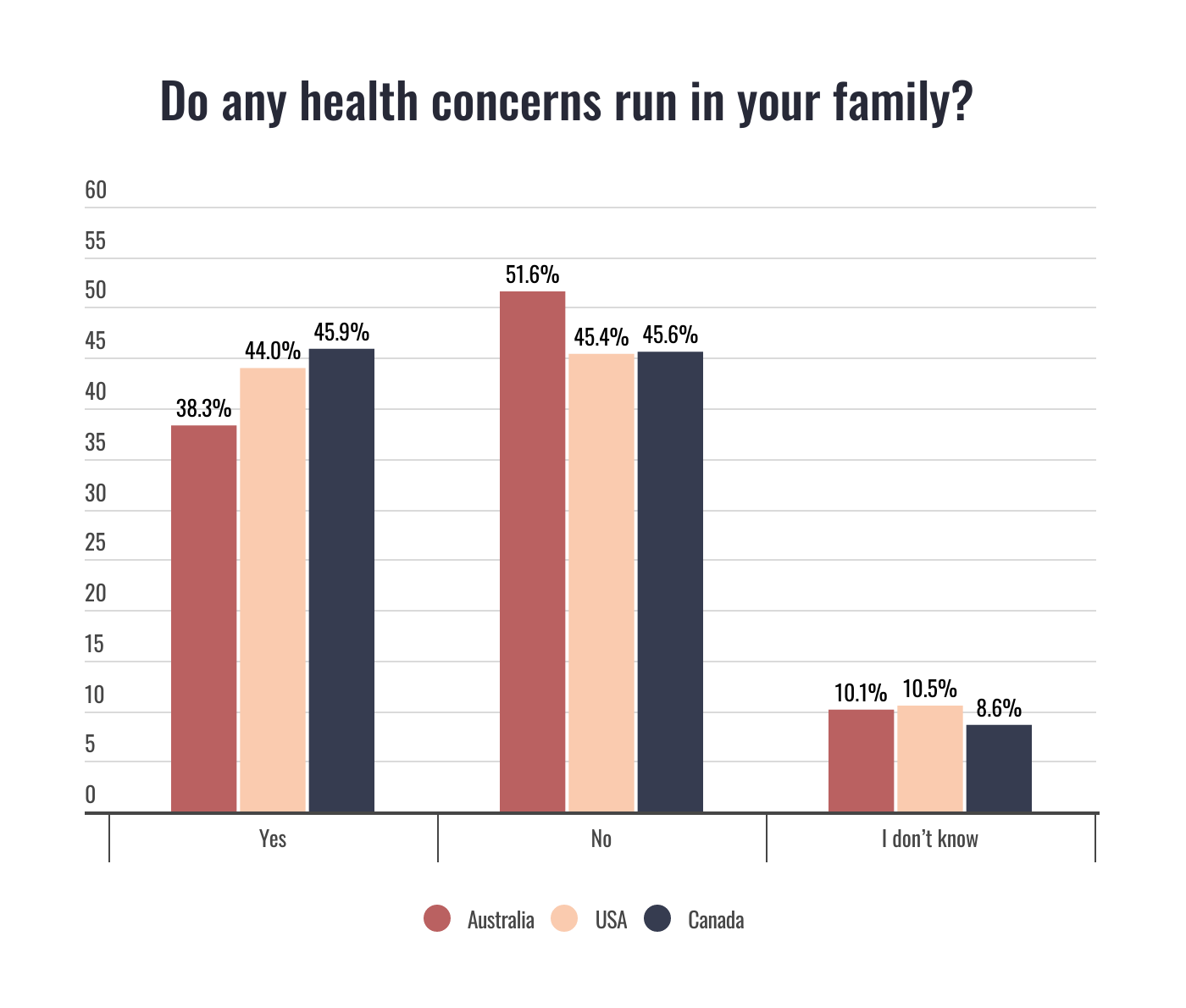 Compare the Market's Head of Health Insurance, Lana Hambilton, notes that with the top concerns often being about loved ones receiving a cancer diagnosis or serious illness, it's not surprising that a family history is front of people's minds.
"Just under half of all respondents in our survey said their health concerns run in the family," says Ms Hambilton.
"We do know that a family history of cancer or certain illnesses can mean future generations could be more at risk. It could be prudent to talk to your family members or healthcare professional about any family history so you can be better prepared."
Who do we see when we have health concerns?
There are a range of people we could turn to when we first experience symptoms or become aware of a health issue. For most of us, the first person we turn to is the doctor, as shown in the survey results.
In fact, both Australians and Canadians were most likely to turn to a doctor (50.8% and 45.5% respectively), with the next most popular options being an internet search engine like Google (15.8% for Australia and 19.7% for Canada), with family the third-most popular option (15.4% and 16.7% respectively).
The top three results in America were the same but in a slightly different order. Doctors and General Practitioners (GPs) were the top pick at 47.7%, followed by family at 16.8% and 'Doctor Google' at 16.5%.
| | | | |
| --- | --- | --- | --- |
| Who do you consult for a health concern? | Australia | USA | Canada |
| Online search engine | 15.8% | 16.5% | 19.7% |
| A friend | 4.5% | 4.5% | 3.7% |
| Partner | 13.2% | 13.7% | 13.1% |
| General Practitioner (GP) / Doctor | 50.8% | 47.7% | 45.5% |
| Family | 15.4% | 16.8% | 16.7% |
| Other | 0.2% | 0.8% | 1.3% |
However, not everyone who has an issue actually plans to consult a doctor about it at all. In Australia, more than one-third (33.4%) of respondents said they hadn't been to the doctor for a medical concern and never planned to, compared to 25.5% of Americans and 27.2% of Canadians.
More than half of all those surveyed hadn't yet been to the doctor, and the amount who were planning to see a doctor was very close to the amount who didn't plan to do so, as shown in the table below.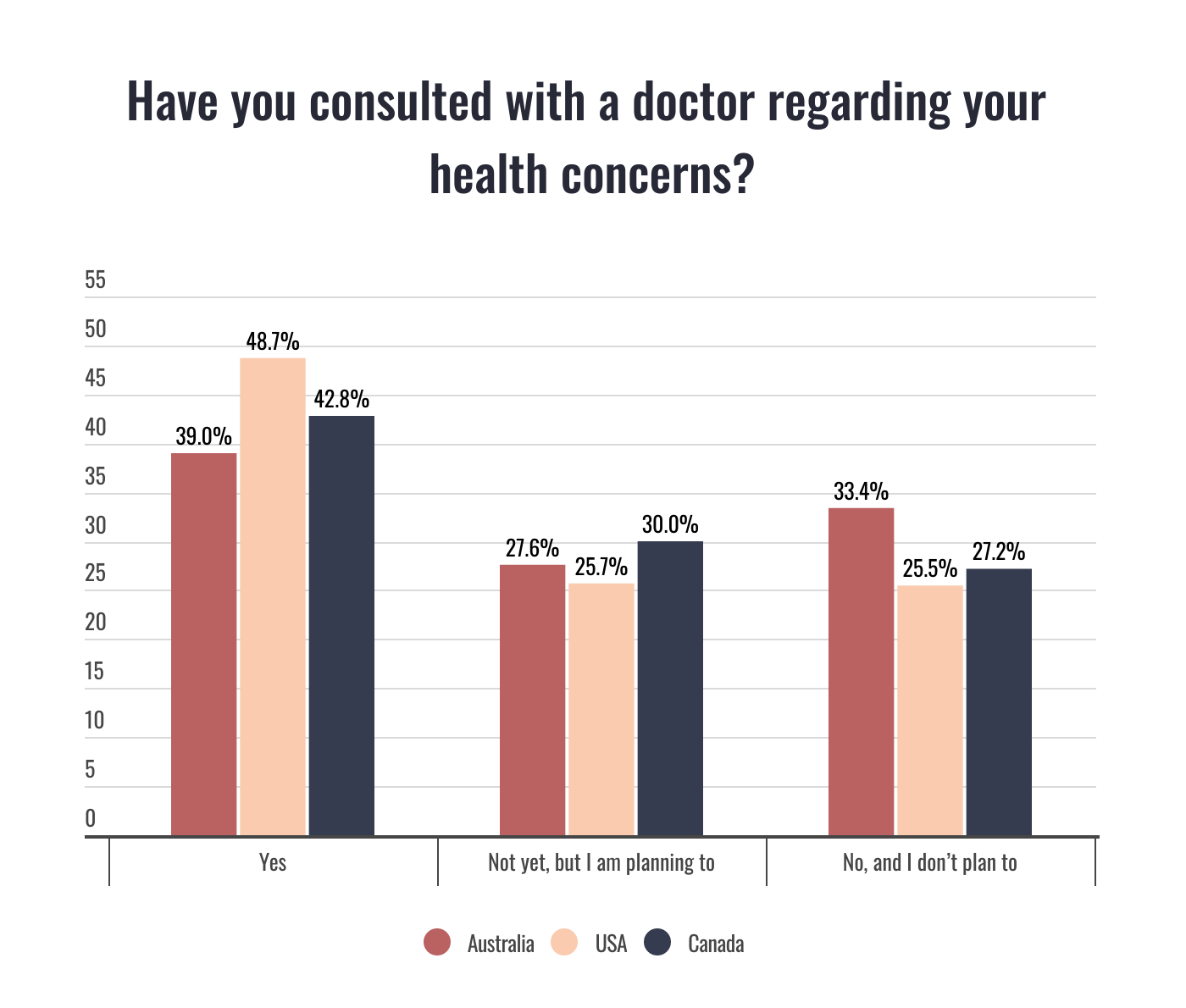 Ms Hambilton notes that not only is it critical to see a GP to begin treatment for any health issues, but it's also crucial if you want to use health insurance to help cover private treatment.
"In Australia, health insurance providers will only cover treatment that is medically necessary, and they will need a GP or qualified health professional to sign off on a treatment plan so they can cover treatment as set out by the customer's policy," Ms Hambilton explains.