The COVID-19 pandemic made us all more aware of how easy it is to pick up viruses and bacteria from public places, and even household essential items passed between family, partners and housemates. As experts in health insurance, Compare the Market looked into the numbers to see how the pandemic affected our health.
In the 2020-2021 financial year, there were 4,718 instances in Australia where a patient was admitted to hospital (known as separations) with COVID-19, according to the Australian Institute of Health and Welfare (AIHW). Of these, 329 separations spent time in Intensive Care Units (ICU), with the median hours spent in ICU for these separations reaching 130 hours.1
COVID-19 treatment and private health insurance
When the pandemic began, private health funds took steps to include COVID-19 related treatment and care across all their private hospital insurance policies. While COVID-19 can be treated publicly under Medicare, private health insurance allows members to choose treatment in a private hospital, with access to a private room (if available), as well as the ability to choose their own doctor.
Health insurance can help pay for treatment at a private hospital not just for COVID-19, but other surgeries, diseases, and bacterial infections, depending on what services are included in a person's policy.
Everyday items that can carry bacteria
It's become more apparent just how easy it is for bacteria and viruses to spread. The COVID-19 pandemic has made us all more conscious of getting into contact with harmful bacteria out of the house, but what about the items we use every day?
To help consumers maintain good hygiene habits (and hopefully avoid getting sick and needing to go to hospital in the first place), we set out to see just how clean our everyday essentials are. From supermarket trollies to remote controls and phones, the results are pretty shocking.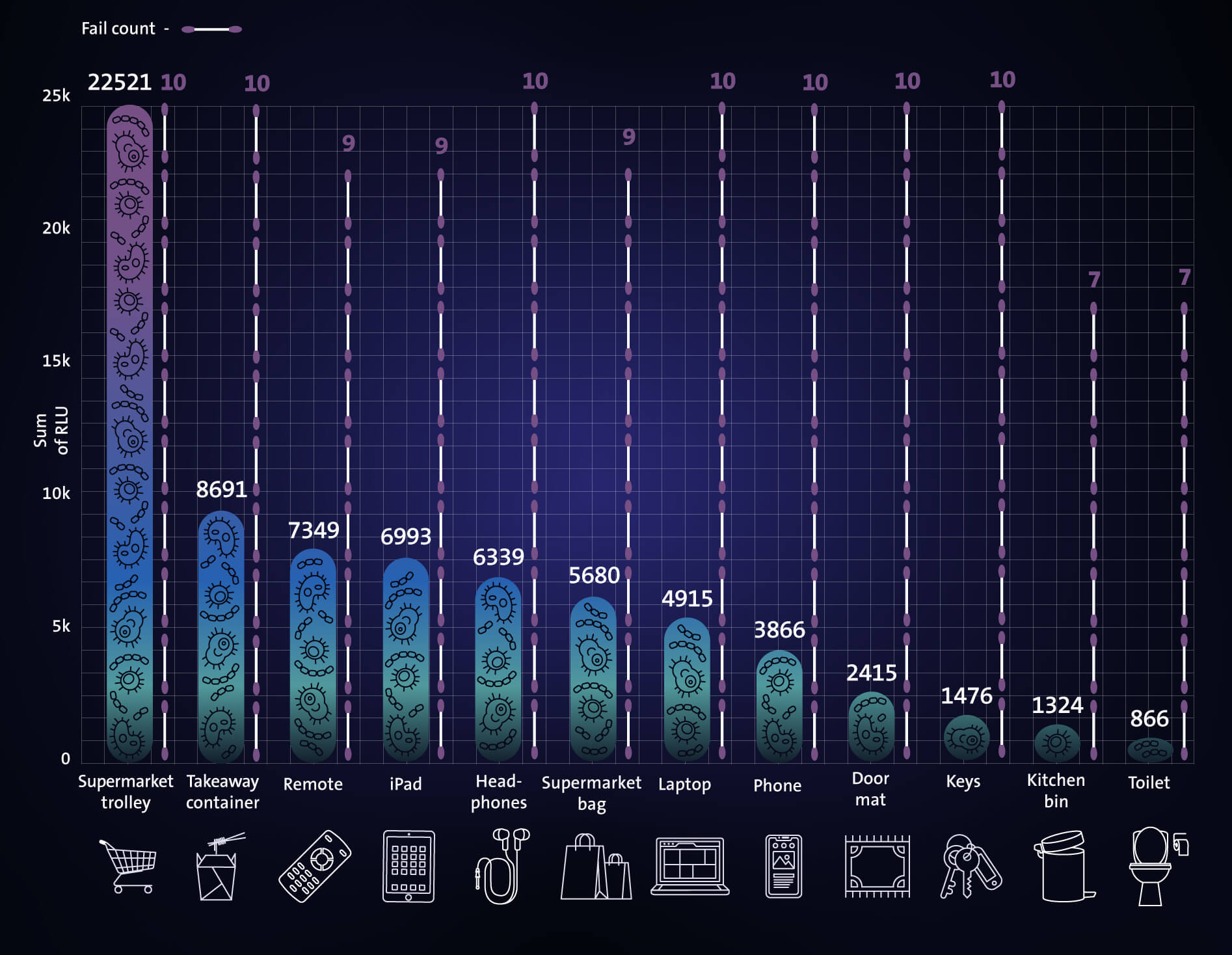 Supermarket trollies are 26 times dirtier than toilets
We swabbed 10 of each of our items from a range of places to check how dirty they were on average, and supermarket trollies came out on top as the dirtiest essential item, with a staggering RLU (Relative Light Unit) reading of 22,521. In fact, all 10 trollies failed their swabs!
In comparison, the toilet was the cleanest item we swabbed, with an RLU of 866 (although 7/10 failed their swabs).
The second dirtiest item? Takeaway containers (at the point from where they were delivered!)– so you might want to reconsider ordering your weekly Chinese or getting a coffee to go!