With an estimated 1.3 billion tobacco users worldwide, 80% of these live in low or middle-income countries.1 Whilst over the years, the dangers of tobacco and associated illnesses have become more known, according to the World Health Organization, smoking still kills more than 8 million people every single year.
With that in mind and as health experts, we decided to uncover the nations that smoke the most and see the most negative side effects. To do this, we analysed several factors, including the percentage of each nation that smokes, how much is spent on cigarettes, and lung cancer rates.
So, read on to discover which nations smoke the most – and least – in the world.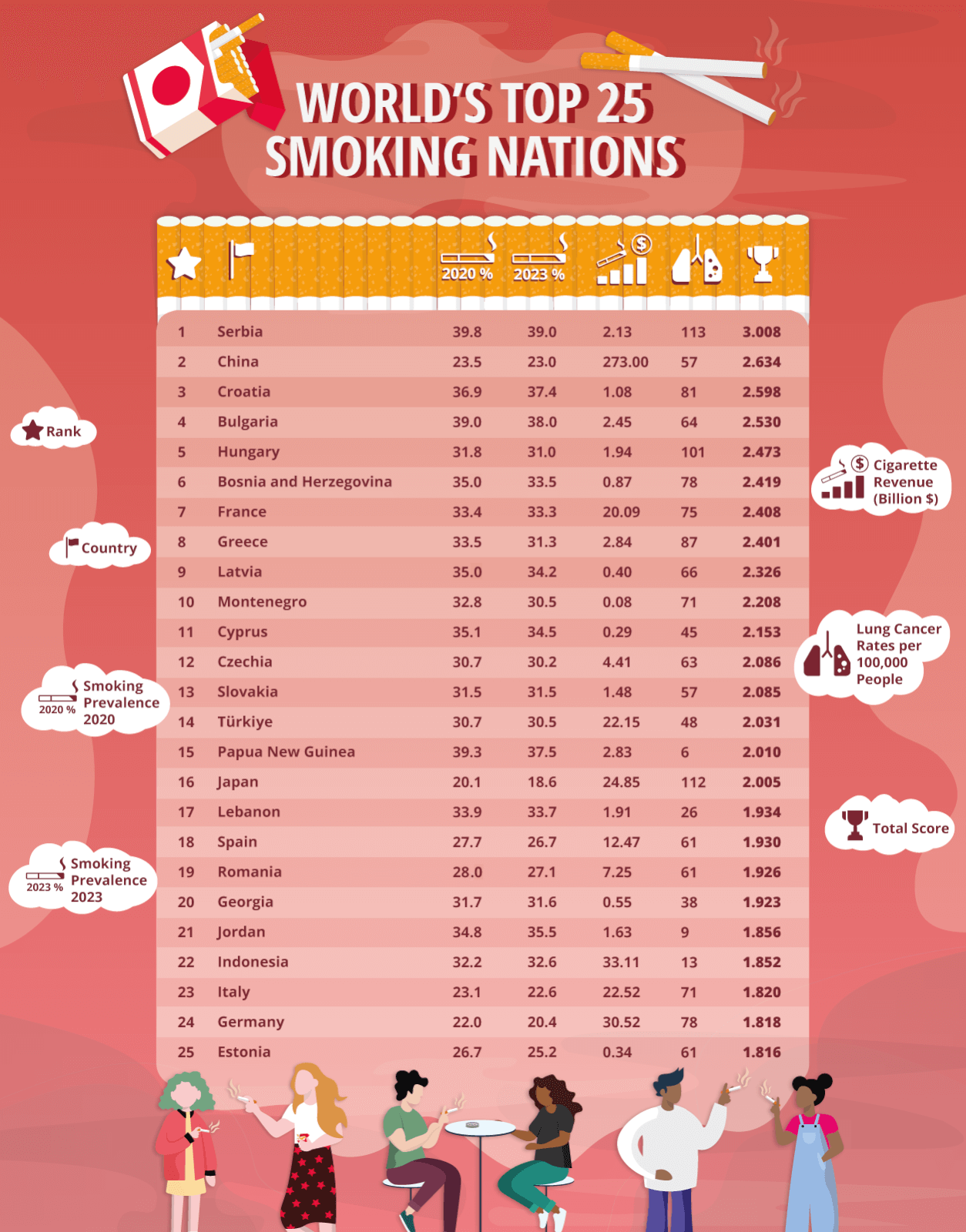 Serbia tops our smoking index
With 39% of Serbians admitting to smoking in 2023, this Balkan country tops the leaderboard, despite the number of smokers decreasing by 0.8% since 2020. Sadly, the correlation is clear, as Serbia also suffers from the highest lung cancer rates per 100,000 people in the world, at 113.
If we look at this purely from the percentage of each population that smokes, then Bulgaria comes in second place, at 38%, followed by Papua New Guinea at 37.5%, Croatia (37.4%), and Jordan (35.5%). This remains largely unchanged if you look at 2020's data, except Papua New Guinea and Bulgaria switch around.
However, based on our index rating, it's China who comes in second place. 23% of their population are smokers, and they spent a staggering USD$273 billion on cigarettes between them in 2022 alone – by far the highest of all countries (to put this into context, the US spent the second most, at USD$82.66 billion).
European countries dominate our top 10 list, with the Balkans and Eastern European nations particularly high, including Croatia (third), Bulgaria (fourth), Hungary (fifth), Bosnia and Herzegovina (sixth), Latvia (ninth), and Montenegro (10th).
Despite this, many of these countries have reduced their percentage of smokers over the last three years. In 2020, Bosnia and Latvia tied in sixth place, with 35% of their population smokers; which has now reduced to 33.5% and 34.2% respectively.
France and Greece are the other two countries to feature in the top 10, in seventh and eighth place.
China aside, the next non-European country to feature on the list is Papua New Guinea in 15th place, followed by Japan (16th) and Lebanon (17th). The United States places 29th, with 18.1% of the population smokers in 2023, the United Kingdom in 45th place, at 13.5%, and Australia in 66th place, at 12.4%.
Looking at lung cancer rates, Japan is only slightly behind Serbia, with 112 per 100,000 people suffering from it; followed by Hungary, Greece, and Denmark.
Ghana comes last for smoking
Whilst in many poorer countries, smoking tends to be more prevalent; rates are lowest amongst the poorest of countries, as they just can't afford it.
Ghana features last on our list in 115th place, with 2.2% of the population smokers in 2023 (down from 2.6% in 2020). With $0.04 billion spent on cigarettes in 2022, they spent the fifth least in the world (Belize and Guyana spent the least, at $0.01 billion).
Four out of the five countries at the bottom of our list are in Africa, including Nigeria, Ethiopia, and Cameroon. Central American country Panama comes fifth from bottom, with 4.4% of their population smokers in 2023, spending USD$0.14 billion on cigarettes in 2022.
Senegal, Niger, Turkmenistan, Uganda, and Oman make up the bottom 10, as the countries that smoke the least.
When it comes to lung cancer rates, Niger is the only country in the world to have a rate of 0, although several have a rate of one out of 100,000 people, including Burkina Faso, Malawi, and Zambia.
Hannah Norton, spokesperson for Compare the Market AUS states: "It's no secret that smoking can kill, but unfortunately, the full extent of all the side effects is something that's more widely understood across richer countries, which is perhaps why we see so many middle and lower-income countries dominating the top of our list."If you're a smoker, it's important you keep other aspects of your health as optimal as possible; but remember that even if you're not a smoker, second-hand smoke can kill, so avoid being in closed spaces where others are smoking. And, if you're looking to kick the habit, then look to see what initiatives your city and/or country is offering, as there's likely to be help and support out there for you."
Whether or not you're a smoker, taking out private health insurance can be hugely beneficial, as it can give you more choice when it comes to your healthcare, should you need treatment or advice for services included on your policy. Some funds may even pay a benefit towards programs to help you quit smoking, which can be a great way to support your journey.
It can also be beneficial for contributing towards the cost of inpatient hospital treatment for some illnesses that can be caused by smoking, such as lung cancer (provided you hold an appropriate level of cover and have served the relevant waiting periods).
To get a better understanding of how private health insurance can be of benefit to you and to browse available policies, view our page on private health insurance here.