Where are the worst cities in the world for your skin?
We looked at 50 cities globally, to see which parts of the world are the worst for your skin, as well as breaking the results down by continents.
We found that two of the five worst cities are situated in North America. Toronto is officially the worst, with Phoenix the fourth worst, New York not too far behind as the sixth worst.
Toronto is let down by the harmful particles found in the air, based on several different Particulate Matter (PM) and other measurements. It has the most PM 2.5, PM 10, and NO2 of all cities on the list, and the second most O3, behind Bratislava.
Phoenix's UV levels and hours of sunshine don't help it, due to its location in the Sonoran Desert – in fact, at 9.33 hours of sunshine on an average day, it has the highest sunshine levels of all 50 cities we analysed, with Los Angeles not far behind, at 9.00
The UV index is a great indicator of determining how strong the sun is, and the risk of not just sunburn, but permanent damage to your skin. According to Cancer Research, a score of between 3 and 5 on the index means you'll have moderate exposure, and anything over 6 is classed as high risk.2
Bratislava, Athens and Budapest are three European cities in the top five, but if we extend it out to the top 10 worst cities, then more European destinations make the cut, including Porto, Istanbul, Lisbon and Barcelona.
Sydney comes in 11th position, which is the worst in Australia and New Zealand, again, due to the air particles. it has the most PM 2.5 across these two countries, and it has the second highest score on the UV index globally, at 7.08 (Perth came top, at 7.33).
Where are the best cities for your skin?
If we look at the other end of the spectrum on a global scale, most of the best countries for your skin are based in Europe.
Europe
Scandinavia storms the leader board, with four of the top five cities all situated in the Nordics. Iceland's capital, Reykjavik, comes in first place, with the lowest UV index score on the list at 2.08, as well as the lowest levels of O3 in Europe (and joint top with several New Zealand cities).
Oslo comes in second place, Stockholm in third, and Helsinki in fourth. Whilst sunshine can help to lift our moods, stepping out without sunscreen can be extremely damaging, so the lower levels of sunshine in these cities help to protect your skin.
The dark winters of the north offset endless nights of summer sun. This means in Oslo, you can expect to have around 4.08 hours of sunshine a day (the seventh lowest in Europe), and 4.58 hours in Stockholm, helping to protect your skin. Scandinavian cities also have the lowest scores on the UV index.
Two Baltic capitals also make it into the top 10, with Tallinn in fifth place and Riga in eighth. Filling in the top best countries was Scotland's capital, Edinburgh, which came in sixth place. Dublin came in ninth, and Melbourne in 10th.
As for other factors, the European capitals with the lowest levels of PM 2.5 were Berlin, Barcelona, Munich, and Zurich at 0; and Tallinn, Edinburgh, and Oslo have the lowest levels of NO2. When it comes to sunshine hours, whilst Scandinavian capitals are low, they're not the lowest. Krakow has the least number of average daily hours, at 3.5, with Dublin, Brussels, Zurich, and Vilnius all also seeing less than four hours of sunshine on a typical day.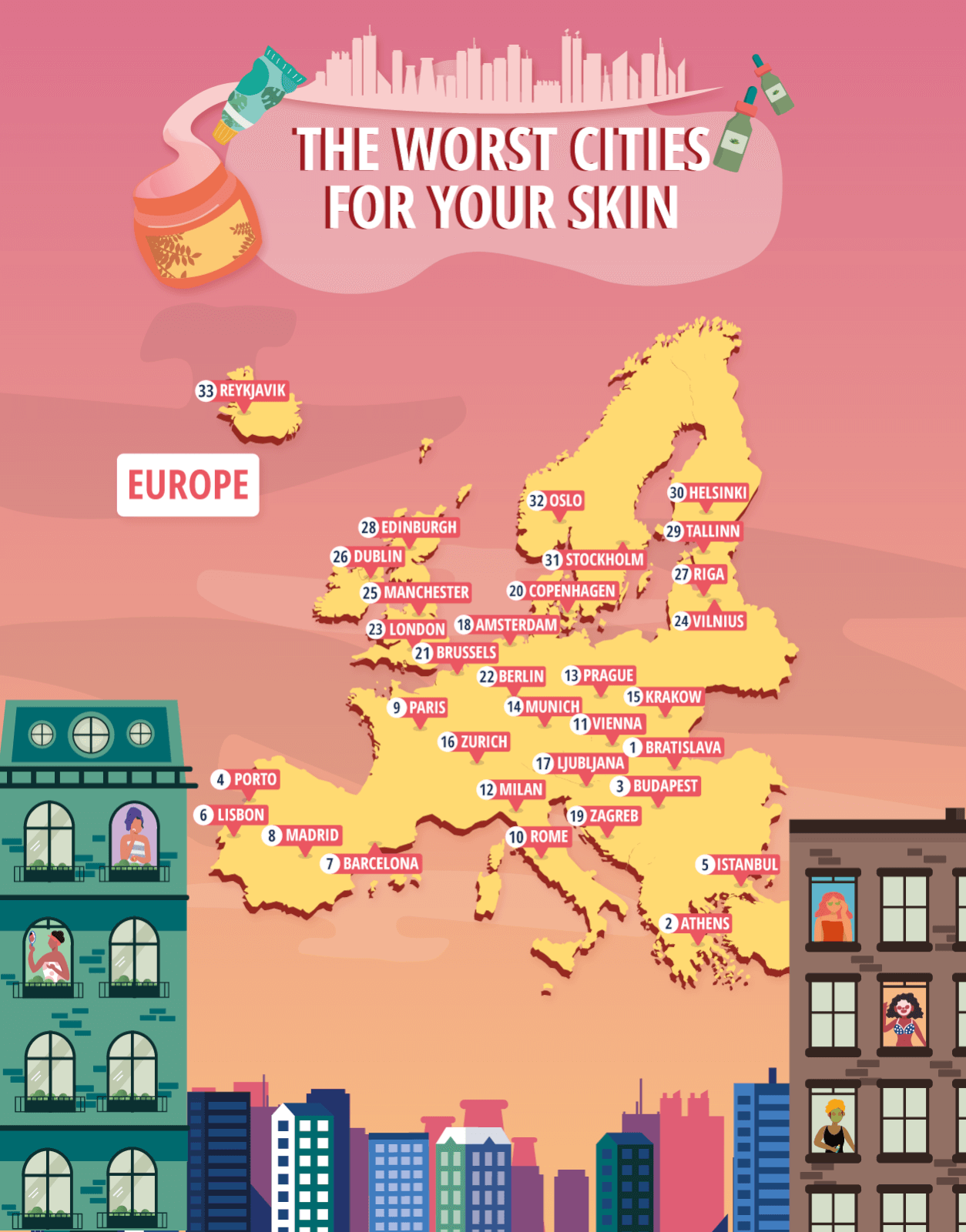 USA and Canada
Moving over to North America, all top five cities are based in the USA, with Texas' San Antonio in top position, despite placing 16th overall, globally. San Diego comes in second place, Houston in third, Philadelphia in fourth, and Dallas in fifth for America and Canada.
Looking at the harmful air particles and gas, San Diego scores particularly well, with no PM 2.5, PM 10, or NO2 in the air – although it does have some of the highest levels of sunshine, at around 8.66 hours a day.
In fact, several US cities don't have any PM 10 or NO2 in the air – Dallas, San Antonio, and Houston all have neither of them.
Australia and New Zealand
Out of the six cities in Australia and New Zealand we looked at, Wellington scored the best for skin, followed by Melbourne and Adelaide. Neither Wellington or Melbourne have any PM 2.5 or PM 10 particles in the air, and Adelaide doesn't have any PM 2.5.
Melbourne also has the second lowest UV index levels in Australia and New Zealand at 3.67 (Christchurch came first), and Wellington also had the second lowest levels of sunshine between the Tasman Sea nations at 7.41 hours a day (Sydney just made it into first place, at 7.21).