For many teenagers and young adults, one of the biggest decisions to make is whether to go straight into university after finishing school, or whether to take a gap year and spend some time travelling or earning money.
With COVID-19 stopping travel plans for people worldwide over the last couple of years, it makes sense that gap years are growing more in popularity; with teens looking to spread their wings and explore the world before settling back down into education.
By analysing factors such as the cost of living, volunteering opportunities, unemployment rates, and more, we decided to uncover the best gap year destinations the world has to offer. And, as travel insurance experts, we have also compiled some tips for you to get the most out of your trip with a suitable type of cover.
So, if you're considering taking a break to travel before going to university, make sure you have a read of this…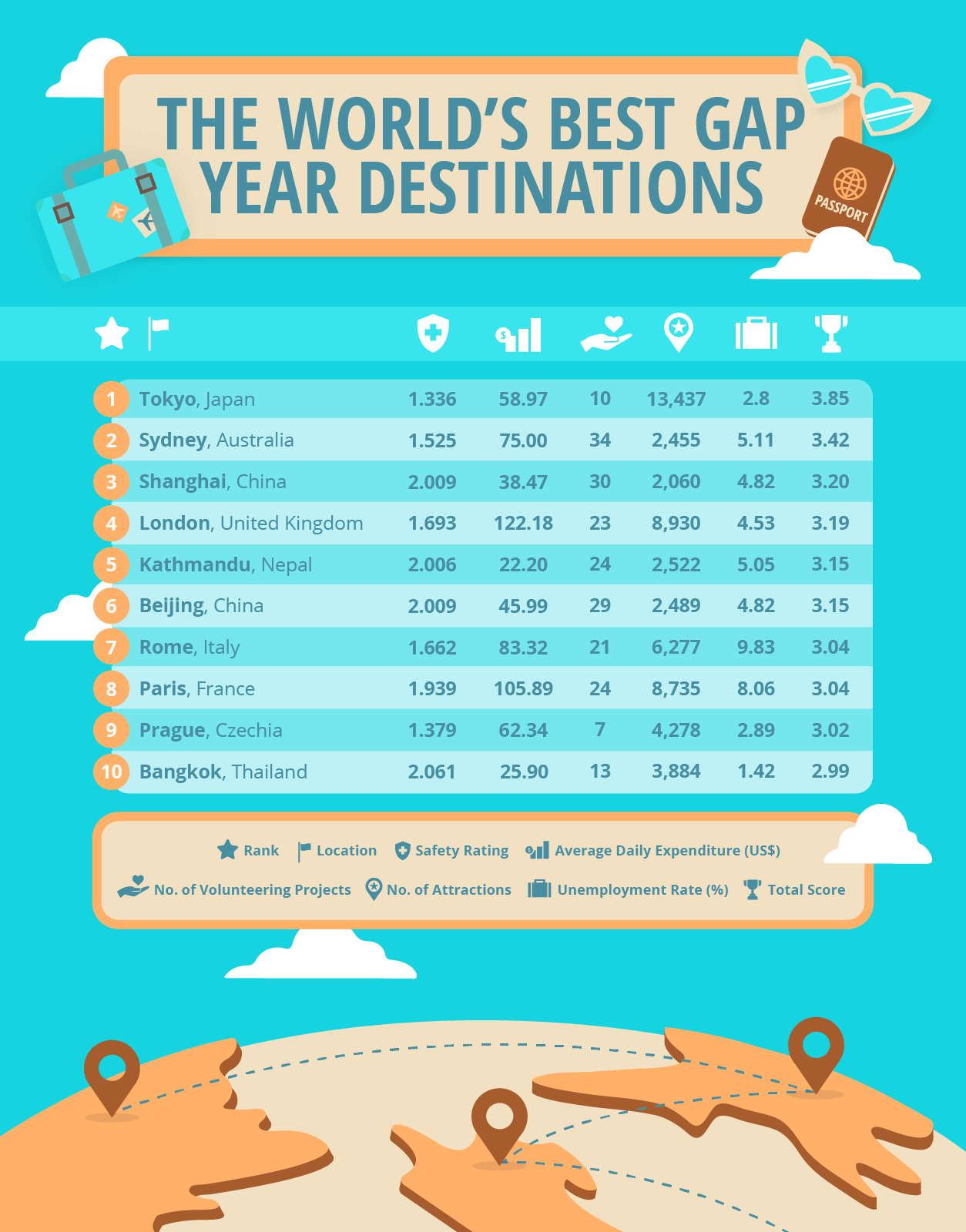 The best gap year destinations worldwide
From the beaches of Australia, through to the rich cultures of Asia, and the charming coffee shops and restaurants of Europe; where are the top gap year destinations the world has to offer?
1. Tokyo, Japan
With its rich history, delicious food, and cutting-edge shopping, Japan's capital tops the list as the best gap year destination worldwide.
Spend your days exploring the 13,437 attractions (the highest number on our list) and taking part in one of the 10 volunteering options available. Average daily expenditure may be on the higher side, but safety is a given – it's officially the seventh safest city on our list.
From people watching in Harajuku to admiring the art galleries in Ginza and sampling the street bars and restaurants of Harmonica Yokocho; there's no end of things to do if you choose to spend your gap year here!
2. Sydney, Australia
Sydney comes second on our list, thanks to having the most volunteering projects of all cities we looked at (34 in total). From conservation opportunities with whales and bears, to au pair work and everything in between, there's something for everyone on a gap year in Sydney.
With 2,455 attractions on offer, you'll easily be able to fill your free time, from hanging out in Wendy's Secret Garden to riding the Manly ferry, and lounging at the Instagrammable Bondi Beach, and much more.
3. Shanghai, China
In third place is Shanghai, with 30 volunteering projects in total – the second highest number on our list, with TEFL (Teaching English as a Foreign Language) and au pair work the most popular.
Cost of living is cheaper here, with an average daily expenditure of US$38.47, meaning you'll have plenty of money left aside to explore the 2,060 attractions on offer. Yu Garden is a great place to start, where you can enjoy some tranquillity amongst the chaotic city life; but you should also make time for an evening at Bund promenade, where you can sample the many bars, cafes, and restaurants on offer.
4. London, United Kingdom
Placing fourth overall on the list, London is the most popular European city to spend your gap year. Sure, the cost of living is higher, with average daily expenditure totalling $122.18; but it has the second greatest number of attractions on our list, at 8,930 – many of which are free.
In the summer, you can picnic in the several pretty parks, and visit the hundreds of museums available (many of which have days where entry is free). If it's nightlife you're after, then Shoreditch, Hoxton and Dalston are the places for you, where you'll find some of the best bars in the country.
5. Kathmandu, Nepal
In fifth place is Kathmandu, with 24 volunteering projects in total, and the 4th lowest cost of living on the list, with an average daily expenditure of just $22.2, meaning you'll have plenty of money left aside to explore the 2,522 attractions on offer.
Kathmandu is a melting pot of cultures, with influences from Hinduism, Buddhism, and Islam. This makes for a rich and vibrant cultural experience, with many festivals, temples, and other cultural attractions to visit.