The best coastal city break destinations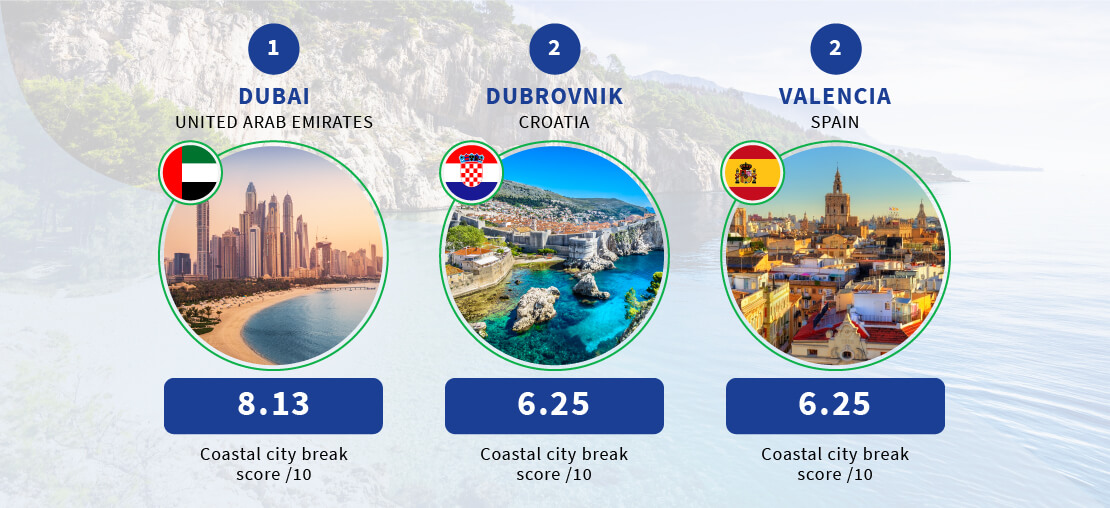 1. Dubai, United Arab Emirates
Taking the top spot when it comes to the ultimate combination of city and beach is the city of Dubai in the United Arab Emirates.
Dubai has become one of the world's most popular tourist destinations and is home to a number of five-star hotels, many of which also have their own beaches.
In our ranking, Dubai topped the charts when it came to two factors: the average annual temperature of 27.6°C and the average annual rainfall (just 160 mm).
2. Dubrovnik, Croatia
Two cities are tied for second place, with the first being one of the smaller coastal cities on our list: Dubrovnik, in Croatia.
The city is located on the Adriatic Sea and is a major tourist destination, with the city itself being deemed a UNESCO World Heritage Site due to its outstanding medieval architecture and fortified old town.
Dubrovnik was a top-ranking city not just for the number of things to see and do (with 2,674 activities per 100,000 people), but also for the availability of restaurants too (1,487 per 100,000 people).
3. Valencia, Spain
The other city that ranked in second place is Spain's third-largest city, Valencia, which lies on the country's south-eastern coast.
Besides the long stretches of golden sand, Valencia is known for being a city of arts and science, and is home to attractions such as a planetarium, oceanarium and interactive museum.
Valencia scored highly across the board specifically when it came to the safety of its streets (74.64 out of 100) and average annual rainfall (456 mm).