Do you turn down the radio to see road signs better, or are you more focused on the latest gossip Twitter has to offer whilst driving? Regardless of the activity, many of us have a habit of getting a little too comfortable behind the wheel, allowing some less than stellar habits to sneak in – particularly those of us with years of driving experience.
Car insurance comparison site Compare the Market wanted to find out what cheeky habits have been creeping into our driving as we get more complacent with technology – habits which could be affecting our car insurance premiums.
As many as a third of people use their phones while driving
Mobile phones have become ingrained in our lives, and it's almost impossible to live without them. So it's no wonder why we're so attached to them, even while commuting. Our survey found that one in three Australians admit to using their phone while driving, increasing to 37% in Canada. In America, using a mobile phone in the car is commonplace, with 25 states having no restrictions on handheld mobile phone usage while driving (all states bar Montana have either a primary or secondary ban on texting while driving, and Missouri only has a texting ban for people 21 and under).1 With that in mind, it's no wonder 55.4% of respondents admit to using their mobile phones.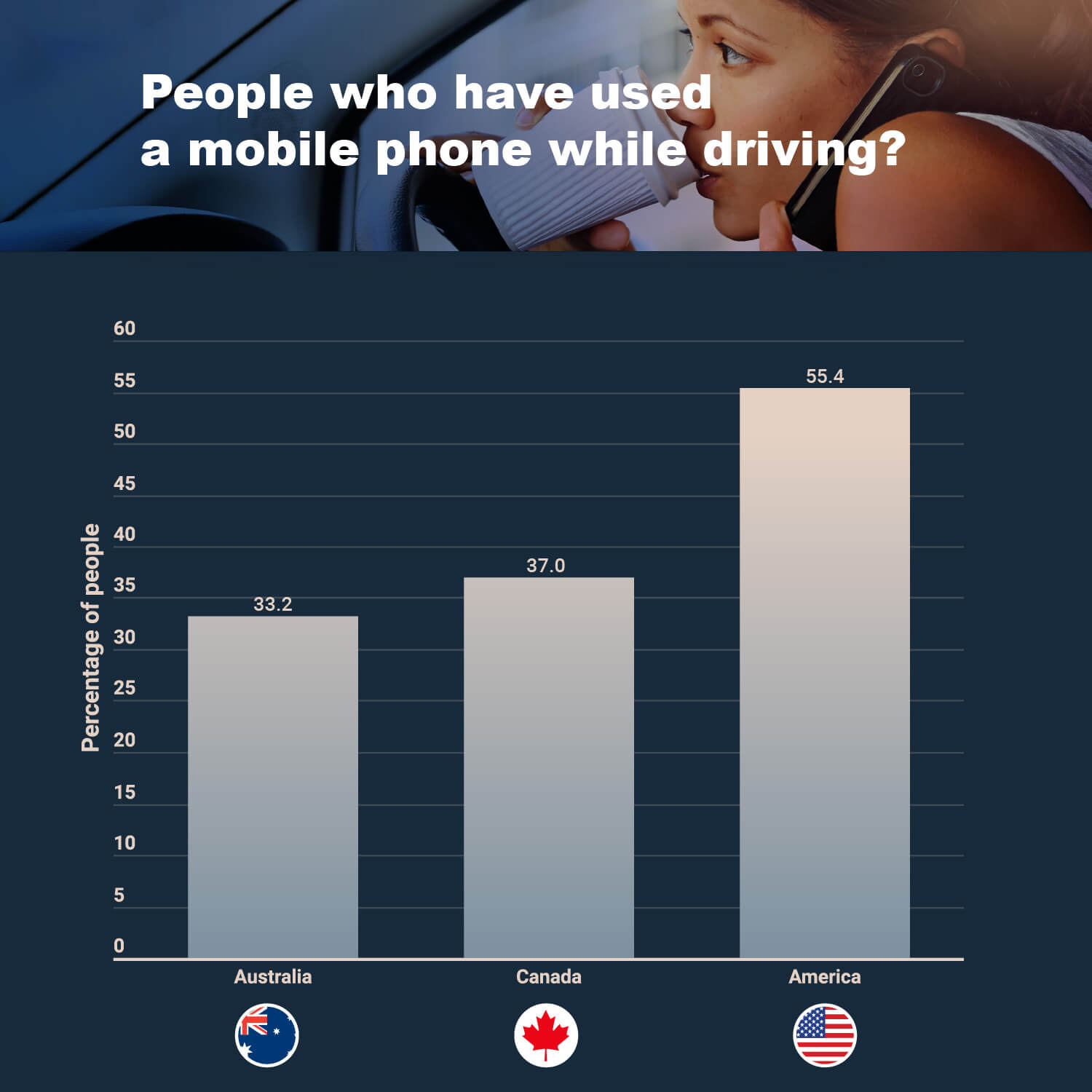 Across the 3 countries, the youth are leading the way with mobile phone usage. As many as 43.8% of Canadians aged 18-24 admitting to using the phone, while just under half (49.5%) of Australians aged 25-34 feel the same way. In America, 63.3% of those aged 25-34 also admitted to using their mobile phones; however, in a surprising turn of events, America is the only country that has its youngest cohort (ages 18-24) being the least likely out of all age groups to use their mobile phones (41.3%).
Gender also seems to play into mobile phone usage during a drive, with around two-fifths of Canadian and Australian men and three-fifths of American men admitting to doing so.